Emmanuelle Moureaux (b. 1971) is a French architect who has been living in Tokyo since 1996. She was shortlisted for the Aesthetica Art Prize in 2017. Her kaleidoscopic buildings and layered paper cut-out installations are informed by Japan's seemingly infinite colours and textures. As part of NOW Gallery's latest Design Commission, Moureaux has created Slices of Time, responding by the Greenwich Peninsula – home of Greenwich Mean Time (GMT). Jemima Burrill, Cultural Curator, discusses the commission, and how it encourages audiences to reflect on the here and now in and increasingly fast-paced world.
A: Emmanuelle Moureaux's works are large-scale and complex. What does the installation process involve?
JB: An extraordinary installation is happening at NOW gallery. There are 168,000 numbers at just 7cm each – the smallest that Moureaux has ever used. They are hand glued onto individual threads like little wings falling from the ceiling. It is taking two weeks to install, and the 100 colours are gradually being revealed. They are delicious colours like sweets, filling the gallery and coming together in a singular sculptural form.
A: Emmanuelle Moureaux's installations have gained international recognition – from Tokyo to Paris. Why do you think they connect with people, especially in today's 24/7 world?
JB: In a non-stop world, we need to take time to look at things that are made in a beautiful and mesmeric way. Moureaux's work echoes the complexity of life. The numbers are endlessly part of our world – yet in this installation they are ordered and have a calming effect on the viewer. In their symmetry they provoke a sense of wonder. This is a thoughtful work – it ensures people stop and take time in the now to examine its grace and precision. This exhibition will include everyone, giving them the opportunity to have a moment to enjoy colour and form in all its simplicity and complexity.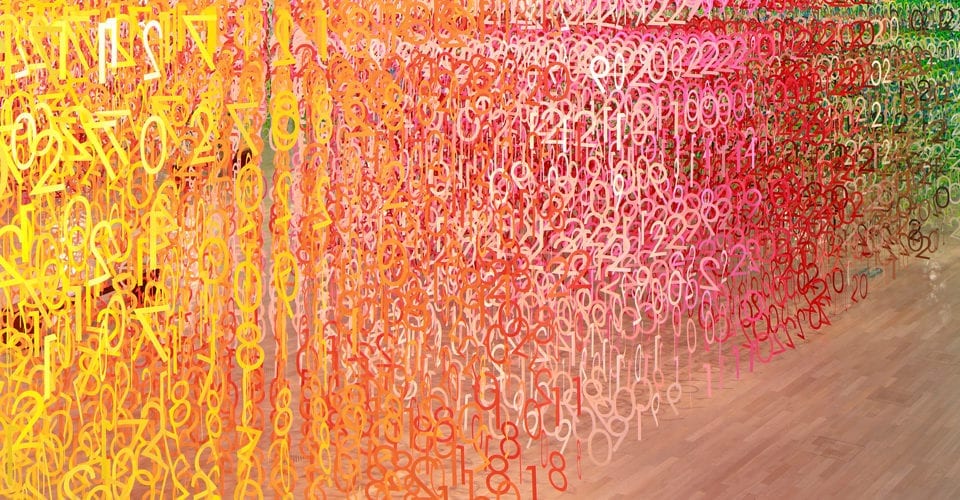 A: How does the commission respond to the location of Greenwich Peninsula?
JB: The concept of time relates perfectly to Greenwich Peninsula and where the Meridian Line lies. When the exhibition is installed, you'll see this is drawn out in the gallery in large but delicate circles – the earth duplicated in 100 shades of colour.
A: Slices of Time features a floating representation of the earth. What is the significance of using the globe as a motif?
JB: The slice, the round, the globe, the circle. These are universal symbols with infinite meaning, representing the notions of totality, original perfection, eternity, timelessness – all cyclic movement. In this case, the globe represents all these things, and is both the past, the future and the now. It fills NOW gallery gracefully, creating a wholeness and a description of how we might see the world. Slices of Time is a moment to reflect on where we have been and where we are going.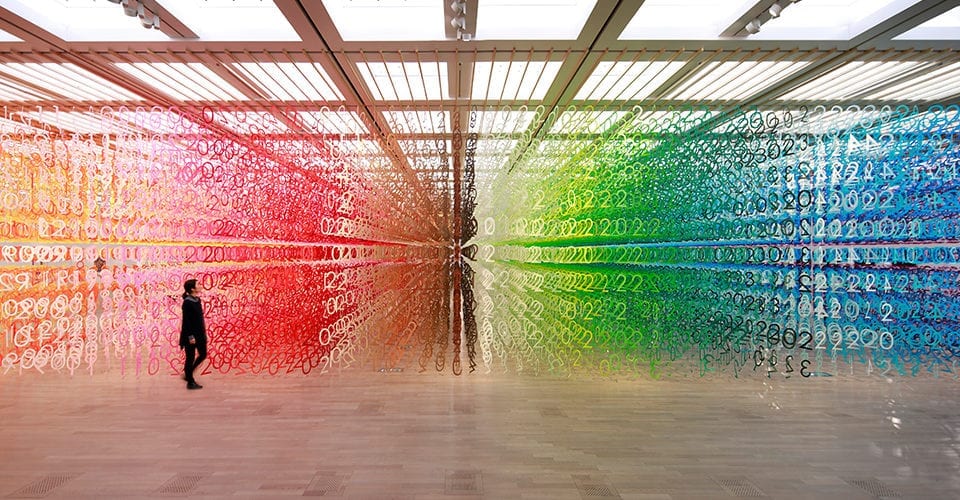 A: How will this piece differ from Moureaux's previous iterations of 100 Colours?
JB: This is the first time she has ever done an interactive piece. Visitors are given time to remember a significant date. Round paper will be available to write this chosen date on in coloured pen; and why it is important. This will be placed on the window of the gallery, along a timeline which will create a kaleidoscope of colour marking these moments.
A: Moureaux's installations are recognised for their visually arresting rainbow appearance. What is the wider significance of colour in her work?
JB: When Moureaux arrived in Tokyo more than 25 years ago, she was struck by the colours emanating from the city and it captured her imagination. These cityscape colours have fed into her work. The 100 Colours are always the same, but the form changes. The size of the number or the shape of the hanging components shifts. Most importantly, the colours have a conversation with each other and do not exist in isolation. This feeds back into our 24/7 existence – where we don't always relate to each other. Moureaux has created 100 colours bristling next to each other, glowing in our gallery for three months, giving visitors time to contemplate a significant moment in this non-stop, whirlwind world.
Slices of Time runs 5 February – 19 April. Find out more here.
Images courtesy NOW Gallery.