Satire, as a literary genre, can be traced back to ancient Greece. Now widespread throughout popular culture – in music and memes, activism and art – it is a way of weaponising humour – generally with the intent of mocking those in positions of power. Famous examples include George Orwell's novella Animal Farm (1945), or, more recently, episodes of the TV series Black Mirror (2011-2019). As a tool, it lends itself particularly well to subverting the status quo and challenging stereotypes. Now, an exhibition at London's NOW Gallery, titled The Satirists, presents new work by six up-and-coming image-makers: Bubi Canal, Leonard Suryajaya, Nyugen Smith, Thandiwe Muriu, Stephen Tayo and Thy Tran. The show centres on the potential of satirical photography, asking questions about what it looks like, and what can it achieve.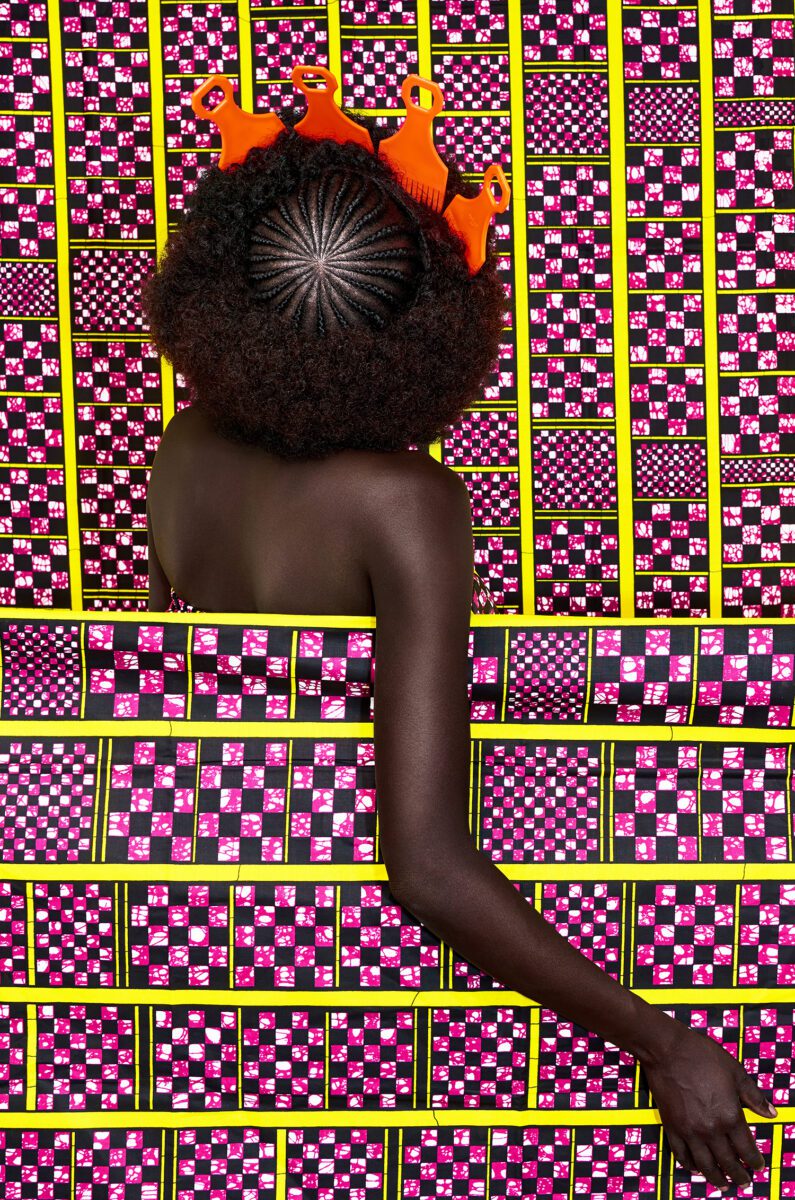 Each of the works on display here uses satire as a portal to rethinking attitudes to race, gender and identity. Many of them combine bold, colourful palettes to do so, whilst others take a surreal approach to everyday objects and materials. Stephen Tayo (b. 1994), for example, clothes human figures in packaging, reusable bags, plastic footballs and silk scarves. The resulting eye-catching costumes question assumptions around how we use, and value, the objects around us. In Two Bodies by Leonard Suryajaya (b. 1988), viewers are drawn into the frame by eclectic clashing patterns, resting on two figures embracing at its centre. The artist uses juxtaposition to test the boundaries of intimacy, community and family, reflecting personal experiences "as an Indonesian citizen of Chinese descent, as a Buddhist educated in Christian schools in a Muslim-majority country, and as someone who departed from his family and culture's definitions of love."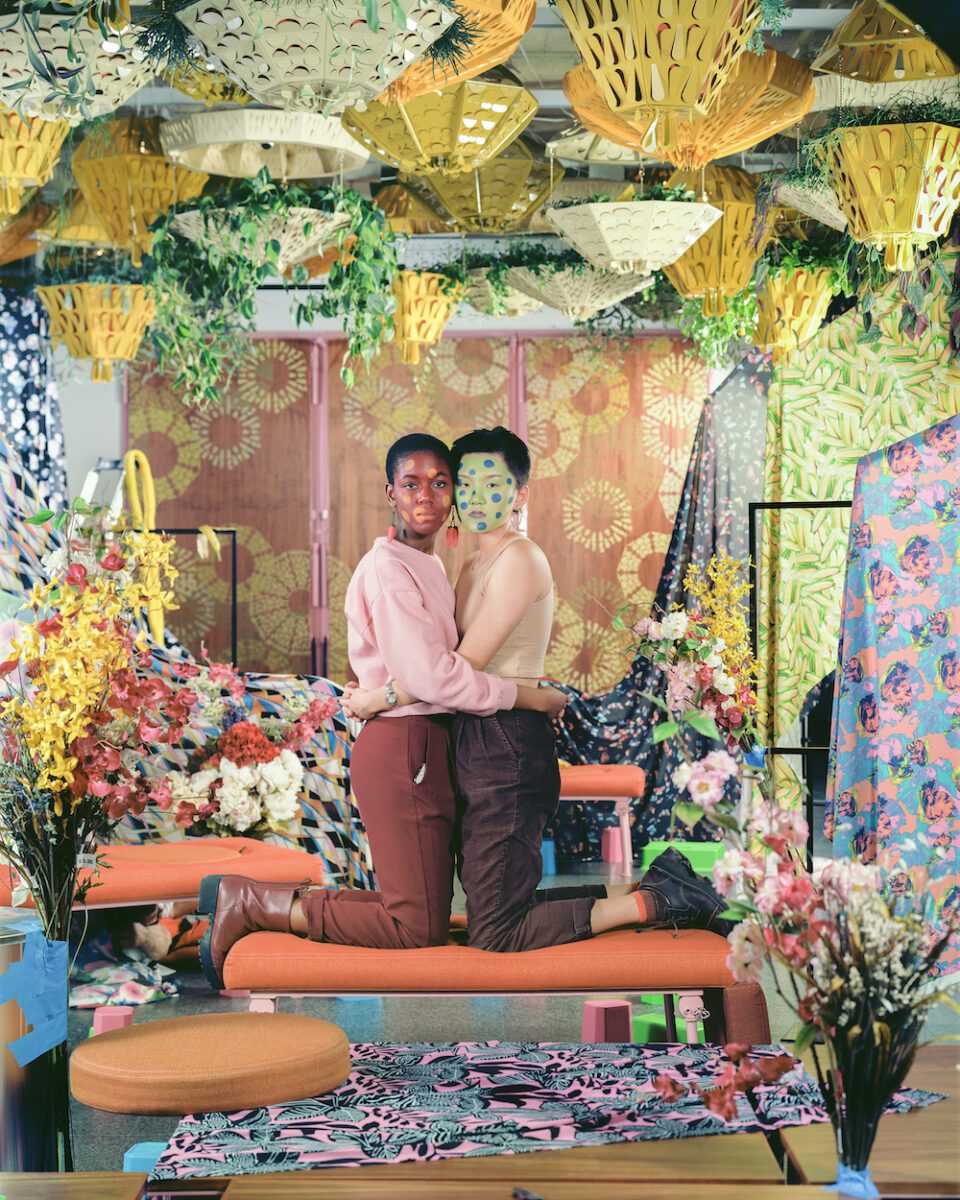 Elsewhere, Thandiwe Muriu (b. 1990) positions subjects in clothes which match their corresponding backdrops, creating a kind of optical illusion or camouflage. The self-taught photographer was born and raised in Kenya, and, over the years, has developed a particular interest in showcasing and celebrating its vibrant mix of cultures, textiles and textures. Everyday items are key here, too. One subject holds an Afro comb across her eyes like a pair of shades. Another, shown below, wears braids adorned with multicoloured accessories – popping against a monochrome backdrop. On closer inspection, the hair beads are revealed as clenched fists – a powerful gesture of liberation associated with the Black Lives Matter movement. Here, traditional architectural hairstyles – which Muriu explains are being forgotten – are adapted into fresh interpretations. It's a process the artist calls "modernising history."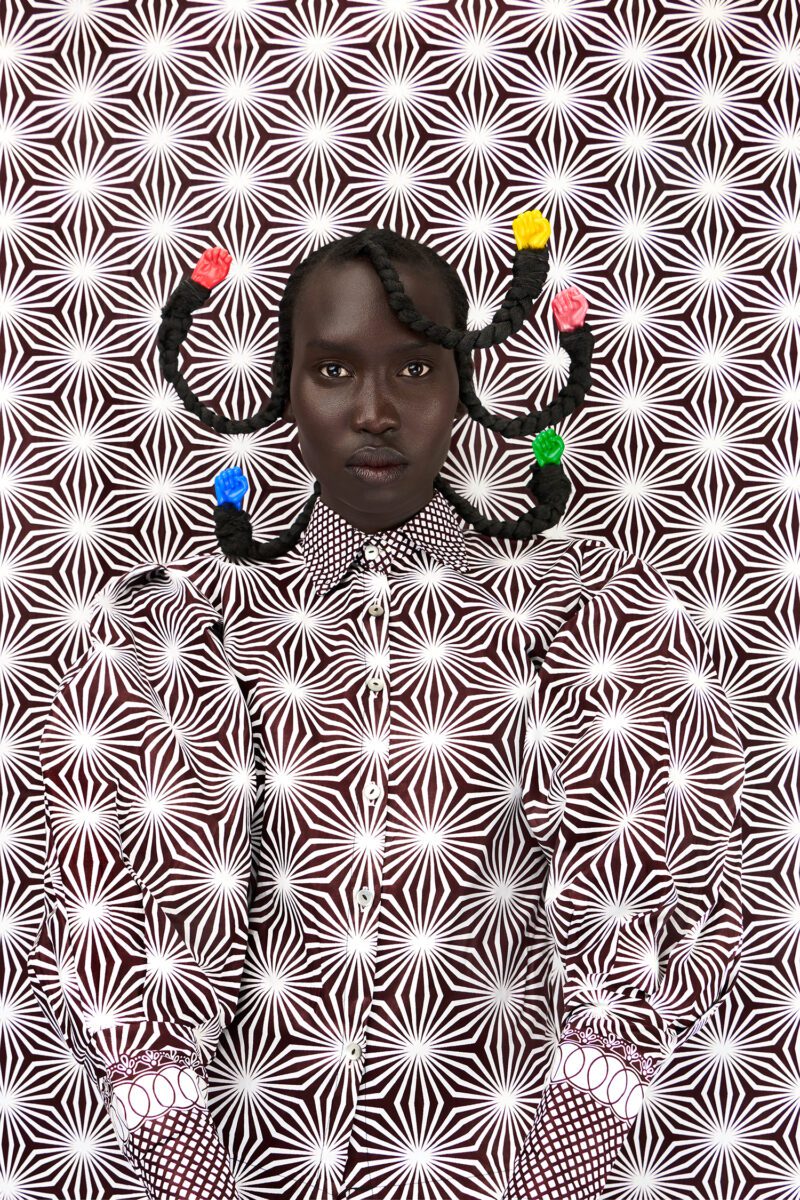 The Satirists is the latest edition of Human Stories, an annual exhibition curated by NOW Gallery's Kaia Charles with the intention of exploring progressive ideas by collaborating with artists, photographers, writers, historians and other creatives. A previous iteration of Human Stories, The Body Issue, focused on the politics of beauty and identity, featuring the work of Nadine Ijewere, Alma Haser and others. Another showcased the world of Trinidad and Tobago-born photographer Nadia Huggins. "We are thrilled to be spotlighting this diverse group of artists and photographers," says Charles. "We are bringing together an evocative collection of works which traverse cultural modalities of a post-pandemic world."
---
nowgallery.co.uk | Until 13 November

Words: Rachel Segal Hamilton
---
Image Credits:
1. Thandiwe Muriu, from the series CAMO.
2. Thandiwe Muriu, from the series CAMO.
3. Leonard Suryajaya, Two Bodies.
4. Thandiwe Muriu, from the series CAMO.