A new show at the National Gallery of Victoria, We Change the World, considers how art and design can inspire positive social change, with a particular focus on modern Australian society. The exhibition includes more than 60 works of Australian and international contemporary art as well as design and fashion from the gallery's permanent collection, and is arranged in four thematic sections headed The Environment, Activism, The Everyday and The Future. Topics broached include the climate emergency, poverty, racism and cultural identity.
A centrepiece of the exhibition is the Iranian photographer Hoda Afshar's (b. 1983) moving two-channel film Remain (2018), which explores the deeply inhumane conditions imposed by Australia's immigration system (long lionised by Britain's populist right) on seaborne refugees. Ashar began her career as a documentary photographer in her home country before moving in 2007 to Australia, where she has created work exploring themes of marginality, displacement and gender. Her harrowingly intimate portrait of refugee Kurdish-Iranian journalist Behrouz Boochani brought Ashar global renown in 2018.
That black-and-white image was in fact a still from the shoot of Remain, created on Manus Island in Papua New Guinea during 2018, after the closure of the notorious detention centre established there in 2001. Under successive Australian governments, Manus's "Processing Centre" had been used to house refugees and migrants attempting to reach Australia by boat—in 2017 the centre was closed, but many former inhabitants were unable to leave the island, often lacking the necessary travel papers. Among them was Boochani, who had fled to Australia via Indonesia in 2013 after being persecuted by Iran's theocratic regime for his pro-Kurdish journalism. Boochani was intercepted by the Australian Navy and sent to Manus in the same month that Prime Minister Kevin Rudd stated that no new boat arrivals would be allowed to settle.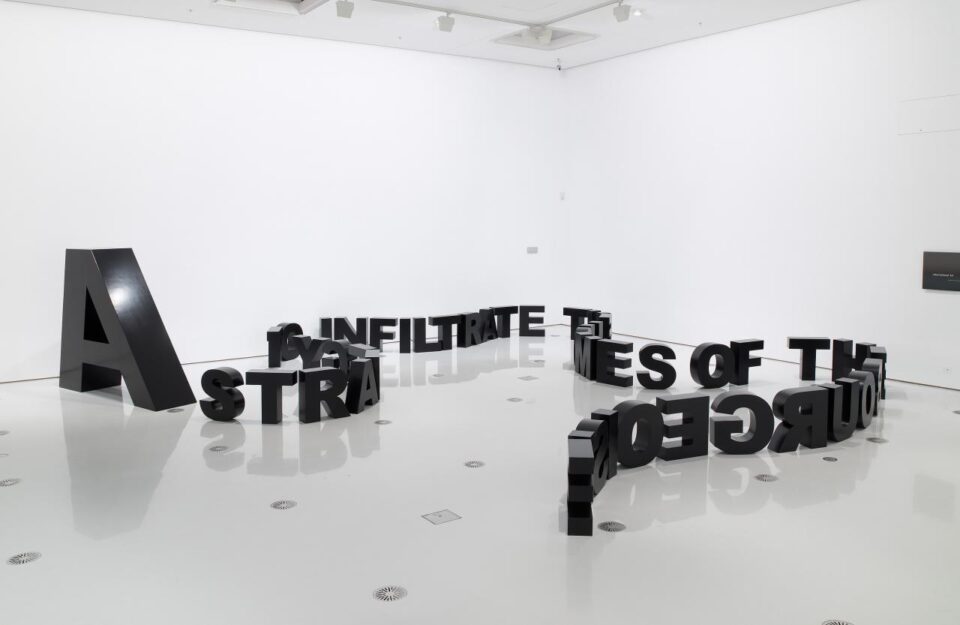 Ashar's film depicts Boochani and a number of his other former inmates pacing the beach, passing through the island's lush tropical interior and lying in the shallow surf. They were invited by the artist to partake in physical actions and gestures that, while openly staged, were ways of re-enacting their grief and trauma. What results is far from artificial in effect: an arrestingly direct expression of sorrow, rage and empathy for the conditions of real human beings seeking a home. The film is sound-tracked with spoken poetry from Boochani and the Iranian modernist poet Bijan Elahi.
Elsewhere in the exhibition, Ben Quilty's large, abstract painting 150 year, Rorschach explores the significance of landscape and place to indigenous Australian populations and confronts the airbrushing of their stories from popular and state-sanctioned histories. During a bushwalk in the New South Wales highlands, Quilty and his son found a public sign describing their location as a gathering place for locals "for more than 150 years." Knowing that the waterholes of the area had been communal centres for the Gundagara people for millennia, Quilty created his work to depict the ongoing structural racism and denial of identity experienced by aboriginal people in his nation.
In a comparable vein, Peter Drew's Aussie series of street posters reworks portraits of Australians from diverse backgrounds sourced from the National Archives, emblazoning them with the slang moniker "Aussie" in bold capitals to suggest the diversity of the country's communities. In this and other instances, We Change the World offers an image of international art and design that inspires us to positive change, whilst exploring the complex webs of human movement and social identity in which the Australian nation finds itself in 2021.
---
We Change the World runs at NGV until 19 September. More information here.
Words: Greg Thomas.
---
Image Credits:
1. Pascale Martine Tayou, Coloured stones (Pavés colorés) 2015. Granite, synthetic polymer paint on granite 121.5 x 230.0 x 191.5 cm. National Gallery of Victoria, Melbourne © Suzanne Dawbarn Bequest, 2018.
2. Emily FLOYD A strategy to infiltrate the homes of the bourgeoisie (2005) synthetic polymer paint on composition board 91.0 x 845.0 x 907.5 cm (variable) (installation) National Gallery of Victoria, Melbourne Purchased with funds from the Victorian Foundation for Living Australian Artists, 2006 © Emily Floyd courtesy of Anna Schwartz Gallery, Melbourne