Since the mid-20th century, famous light artists have emerged across the globe: from Antony McCall (b. 1946) to Olafur Eliasson (b. 1967), James Turrell (b. 1943) to Yayoi Kusama (b. 1929), Mary Corse (b. 1945) to teamLab. These creatives are known for breaking the mould, using light and reflection to transform space and offer new perspectives. Today, their "Instagram-friendly" works are often reposted online – but there's more to them than meets the eye. In this list, we share contemporary exhibitions and events that bring technology and art together. They are designed to captivate, challenge and fascinate.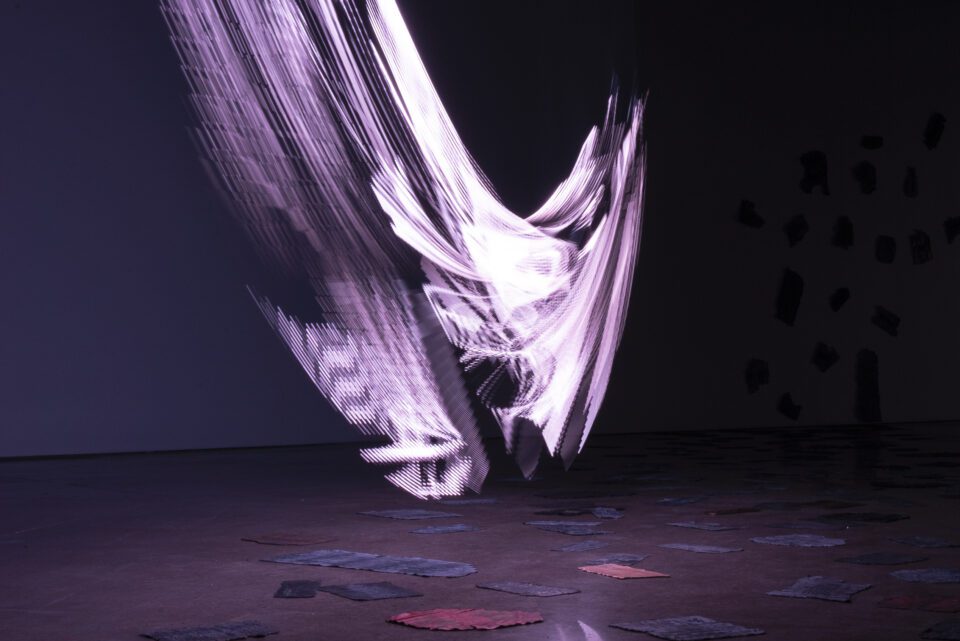 Jenny Holzer: Ready for You When You Are | Hauser and Wirth, West Hollywood, until 21 October
Since the 1970s, Jenny Holzer (b. 1950) has deployed language as her medium, using poetic, political and personal texts to speak to experiences of power, violence, joy, despair and idealism. At West Hollywood, Hauser and Wirth displays Holzer's newest paintings and robotic LEDs, which have been made using artificial intelligence. The artist's experiments with AI are the latest development in a career-long conceptual exploration of both original and borrowed language, and pose new questions around authorship in the 21st century. In GOOD (2023), an AI tool was instructed to describe euphoric experiences. Its responses were poetic descriptions of emotional sensations and natural phenomena. Elsewhere, in BAD (2023), extremist political content was fed to the generator, which was then asked to compose short statements and cryptic poems. From joyful and contemplative to aggressive and chaotic, Holzer's visualises the unpredictability and unknowability of AI, asking us to think about its potential.
Frequency Festival 2023: Emergence | Lincoln, 26-29 October
Frequency is a free biennial that invites visitors to experience Lincoln from an entirely new perspective as the city turns into a digital playground. This year's theme, Emergence, interweaves the disciplines of art, science and philosophy – providing a platform for artists to collaborate in and exhibit around the historic city. Through multi-disciplinary digital projects and seemingly playful immersive spaces, visitors can engage with serious topics like AI and the issues around genetic selection strategies. Highlights from the festival include The Care Takers by Liminal Creative, which is a performative sound installation exploring the brain and memory, particularly in relation to dementia. Beccy McCray, meanwhile, asks audiences to imagine and visualise how humans, animals and nature can co-exist. The artist says: "Using light allows me to create atmospheric, ephemeral, immersive spaces. In my works, the palettes used reference grow lights and hydroponics, raising questions around what we define as 'artificial' and 'natural'."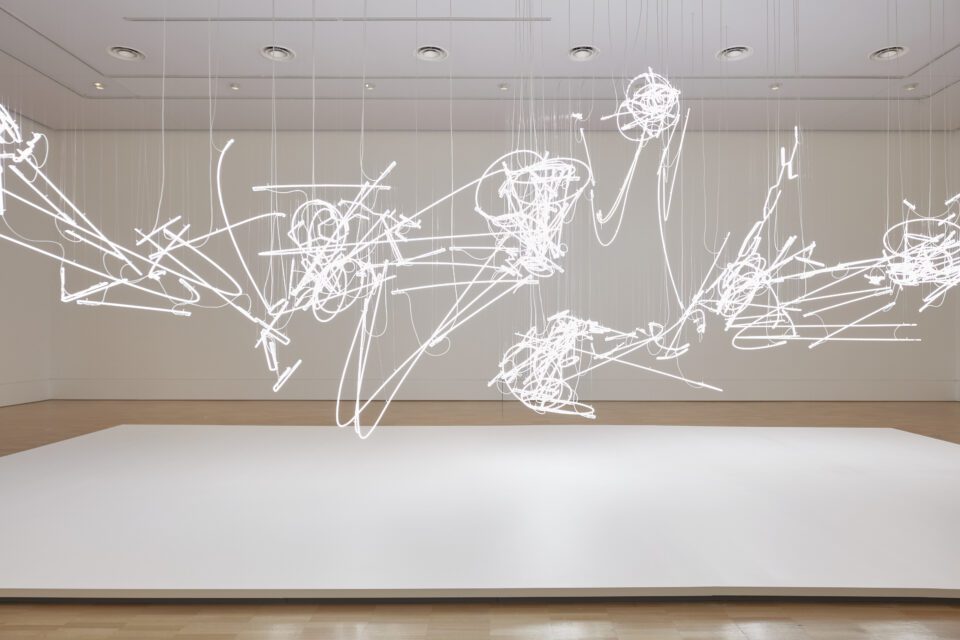 Cerith Wyn Evans: C=O=D=A | National Gallery of Victoria, Melbourne, until November
Cerith Wyn Evans (b. 1958) is a Welsh conceptual artist whose practice explores communication, ideation and language. His work, C=O=D=A (2019-2020), is a large neon drawing that is suspended in space. It comprises busy scribble-like-forms and diagrammatic shapes that reference the structural formulae for chemical compounds. C=O=D=A punctuates the audience's field of vision with rapid vectors, loops, straight lines, curves and complex geometric forms – all lit up in bright white neon. Evans' light sculpture invites visitors to move around the gallery space, considering the relationships between each form as they do so. Whilst it is technically possible to follow the intersections and intricate shapes by eye, viewers will find themselves caught inside continuous circuits that never seem to reach a decisive end point.
Dan Flavin/Donald Judd | Qatar Museums, Doha, from 25 October
This October, Qatar will host the largest museum exhibition of American artists Dan Flavin (1933–1996) and Donald Judd (1928–1994) outside the US, and the first major presentation in the Middle Eastern and North African regions. In terms of the art historical canon, Flavin and Judd are closely intertwined. They are considered amongst the pioneers of minimalism, a widely influential art movement that broke free from traditional notions of painting and sculpture to focus on the experience of real space and raw materials. Featuring 34 works by Flavin and 25 works by Judd, this display introduces the artists' shared interest in material, colour and form. Whilst Judd worked on geometric objects, Flavin utilised commercially available fluorescent lamps to create installations glowing with light and colour.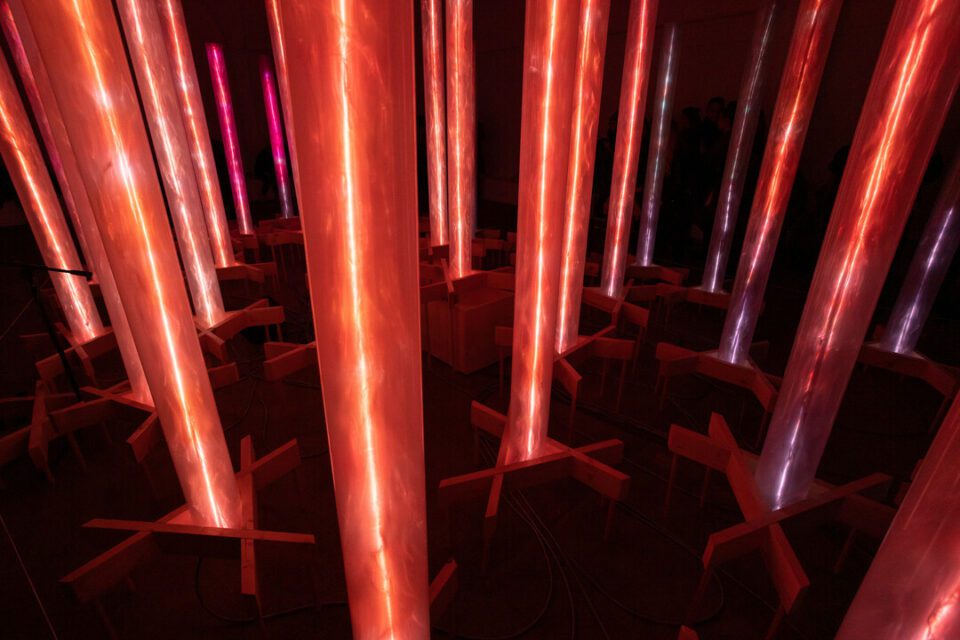 Light Organ | Yorkshire Sculpture Park, Wakefield, from 17 November
Light Organ is the collaborative invention of local artists British Jamaican Akeelah Bertram (b. 1990), Leeds-based Adam Glatherine (b. 1983) and creative technologist Simon Fletcher. "We wanted to create something uplifting and playful to encourage people to experiment and share our love of light and sound," says Bertram. The installation consists of 40 large-scale pipes that react to sound. Visitors are invited to sing, talk and clap into microphones connected to the large-scale rods. Based on the frequency, intensity and volume of noises, the sculptural forest will light up and change colour. Each sequence of hues is unique. Throughout the winter, the venue will offer various programmes, including musicians and poets.
---
Words: Fruzsina Vida
---
Image credits:
1. Dan Flavin, untitled, 1970, blue and red fluorescent light, modular units, each made of two 8 foot (244 cm) vertical fixtures and two 8-foot (244 cm) horizontal fixtures: length variable. Qatar Museums Collection. © 2023 Stephen Flavin / Artists Rights Society (ARS), New York. Photo: Courtesy David Zwirner
2. Installation view, 'READY FOR YOU WHEN YOU ARE Jenny Holzer,' Hauser & Wirth West Hollywood, 2023. 1 September – 21 October 2023 © 2023 Jenny Holzer, ARS. Photo: Collin LaFleche.
3. Installation view of Cerith Wyn Evans's workC=O=D=A2019–20 on display in NGV Triennial 2020 from 19December 2020–18 April 2021 at NGV International,Melbourne © CerithWyn Evans, courtesy White Cube,London. Photo: Tom Ross
4. Akheela Bertram, Adam Glatherine, Simon Fletcher, Light Organ, YSP, 2023