The global impact of African fashion is surveyed from the 1950s to the present-day in this groundbreaking exhibition. The show, originally produced by V&A, makes its first stop in North America. It celebrates the outstanding creativity and ingenuity of the industry today. These works investigate how attire, alongside culture, music and visual arts, played a pivotal role for the continent during its independence years.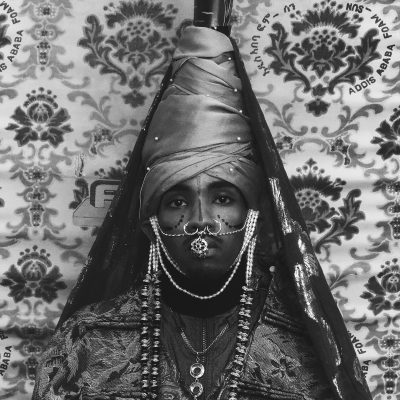 The exhibition is split into seven chapters, spanning 45 designers and 20 countries. In Vanguard, pioneers such as Moroccan designer Naima Bennis feature. Here, projects broach tradition and innovation. Elaborate trimmings from old caftans are applied to new outfits, whilst male "bernous" capes are transformed into outer garments for women. Elsewhere, Chris Seydou adapts Mali's bogolan fabric to haute couture. The mud-dyed cloth is transformed into jackets and mini-skirts, striking a balance between local culture and worldwide markets. No two prints are the same. Patterns are made in a method Seydou referred to as "decoding," using a single arrangement that isolates the form without fully changing it.
"The contemporary African fashion scene is as diverse and dynamic as the continent itself," writes Christina Checinska in the accompanying catalogue for the exhibition. In Africa Fashion, cutting-edge artists make their way to the fore. The show speaks to wider movements of decolonisation and echoes international programmes such as Contemporary African Photography at Tate Modern and The Missing Thread at Somerset House, which explore the untold stories of Black British fashion. These exhibitions are essential. They redress a history and legacy that has previously gone unseen, creating space for diversity, inclusion and wider representation.
---
Brooklyn Museum, Africa Fashion | 23 June – 22 October
Words: Fruzsina Vida
---
Image Credits:
Photo by Lakin Ogunbanwo, image courtesy of Nataal.
"Mbeuk Idourrou" collection, Imane Ayissi, Paris, France, Autumn/Winter 2019. (Photo: Fabrice Malard / Courtesy of Imane Ayissi).
Gouled Ahmed (born Djibouti, 1992). Self-Portrait, Addis Foam, Ethiopia, 2017. Courtesy of the artist.
Dakala-cloth ensemble, "Who Knew" collection, Nkwo Onwuka, Abuja, Nigeria, Spring/Summer 2019. (Photo: © Kola Oshalusi, courtesy Nkwo Onwuka).