Danish photographer Søren Solkær (1969) is famous for his atmospheric and cinematic celebrity portraits. But he has recently turned his hand to nature photography – with mesmeric results. His 2020 book Black Sun captured the extraordinary phenomenon of starling murmurations, the mass collective swell and flight of thousands of birds as if they were a single, living organism. It's a spectacle visible across Europe. Now, the artist has teamed up with famous graffiti muralist Henrik Soten to convert the side-wall of an apartment block in central Copenhagen into a huge mural, expressing love for non-human life.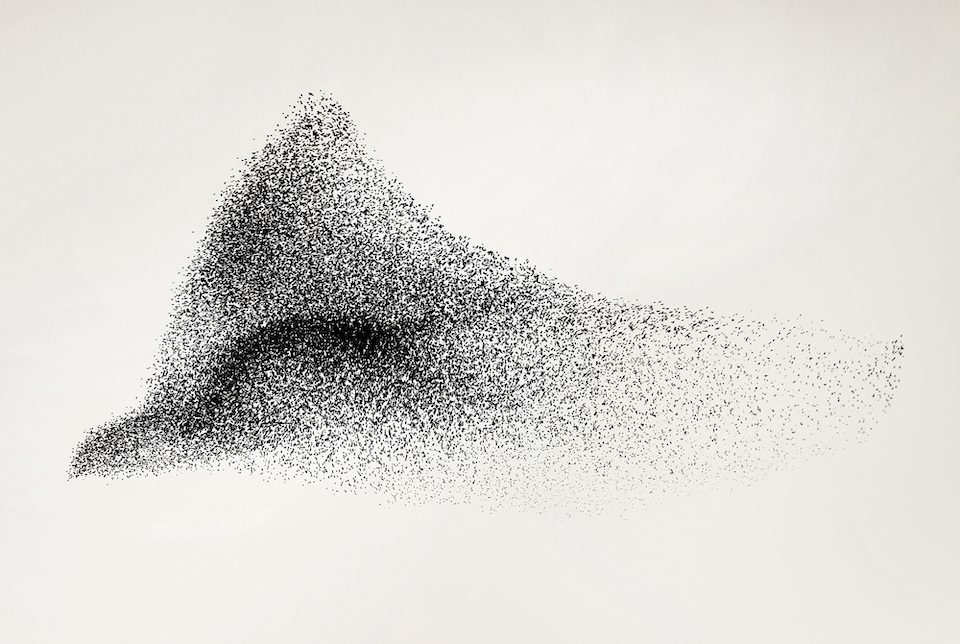 Solkær grew up in rural southern Denmark, where the annual migration of birds became an aesthetic and emotional ritual. The budding artist would record the phenomenon with his camera each year. After more than two decades spent touring the world as a photographer, culminating in a major retrospective, he was drawn back to the marshland of his childhood, near the Wadden Sea. There he became entranced by the spectacle known as "Black Sun," when starlings murmurate in such large numbers that they cause a brief solar eclipse. What had been intended as a week-long sojourn turned into a quest – transporting him across Europe, from Rome to Glastonbury and Catalonia.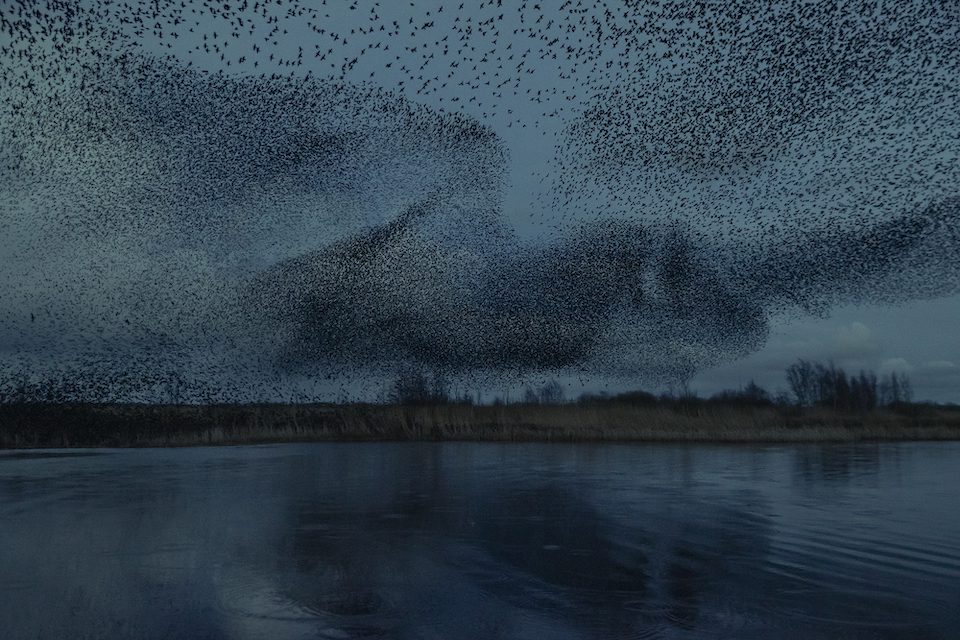 In an interview with Aesthetica in 2020, the artist spoke about his love of Japanese woodcut art and calligraphy, citing these, along with the romantic landscape painting of Caspar David Friedrich, as major influences on the project. Indeed, through spectacularly detailed shots of the winter sky mottled with wings, much of Black Sun seems like ink drawing or visionary painting rather than photography, as if precise and stylised mark-making had been used to build up exquisite gradients of shadow. This impression is enhanced by Solkær's use of a highly matt, textured kozi washi fibre paper. It's a far cry from the glossy feel of most photographic prints, and it reflects the extraordinary quality with which the birds move, as if each were a feather or scale on the flank of one vast creature.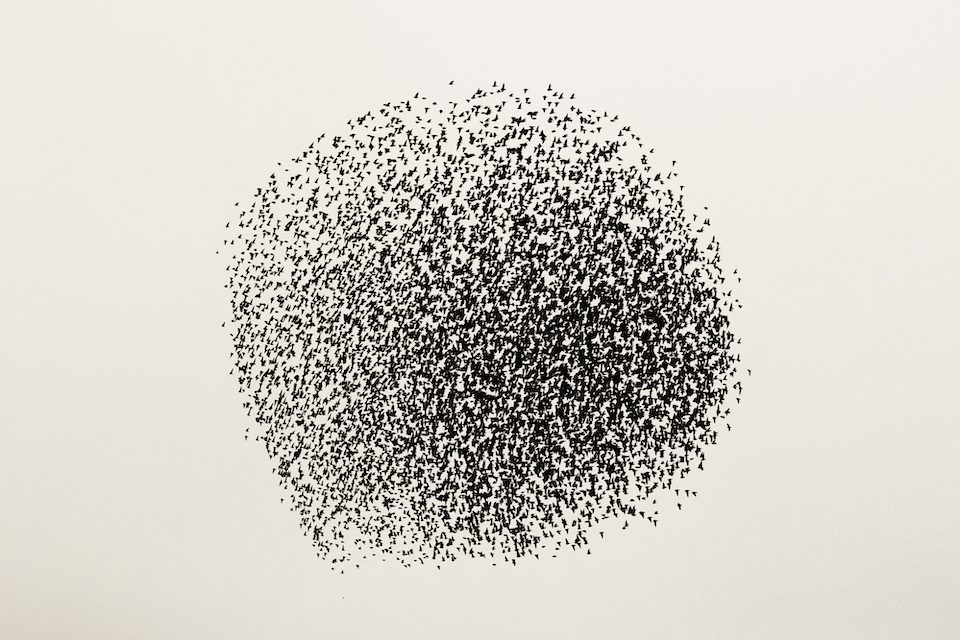 This ties into another key aspect of Black Sun: the love and respect it expresses for non-human life, in all its varied intelligence and spirit. To this end, the panoramic shots that make up much of the book are coupled with detailed close-ups of single birds. Like stills from a stop-motion film, the texture and tone of wings and beaks is captured with stunning precision. For the artist, "it really seems…that they are trying to communicate. The pictures the birds paint on the sky: many of them are really recognisable to humans."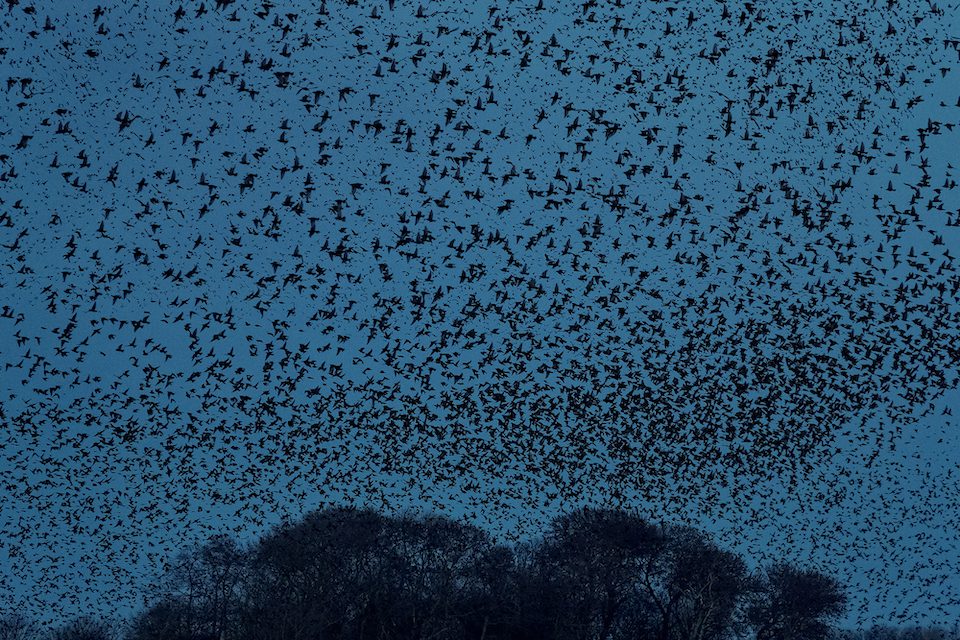 The idea that these "signs in the sky" represent some attempt at interspecies communication might well have inspired the striking shape Solkær chose for his mural: a heart-shaped murmuration above Rome. With his love of the "graphic winter landscape" and preference for a spare, almost black-and-white colour palette, the photographer and his collaborator, renowned graffiti artist Soten, converted a whitewashed gable-end in central Copenhagen into a vast canvas. The curvaceous swell of starlings above is framed by a line of skeletal foliage along the lower wall. It's an arresting and painstakingly crafted motif.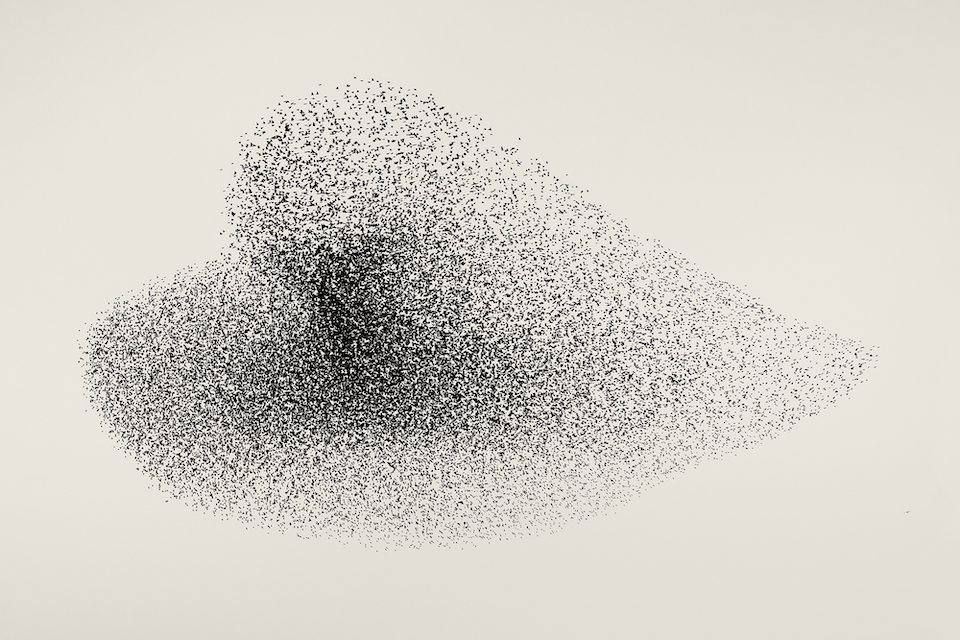 By translating a photographic image into a painting, Solkær and Soten have playfully teased out the graphic qualities of the original Black Sun series. The image also sends a message of hope, empathy and love – both for the city and the other animals with which we share our planet. It's a key message at a time of unprecedented strain on global ecosystems.
---
Søren Solkær and Henrik Soten's Black Sun Mural was created as part of the Golden Days festival during Summer 2021. Find out more about Black Sun here and about Henrik Soten's work here.
Words: Greg Thomas
---
All images bySøren Solkær, from Black Sun.