Across galleries, desert landscapes and major architectural landmarks, artists continue to make statements about the world they live in. Aesthetica collates five installations featured in previous editions of the magazine, exploring light, space, the environment and the power of language.
Western Flag recreates scenes from Lucas Gusher – considered the world's first major oil find – in Spindletop, Texas. On 10 January 1901, the gusher blew for nine days, spilling out roughly 100,000 barrels of oil per day. Gerrard has superimposed a flagpole emitting smoky black gas – representing carbon monoxide – onto footage of the oil site, confronting the consequences of exploiting fossil fuels.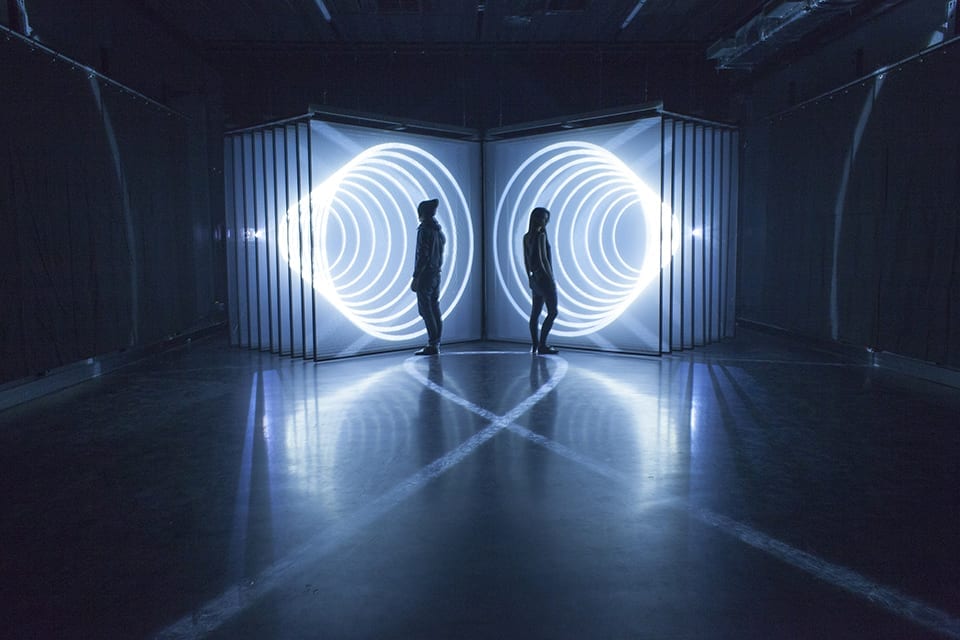 Nonotak, a French performance project founded by illustrator Noemi Schipfer and architect Takami Nakamoto. The collaborative studio creates ethereal, dreamlike environments built to envelop, challenge and stagger the viewer, with custom-built technology, projection mapping, reflective surfaces and fibre optics designed to provoke audiences into questioning their surroundings.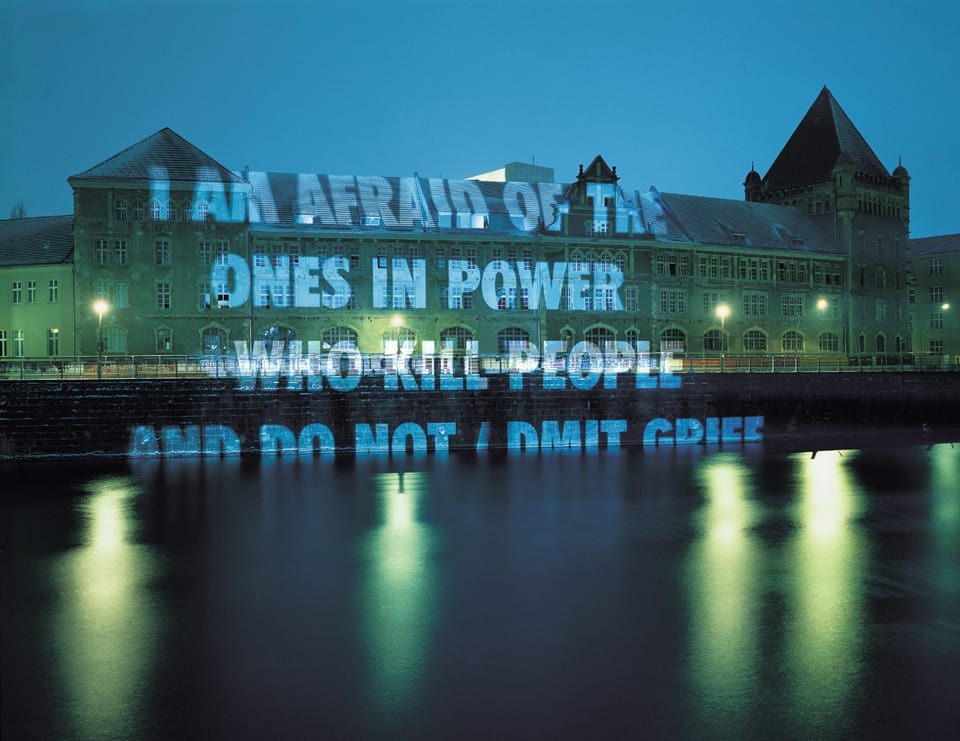 Jenny Holzer, Xenon for Berlin
Started in 1977, Jenny Holzer's Truisms have been displayed in a multitude of places: storefronts, museums, galleries, ancient walls, t-shirts, and the façades of historic buildings. They are the kinds of questions and statements which many people were contemplating but few were brave enough to voice: "An elite is inevitable"; "Class structure is as artificial as plastic"; "Grass roots agitation is the only hope."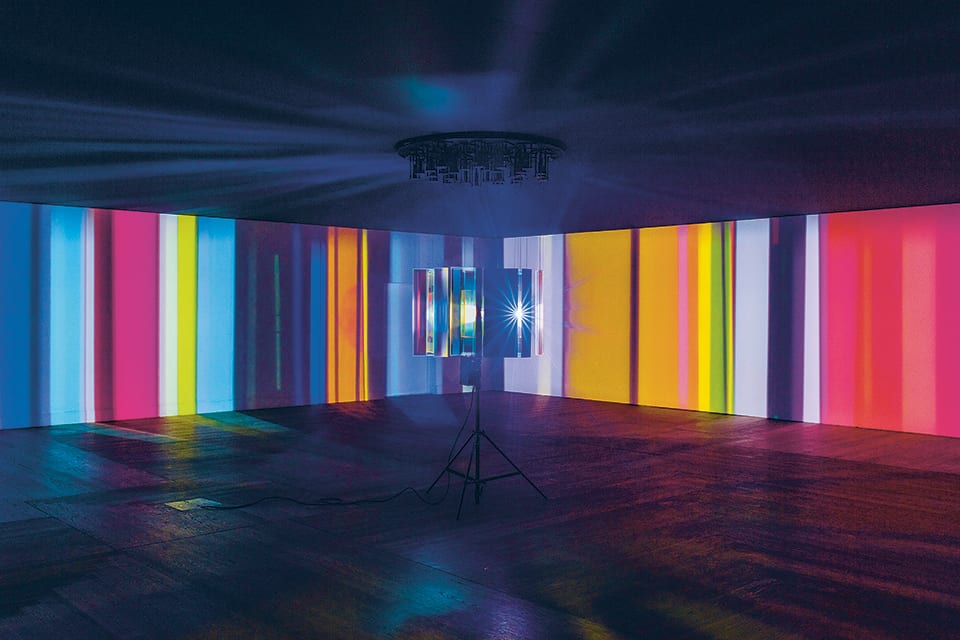 Olafur Eliasson, I only see things when they move
Olafur Eliasson's custom-built, perception-changing environments break down barriers, and not only in relation to the viewer and the space. "He's very interested in how we react to our surroundings and how we understand the world," says Anna Engberg-Pedersen, Head of Research and Communications at Studio Olafur Eliasson. "What do we see? Why do we see it? Why do we understand the world in the way we do?"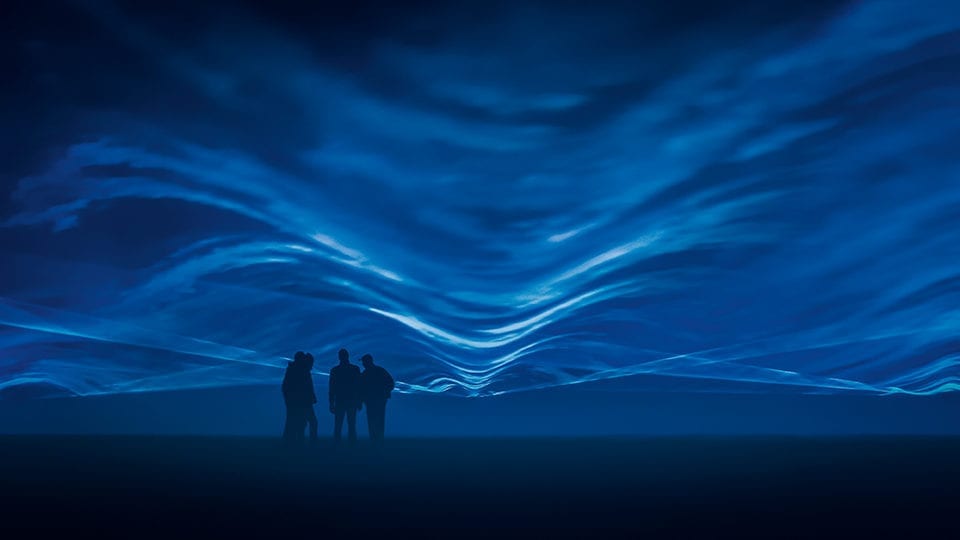 Dan Roosegaarde illustrates the dangers of rising seas in Waterlicht (2016-2018). The work uses LEDs to offer a striking horizontal membrane of blue beams that floats in mid-air, extending over a large space with a swaying, wave-like motion. This virtual flood serves as a potent reminder of how water can both give and take life. Roosegaarde explains: "Experience the vulnerability and power of living with water."
---
Aesthetica is a destination for contemporary art and culture. Keep up to date with some of the most important artists at work today. Subscribe and Save 40% + Get Your Free Digital Subscription.
---
Lead image: "Western Flag (Spindletop, Texas)" by John Gerrard for Desert X 2019Lance Gerber/Courtesy the artist and Desert X.
1. DAYDREAM V.2 by NONOTAK (Noemi Schipfer & Takami Nakamoto.)
2. Xenon for Berlin, 2001. © 2001 Jenny Holzer, member Artists Rights Society (ARS), NY Photo: Attilio Maranzano.
3. I only see things when they move, 2004. Installation view at Moderna Museet, Stockholm, 2015. Picture credit: Dmitry Baranov.
4. Daan Roosegaarde, Waterlicht, 2015 – present.