Since the 1920s, a series of towering white letters have stood above Los Angeles. The Hollywood Sign – with its underlying messages of ambition, glamour and success – is one of the most famous in the world. Other notable waypoints can be found in Las Vegas, at Paris' Moulin Rouge or within the London Underground. Here are five contemporary photographers who explore the nostalgia – and future – of bright, bold signage: from saturated paintwork to dazzling neon, food trucks to motels.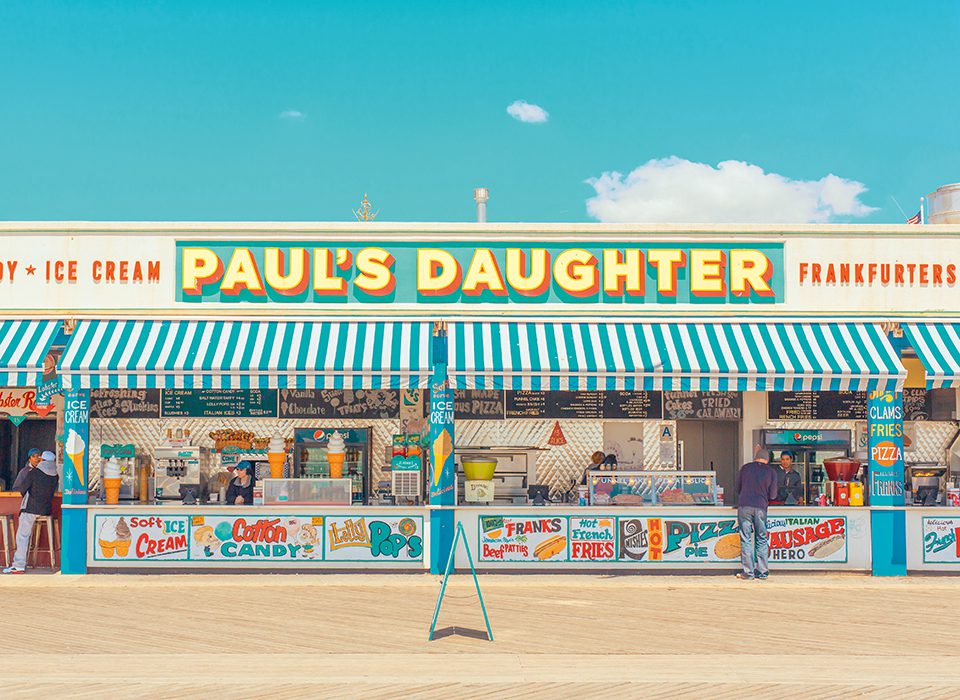 Australian artist Ben Thomas (b. 1981) focuses on urban spaces. Locations including Melbourne, New York, London and Florence are flattened and enhanced; colours are reduced to blocks, shadows are smoothed and skies are rendered in luminous aquamarine. By intensifying colours and distorting the boundaries between reality and abstraction, Thomas poses questions about how society defines the places in which we live: how far do we have to digitalise our surroundings until they are noticeably unnatural? This image shows a counter selling ice cream, cotton candy, pizza and hot dogs – in striking blue, orange and yellow.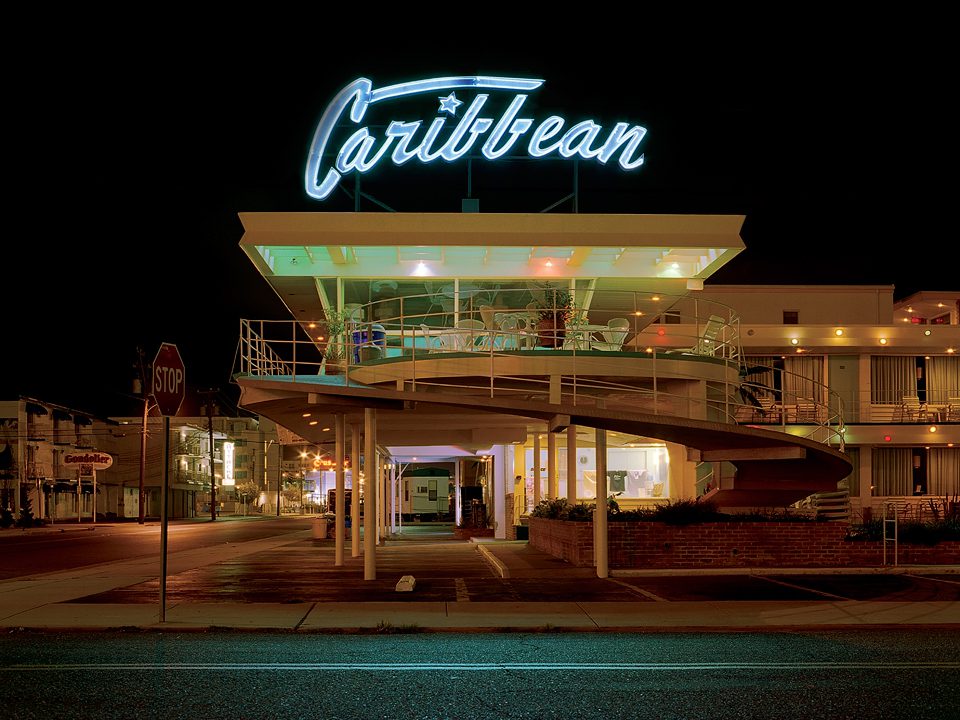 Mark Havens's Out of Season series depicts the disappearing motels of Wildwood, New Jersey. Wildwood is a small barrier island at the tip of southern New Jersey, containing the highest concentration of mid-century modern hospitality architecture in the United States. These motels have remained unchanged for half a century, but are now slowly being demolished – vacant pools and forecourts replete with retro patterned uniformity are flanked by empty chairs, and haunted by a tangible absence. In the featured shot, a pale blue neon sign – reading 'Caribbean' – flickers in the darkness.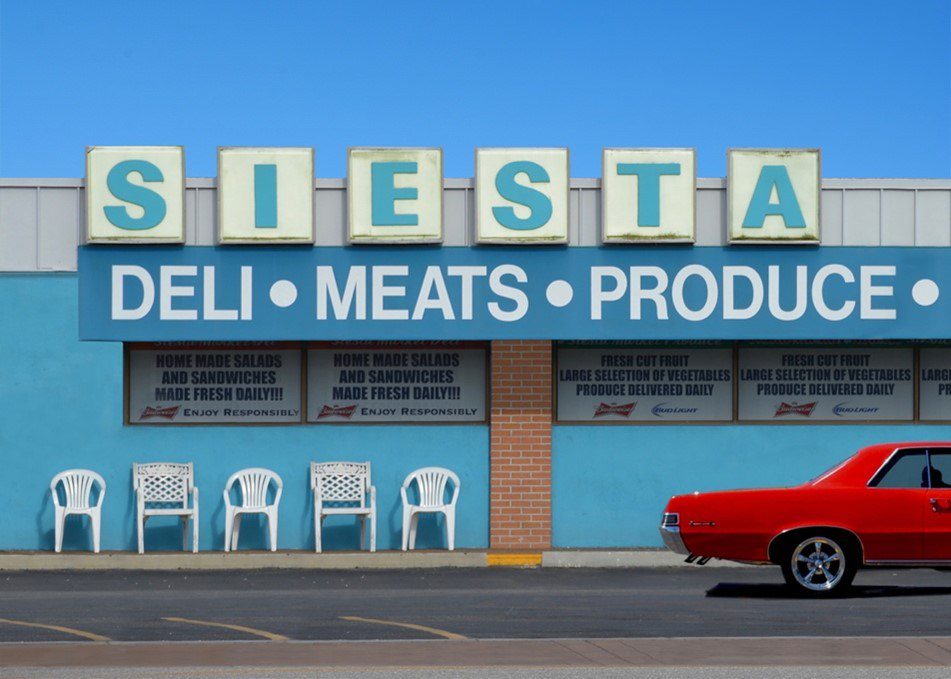 Over the past four years, Hayley Eichenbaum (b. 1989) has documented the remnants of Route 66 in the American southwest, resulting in The Mother Road series. The photographs are bright, pop-coloured and polished – showcasing recognisable tropes of Americana. Bright red cars pop against bubblegum blue buildings. Palm trees peek out over mint green walls. Fluffy clouds appear amongst concrete courtyards. In the above image, scrabble-like tiles invite travellers indoors: to rest, shop and eat before hitting the road.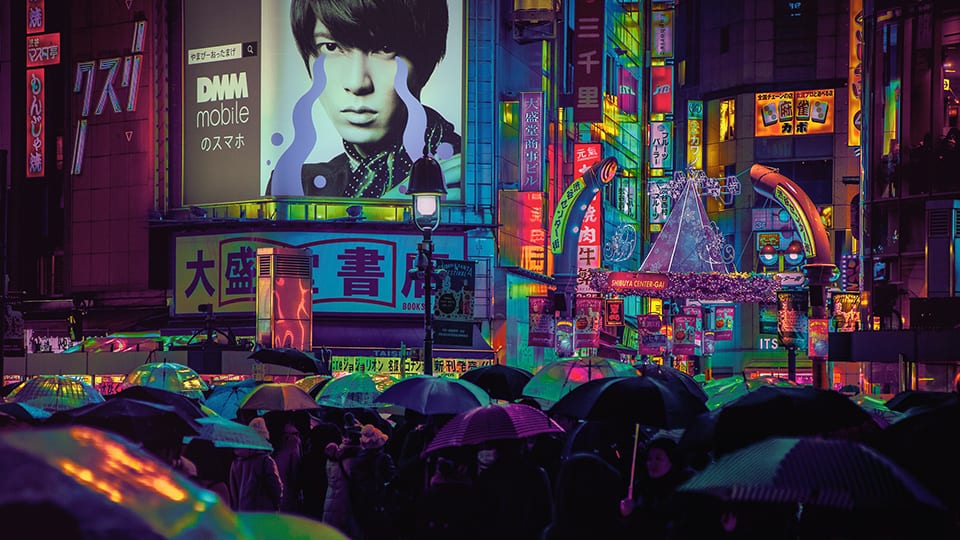 A sea of umbrellas gathers around a pedestrian crossing. Puddles sparkle with artificial pinks and blues. Advertisements glare from the sides of buildings. Liam Wong's (b. 1987) photographs are deeply influenced by the visual identities of video games, utilising vibrant colours, open landscapes and cyberpunk imagery. Japanese films such as Akira (1988) and Ghost in the Shell (1995) provide reference points for the neon-soaked alleyways. Wong wanders through Tokyo's streets, seeking moments of isolation amongst the tireless bustle. In these photographs, signs become the only light source – filling entire frames.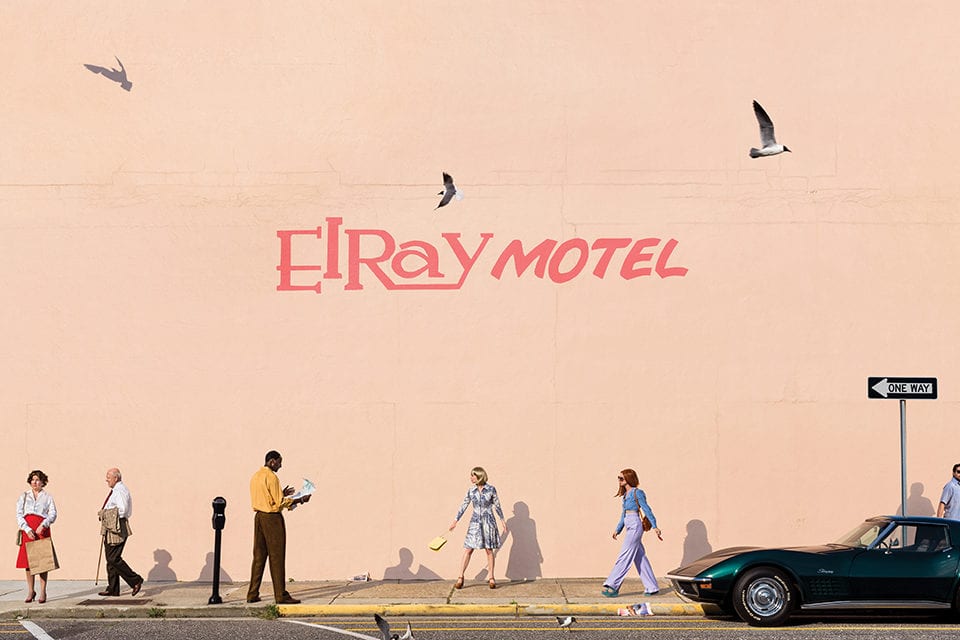 Philadelphia-based Nadine Rovner (b. 1982) has built her practice on orchestrating lush, cinematic scenes centred around anticipation, longing and desire. Rovner finds a space between past and present, drawing parallels between 1960s Americana – saturated by idealism – and today's age of increasing hyperrealism. Nostalgic iconography is contrasted with the resolution of crisp, digital photographs filled with tension. We are introduced to the El Ray Motel, for example, where stories play out on balconies and streets.
---