The first Monday of October has marked World Architecture Day every year since 1985. The initiative was started by the International Union of Architects (IUA), and its theme varies annually to reflect different aspects of the field. In 2023, the subject is Architecture for Resilient Communities. "With this theme, we seek to place particular emphasis on the capacity and responsibility of architecture to create viable community life and open an international discussion on the relationship between urban and rural areas in all countries." Here, we collate 10 buildings from the last decade – one for each year – that showcase creative engineering, forward-thinking ideas and highlight the versatility of our built environments.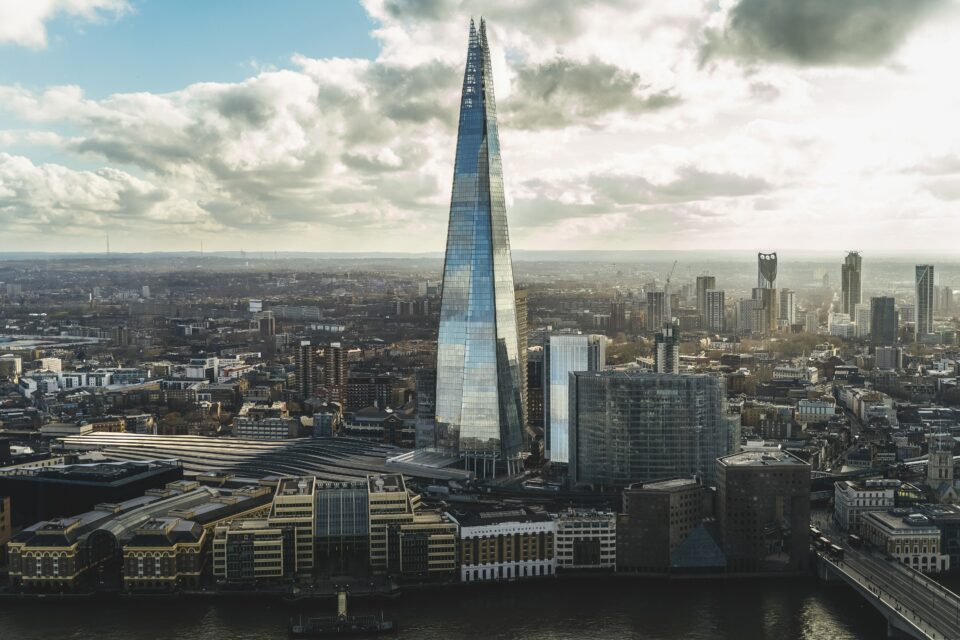 The Shard, London, UK | Renzo Piano Building Workshop, 2013
Before construction began, architect Renzo Piano (b. 1937) shared his vision The Shard: "I foresee the tower as a 'Vertical City', for thousands of people to work in and enjoy, and for millions to take to their hearts." The mixed-use tower is located by the London Bridge Station on the south bank of the river Thames. Originally, the high-density development was implemented to discourage car use, and it has multiple functions including residential, offices and retail. It stands a 309.6 metres high and it is Western Europe's tallest building. 72 of its 95 storeys are habitable. On the bottom of the pyramid are offices; the middle section houses public spaces and a hotel; whilst private apartments are located on the top. The Shard pierces the horizon as a glass needle and it is a significant element of the London Skyline.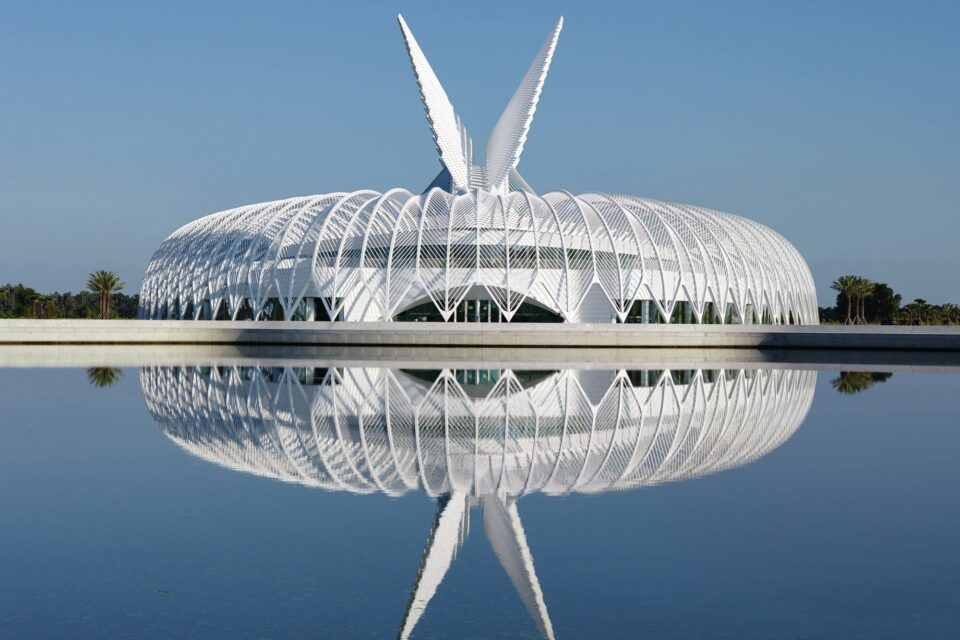 Florida Polytechnic University, Lakeland, USA | Santiago Calatrava Architecture, 2014
Architect and structural engineer Santiago Calatrava is known for planning bridges, railway stations and public spaces that resemble living organisms and incorporate sculptural forms. The central building of the Florida Polytechnic University is one such complex. Located by a lake, the cage-like structure is reflected on the water's surface, and was designed to celebrate the potential of human creativity. Calatrava stated: "I am honoured to have been involved in this project dedicated to the study of science, technology, engineering and math – a set of subjects so crucial to our society and our economy. I am proud of what we have all achieved and I hope the young people that study here will be inspired to be creative and to meet their potential." The main materials of the building are aluminium, concrete and glass. Inside the 18,500 square metre structure, visitors are met with a large meeting area located directly underneath a lightweight vaulted trellis of curving columns. On the top, a louvred canopy of 46 adaptable panels crowns the building. These are operated by hydraulics to block out direct sunlight and reduce solar gain.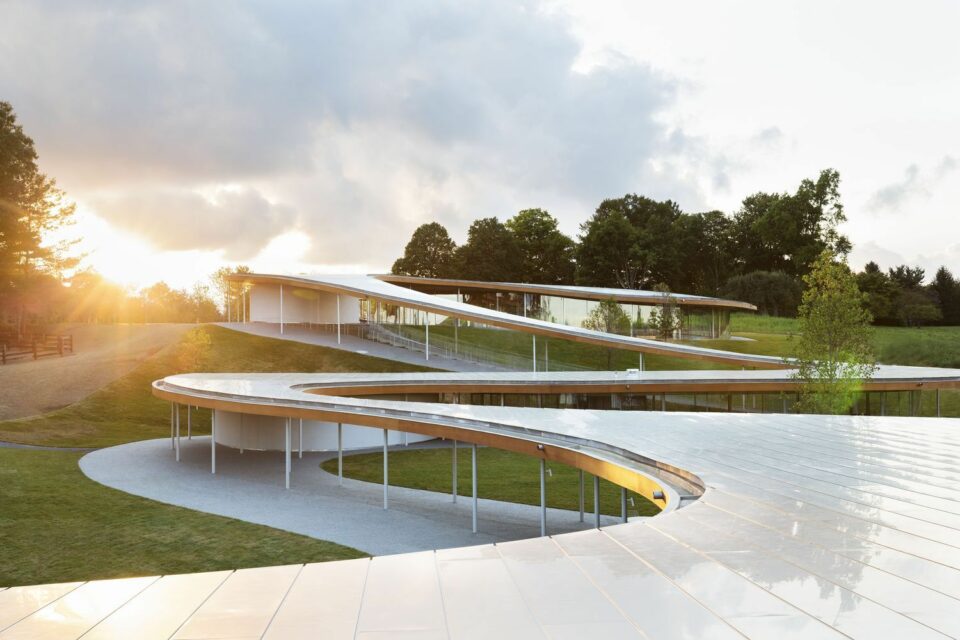 River building at Grace Farms, New Canaan, USA | SANAA, 2015
Grace Farms is a community space located near to meadows, ponds, woods and wetlands. Japanese design duo SANAA's River building is a library, a pavilion and a leisure centre all at once. It smoothly blends into the landscape, effortlessly floating in harmony with the 80 acre surrounding area. This is further emphasised by the rhythm of timber pillars that hold up the elongated roof. Underneath are five detached transparent glass-enclosed volumes, used for a variety of events. The toned-down shapes – rendered in glass, concrete, steel and wood – contribute to a peaceful grounding experience. Sharon Prince, President, notes: "We invite people to shape their own personal experiences at Grace Farms, take a quiet nature walk and have a cup of tea, join an art and architecture tour, see a performance, take part in a justice initiative or reflect on your faith. The possibilities are as open as the landscape itself."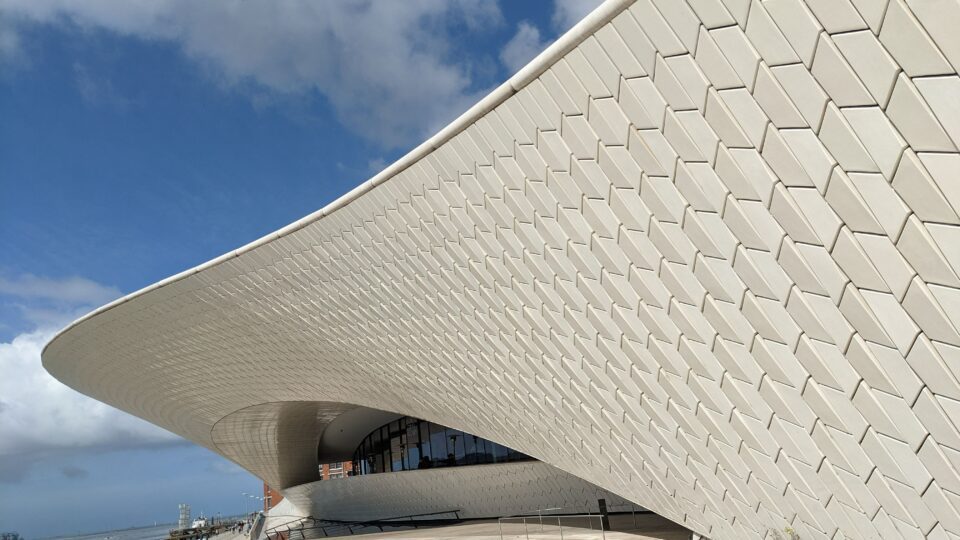 Museum of Art, Architecture and Technology, Lisbon, Portugal | AL_A, 2016
The Museum of Art, Architecture and Technology (MAAT) is a cultural destination in the historic Belém neighbourhood of Lisbon, Portugal. It is part of an art campus which consists of the gallery, a repurposed power station and neighbouring gardens. Situated directly by the river Tagus, it proposes a synchronised relationship between the city and its waterways. Designer Amanda Levete (b. 1955) said: "The waterfront is so essential to the project that MAAT literally reflects it. The overhanging roof that creates welcome shade is used to bounce sunlight off the water and into the main gallery, one of the four interconnected exhibition spaces." The building illustrates how disciplines such as contemporary art, architecture and technology can influence each other; the façade is covered in sand-coloured three-dimensional glazed tiles which draw inspiration from Portugal's rich history of craft and ceramics. MAAT welcomes visitors to move freely on top of the roof, underneath in the shade and within the interior spaces, whilst providing temporary exhibitions, permanent displays, creative programmes, education sessions and workshops.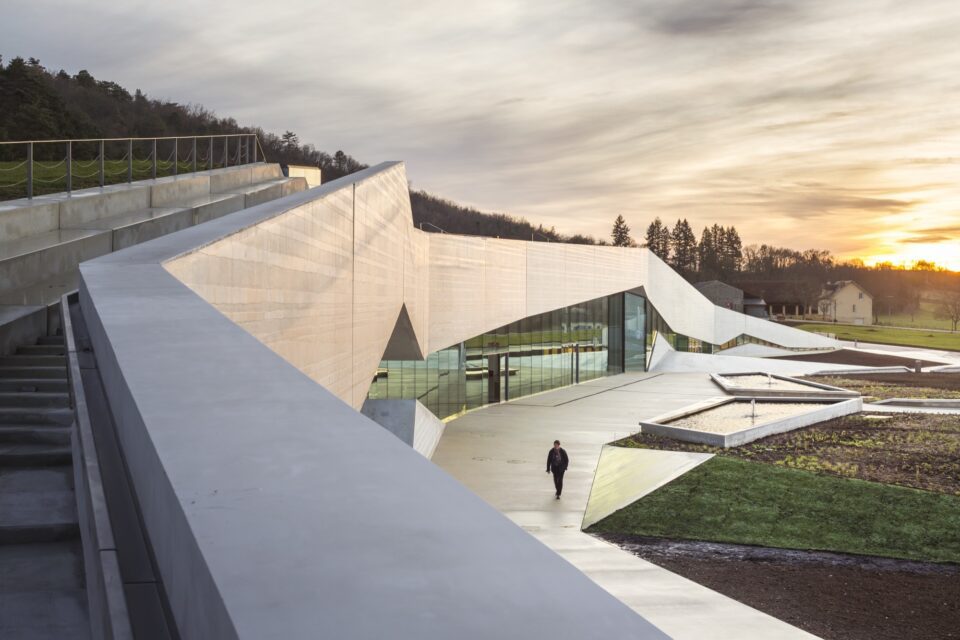 Lascaux IV, Montignac, France | Snøhetta, SRA 2017
The International Centre for Cave Art is located in the French town of Montignac, approximately half a mile from the world-renowned caves of Lascaux. Lascaux IV is an immersive visitor centre that educates audiences about the region's prehistoric cave paintings. It was designed by Norwegian firm Snøhetta and Nottingham-based SRA Architects, alongside scenographer Casson Mann and a large group of archaeologists. Known as the "Sistine Chapel of Prehistory" due to its historical significance, the cave's 20,000-year-old paintings are amongst the finest known examples of art from the Paleolithic period. The site is a replica of the original cave, made with the 3D laser scanning and casting techniques. Following the construction, the display underwent an analogue process: 25 artists spent two years hand-painting 900 meters of resin rock reproductions. Audiences can observe the facsimile and take part in an adventure similar to that of the cave's first modern discoverers in 1940. The monolithic exterior structure blends in with the surrounding hillside and creates a man-made cave with a contemporary touch.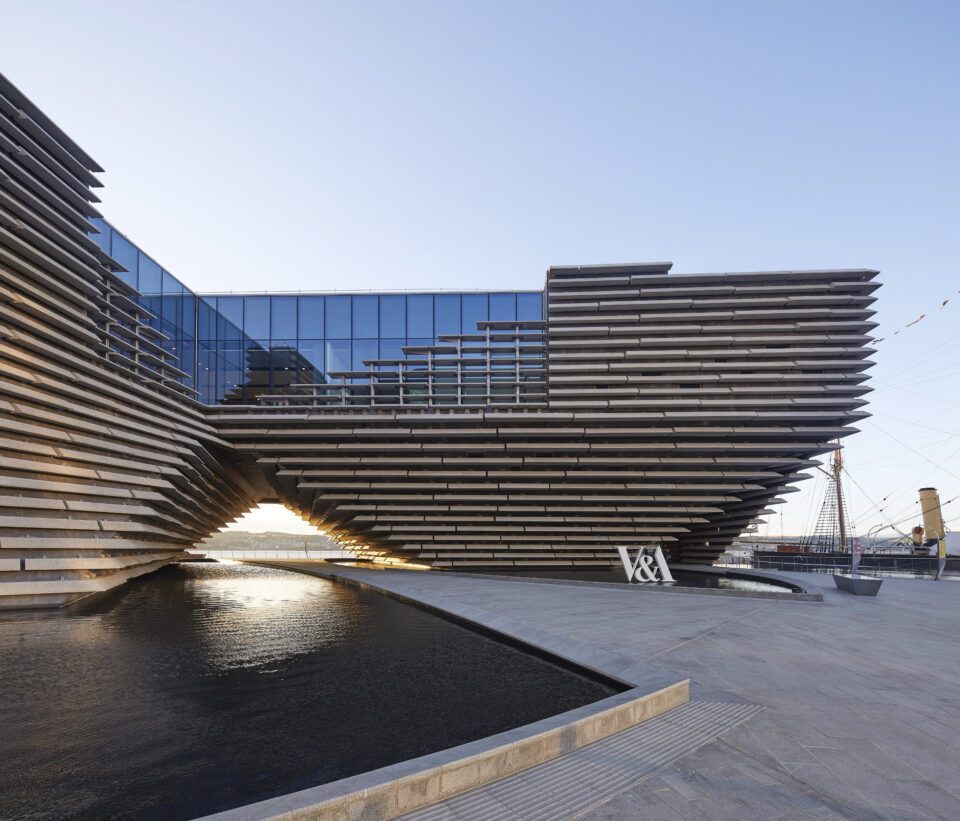 V&A Dundee, Dundee, Scotland | Kengo Kuma, 2018
V&A Dundee is inspired by the cliffs on Scotland's North-Eastern coastline, and resembles waves or the hull of a ship. Its cutting-edge form creates shadow patterns which change based on weather circumstances and time of day. The museum is located on the river Tay waterfront, and signifies the city's shipbuilding heritage. Imagined by Kengo Kuma (b. 1954), V&A Dundee's inverted pyramid form twists both horizontally and vertically, its two halves separating on the ground and uniting on the top floor. This meeting point forms a tunnel; a frame and route through which the city and the river are reconnected. The façade is covered in pre-cast stone cladding, whilst the interior is finished with toned-down wooden panels. V&A Dundee incorporates an auditorium, exhibition galleries, a main hall and a learning centre.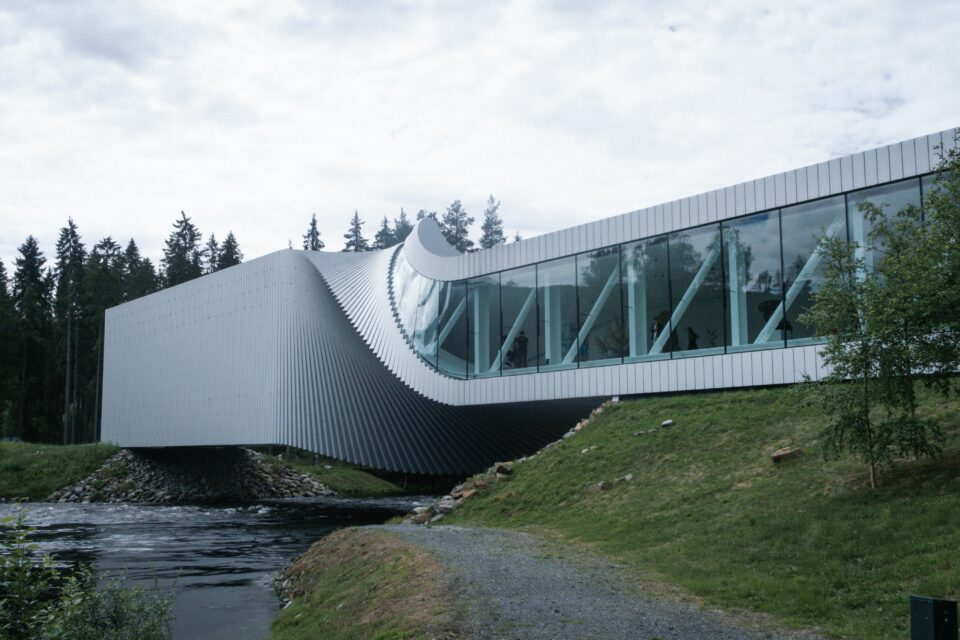 Kistefos Museum, Jevnaker, Norway | Bjarkge Ingels Group, 2019
The Twist, designed by Danish studio Bjarke Ingels Group, is set in the scenic Kistefos sculpture park just an hour away from Oslo, Norway. It is home to large-scale outdoor works by renowned artists such as Anish Kapoor, Claes Oldenburg, Tony Cragg and Yayoi Kusama. The Twist is a simple beam whose sculptural volumes act as both a gallery and a bridge connecting the banks of river Randselva. "Contrary to what the eye perceives, The Twist consists only of straight lines. The long aluminium and wood panels are twisted as in a deck of cards to form a fan shape. The illusion is that you see curves everywhere, but in reality, everything is straight." Inside the curve, at the central point of the building, a staircase acts as an unofficial seating area ideal for video projections, performances and public events. The minimalist muted tones create a neutral space, whilst the floor-to-ceiling glass panels provide a picturesque panorama.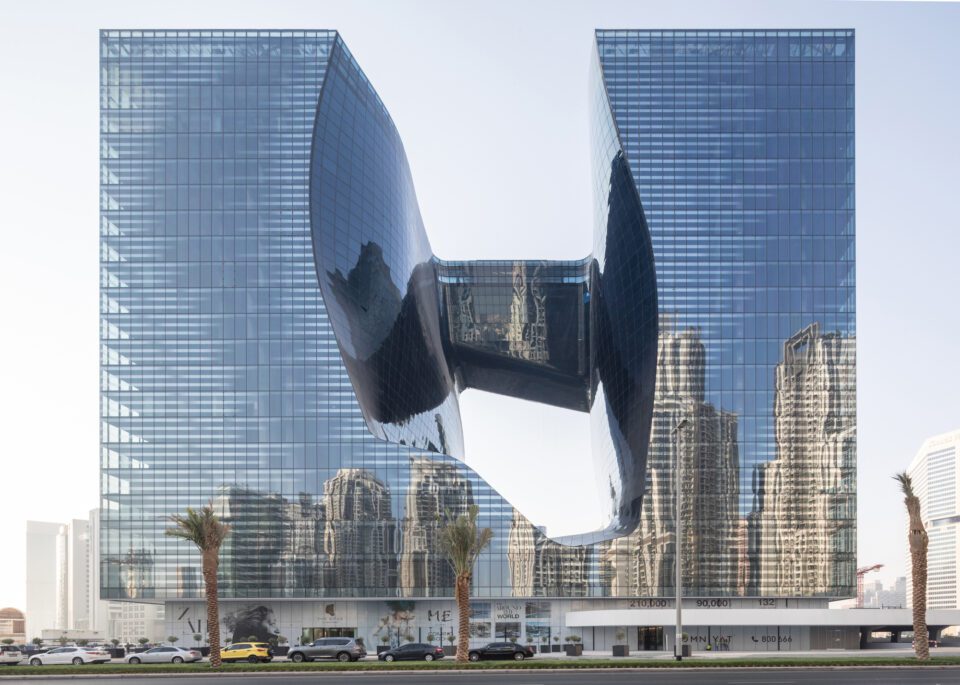 Opus, Dubai, UAE | Zaha Hadid Architects (ZHA), 2020
The Opus is a mixed-use complex located in Dubai's business district. It balances concepts of solid and void, opaque and transparent, interior and exterior, and is a significant milestone for the studio's late founder. "The design for Opus was presented by Zaha Hadid in 2007," ZHA explains. "It is the only hotel in which Hadid created both the structure and interior spaces." It is made of two separate towers that float into one other and create a cubic shape. In the centre is an eight-storey tall free-form void. During the day, the façade – created from curved glass glazing – behaves as a mirror. It reflects the sun and movement of the busy neighbourhood. Meanwhile, at night, the Opus turns into a projector screen illuminating the city with light installations. The building is home to a hotel, office floors, private residences and restaurants.
Little Island, New York, USA | Heartherwick Studio, 2021
Little Island is a public park located at 13th Street on the Hudson River, New York. It was designed by Thomas Heatherwick of Heatherwick Studio, with landscape design by Signe Nielsen of MNLA. The whole venue balances upon 132 mushroom-shaped concrete pillars, creating a playful rhythm and slight elevation to the terrain. Little Island provides a unique green space that hosts creative performances and educational programmes, including circus, dance, music, spoken word and more. Interactive events range from workshops with local artists to collaborative fairs with renowned cultural organisations. Besides acting as a leisure centre, Little Island is also home to more than 350 species of plants. They change with the seasons, from bright green trees and shrubs to autumn foliage and evergreens.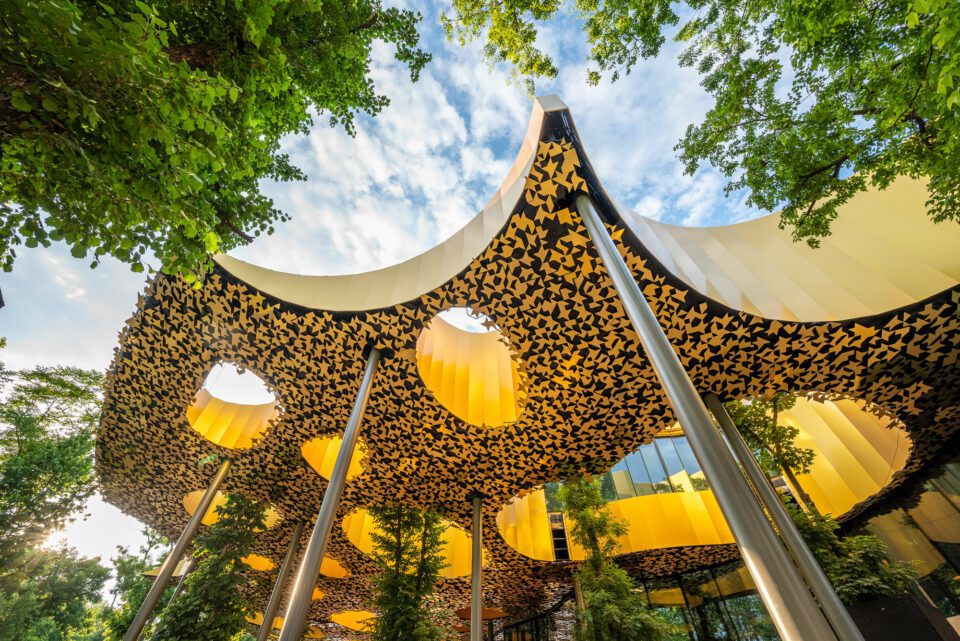 House of Music Hungary, Budapest, Hungary | Sou Fujimoto, 2022
The House of Music Hungary examines evolution of sounds over time – from the development of the human voice to modern pop culture trends. Japanese architect Sou Fujimoto (b. 1971) was inspired by the abundance of neighbouring green space; he designed the structure to imitate a canopy of trees. Its circular volumes invite audiences from each direction and are pierced with natural light. The environmentally friendly building is almost entirely translucent, establishing a harmonious transition between natural and man-made worlds. Over 30,000 decorative leaves are suspended from the ceiling. Inside, the pavilion is divided into three sections: subterranean galleries house a permanent exhibition; on the ground floor there is a glass-walled concert hall and open-air stage; whilst the top floor is dedicated to education.
---
Words: Fruzsina Vida
---
Image credits:
1. MAAT, Lisbon, Portugal. Image: Nuno Antunes
2. The Shard, London, UK. Image: Andrea De Santi
3. Florida Polytechnic University, Lakeland, USA. Image: Allan Karchmer
4. River, New Canaan, USA. Image: Dean Kaufman
5. MAAT, Lisbon, Portugal. Image: Div Manickam
6. Lascaux IV, Montignac, France. Image: photo © Luc Boegly + Sergio Grazia
7. V&A Dundee, Dundee, UK. Image: ©Hufton+Crow
8. The Twist. Image: Patrik Blouder
9. Opus, Dubai, UAE. Image: Laurian Ghnitoiu
10. Little Island. Image: New York Times
11. House of Music, Budapest, Hungary. Image: Liget Project