Outdoor art offers us something special, proving how inspiring sculpture can be when shown outside of gallery walls. Public installations can both stand out from, or integrate into, the landscape. They frequently pose questions about humanity's relationship with the environment, the pressing issue of climate catastrophe and our perceptions of space and time. Here's our selection of open-air shows for this season, including luminescent fields and satirical sculptures in Europe, the UK and US.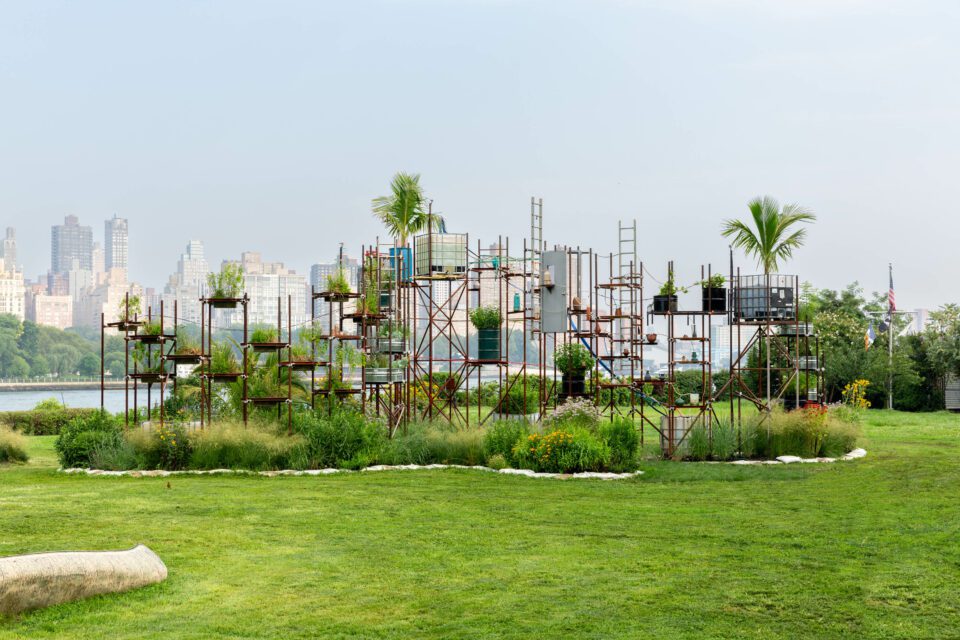 Mary Mattingly: Ebb of a Spring Tide | Socrates Sculpture Park, New York | Until 10 September
Mary Mattingly is an interdisciplinary British artist whose socially engaged projects address themes such as consumerism, ecology and nature. Her show, Ebb of a Spring Tide, features a 65-foot living sculpture titled Water Clock which responds to the unique waterfront location of the show. The monumental structure pronounces the tidal shift twice daily whilst highlighting human reliance on New York City's riparian zone, which is operated by water from the river. It is a reminder of the delicate balance of coastal ecosystems. Water cyclically falls through the sculpture, and the clock accumulates a brackish brine whilst hosting families of halophyte plants, which have adapted to thrive in salty habitats. Elsewhere, visitors can interact with the Flock Houses. These mobile gardens are adaptable to different environments and serve various purposes, such as living quarters, community gathering spaces or agricultural sites. 
Nature, Sculpture, Culture | Sculpture in Pilan, Sweden | Until 24 September
Sculpture in Pilane is a private, independent initiative run by Pilane Heritage Museum. The outdoor venue is open between May and September and introduces works by leading creatives from all over the globe. This year, renowned artist Ai Weiwei was invited to create a project that responds to Pilane's protected nature reserve. His work, titled Root, is a series of amorphous site-specific installations. Art critic Joanna Persman described them a "forms that integrate both fragility and strength. Some works look like blunt stumps, and some resemble giant fantasy creatures that have crawled up from the underworld." Besides Weiwei's exquisite wooden objects, large-scale sculptures are scattered around the prehistoric land by artists such as Hans Gothlin, Jaume Plensa, Maria Miesenberger and Tony Cragg.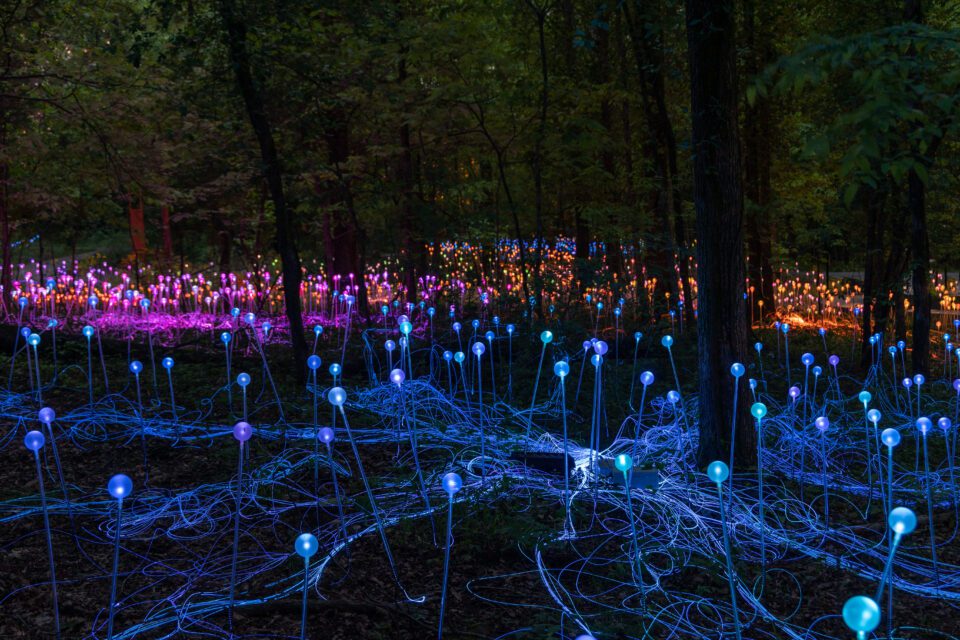 Bruce Munro: LIGHT | Cheekwood, Nashville | Until 27 October
English-Australian artist Bruce Munro produces immersive site-specific installations, often created from thousands of components. Now, these works are on view at the Cheekwood estates as part of Munro's exhibition LIGHT. The show introduces extensive pieces such as Fireflies, a field of luminous structures shaped like chandeliers, as well as Forest of Light, an interconnected system of orbs that organically changes in colour. Munro's displays are designed to respond to and enhance both outdoor garden and indoor gallery experiences, encouraging an awareness of our individual and collective journeys through time and space. The glistening pieces create different experiences during the day and after sunset; the interplay between the three-dimensional creations and their surroundings heightens the sense of time passing.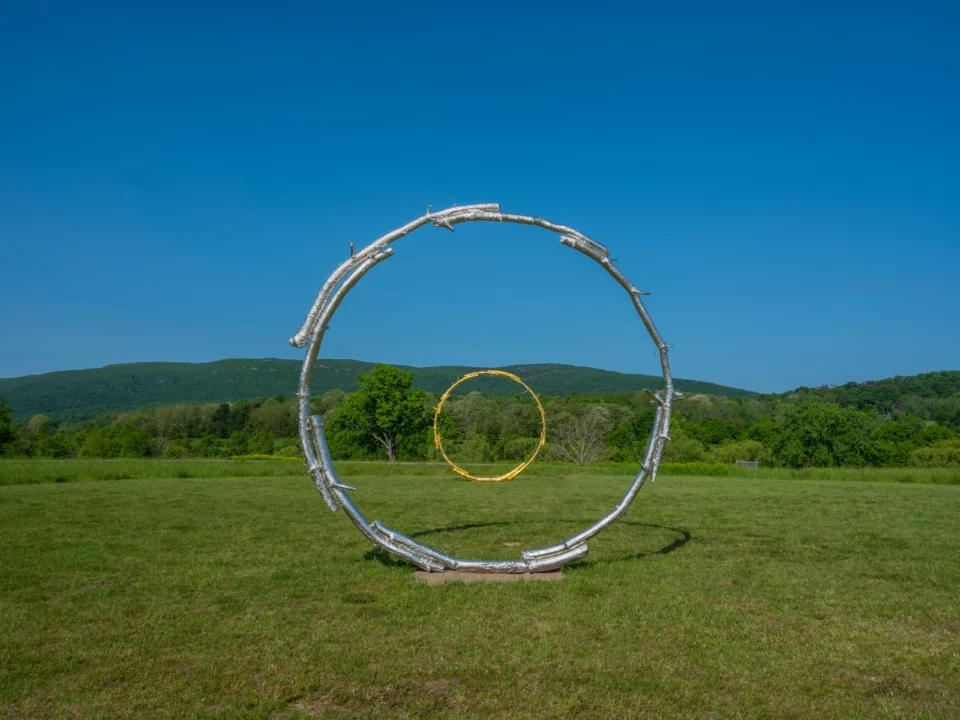 Ugo Rondinone: The Sun and The Moon | Storm King Arts Centre | Until 12 November
The environment holds great importance to Ugo Rondinone. The New York-based Swiss artist shared that, after experiencing personal loss, he "found solace, regeneration, and inspiration in nature." He adds: "nature is a space where the sacred and profane, the mystical and the mundane, vibrate against one another." Rondinone's outdoor works, The Sun (2018) and The Moon (2021), were inspired by such themes. "The exhibition explores two celestial forces from the natural world. Like the cycle of day and night, these two archetypes represent contradictory, codependent and complementary values." The sculptures are formed from cast-bronze tree branches, one silver-leafed and the other golden gilded. The twin structures are both over sixteen feet tall and are installed parallel to one another.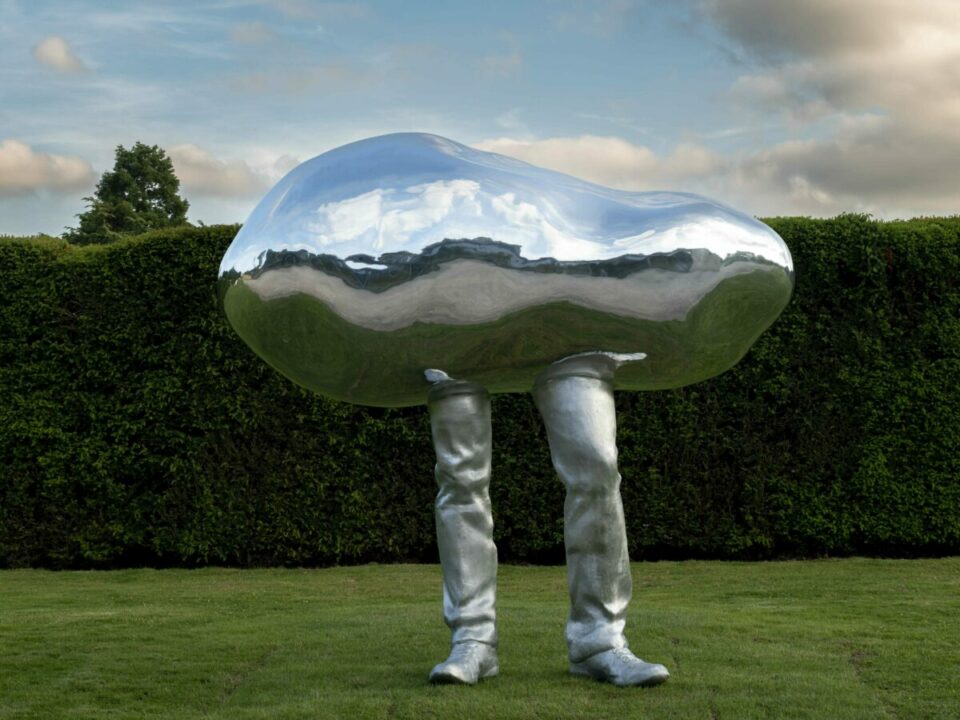 Erwin Wurm: Trap of The Truth | Yorkshire Sculpture Park | Until 28 April
For over three decades, Austrian artist Erwin Wurm (b. 1954) has challenged the rules of sculpture. His works disrupt the limitations of the human body and our relationship to the spaces we inhabit. The large-scale pieces are playful and political, crafting ludicrous scenarios that address how we conform to society's rules and norms. Yorkshire Sculpture Park's show, Trap of The Truth, features 55 indoor and 19 outdoor sculptures, paintings, photographs, videos and drawings. Some of the displayed pieces have never been shown before. The Bags series (2021), for example, explores consumer culture and objects of status. Elsewhere, Wurm reinterprets popular Austrian food items, distorts cars and enlarges body parts. This timely, tongue-in-cheek exhibition ponders what sculpture is, and what it can be.
---
Words: Fruzsina Vida
---
Image credits:
1.Bruce Munro, (British), Whizz Pops, Cheekwood. On loan from Bruce Munro Studio. © 2023 Bruce Munro. Photographer Serena Munro.Bruce Munro, (British), Whizz Pops, Cheekwood, On loan from Bruce Munro Studio. © 2023 Bruce Munro. Photographer Serena Munro.
2.Mary Mattingley, Water Clock, Images: Alexa Hoyer
3. Hans Gothlin, AROUND AND AROUND, 2022. Pilane Heritage Museum / Sweden: (13 May – 24 September 2023). Photo: Peter Lennby
4.Bruce Munro, (British), Forest of Light, Cheekwood, On loan from Bruce Munro Studio. © 2023 Bruce Munro. Photographer Serena Munro.
5. Exhibition view: Ugo Rondinone, the sun and the moon, Storm King Art Center, New Windsor, New York, 2023. Photo © Jeffery Jenkins
6. Erwin Wurm, Big Hypnosis, 2008. Installation view at Yorkshire Sculpture Park, 2023. Courtesy Studio Erwin Wurm and Thaddaeus Ropac Gallery. Photo © Jonty Wilde, courtesy YSP