"Has everyone been in love? Not on the basis of the evidence. If they have, they've forgotten it. If everyone had been in love, they'd treat their children differently. They'd treat each other differently." These are the words of James Baldwin, as expressed in Terence Dixon's documentary short, Meeting the Man: James Baldwin in Paris (1970). They also inspire Museum of Contemporary Photography's (MoCP) latest exhibition, LOVE: Still Not the Lesser. Twelve international artists share the ways they encounter and understand their experience of love, as they journey through romantic relationships and poignant moments of self-realisation. Here, we focus on three photographers who visualise powerful emotions.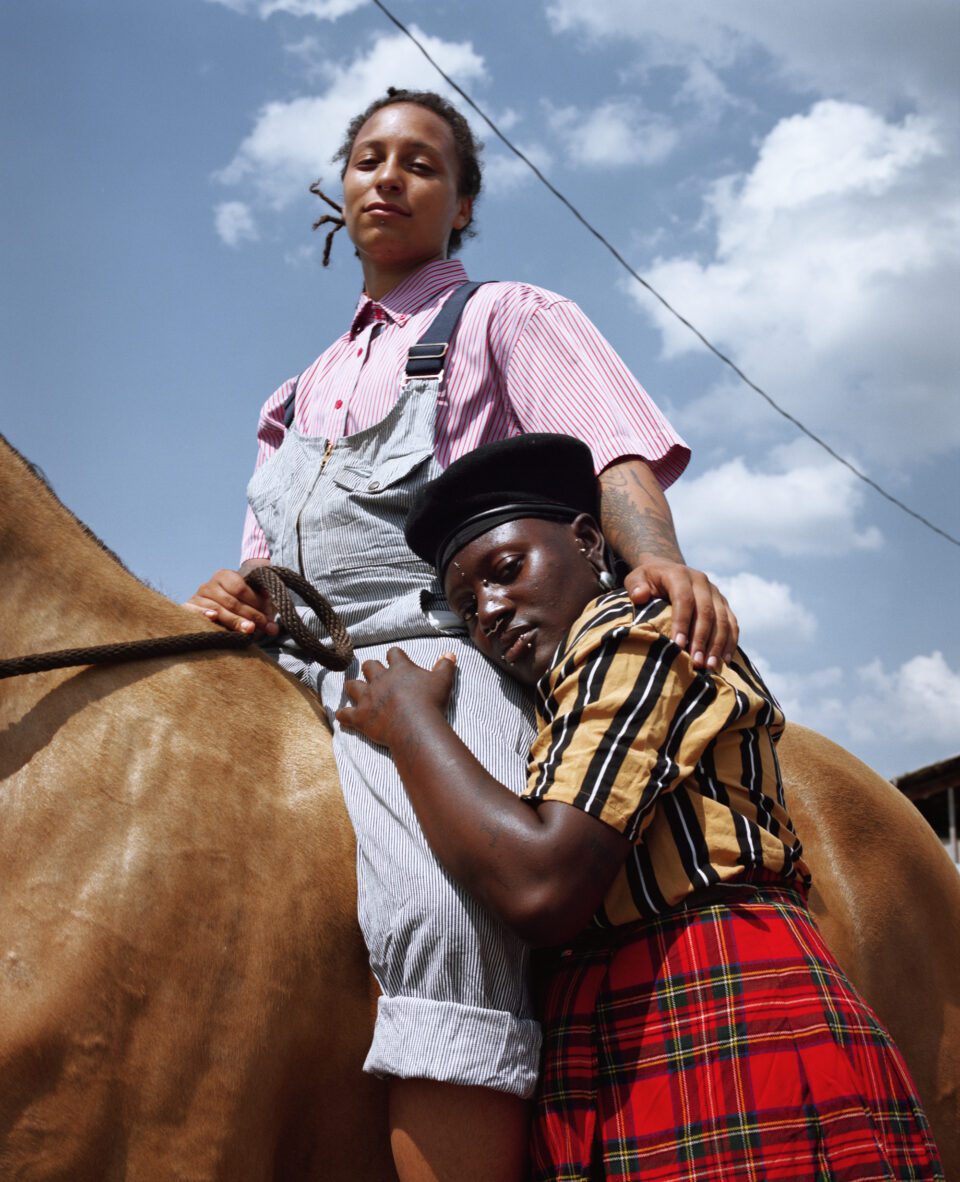 Toronto-based Jorian Charlton (b. 1989) is dedicated to championing Black Canadian representation, with a focus on her peers within the Caribbean diaspora. Two images, Cynn & Melisse (2020) and Shai and Lex (2020), present different generations of Black, queer people. In the above image, a figure in a pink-striped shirt and corduroy dungarees perches on a horse. They hold onto the animal's reins whilst cradling their lover – who sports a red tartan skirt and black pillbox hat. From a low vantage point, the sky stretches open, as clouds pass endlessly above. There's a feeling of devotion and ease, which carries forward to the second image, Shai and Lex, documenting a woman who lies across an orange couch with her reclining partner. She tenderly holds the back of his head, on the verge of a whisper. These works follow Charlton's first solo show, Out of Many, previously displayed at Art Gallery of Ontario in 2022. The artist worked with 35mm slides from her family's lineage in Jamaica, New York and Toronto, creating an archive of their identity and diaspora. Inherent in her pictures is a sense of atmosphere, comfort and touch, as shots move from waltzing parents to modern portraits doused in neon pink light.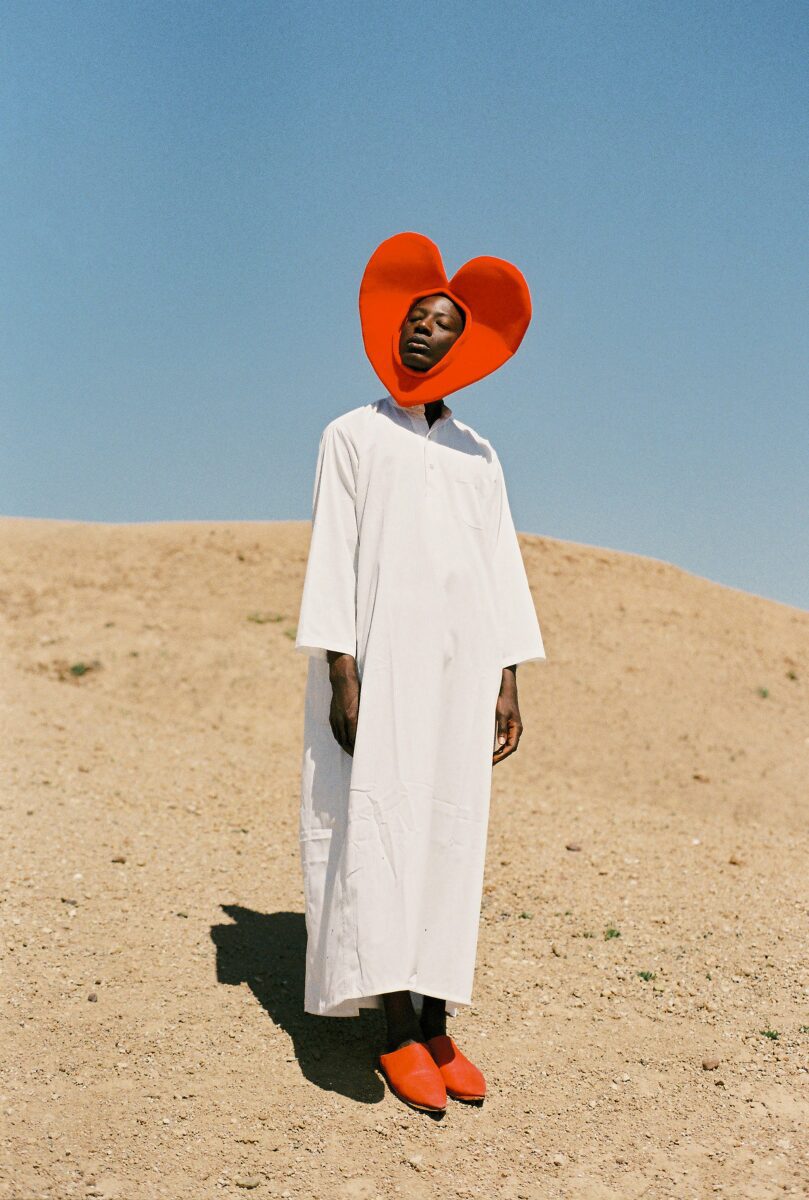 Moroccan-Belgian photographer Mous Lamrabat (b. 1983) showcases an installation titled Peace Room (2022). Here, photographs depicting black, brown and beige bodies are printed onto flags that are suspended into the air. Lamrabat blurs the boundaries of gender, race and sexuality, envisioning a dream world where love means no fear of difference. Red hearts of various sizes appear as a motif in these prints, as they are adorned onto burkas and reimagined as fashion accessories. In Where Is the Love #2 (2019), a figure stands in the desert wearing a scarlet headpiece that frames their face. "I spent my youth not being able to belong or fit in and my work is a continuation of that," Lamrabat states. The portrait reflects this. In a minimalist composition that is at once touching and understated, a figure closes their eyes in an empty desert, as if to call forth, or summon, the affection they require.
The exhibition concludes with Alia Ali (b. 1985), a Yemeni-Bosnian-US multi-media artist whose work explores cultural binaries, working between language, photography, video and textiles. الذات (aldhat)بح , 3˛(hub) is an inkjet print mounted on aluminum. Lilac cloth fully covers and obscures a figure, as the Arabic word for love repeats as a text pattern in bright red. The sitter conjures multiple politicisations of the body: as a woman, an artist and an anonymous form. In so doing, the piece addresses issues of censorship and colonisation. The work evokes a vivid sensory palette, reminiscent of artists such as Brussels-based artist Rami Hara and Iranian-photographer Shadi Ghadirian. Ali concludes the exhibition in a cloak that reinstates love. It repeats the world again and again, wrapping viewers in a tapestry of colour and affirmation.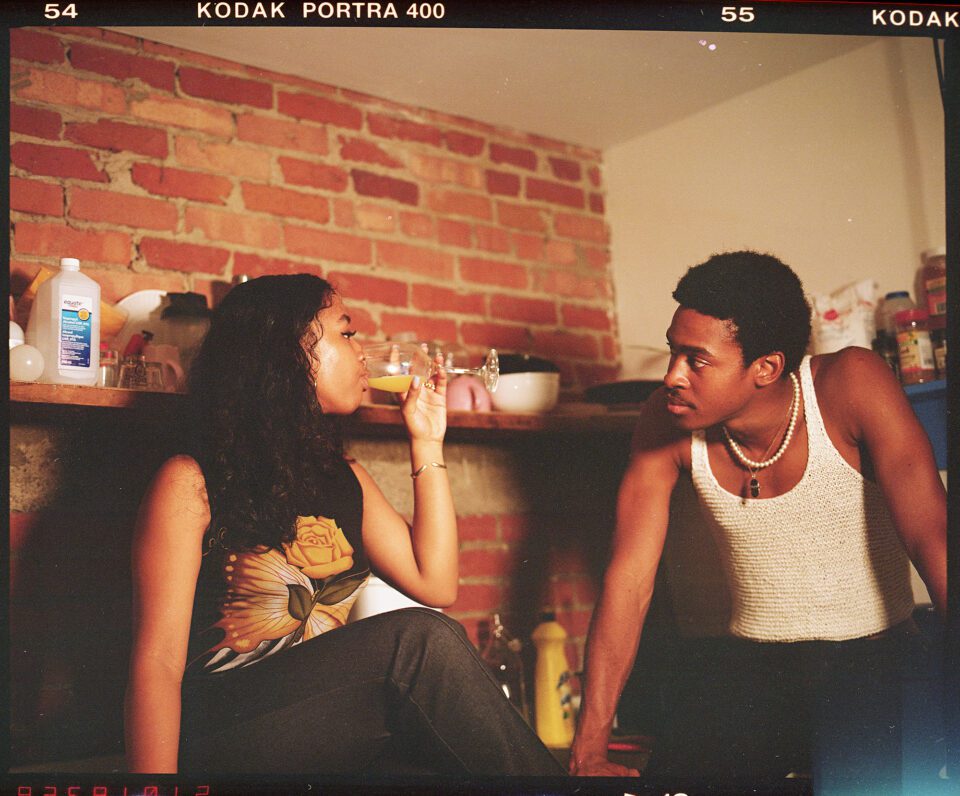 These are bodies in which audiences can see themselves reflected. This exhibition addresses Baldwin's original statement, carving out a space where values of care and empathy are able to grow and thrive. "Themes of visibility and adoration recur as concepts embraced by many of these artists, as they use portraiture and self-portraiture to affirm many different types of bodies as divinely worthy of enjoying gentle care and affection." says Associate Curator, Asha Iman Veal. Can we attend to each other and pay our selves a little more kindness? MoCP's answers this in full force — with an emphatic yes.
---
mocp.org | Until 22 December
Words: Chloe Elliott with excerpts from Iman Veal's exhibition essay
---
Image Credits:
1. Luv Riders #2 (2021), Mous Lambarat.
2. Untitled (Cynn & Melisse) (2020), Jorian Charlton. Courtesy of the artist and Cooper Cole Gallery, Toronto.
3. Where Is the Love #2 (2019), Mous Lambarat.
4. Alia Ali, (aldhat) الذات , Image 3, حب (2021) // LOVE series, 2021. Purchased with funds provided by The David C. and Sarajean Ruttenberg Impact Fund for Photography; Courtesy of Foto Relevance, Houston.
5. Jorian Charlton, Untitled (Shai & Lex), 2020.
---