In 1979, the Iranian Revolution reached its peak after years of demonstrations, protests and violent backlash. Imperial leader Mohammad Reza Shah Pahlavi (1919-1980) was overthrown, yet the hope of change was soon replaced with dismay and uncertainty, as oppressive ideologies quickly swept through the country under the political and religious authority of Ruhollah Khomeini (1902-1989) – Iran's first Supreme Leader. On 7 March 1979, for example, the hijab law was introduced, enforcing compulsory veiling. In response, thousands of people took to the streets the following day, aligning with International Women's Day. Pioneering photographer Hengameh Golestan (b. 1952) documented events – an act of resistance in itself. "I started taking photos in 1972. Back then, there were only four or five female photographers in Iran. It was seen as a strange thing for women to do," the artist told The Guardian. "On 8 March 1979, I took about 20 rolls of film. When the day was over, I ran home to develop them in my dark room. I knew I had witnessed something historic. I was so proud. I wanted to show the best of us …" Golestan's black and white images record figures hold placards, gesturing in solidarity and marching side-by-side. "We were fighting for freedom: political and religious, but also individual … This turned out to be the last day women walked the streets of Tehran uncovered."
Forty four years on, and the fight for fundamental rights continues. The chant "Women, Life, Freedom" ripples through the air, with efforts amplified by the death of a young Kurdish women, Mahsa Amini, who was arrested for allegedly violating the country's dress code in 2022. Now, Breathing Space: Iranian Women Photographers traces the multi-generation fight for social, political and creative freedom through the eyes of 23 artists.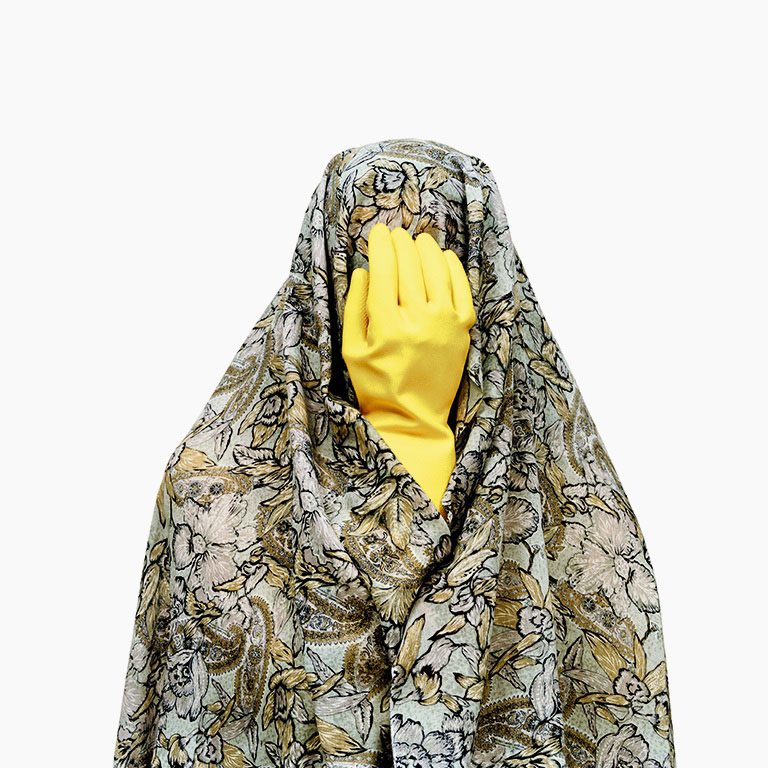 Tensions between tradition and modernity are threaded throughout the book, which is published by Thames and Hudson. Author Anahita Ghabaian Etehadieh – who founded Iran's first photography gallery, Silk Road – emphasises the importance of the medium for self-expression, giving space for personal and shared explorations of family, identity, memory and the body throughout the publication. Rana Javadi's (b. 1953) multimedia compositions embrace collaging and layering to share overlooked perspectives. The artist was refused permission to photograph the Iran-Iraq war (1980-1988) due to her gender, so was forced to respond to the conflict in different ways, such as creating compositions in her studio. The resulting Never-Ending Chaos (2013) responds to the controlled, gendered lens of conflict. Tiles are plastered with military motifs, studies from battlefield taken by her husband, Bahman Jalali, and graffiti-like heart tags. In When You Were Dying (2008), the artist reimagines archival portraits, sourced from the famous Iranian studio, Chehrenegar. Vintage fabric, flowers and tarnished mirrors fragment and obscure the rediscovered subjects. "Of course, by creating this new layered picture, the present moment dies too, but in a way that starts another life in a new form," the artist told LensCulture. Here, the artist harks back to an era of peace to offer hope for the future.
Shadi Ghadirian (b. 1974), who grew up during the Iran-Iraq War, also focuses on women throughout history yet reconfigures experiences and social structures. Qajar (1998) directly references the name of the dynasty that reigned between the late 18th and early 20th century. Women were taught to be subservient during this period, promoting patriarchal ideologies that positioned them as second-class citizens. In Ghadirian's staged, sepia photographs, sitters are empowered – reading newspapers, listening to music and taking photographs. Elsewhere, Like Every Day (2000-2001) addresses domesticity, reflecting the artist's personal experience of receiving kitchen utensils as wedding presents. Stylised portraits depict uncanny beings draped in densely patterned fabric. Brooms, mugs, saucepans, teapots and washing up gloves morph into faces. These works reflect a desire to break away from social constraints, using humour and playfulness to reimagine the legacy of harmful laws and regimes.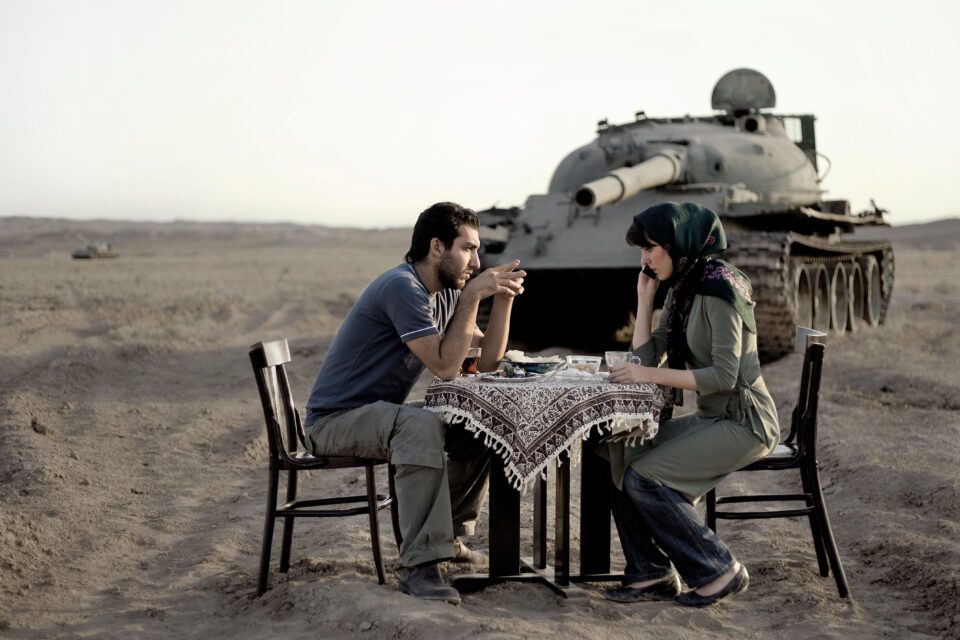 The book also negotiates the growing impact Iranian photography across the world, highlighting artists who have pushed the boundaries to connect with global audiences. "It is still a young artform in the country, but I've seen it evolve hugely over the last 20 years," writes Ghabaian Etehadieh. "Despite the lack of institutions to promote it, photography has increasingly begun to travel beyond the nation's borders and is starting to follow the path already taken by cinema: buzz is spreading in the west." This wave of international Iranian artists alludes to the future of creative expression. PhotojournalistNewsha Tavakolian (b. 1981) – who became a Magnum associate in 2017 – uses metaphors and symbolism to spark debate on pressing social and politic issues. Listen (2010) documents singers who are no longer allowed to perform since the Iranian Revolution. Imaginary CD Covers, for the collection, are defiant and powerful. The protagonist stands strong against crashing waves, sporting bright red boxing gloves and staring through Perspex boxes. Yet, the final CD cases remains empty. "For me, a woman's voice presents a power that if you since it, imbalances society, and makes everything deform."
Breathing Space: Iranian Women Photographers outlines the importance of compelling, intimate and poetic images for reclaiming history and sharing current struggles. As the oppression continues – with BBC News reporting in April that cameras have been installed in public places to find individuals not wearing hijab – this anthology sets out collective hopes for the country and how it should develop. As Ghabaian Etehadieh concludes: "The people of Iran now know that gender equality is the only basis for real progress."
---
Breathing Space: Iranian Women Photographers
Anahita Ghabaian Etehadieh | Thames and Hudson
Words: Saffron Ward
---
Image Credits
1. © Newsha Tavakolian, Imaginary CD Covers, from the series Listen, (2010)
2. © Shadi Ghadirian, From the series Like Every Day, (2000 – 2001)
3. © Shadi Ghadirian, From the series Like Every Day, (2000 – 2001)
4. © Gohar Dashti, From the series Today's Life and War, (2008)