British photographer Vanessa Winship (b. 1960) – the first woman to win the Prix Henri Cartier-Bresson – is best known for her lyrical yet documentary style of reportage, making black and white portraits for series such as She Dances on Jackson and Imagined States and Desires: A Balkan Journey. Now, she turns the lens to nature and its elements. The Season, on view at Huxley Parlour Gallery, London, explores the theme of winter and comprises seven years' work undertaken across Spain, the United States, France, Bulgaria and the UK. Through 19 black and white and colour images, Winship presents different shades of winter— from yellowing leaves on branches to snow-covered roads and frozen marshland.
For some, the concept of 'winter' holds negative connotations—a cold, bleak, dreary period imbued with a sense of finality. Under Winship's lens, however, the season acquires a more romantic quality. The first image in the exhibition is Volcanic Landscape, taken in Cabo de Gata-Níjar Natural Park, Spain. The composition carries a sense of the sublime – with undulating rocks rising in the foreground – whilst also evoking feelings of isolation and peace. Other such pictures include Dog Surrounded by Traveller's Joy, taken in Bulgaria, and Waterfall and Trees, captured in Ohio. Elsewhere are seascapes from France and frozen trees from the US: delicate, almost painterly shots evoking the fragility associated with colder months. By contrast, Grasses, photographed in England, is chaotic in its unruliness. The Season is many things at once: calm, untamed and captivating in its beauty.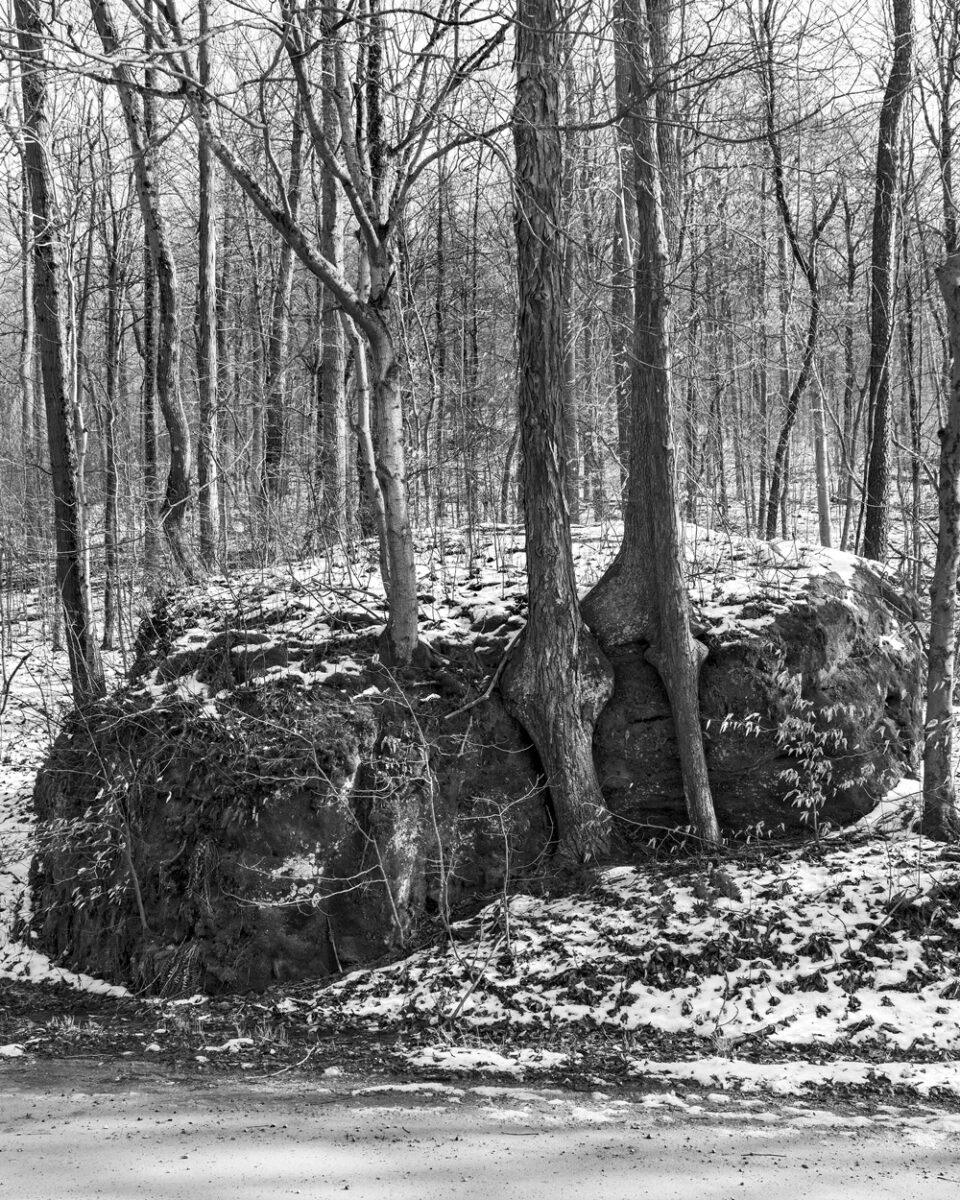 Throughout the show, Winship's landscapes remain barren, with no human beings in sight. No shadows can be discerned on windows: sheds and clapboard houses stand silent. To view these images is to enter a state of rest, almost akin to hibernation. But with winter comes the promise of spring and a sense of hope. The trees – bare in these images – will once again grow leaves. The canoe, lying untended by the side of the lake, will take to the water, and the worker's shed will no longer be empty. The Season ends with an image titled Light on Pebble, taken on the West Coast of England. It's as if the enormity of the volcano – with which the exhibition commences – has found its natural balance.
---
The Season runs until 14 April | huxleyparlour.com
Words: Shyama Laxman
---
Image Credits:
1. Volcanic Landscape, In the footsteps of Juan Goytisolo, Nijar and Carboneras, Cabo de Gata National Park, Almeria, Spain, January 2014, Vanessa Winship. Image courtesy the artist and Huxley Parlour
2. Rock Number I, Ohio, USA, February 16th 2020, Vanessa Winship. Image courtesy the artist and Huxley Parlour Gallery.
3. Sea, Languedoc Roussillon Region, France, November 15 2018. Image courtesy Vanessa Winship and Huxley Parlour