Since 2005, the photographic duo Marchand/Meffre have been travelling across the US, documenting the country's decaying cinema complexes – monuments to an era of optimism and luxury within the American film industry. The lush sets and grand budgets of Hollywood's Golden Age – sometimes associated with the 1910s, 1930s and 1950s – were coupled with an uplifting emphasis on the power of individual human will and ingenuity to overcome the odds. It was a heady brew, and by the mid-20th century cinema had arguably become the primary means by which the US asserted its cultural dominance worldwide.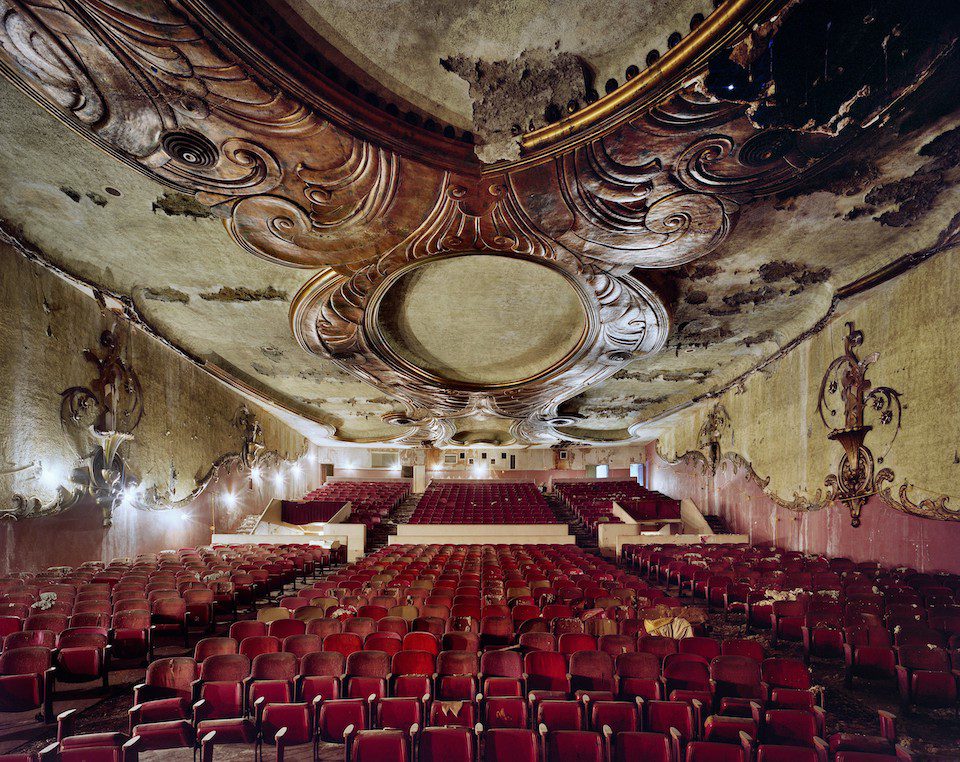 It makes sense, then, that its cinemas should be spectacular. In their new book,Marchand/Meffre offer a visual lexicon of every major design style of the era: all of them translated through the bold, Disneyfied language of vernacular Americana. Sleek, sweeping Bauhaus and International Style facades brush up against lush Neo-Gothic, Art Nouveau and faux-Byzantine interiors. Through the cobwebs and crumbling plasters we taste something sweet and enticing, a fleeting opulence which perfectly sums up the promises and pitfalls of 20th century America.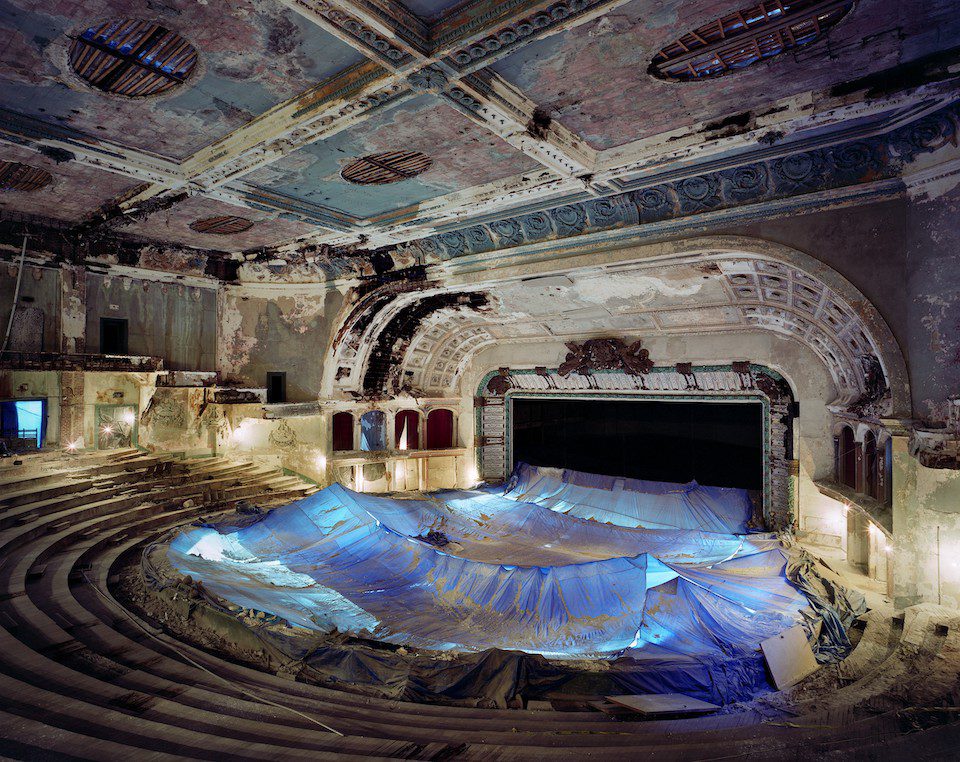 Now, of course, these are palaces in decay. The majority of structures visited by Marchand and Meffre stand abandoned: like the Spooner and Proctor's Theatres in New York State, whose ornately corniced ceiling panels look down over mouldering rows of crushed velvet seats. Others are repurposed and reinhabited: The Center Theatre in Boston now houses the Empire Garden Chinese Restaurant; Brooklyn's Paramount Theatre is now a basketball court. Alongside these, however, are traces of the darker recesses of the American psyche. Long's Theatre in Pasadena, Texas, is a gun centre and shooting range.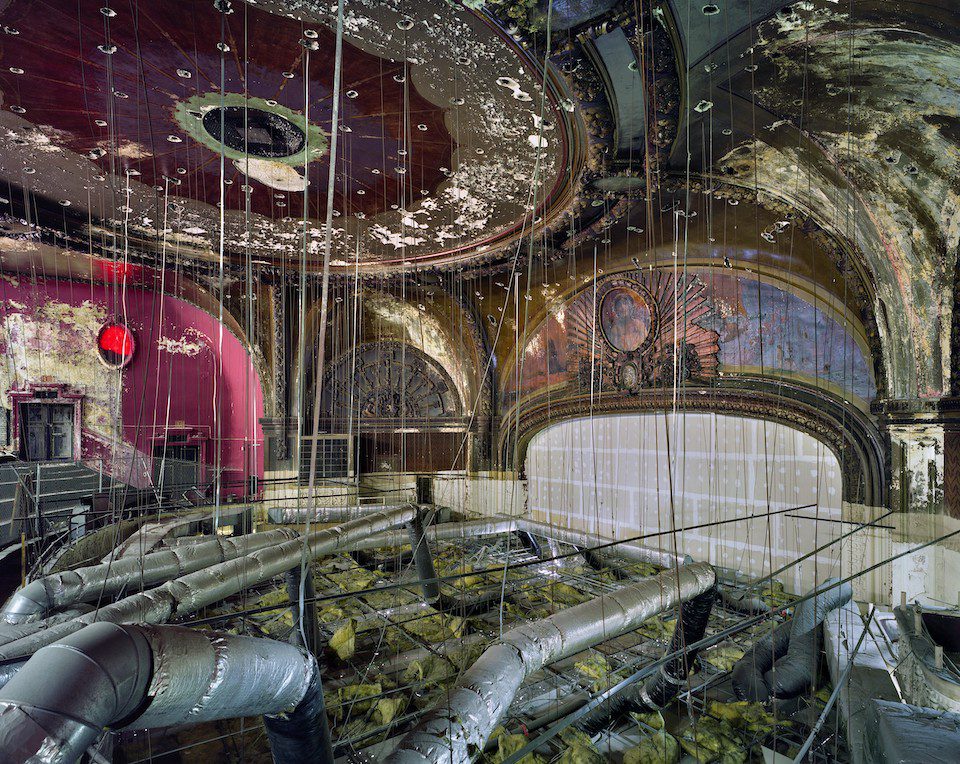 Marchand and Meffre made their name documenting the decline of America's motor city with their 2010 book The Ruins of Detroit, first issues of which now sell for hundreds online. Published when Trumpism was just around the corner, that book now seems a prescient image of a moment of crisis. America's sense of boundless growth and power, its capacity to provide well-paid jobs for all and support a comfortable blue-collar workforce and middle class, was quietly caving in.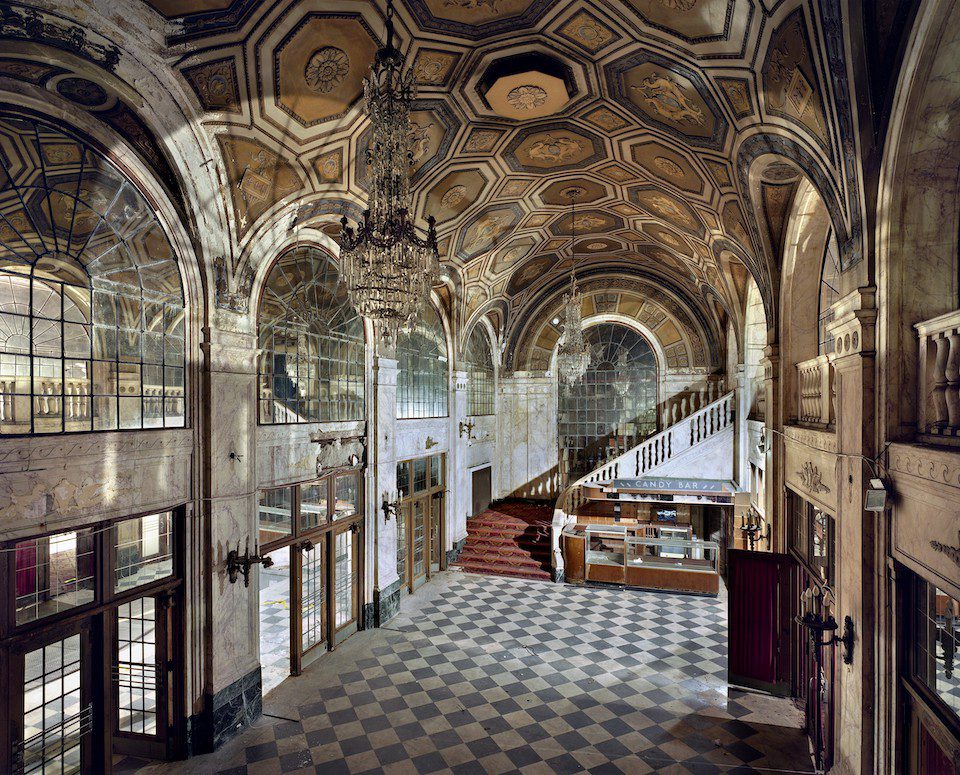 The ethics of those shots – and others like them – have been questioned. But there is no denying their emotive pull, nor their their capacity to tell us something important and poignant about what all civilisations look like at the waning of their power. Movie Theaters, with its oversized format and "super inks and spot varnish" printing, will no doubt become as pored-over, as popular, troubling and worthwhile, as the pair's previous work.
---
Movie Theaters is published by Prestel in November 2021. Find out more here.
Words: Greg Thomas
---
Image Credits:
1. Proctor's Theater, Troy, NY. Image © Yves Marchand and Romain Meffre.
2. Fox Theater, Inglewood, CA. Image © Yves Marchand and Romain Meffre.
3. Metropolitan Opera House, Philadelphia, PA. Image © Yves Marchand and Romain Meffre.
4. Spooner Theater, Bronx, NY. Image © Yves Marchand and Romain Meffre.
5. Loew's Palace Theater, Bridgeport, CT. Image © Yves Marchand and Romain Meffre.