A new exhibition from Light Art Space (LAS), a Berlin-based art foundation working at the threshold of art and technology, brings the minimalist spirit of North-American light artist Robert Irwin (b. 1928) to Kraftwerk Berlin, a gallery on the site of a former power station.
Still creatively active at 93, Irwin is one of the best-known artists associated with the Light and Space movement, which emerged from the borderlands of minimalism, geometric abstraction, op and land art in the 1960s. The philosophy of Light and Space spread from its base in Southern California to influence art worldwide, with James Turrell (b. 1943),  its best-known international proponent, and contemporary artists such as Olafur Eliasson (b. 1967) continuing to work with its legacy. Light and Space was engaged from the start with developments in aerospace technology in the scientific hub of the US West Coast, and utilised the most up-to-date theories and inventions in optics to create new forms of perceptual encounter.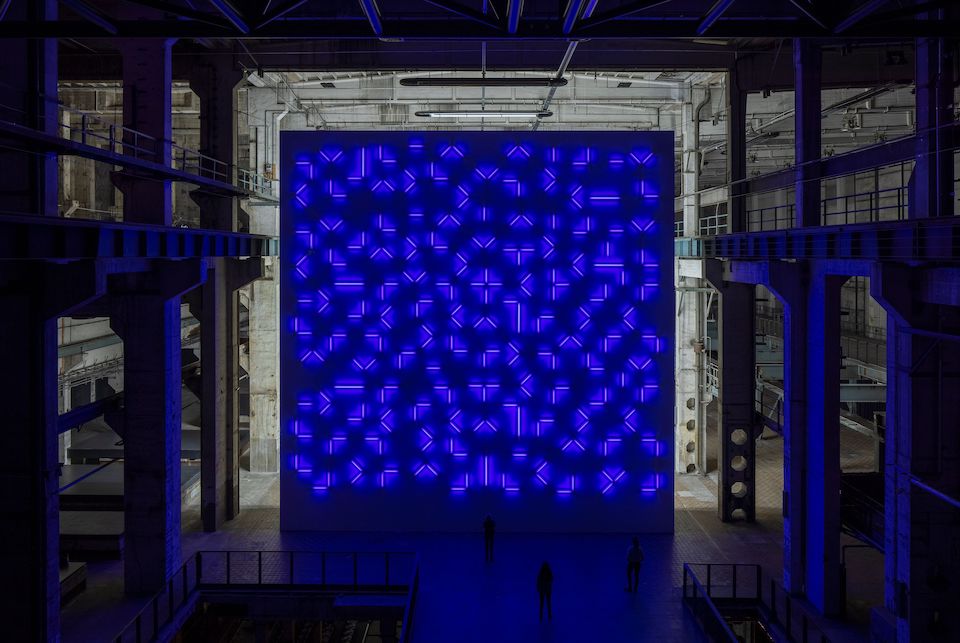 Irwin's work evolved from early experiments in abstract expressionism to pieces which drew on the hard-edged and minimalist trends of the 1960s, finally alighting on his characteristic site-specific approach by 1970. Leaving the studio behind, he began creating works which reinterpreted the gallery space itself, perceiving that the environmental conditions of the audience's encounter with the installation must become a fundamental element of the artwork. Often these works were minimal and spare, initially suggesting that the room had been left bare, until subtle ocular and sensory effects took effect. As the artist puts it, "my ambition is, in a sense, to make you see a little bit more tomorrow than you saw today."
For his new exhibition, simply titled Light and Space, Irwin has mounted frieze-like, abstract arrangements of fluorescent light-tubes along the walls of Kraftwerk Berlin. Hypnotic and allusive yet ultimately indecipherable, they work with the industrial grammar of the site architecture. This builds on Irwin's belief that the artwork must emerge from the environment and structure in which it is placed. It's the largest of Irwin's commissions to date in Europe, and forms part of his ongoing Light and Space series.
---
Robert Irwin, Light and Space runs at Kraftwerk Berlin until 30 January. Find out more here.
Words: Greg Thomas
---
Image Credits:
1. Robert Irwin, Light and Space (Kraftwerk Berlin), 2021. Commissioned by LAS (Light Art Space) © Photo: Timo Ohler. VG Bild-Kunst, 2021
2. Robert Irwin, Light and Space (Kraftwerk Berlin) 2021. Commissioned by LAS (Light Art Space) © Photo: Timo Ohler. VG Bild-Kunst, 2021