Embroidery can be traced back as early as 30,000 B.C. For centuries, the decorative technique has been used for domestic purposes – from mending fabrics to hand-inscribing names onto handkerchiefs and linens. Since the mid-19th century, however, most embroidery has been done by machines. Yet hand-crafting experienced a significant rise in popularity in the UK during the Covid-19 lockdowns, with 1 in 5 Britons taking up sewing as a hobby. Amsterdam-based Scarlett Hooft Graafland (b. 1973) is part of a growing number of contemporary artists – including Berend Strik (b. 1960), Diane Meyer (b. 1976) and Julie Cockburn (b. 1966) – incorporating layers of embellishment into their practice.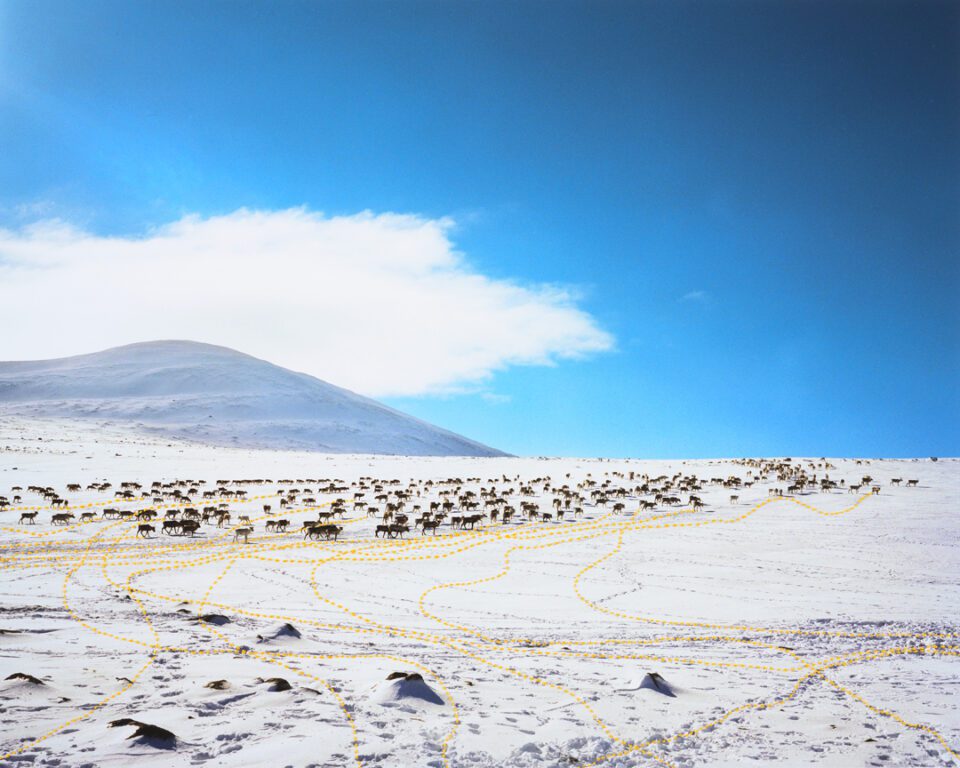 In Tracks, an exhibition at EENWERK in Amsterdam, yellow threads trace the footsteps of reindeer, carving patterns in a snow-covered mountainside. Elsewhere, beige haystacks are pinpricked blue and pink. Two women stand on an empty beach beneath an embroidered sun, which scatters stitched rays across the horizon. Here, Graafland adds a third dimension to her photography, asking viewers to consider surreal landscapes that straddle the borders of photography, sculpture and performance.
Local inhabitants take centre stage in many of the shots. Graafland spends weeks living with residents in remote locations – from Bolivia, Norway and the Netherlands to the island of Socotra, Yemen – before asking to include elements of their culture in her choreographed works. "I want to capture an essential aspect of the local community and set it off against the surrounding natural environment," she explains in an interview with The Guardian. "That way, by showing isolated, culturally meaningful objects in the context of an untameable, ever-changing natural world, I try to relate to the essential experience of being."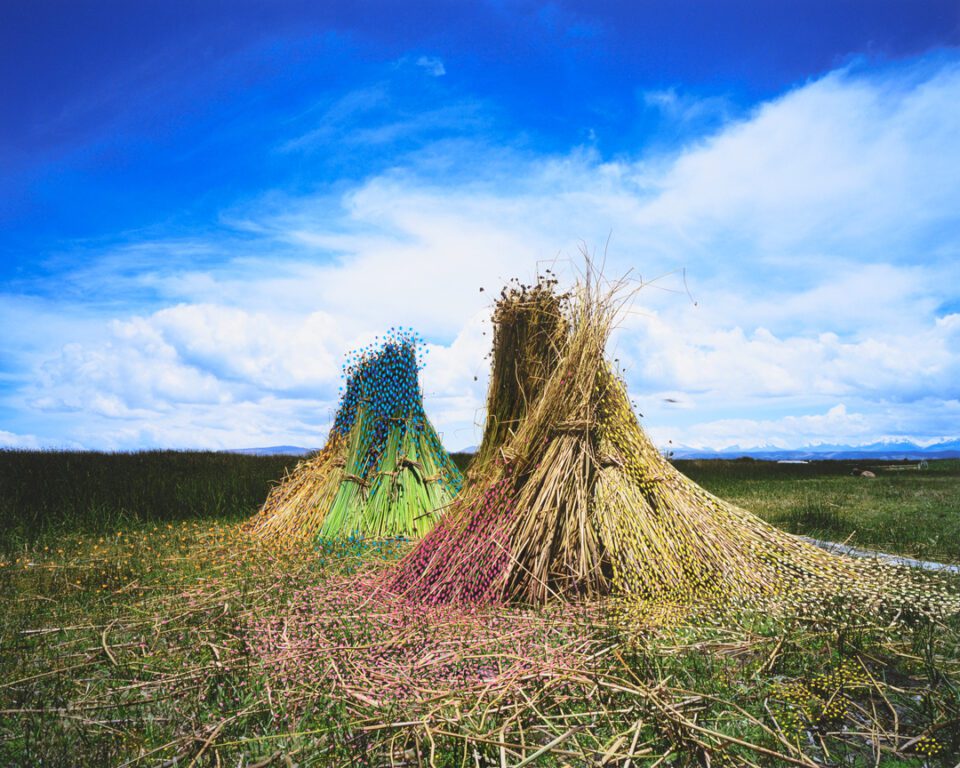 In doing so, Tracks responds to contemporary social issues. In 2014, as news headlines charted France's ban on full-face veils and its subsequent upholding by the European Court of Human Rights, Graafland produced Kiss. Two women of the Al-Mahrah tribe, Socotra Island, Yemen, lean in to touch noses. "You see so many negative stories on the news about women in burqas. I wanted to do something very different," the artist notes. The resulting image is designed to provide a joyful and uplifting alternative to harmful media stereotypes; the pair hold large green balloons, bathed in embroidered sunlight.
These images push beyond the conventions of traditional landscape photography, representing untold stories in "places that are untouched, where humans have hardly intervened." By altering vast open grasslands and uninhabited deserts with thread, the artist draws attention to the unseen. It's a powerful and understated approach that is echoed by her contemporaries: Meyer, for example, travelled the length of the Berlin wall, photographing its former path through the city centre, suburbs and forests. The artist then obscured these prints with sections of up to 30,000 individual stitches – making demolished sections of wall, and the stories they hold, visible once more. The results – of both Meyer and Hooft Graafland's handiwork – show us the enduring power of craft, and how to say more with less.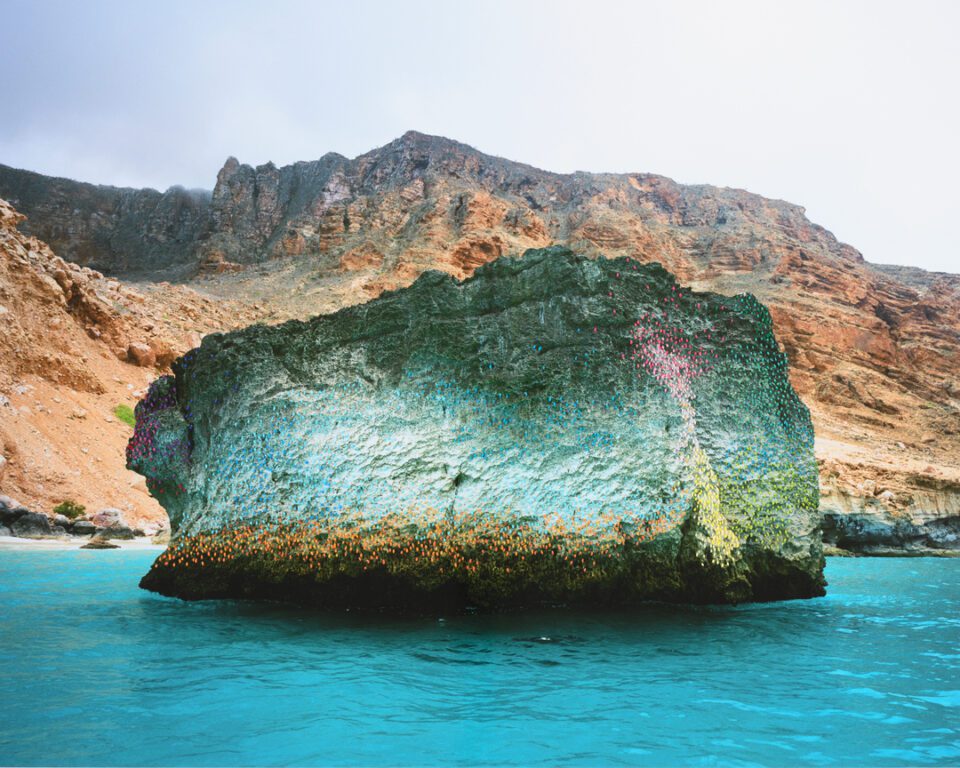 ---
eenwerk.nl | Until 31 January 2023
Words: Megan Jones
---
Image Credits:
1. Scarlett Hooft Graafland, Kiss (2013). Courtesy of the artist.
2. Scarlett Hooft Graafland, Tracks (2020). Courtesy of the artist.
3. Scarlett Hooft Graafland, Haystacks. Courtesy of the artist.
4. Scarlett Hooft Graafland, Socotra Rock. Courtesy of the artist.