Deana Lawson's (b. 1979) photography invites us into spaces that are both intimate and majestic. Her images convey nuanced social dynamics whilst alluding — with daring and skill — to the codes and symbols of historical portraiture and religious iconography. Her latest exhibition, Centropy, at the Guggenheim in New York, follows her receipt of the Hugo Boss Prize last year. The accolade has been offered to 13 contemporary artists since its inception in 1996, including Matthew Barney and Tacita Dean.
Lawson is an inhabitant of Brooklyn and was raised in New York. Her images are, at one level, strongly rooted in the African-American social networks she has encountered and inhabited there—though her camera has also probed locations in the Caribbean, Ethiopia and Louisiana, where she was commissioned to photograph survivors of the Charleston church shooting for Time.
---
The artist's scenes are often staged in real domestic spaces – Binky and Tony Forever (2009), a portrait of young love, is shot in Lawson's own childhood bedroom. But objects and bodies are carefully arranged to suggest a more-than-documentary quality, instead playing with tropes and archetypes. Lawson's 2015 nude couple shot The Garden, for example, stages myths of Black masculinity and femininity in a way that is both tender and critical of Eurocentric exoticisation.
Lawson's photography references the Renaissance and post-Renaissance portraiture tradition, through grandiose and formal placement of figures next to the accoutrements of their life, work and relationships. It also probes the uncanny, with unexpected combinations of symbols and a certain hypnotic, static quality – perhaps alluding to Surrealism and Afrofuturism (Lawson has referred to Sun Ra as an influence, as well as the artist Arthur Jafa). The dreamlike colour scheme and emotional intensity of The Ring Bearer is a case in point, as well as framing a loving depiction of intergenerational bonds.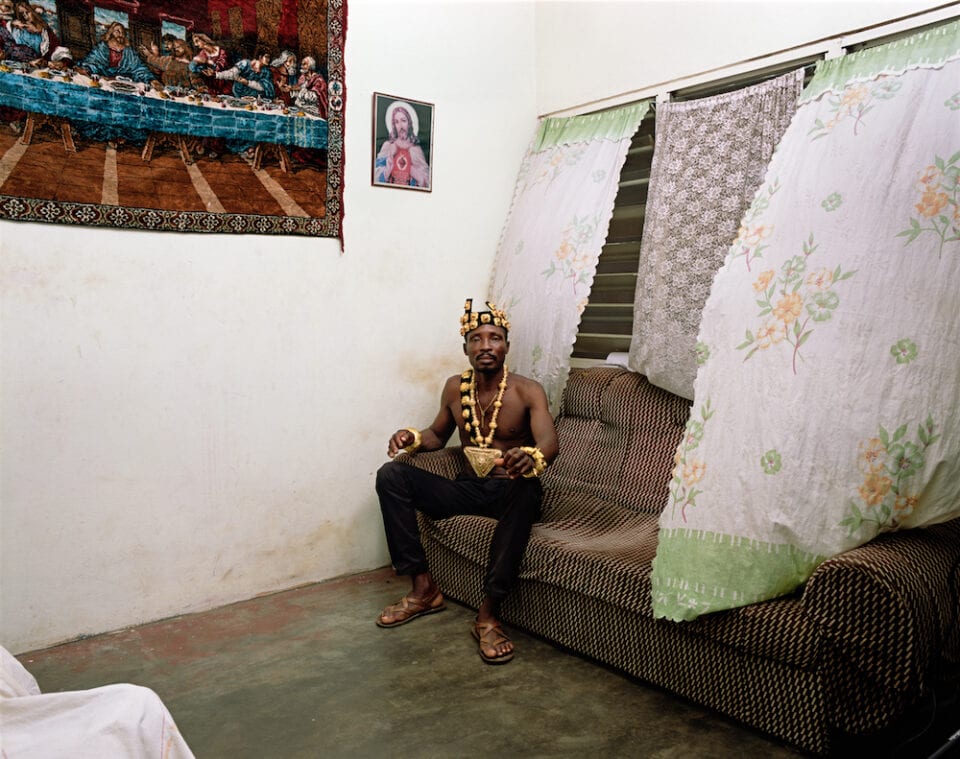 For the artist's current show at the Guggenheim, Lawson has foregrounded several elements long present in her oeuvre, including the use of icons and devotional objects to suggest portals between the material and spiritual world. In Young Grandmother, the red and grey colour palette is capped off by a heart-shaped wall display of roses, whilst the protagonist of Chief sits below images of Christ and the last supper. These tokens and motifs seem loaded with an ineffable force which also imbues Lawson's sitters, somehow rendering them more than themselves: divine or heroic as well as human.
This selection of work suggests an intimate concern with light, as both a literal and figurative force. Many of Lawson's subjects – whom she refers to as her "family" though most are strangers – are generally positioned in meticulously lit spaces. The artist has recently begun to place her pieces in mirrored frames, as if they were offering a rejuvenating illumination to the viewer. Centropy juxtaposes portraiture with light-suffused images of grand natural spectacles such as waterfalls and galaxies, again suggesting an inexpressible, inspirational power.
---
Deana Lawson, Centropy, runs at the Guggenheim until 11 October. More information here.
Words: Greg Thomas
---
Image Credits:
1. Deana Lawson, Mama Goma, Gemena, DR Congo, 2014. Pigment print. 35 x 44.125 inches (88.9 x 112.1 cm) © Deana Lawson, courtesy Sikkema Jenkins & Co., New York, and Rhona Hoffman Gallery, Chicago
2. Deana Lawson, Barrington and Father, 2021. Pigment print, 73 3/4 × 57 7/8 in. (187.3 × 147 cm). © Deana Lawson, courtesy the artist and Sikkema Jenkins & Co., New York
3. Deana Lawson, Young Grandmother, 2019 © Deana Lawson, courtesy of Sikkema Jenkins & Co., New York; David Kordansky Gallery, Los Angeles
4. Deana Lawson, Chief, 2019. Pigment print. © Deana Lawson, courtesy of Sikkema Jenkins & Co., New York; and David Kordansky Gallery, Los Angeles