"Organic Architecture" can be defined as the harmony between human-made structures and the natural world. It's an approach characterised by the integration of buildings into their existing surroundings, with famous cases including American architect Frank Lloyd Wright's (1867-1959) Fallingwater, a house built partly over a waterfall in the Laurel Highlands of southwest Pennsylvania. The term – and principle – was coined by Lloyd Wright, who designed more than 1,000 examples over 70 years. 
Amongst his most-recognised works is the Solomon R. Guggenheim Museum, a UNESCO World Heritage Site largely regarded as architectural marvel. Its inventive, top-heavy spiral structure coils over 90 feet above the rotunda floor to the building's skylight, referred to as the "oculus" ­– allowing each of its artworks to be viewed under natural light. Now, 64 years after completion, multidisciplinary artist Sarah Sze (b. 1969) transforms the iconic museum. The new site-specific installation, Timelapse, incorporates drawing, painting, print, sculpture, sound and video to mediate on how individuals experience time in a digital world.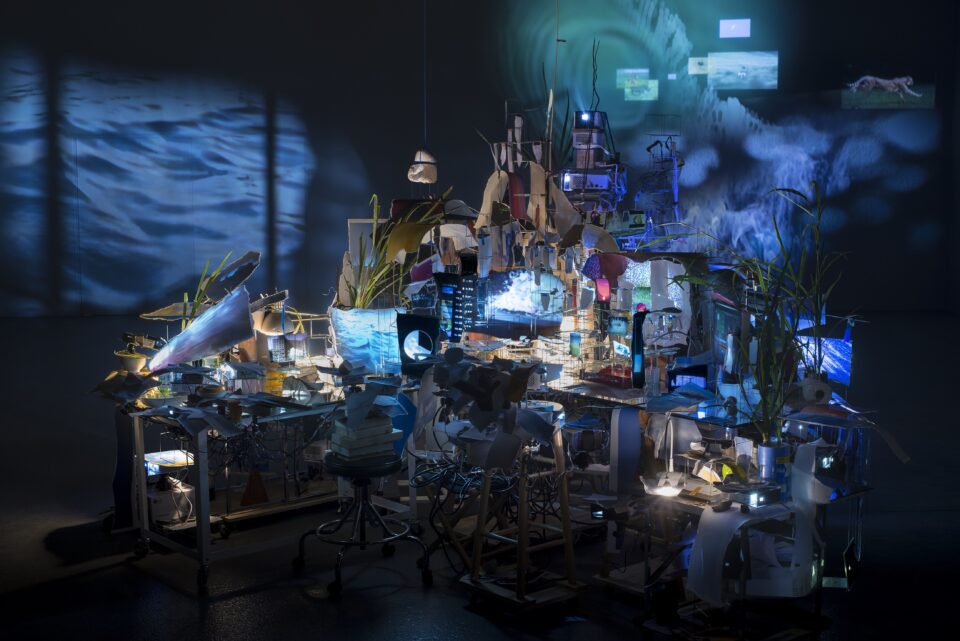 The Boston-born artist engages with Guggenheim's distinctive spaces in innovative and unexpected ways. Upon entering the exhibition, viewers will encounter an immense suspended pendulum, which functions as a constantly-swaying reminder of passing time. For Sze, this is a "site to explore the idea of a public clock, and an experiment in collective timekeeping that all in the city can experience." A kaleidoscope of videos continues up the spiral expanse of the museum, accompanying observers as they climb towards the oculus. Throughout, audiences are invited to consider how our relationship with time is shifting. In 2023, quick-fire social media sites like TikTok are reportedly shortening our attention spans, whilst the pace of technology, communication, transactions, news cycles and trends continues to quicken. 
The show concludes with Timekeeper (2016), a multi-sensory mixed-media installation that sprawls out from single desk in a series of wires, found objects and tablets. Seemingly mundane and everyday images – including a child sleeping, a line drawing, a bird, wings outstretched in flight – are displayed across an array of screens, reminiscent of moments lost scrolling online. Timekeeper makes a fitting finale; the piece has no set beginning or end, viewed instead in a 360° walk that mimics the organic spiral structure of the museum. It is, in the artist's words, an evolving "contemplation on how we mark time and how time marks us."
---
guggenheim.org | Until 10 September
Words: Megan Jones
---
Credits:
1. Work in progress by Sarah Sze, 2022. © Sarah Sze. Photo: Courtesy Sarah Sze Studio.
2. Work in progress by Sarah Sze, 2022. © Sarah Sze. Photo: Courtesy Sarah Sze Studio.
3. Sarah Sze, Timekeeper, 2016. Multichannel colour video installation, with sound, with mirrors, wood, stainless steel, archival pigment prints, projectors, lamps, desk, stools, and stone, dimensions variable. Solomon R. Guggenheim Museum, New York. Purchased with funds contributed by the International Director's Council, with additional funds contributed by Ann Ames and Janet Hershaft 2017.14. © Sarah Sze. Photo: Courtesy Sarah Sze Studio.