Gillian Wearing (b. 1963), whose new retrospective opens next month at the Guggenheim, New York, has been exploring the relationship between self-presentation and illusion for three decades. Born in Birmingham, England, Wearing studied at London's Chelsea School of Art and Goldsmiths before breaking through with her 1992-1993 project Signs that Say What You Want Them To Say and Not Signs that Say What Someone Else Wants You To Say. This set of photographs encapsulated the spirit of the Young British Artists era – with an irreverent take on the tradition of street photography. Wearing positioned herself in a busy area of South London and asked passers-by to write down what was on their minds, before seeking their permission to photograph them holding their sheet of paper.
Following in the footsteps of the American Pictures Generation, this deceptively simple idea cut through the social and ideological baggage of documentary photography and its tendency tap into pre-existing beliefs and prejudices. Instead, Wearing presented real people who had been given the opportunity to reveal their most intimate thoughts and feelings, rather than having them imposed by a third party. The project implicitly queried the ruse of naturalism, intimacy and unfettered access to reality that already defined news media, and was beginning to creep into other aspects of popular culture. Could we really believe everything we were seeing? Reality TV was just around the corner—indeed, one of Wearing's achievements as an artist is to predict the culture of social media.
Many of the Signs… images ask deeper questions about the cultural coding of facial expressions, physical appearance and even language itself. Created in an era of economic downturn, the series exposed, amongst other issues, a persistent culture of stigma around poverty and mental health, particularly amongst men. In one memorable shot, a tall man with a facial tattoo announces that "I have been certified as mildly insane!" In another, a mild-mannered young suited professional presents the words: "I'm desperate."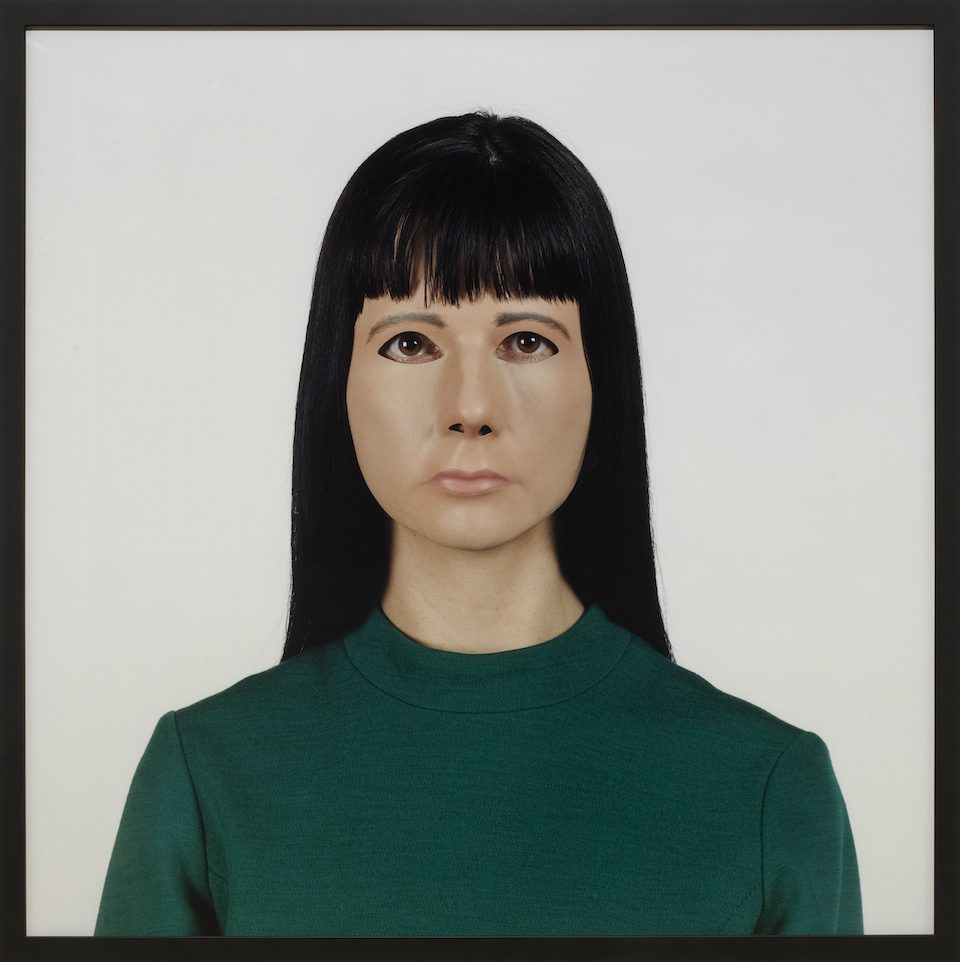 The following year, Wearing created Confess all on video. Don't worry you will be in disguise. Intrigued? Call Gillian (1994), a 30-minute-long video made from footage of strangers recruited through an ad in Time Out magazine. They offloaded their terrors and fantasies to the camera whilst their identity was protected by a mask. The use of masks would become a recurring motif in Wearing's work, as suggested by the subtitle of this new retrospective: Wearing Masks. For 2000's Trauma, eight interviewees spoke about life-defining traumas suffered at different ages, with silicon face coverings approximating – in an almost grotesque distortion of naturalism – their appearance at the time of the event or experience in question. These works, like Signs…, reveal the disconnect between the visual cues we use to gauge people's moods and thoughts and the complexity of their inner lives. Masks have consistently been used by Wearing as an aspect of satirical or anti- self-portraiture. In her 2003 series Albums, Wearing reconstructed family snapshots using prosthetics created with the help of experts from Madame Tussauds, allowing her to take on the appearance of her siblings – or herself – at younger ages. These pieces asked us to consider how people are shaped by their life experiences, their close relationships and stories they tell themselves.
More recently, Wearing has begun to incorporate sculpture with a range of public artworks. 2014's bronze statue A Real Birmingham Family depicts two local sisters, Roma and Emma Jones, one of them pregnant, holding hands with their two children. Working in this medium, Wearing seems less interested in questioning identity than in an affirmative celebration of the lived reality of normal people. Simultaneously querying ideas of "normality." In 2018, Wearing became the first woman artist to create a statue for parliament square. Her bronze likeness of suffragist Millicent Fawcett – holding up a sign reading "Courage Calls to Courage Everywhere" – was the first representation of a woman sited at the location.
The Guggenheim's forthcoming exhibition will be rounded off with works of collage and sculpture, as well as a recent "sculptural self-portrait" in the form of a gigantic charm bracelet, My Charms (2021), which explores characteristic realms of identity, deception and the interaction between reality and fiction.
---
Gillian Wearing: Wearing Masks will run at Guggenheim, New York from 5 November until 4 April.

Find out more here.
Words: Greg Thomas
---
Image Credits:
1. Gillian Wearing, Me: Me, 1991. Gelatin silver bromide print, mounted on aluminum, 20 3/16 x 17 1/16 in. (51.3 x 43.4 cm). © Gillian Wearing
2. Gillian Wearing, Self-Portrait, 2000. Framed chromogenic print, 67 3/4 x 67 3/4 x 1 in. (172 x 172 x 2.5 cm). © Gillian Wearing