Heart motifs appear constantly throughout the work of Moroccan-Belgian photographer Mous Lamrabat (b. 1983). In To the Moon and Back #2 (2021), two figures wear the symbol in red over their clothes, vibrant colours matching a stack of fez hats balancing on their heads. Another piece, titled Where is the Love #2 (2019), presents the iconic shape through the outline of a man's headwear. In an interview for 1-54 Art Fair, Lamrabat explains: "I love the shape of the heart, it's something we know from when we are very young. If you carry love with you wherever you go… You will be surprised how many good things will come your direction. I promise you that if you navigate from a big heart, the universe will reward you."
Lamrabat's story is a shining example. After graduating in 2009 with a degree in interior design, he made the decision to pursue what he enjoyed most instead – photography. The influence of his education still sparkles in his signature style, which is defined by a skilful use of colour theory and staging. Lamrabat's list of collaborations with high-profile brands is dazzling, from Burberry and Chanel to Yves Saint Laurent Beauty. Now debuting in France, these images are on display at Galerie Le Château d'Eau in Toulouse.
The McDonalds' "M" is another repeating pattern. In one shot, it covers the hands of a veiled subject. Elsewhere, the logo appears as an earring, its yellow popping against a model's skin. Lamrabat's subjects exist in a parallel universe, one where people are free to express themselves through humour, empathy and irreverence. This exhibition draws on the artist's multicultural identity; he debunks North African stereotypes and expertly layers western brands with symbols from across Morocco and Belgium.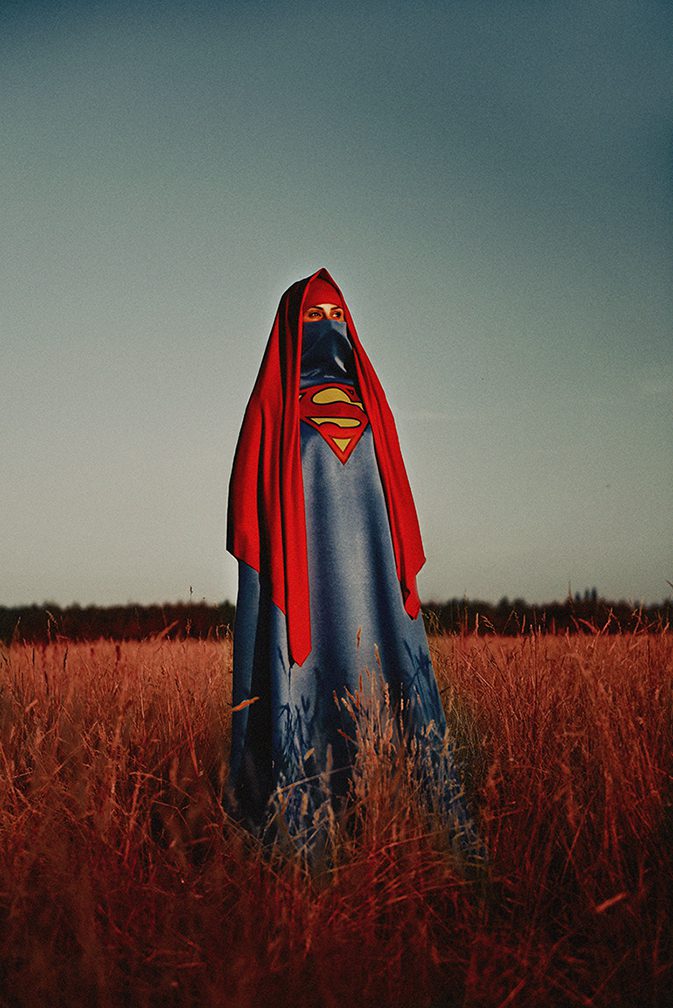 Love at First Sight (2018) shows two people leaning close to each other. Fabric wraps their heads, obstructing their moment of intimacy. The image alludes to Surrealist artist Rene Magritte's (1898-1967) famous oil painting, The Lovers (1928). By referencing popular culture, art history and his Euro-African heritage, Lamrabat's work bursts with nuances that invites viewers to take a closer look. Whilst his pieces are rarely paired with explanatory information, Lambrabat makes clear that this open-endedness has a purpose, stating: "People are looking for meaning in my photos. The message is love, always love."
---
Mous Lamrabat | 2 June – 27 August 2023
Words: Diana Bestwish Tetteh
---
Image Credits: All images courtesy of Mous Lamrabat.