The Royal Botanic Gardens, Kew, is dedicated to harnessing the power of plants and fungi to better human wellbeing and secure a future for all life on Earth. Now, its green space in Sussex, Wakehurst, celebrates one of the world's most loved plants – trees. This season, Rooted brings together a series of award-winning artists to create spectacular outdoor installations across the 535-acre site. Set to be Wakehurst's largest summer programme to date, it is composed of eight installations that capture a broad range of artistic practices – from sculpture and installation to sound and robotics. Covering a range of different ecosystems and ecologies, each piece explores a theme and allows visitors to gain new perspectives on nature.
One of the artists involved is Chila Burman (b. 1957), who brings her signature colourful style to the heart of Wakehurst. The Glowing Canopies (2023) celebrates the impact trees have had on her practice since childhood. Mounted on wire frames, the installation features neon bees, flowers and leaves which look almost embroidered onto the landscape. By night, these 10 metre structures shine in a joyful explosion of vibrant neon pinks, greens, reds and blues. Swirling colours join flora and fauna, illustrating the close relationship between trees and invertebrates. The work serves as a reminder of the climate crisis – which threatens all inhabitants of our planet. A member of the 1980s British Black Arts movement, Burman is aware of the need for art to speak to contemporary issues. In a 2021 interview with Aesthetica, Chila stated: "I paint, I draw, I make mixed media, short films and videos. I don't think about what I'm going to do beforehand; I naturally work around colonial history, personal memories and family." The Wakehurst piece is yet another example of this, and is now her largest neon creation to date.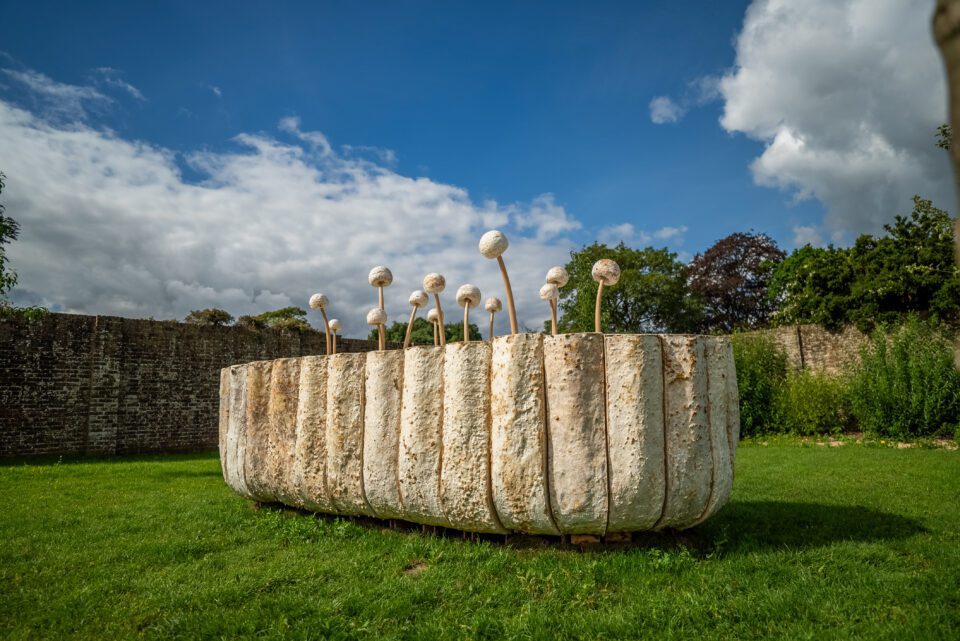 Other artists use elements like wood and fungus to inform their creative responses. Estonian artist Birgit Õigus creates a trio of giant panelled megaphones that create the perfect place for visitors to sit and feel grounded in a peaceful, beautiful setting between trees. Other sculptors such as Joseph Hillier (b. 1974), use trees lost to Storm Arwen in Northumberland to carve out a series of human portraits. Hillier is amongst a growing number of practitioners making use of recycled materials. These include Subodh Gupta (b. 1964), known for his incorporation of ordinary objects in sculptures such as Very Hungry God (2006) and People Tree (2018), relying on kitchen utensils and metal pots and pans. The fixation on woodland is also central to practitioners such as Yuken Teruya (b. 1973), emblematised in Notice-Forest (2005-2012). The piece uses a paper bag as a kind of diorama, acting as a makeshift container for miniature paper trees. In Moot (2023), human faces are charred and whittled upon wooden plinths. Horizontal scores are etched across the forms, using notches that resemble the veined underside of a leaf. The work draws attention to the threats that plague many species today. According to the Woodland Trust, the fungal disease "ash dieback" will kill up to 80% of ash trees across to the UK. By highlighting this epidemic, Hillier's project speaks to the garden's pioneering scientific research, focusing on the conservation of UK forests.
Elsewhere, creatives draw inspiration from the incredible power of woodland communication. Little Lost Robot CIC, a not-for-profit collective of social practice artists, create their own Wood Wide Web (2023) in a collection of interactive installations exploring the relationship between trees, fungi and wildlife. Their work is inspired by research outlined in forester Peter Wohlleben's book The Hidden Life of Trees (2015), which described the network of soil fungi that allows vegetation to communicate via electrical impulses, smell and taste. The artwork invites us to listen to the ways plants share information, providing an opportunity for vieweres to "imagine the trees" personalities and think about what they are "discussing."
From a bespoke sound piece hidden in a coiled set of root-like structures to "Woody," the giant robotic wood mouse that can be fed mycelium pellets, attendees can engage with this network in a myriad of ways. The work also connects to a major science research programme titled Nature Unlocked. Scientists collect carbon data across different habitats, as they explore the powers of underground networks of mycelium that thrive in rotting tree trunks. The result is a garden that performs as a "living laboratory."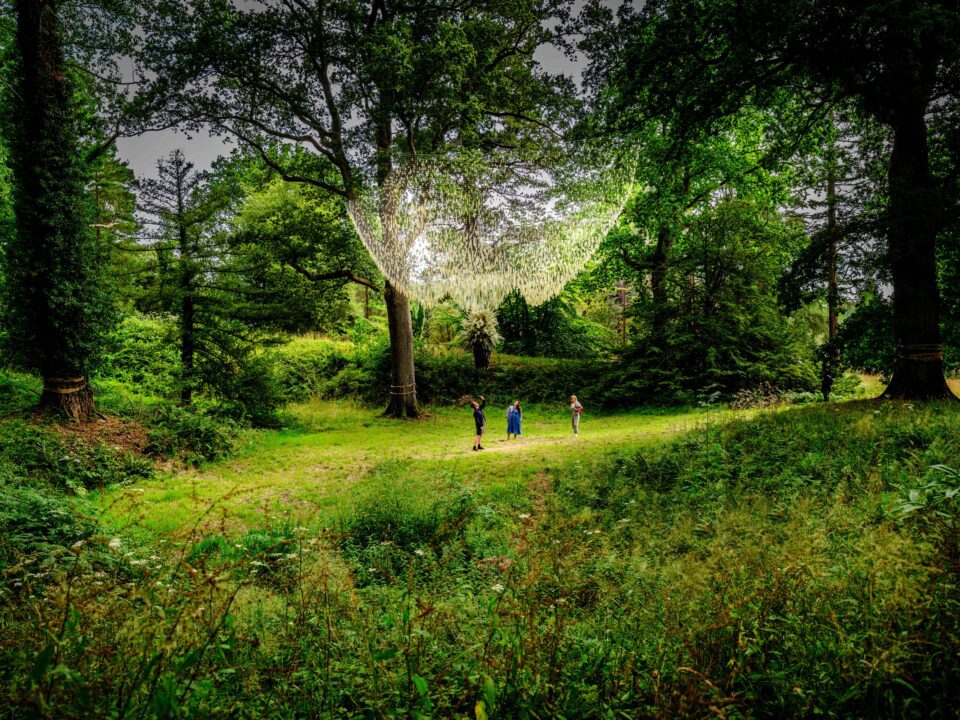 Vital to human existence, trees form the life lines of the planet. They are crucial organisms – from storing carbon and sheltering wildlife, to providing shade and being scientifically proven to ease stress. In our atmosphere, they provide a "carbon sink" that absorbs 7.6 billion metric tonnes of CO2 per year whilst, personally, time in nature has tremendous health benefits that see improvements for circulation and wellbeing. In recognition of this power, Rooted invites attendees to experience our woodlands more intimately. With deforestation as a pressing threat, it is more important than ever to connect with trees.
---
Wakehurst, West Sussex: Rooted | 7 July – 17 September
Words: Diana Bestwish Tetteh
---
Image Credits:
Isla by John Grade for Rooted at Wakehurst, Jim Holden © RBG Kew.
'Wild Stones' Mycelium Bar from creative studio La Succulente, artist Côme di Meglio and designer We Want More, Visual Air © RBG Kew.
Tattoo Tree by Geraldine Pilgrim for Rooted at Wakehurst, Jim Holden © RBG Kew.
Isla by John Grade for Rooted at Wakehurst, Jim Holden © RBG Kew.
---