Yayoi Kusama's (b. 1929) artwork is immediately recognisable, and her multi-media pieces enrich gallery spaces around the world. In the UK, the installation Infinity Mirror Rooms (2023) is on show at the Tate Modern, whilst her largest-ever immersive environment, You, Me and the Balloons (2023), comes to Manchester International Festival in summer 2023. Now, the Guggenheim Museum, Bilbao, presents a major retrospective. From drawings made as a teenager during World War II to recent work, Yayoi Kusama: 1945 to Now gathers 200 paintings, sculptures, performances, moving images, large-scale installations and archive materials. The immense collection is anchored to six key themes developed over Kusama's prolific career: Infinity, Accumulation, Radical Connectivity, Biocosmic, Death and Force of Life.
The artist's first solo show, which took place in 1959, provides the starting point for the exhibition, and demonstrates her longstanding engagement with "Infinity". She showcased five paintings titled Infinity Nets at the Brata Gallery in New York – large-scale pieces comprising minuscule white looping arcs on a black background. In Bilbao, Untitled (Off Cut of Infinity Net Painting) (1960) gives an impression of this early exhibition, presenting a fragment of the 10-metre-long painting she created two years later for New York's Stephen Radich Gallery. Here, nets and spots suggest galactic dimensions, each representing planets. Earth is positioned as "one polka-dot among a million stars." The idea of endless magnitude underpins "Accumulation", the second part of Guggenheim's exhibition. Concepts of collection and expansion are mirrored in the story of Kusama's career, from studio floor to global success. Accumulation of Letters (1961) is the earliest piece here; cut-outs from printed invitations look like stacks of barcodes from far away. Up close, "Yayoi Kusama" becomes clear, repeated ceaselessly in all directions.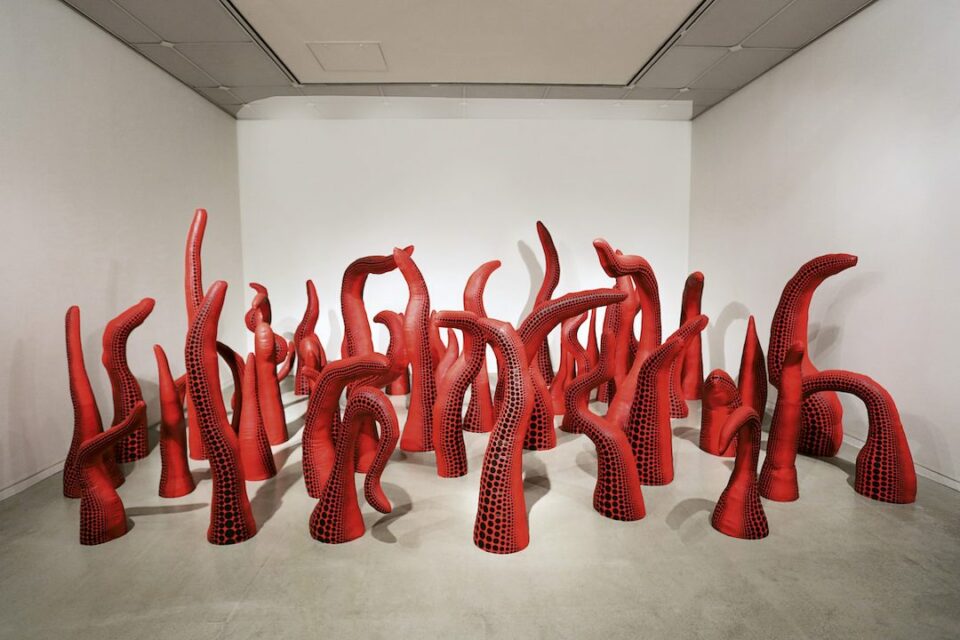 "Radical connectivity", meanwhile, speaks to Kusama's relationship with mass media. The late 1960s marked a period where her activism came to the forefront. She advocated for gay rights, protested the Vietnam War and denounced racist and sexist discrimination. Her concept of "self-obliteration" emerged from this context, representing liberation from societal constraints through the destruction of the ego. In practice, this translated into body-painting performances where she speckled nude models in vivid hues. At Bilbao, Self-obliteration (1966-1974) is a gathering of six feminine mannequins, each freckled in different shades of red, green, orange, yellow and grey. They pose as though in the middle of a conversation, standing around a table set with two fewer chairs than guests. In Kusama's world, polka dots connect us all: from people to furniture, flowers to fruits. The third part of the show, "Biocosmic", illustrates her fascination with organic life. Pumpkins (1998-2000) is an assortment of yellow sculptures covered with black spots. Gourds became a part of Kusama's visual lexicon from the early 1980s. "I love pumpkins," she explained in 2015, "because of their humorous form, warm feeling, human-like quality and form. My desire to create works of pumpkins still continues. I have enthusiasm as if I were still a child."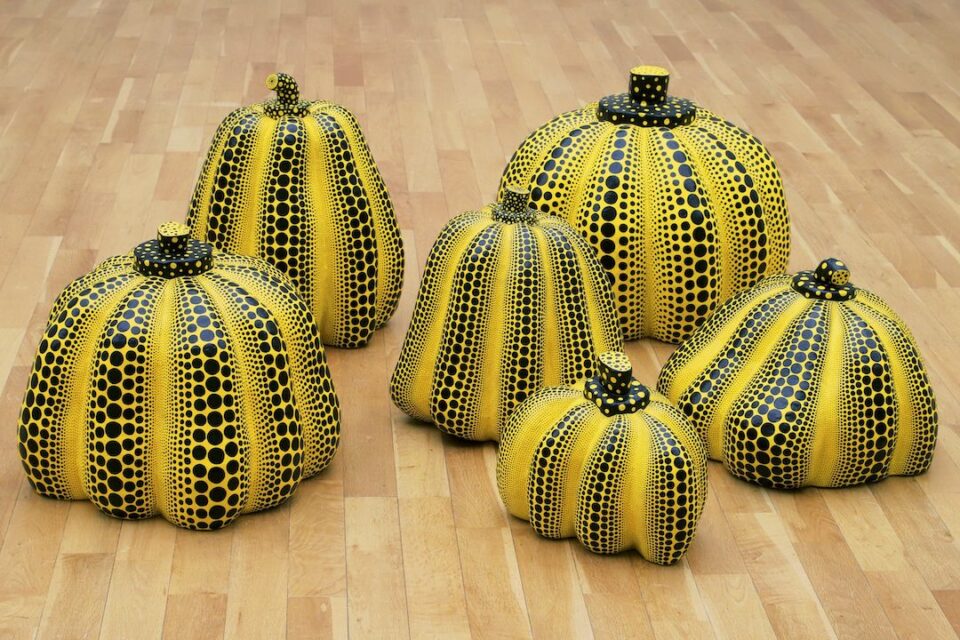 From here, however, the show takes a darker tone. Mika Yoshitake, who co-curated the exhibition with Doryun Chong, explained to Wallpaper* that: "We arrived at the theme of "Death" from Kusama's coming of age during the destruction and devastation of World War II and lifelong struggle with mental illness, which is pronounced in the 1970s". During this time, she also experienced the loss of her father, Kamon, and her closest friend, Joseph Cornell. Grief triggered a period of depression, with her state of mind reflecting onto her art. Death of a Nerve (1976) was an installation made the year before Kusama voluntarily entered a psychiatric hospital in Japan. Covered in black splotches, white tendrils reach for the ceiling only to fall limp into a pile of vine-like ropes on the floor. From 1988, Kusama dedicated herself to exploring creativity as a healing force, and began to overcome this dark period. Death of Nerves (2022), commissioned by M+ gallery, Hong Kong, perfectly captures this shift. Bold colours differentiate this piece from its predecessor, symbolising regeneration and hope. At eighty years old, Kusama began the largest series of her career – one that fervently celebrates love and life. My Eternal Soul (2009-2021) is made up of 900 paintings that burst with joyful colours, motifs and shapes. This, and her other recent pieces, including Everyday I Pray for Love (2019), reveal her commitment to art and its restorative, life-affirming power.
---
Guggenheim Bilbao: Yayoi Kusama: 1945 to Now | 27 June – 8 November 2023
Words: Diana Bestwish Tetteh
---
Image Credits:
1. Yayoi Kusama Infinity Mirrored Room – A Wish for Human Happiness Calling from Beyond the Universe, 2020 Mirrors, wood, LED lighting system, metal and acrylic panel 293.7 × 417 × 417 cm ©YAYOI KUSAMA Courtesy of Ota Fine Arts.
2. Yayoi Kusama The Moment of Regeneration, 2004 Sewn fabric, urethane foam, acrylic, and wood, 54 parts Dimensions variable Collection of K11 © YAYOI KUSAMA
3. Yayoi Kusama Pumpkins, 1998–2000 Mixed media 6 pieces, dimensions variable Collection of the artist © YAYOI KUSAMA.