Globally, the number of "megacities" – cities with more than 10 million inhabitants – is projected to rise from 33 in 2018 to 43 in 2030. The urban population is on the rise. We've selected five photographers who capture architecture from new angles. From Los Angeles, the second-largest city in the US, to Frankfurt, which has a population of 750,000, these artists play with the colour and geometry of built spaces.
---
Sydney-born George Byrne (b. 1976) creates large-scale images that depict landscapes as painterly abstractions. Comparable to the works of Lewis Baltz and Ellsworth Kelly, Byrne's collage-like images – taken from the New Order and Color Field series – utilise the process of reduction. Abandoned sidewalks, luminous bollards and pastel awnings become a hive of possibility; the banal metropolis is translated into a multi-tonal playground. As the artist notes: "Whilst the images remain portraits of the city, they also become more abstract in their intention – based on a true story but open to interpretation."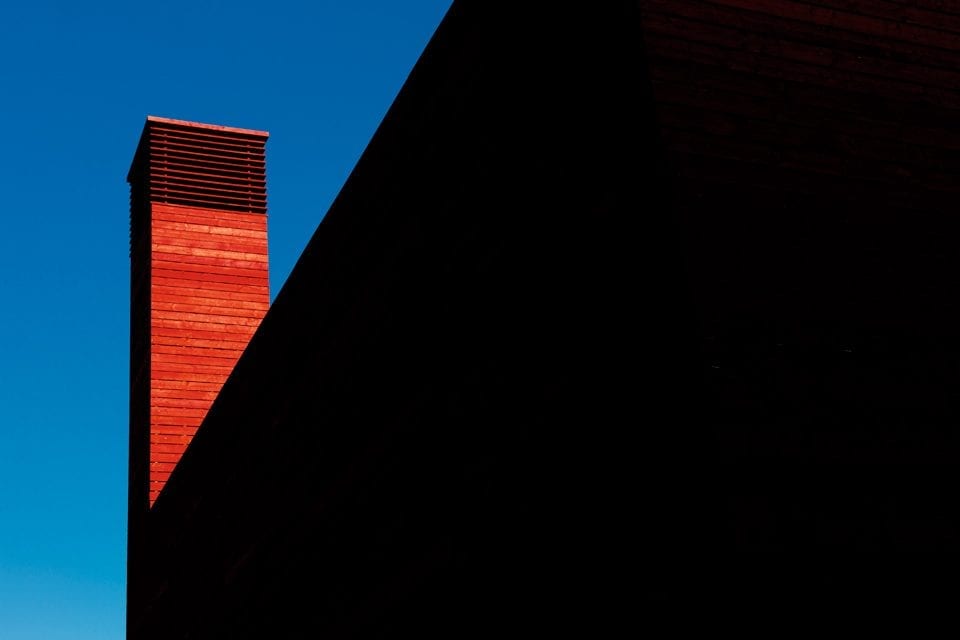 Primary colours, block shadows and gradient skies highlight dynamic outlines of corrugated iron and brick chimneys, whilst showcasing developments in minimalist postproduction and digital art. Steve Bainbridge's (b. 1974) series looks at the future of an industrialised and technological planet, where buildings become replicated beyond control and are no longer separated by distinguishable features. Bainbridge's desire to formally train as a photographer was inspired by the candid documentary works of Tim Page, Don McCullin, Henri Cartier-Bresson and Elliott Erwitt.
---
Pastel chevrons divide sparse, sun-bleached compositions in self-taught photographer Matthieu Venot's (b. 1979) architectural vistas. Details are cropped out of context in dynamic close-up, delivering an abstracted vision of residential neighbourhoods in his native France. Elsewhere, buildings soar into an expanse of sky. There's a sunny optimism to Venot's sherbet colour palette, filled with pastel pinks, blues, yellows and reds. His work has been exhibited at the Galerie d'Art, Paris, and at Les Établis, in the photographer's home town of Brest.
Drawn to bold structures, shapes and lines, self-taught photographer Jürgen Schrepfer (b. 1962) explores cityscapes with a camera, uncovering moments of artistic beauty in the modern metropolis. Schrepfer is a mechanical engineer, which explains the attraction to the constructed corners of urban landscapes. Developing an interest in photography in 2005, he has heightened the architectural details of apartments, churches, office blocks, underground stations and libraries. Many of his images are shot in Frankfurt, Germany, inspired by the city's bold colours and iconic skyline.
---
Andrea Grützner's (b. 1984) compositions deal with the emotional and visual perception of spaces. Grützner finds and creates photographs that oscillate between image-making and painting, exploring ideas of documentary, surrealism, abstraction and visual irritation. Eclectic interiors draw links to retro computer games and traditional guest houses from the former German Democractic Republic. Bold lines and shadows ruminate in these compelling labyrinthine images, transforming the everyday and altering interior landscapes with gels, flash lights and motif-mapping.
---
Be inspired by art and culture with an Aesthetica subscription. Click here to learn more.
---