We live in a fast-paced world. Everything from food and clothing to news and entertainment is produced, packaged and marketed for our convenience. But how often do we stop to think about the processes behind these objects? What might we learn? Amy Widdowson, a Fine Art graduate from Leeds School of Arts, is interested in these questions. The artist spins and weaves fabrics by hand, reviving traditional crafting methods whilst exploring the history of computing and automation. Widdowson, who is part of Leeds School of Arts' 2021 End of Year Show, speaks to Aesthetica about this refreshing way of working.
A: What type of media do you work with? Why are you drawn to this particular approach?
AW: I work primarily in textiles, specifically weaving. In my latest piece Solo (2021), I spin my own wools and incorporate them into the design. Weaving takes a long time, and my work is a call back to our traditional ways of creating. By spinning and weaving by hand, I slow down today's fast-paced culture of textile production.
A: What are the main themes explored in your work?
AW: A large theme behind my work is labour. When the introduction of the Jacquard Machine to the workplace first came around, many master weavers were no longer needed and their jobs were displaced to 'lower-skilled' workers. Production lines in today's fabric factories mean that workers' job roles are split up into sections; they are no longer required to know each step of the process. My work aims to counter that, getting to know every part of the procedure.
For context, I draw on a range of influences – from Marxist theory to current technology systems, stemming from the jacquard loom. The use of 0/1 binary code in modern day computerisation started with the language developed by the jacquard loom. We still use it today. Last year, I made the piece Woven Memory. It's a large-scale weaving based on the labour and efforts of the unseen women workforce in the technology industry.
A: Where do you find inspiration? What drives you to create?
AW: I like to look at times of tension in history and explore how they influence the way we live today. The inspiration for Woven Memory was the women who were hired to weave intricate metal wire memory boards for early computers. Its scale, 12x12ft, is based on the average size of newly built UK houses in recent years. I also really enjoy working with different textures; working from raw wool gives me the freedom to manipulate the fibres however I like.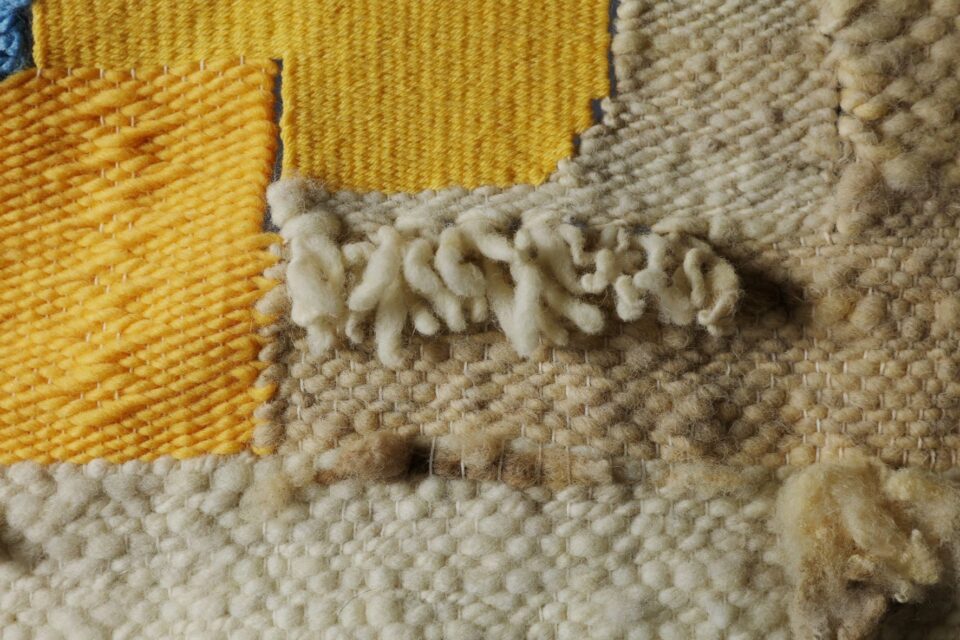 A: What do you hope your audience take away from your piece?
AW: I hope the audience is made to rethink our culture of fast-paced making. I want to slow down the means of production and put emphasis on the 'person behind the fabric', so to speak. 
A: What are your future plans? Do you have any projects or new  ideas lined up?
AW: I have continued to spin wool and weave after graduating, working mostly on small wall hangings and little practice runs. I have a few ideas for larger pieces in the near future. 
A: What can viewers expect from Leeds School of Art's 2021 End of Year Show?
AW: There has been so much amazing new work from my classmates this year, despite completing half of our degree under lockdowns and varying circumstances. We haven't exhibited our work in a physical space, but our online exhibition has come together really well thanks to our degree show committee.
---
Visit Leeds School of Arts' End of Year Show online here.
---
All images courtesyAmy Widdowson andLeeds School of Arts.