Two in every five people across the world are gamers. But how do people become hooked on a story? What techniques are involved in creating a compelling virtual world? Harry Taylor is a games designer from Leeds Beckett University, specialising in creating photorealistic environments that are full of detail. His latest project, UNDERGROUND, is one such example. Created with Unreal Engine 4, it depicts a dystopian city: subways are abandoned and doorways are overgrown with plant life. Aesthetica speaks to the artist, whose work is part of Leeds School of Arts' End of Year Show.
A: What types of media do you work with? Why are you drawn to this approach?
HT: I use a multitude of software to produce the final environment. This process requires the use of different programmes for the 3D modelling, digital sculpting, material authoring and editing, decals, photogrammetry and final scene composition. One of the things that I love most about the workflow of environment art is the collaborative aspect of these programmes. I can bounce between them whilst making the art assets and can edit and manipulate through the working process, right up until they are placed within the final scene. I enjoy the environment art pipeline as it allows room for plenty of creative freedom – from initial concepts to the final piece. 
The design process begins with finding visual references. When creating these scenes, I want them to feel as close to photorealism as possible. I use visual references to find inspiration and to ensure that I am including the small details – elements that are not noticeable at first glance but would make the scene feel 'off' if they weren't included. In UNDERGROUND, these small details can be seen in the discolouration of the tiling, or the rust and scratch marks on the metal barrels. Without these, the objects would look too clean; it would be noticeable to the audience. One aspect that I enjoy, but can be tricky, is hiding assets in plain sight. I don't want anything to stand out directly, as they should all have a natural place in the scene.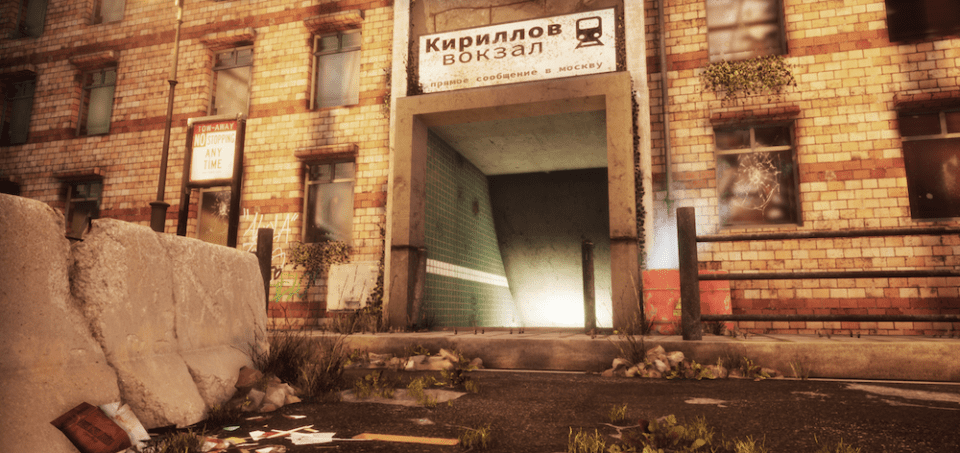 ---
A: What are the main themes explored in your work?
HT: UNDERGROUND is an environment formed with community in mind. I researched dark and obscure ways to present this theme, or lack thereof. After research and iteration, I decided to create an abandoned scene portraying the sudden disappearance of humankind. I wanted the scene to feel as though the area had been left derelict for a long time, with only a few stragglers remaining. I used references from old and abandoned UK and European railway lines. I also researched naturally occurring overgrowth to create an environment that feels as though nature is regaining control.
A: Where do you find inspiration? What drives you to create?
HT: My main source of inspiration comes from game industry veterans who share their work through the art portfolio website ArtStation. Seeing these professional standard projects is a huge inspiration to me as I get an insight into their workflow and design process, and I often find myself learning new methods. I am always amazed at the level of detail and quality of the work they create, and it instantly inspires me to continue working on my projects. Another way I find inspiration is simply by playing games. I find myself spending less time on the story and more time analysing the in-game environments! 
A: What do you hope audiences take away from your piece?
HT: I hope anyone who looks at UNDERGROUND will appreciate the dark atmosphere. More specifically, I'd like them to they feel the contrast of the man in the clean suit and the derelict environment that surrounds him. I wanted to create a "before-and-after" feeling, signifying what normal life was before this sudden disappearance whilst surrounding the viewer with the aftermath. I try to make my projects feel as if they could be real spaces, so I hope audiences all of the visual effects and 3D models within.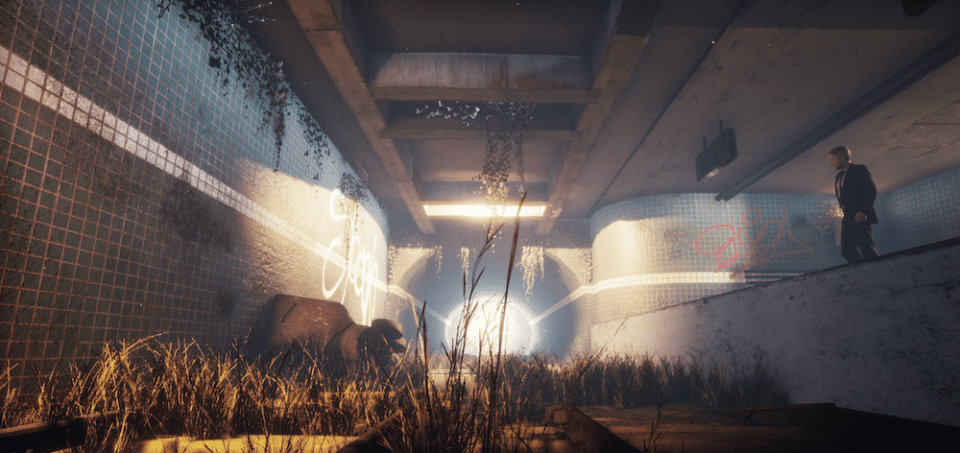 ---
A: What are your future plans? Do you have any projects / ideas lined up?
HT: I am always working on improving my game art skills to try and maximise my employability. Currently, my main focus is to keep working on projects to include in a portfolio to share with video game studios post-graduation. My main ambition is to be able to work within a studio creating these high-fidelity game environments for everyone to enjoy. I am working on a couple of personal environment art projects over the summer to improve my modelling and scene composition. I will be sharing them on my portfolio soon.
A: What can viewers expect fromLeeds School of Arts' End of Year Show?
HT: Viewers can expect to see some amazing work from some incredibly talented students here at Leeds Beckett. This past year has been a challenge for everyone due to COVID 19, with teaching take place online. Nonetheless, I believe that the working conditions this year haven't made a dent in the creative ambition of the students here. Anyone who visitsLeeds School of Arts' End of Year Show. will love it!
---
Visit Leeds School of Arts' End of Year Show here.
---
All images from UNDERGROUND, courtesy Harry Taylor and Leeds Beckett University.