Cameroon-born photographer Angèle Etoundi Essamba (b. 1962) creates powerful black and white portraits that reflect on the representation of African women. Her work lies at the intersection of social / gender issues and art, creating works which convey strength and beauty. The images – now on display as part of SMO Contemporary Art's presentation at ART x Lagos 2020 – challenge stereotypes, embodying a sense of pride and awareness.
The international fair, taking place from 2-9 December, highlights artists who represent the resilience and creativity of the African continent and its Diaspora. This year's edition offers a wide range of new and thought-provoking perspectives, with over 200 works.
---
A: Your portraits are powerful and striking, with a particular focus on "challenging and breaking with stereotypical representations" of women. Why do you feel artists should question these ideas, and what inspired you to do so? 
AEE: I think we have to question stereotypical representations in general. This is essential, because these representations touch the very essence of the human being. They often define our relationships to others and our place in the world. Because "the other" sees and considers me through these often-reductive representations, it is therefore important to deconstruct and show other forms of representation – in which each person can recognise themselves and find inspiration. I did not recognise myself in these stereotypes. I decided to break with them by showing images of strong, active, combative people. My subjects are also vulnerable, because they are deeply human. These people are not myths or legends – they exist.
A: How would you describe your visual style? 
AEE: My style is both realistic and idealistic. I attach great importance to simple and harmonious compositions, to expressions and emotions, to what the being radiates and what the image communicates. I work from what I see: from emotions, from aspirations, questions, marvels. It is this inner strength which resides in each of us – and which projects us forward – that fascinates me. I try to immortalise this. The aesthetics are also important, inviting viewers to enter the image and to explore its depth.
A: Keywords for your images are "pride, strength and awareness." How do these materialise in your photographs?
AEE: These expressions are imprinted in the people themselves. I am not inventing them, I am simply revealing them. They can be read in their gazes, their gestures, their poses… They express themselves and reinvent themselves. But it is also an inner, silent strength and pride.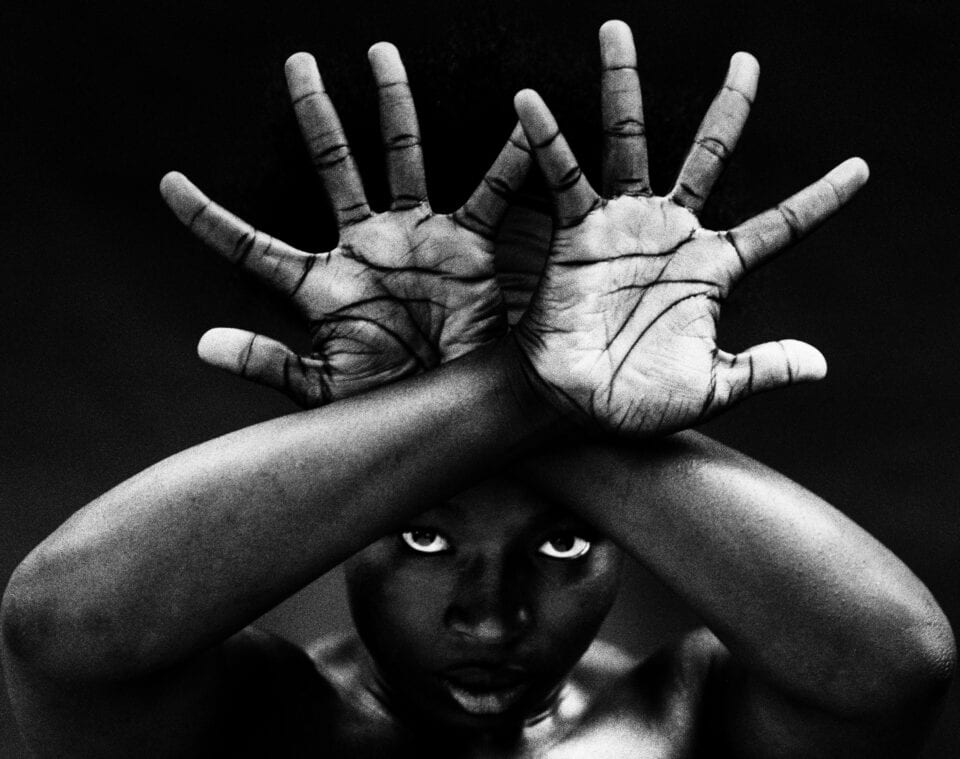 A: What are your influences – places, people, ideas?
AEE: I have many influences. They are, first of all, a reflection of my journey, which started in Cameroon where I was born, then in France where I grew up and finally Amsterdam in the Netherlands, where I was trained in photography and where I currently live. I am also inspired by my many travels: Africa, Europe, Latin America, Asia… The encounter with the other – who is another me – is decisive. It shapes my gaze and continuously enriches me. My work is undoubtedly the reflection of all these influences, which gives it a universal resonance, whilst the heritage remains African.
A: You have been described as providing "a new interpretation of contemporary Africa." What kinds of fresh perspectives does your work bring, and why is it important to start these conversations?
AEE: This conversation is just one of the many that actually has been started and should continue. Africa is plural, made up of 54 countries, and its interpretations should respond to its diversity. My gaze is that of an African woman living and working between Africa and its diaspora, imbued with a dual culture and influences. That is what is interesting. I think today, even without having ever traveled physically, we can claim to be a "woman or a man of the world", since we travel virtually.
Contemporary Africa is writing its own history and that is what I believe in. My photographs are not lamentations. They do not deal with misery, but, on the contrary, with pride, determination, hopes and resilience. These will never be shown enough.
---
A: Which of your pieces can viewers see with ART X Lagos?
AEE: The pieces presented at ART X Lagos are mainly photos from the series entitled NOIRS. This series dates from the years 2000 – 2001, and is still ongoing. It marks a turning point in my photography. The treatment is different from previous works. NOIRS seeks more proximity, the expression of interiority and intimacy, the highlighting of the skin. The focus lays on the black identity in its smallest details. The body is shown without any artifice, the black identity in its simplicity, its purity, its depth and its nudity. The sitters are rising beyond everything. Their gestures and fierce gaze state their determination to move forward, to fly higher, to re-write history.
NOIRS was well received in the 2000s and was the subject of a solo exhibition at the Museum of Modern Art in Arnhem, the Netherlands, in 2001. It was also selected for the Dakar Biennale 2002, the Bamako Photographic Meetings and various other group exhibitions. Today, it is still getting a lot of interest.
A: What do you hope viewers take away from the series?
AEE: I think many of those who know my work will also be surprised to discover my photographs of men. I would like these photographs to resonate in everyone according to their own story. These works embody strength, pride, hope and resilience across time and generations.
---
ART x Lagos runs 2-9 December. Find out more here.
---
Image Credits:
1. Angele Etoundi Essamba, Noir 40, 2001, Photography, 100 x 150 cm
2. Angele Etoundi Essamba, Cheveux de paille, 1992, Photography, 150 x 100cm
3. Angele Etoundi Essamba, Le penseur, 2001, Photography, 150 x 100 cm
4. Angele Etoundi Essamba, Noir 43, 2001, Photography, 150 x 100 cm
5. Angele Etoundi Essamba, Mouvement 1, 1995, Photography, 150 x 100 cm
6. Angele Etoundi Essamba, Noir 34, 2000, Photography, 150 x 100 cm