Berlin-based Anke Eilergerhard creates unique sculptures that stimulate the senses. The award-winning artist, who has worked with major brands including FENDI, constructs layered forms using silicone and porcelain. Drawing influence from baroque aesthetics, she presents familiar objects in new ways – playing with ideas of abundance, transformation and the unexpected. Eilergerhard's latest exhibition, Resilience, is now open at Istanbul's Anna Laudel Gallery. Read a conversation with the artist, discussing the inspirations and processes behind these distinctive forms.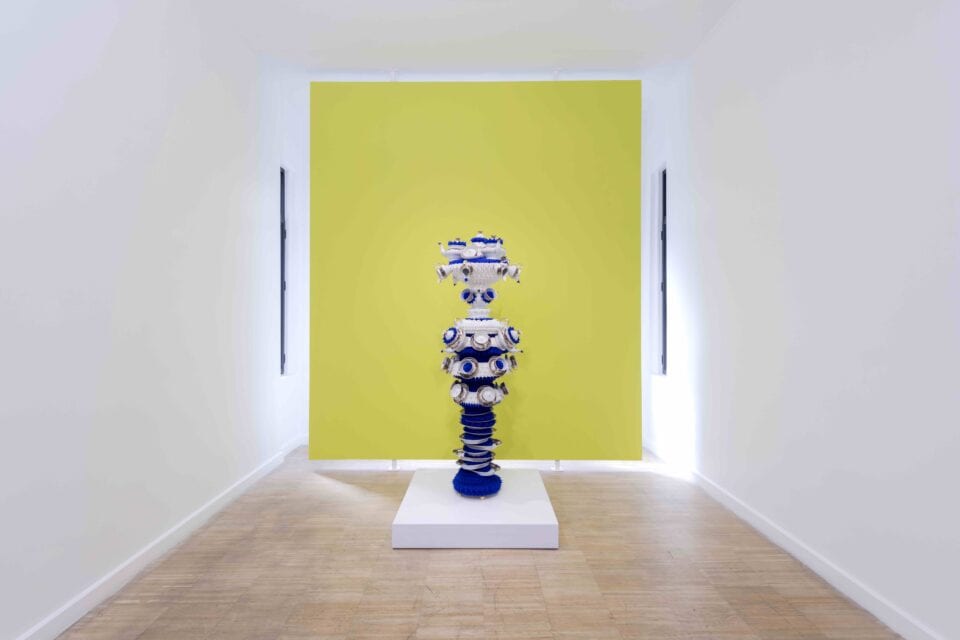 AL: In your works, you shape the silicone layers like a piece of dough and stack recognisable kitchen objects in it. How did you start to work with this particular style – the motif of the Layer Cake?
AE: When I was little, my grandma often took me to Cafe Grimm to eat cake. There, I marveled at the floral wallpapers and the fascinating shapes and colours of the cakes on display. They were lit up like on a stage. I also enjoyed my grandmother's brief bliss. Presumably, a palette of shapes, colours and emotions manifested itself there early on. For me, a cake with whipped cream is a piece of heaven on earth.
My observations and experiences build the base of my artworks. "The Layer Cake" as a metaphor has held an important place in my work for almost 30 years. The formal beauty of the whipped cream hills has been the focus of my work since 2004. This is the perfect sculptural shape for me; it has a cosmic feature that reflects the longing for heaven. Inspired by this form, I developed my special artistic technique. I have transformed whipped cream mounds tens of thousands of times by hand with pigmented polyorganosiloxane, which is a kind of silicone, almost like a pastry maker.
AL: Your sculptures look very soft, romantic and fluid – yet they are very strong and resilient, thanks to the special silicone that you use. Is there anything that you specifically want to express with this opposition between the appearance of the sculptures and the material you use?
AE: The special silicone material I use, pigmented polyorganosiloxane, gives me the opportunity to create artworks that look fragile and delicate, but are extremely durable and resistant. Our world is like my layer cakes: beautiful but very fragile and strong. This beauty stays on the surface, but to understand it better you should look deeper and more carefully.
---
AL: Your sculptures stimulate not only sight but also touch, taste and smell. What do you think about the relationship between your works and the viewer in this respect?
AE: An artwork comes to life only when the viewer looks at it. This dialogue creates an emotional and intellectual experience. Everyone can establish their own dialogue, and, therefore, I do not want to give a reading or instruction on how to understand my works. It is a nice feeling that my work touches someone, no matter how.
AL: What are the things that trigger your production and encourage you? What kind of subjects do you use in your artworks, between life and art?
AE: I like to start the day by looking at the ceiling in the studio. When I distance my search from reality, it becomes possible for me to see more clearly. For me, it's a kind of intuition without words. Words are often an obstacle, and I give myself time to think without them. That's when my art becomes a creative process. My hands act like a portal – releasing mental metabolic processes to the world. Although I plan my sculptures very carefully, they are actually snapshots of my inner emotional world, which emerges from the perception and reflection of what is happening around me. Seen in this way, my sculptures are subjective psychographics of our time.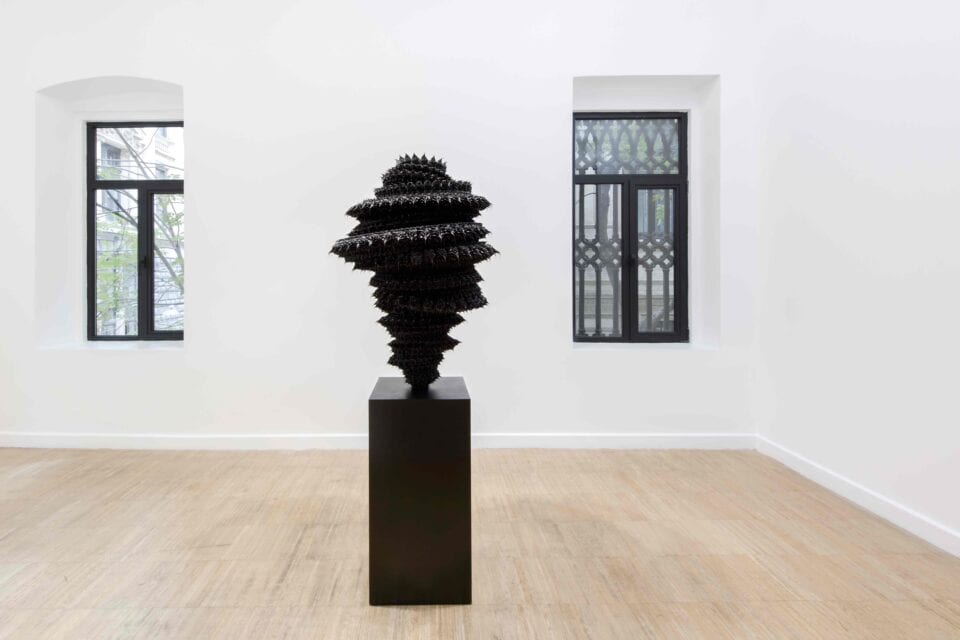 AL: Some of your sculptures are named ANNA, like Annakatharina or Annette. Could you tell us more about the names, is there any particular reason for using them?
AE: For me, the titles of my sculptures matter as much as the material, shape, surface structure and colour. They have the same importance in the development process. The abstract sculpture is reinforced by the title. ANNALOTTA, ANNABETH, ANOUK, ANNADEL, ANNALOU, ANNECHKA etc. are derived from ANNA, meaning "the lovely one". My own first name, Anke, is one of them. I see this cycle of works as "plastic self-portraits". Showcasing ANNA sculptures in the wonderful Anna Laudel gallery in Istanbul, is more than a happy coincidence.
AL: Your artworks are exhibited in well known collections, art fairs, galleries and public spaces. Now, your solo show, titled Resilience, showcases works and recent production at Anna Laudel Gallery in Istanbul. Can you tell us about how Istanbul has influenced you and the way you produce artworks?
AE: I am very grateful to be able to travel to other countries and cities – both with and through my art. I have got to know the local residents of the city in ways that would not be possible as a "normal" tourist. International dialogue is always an adventure and it enriches the inner self. Istanbul immediately impressed me; the city has an extraordinary vitality. There is a tremendous creativity in this city. As I love patterns and ornaments, I find the oriental handicraft tradition that comes to life in Istanbul's art and design particularly inspiring.
---
The exhibition runs until 27 December. Find out more here.
---
Lead image: Anke Eilergerhard, Resilience, From the Exhibition 'Resilience', Anna Laudel Istanbul, 2020.
1. Anke Eilergerhard, Annakatharina, Highly Pigmented Polyorganosiloxan, Stainless Steel, Bohemia Porcelain, With pedestal, 198 x 86 x 86 cm, 2017, Photo by Kayhan Kaygusuz.
2. Anke Eilergerhard, Die Polle White, Highly pigmented Polyorganosiloxan, leather soccerball, in plexiglass cube, 36 x 36 x 36cm, 2005.
3. Anke Eilergerhard, Lovelyn, Highly Pigmented Polyorganosiloxan, Stainless Steel, With Pedestal, 230 x 90 x 77cm, 2016, Photo by Kayhan Kaygusuz.
4. Anke Eilergerhard, Highly Pigmented Silicone, Stainless Steel, With Pedestal, 180 x 70x 70cm, 2017, Photo by Kayhan Kaygusuz.