Jenny Holzer's (b. 1950) art centres on language. Speaking to the public through unflinching, concise words, her works are evocative and powerful – engaging the viewer in dialogues surrounding power, violence, belief, memory, life and death. Each statement asks audiences to consider global issues, including the refugee crisis, the representation of women and structures of control.
Thing Indescribable is a new survey opening at the Guggenheim Bilbao. The exhibition highlights the breadth of Holzer's practice, bringing together LED signs, robotics, paintings, works in stone and newly created pieces – including a series of light projections that will occupy the museum's façade.
The show opens with Truisms (1977-79), 250 single-sentence declarations which originally appeared on anonymous posters across New York City. Displayed alongside the Inflammatory Essays (1979-82), they break down theoretical, philosophical and political ideas to examine the social construction of belief and highlight wider concerns.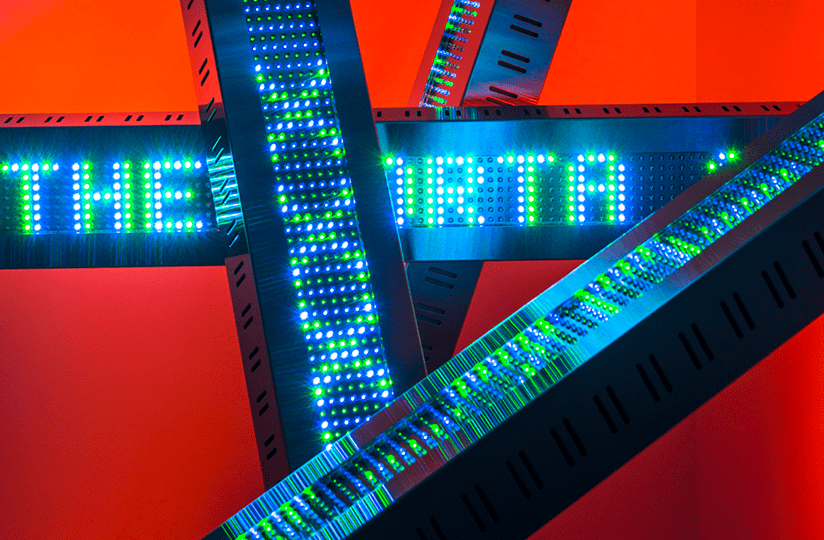 This approach has remained at the core of the artist's practice. New robotic LED works include THERE WAS A WAR, a four-sided sign considering the humanitarian consequences of Syria's ongoing civil war, and I WOKE UP NAKED which reflects on poignant testimonies from sexual assault survivors.
Well-known electronic pieces such as PROTECT ME FROM WHAT I WANT are also on view. The sentence is taken from the cautionary Survival series (1983-85), originally displayed on large billboards in Times Square and other urban centres – easily accessible to onlookers. The collection questions the ways individuals respond to their social, political and personal environments.
The wide range of media demonstrates a democratic approach to language; visual codes are rewritten to include a wider audience. Often, Holzer's signs evoke official modes of display and address, yet break down boundaries through stark and unexpected messages.
The show runs 22 March-9 September. Find out more here.

Lead image: Jenny Holzer, Purple, 2008. Courtesy the artist © 2019 Jenny Holzer, member Artists Rights Society (ARS), NY / VEGAP. Photo: Collin LaFleche.