"Public spaces are for the free exchange of ideas. I strongly believe in the power of public art for positive social change." – Melissa McGill.
In 2019, Venice's iconic waterways turned red. 52 boats – each adorned with hand painted sails – stood out against the blue lagoon. The choreographed performance, titled Red Regatta, drew attention to the impact of rising sea levels and mass tourism in the region. It was devised by Melissa McGill, an interdisciplinary artist recognised for ambitious, large scale projects. Now, London's Mazzoleni gallery is hosting a new exhibition of her work – revisiting Red Regatta through hand-painted photographic renderings and paintings made in preparation for the performances. These are shown together with visually striking photographs and installations that reflect back, alongside earlier pieces which also explore the city of Venice through sculpture and sound.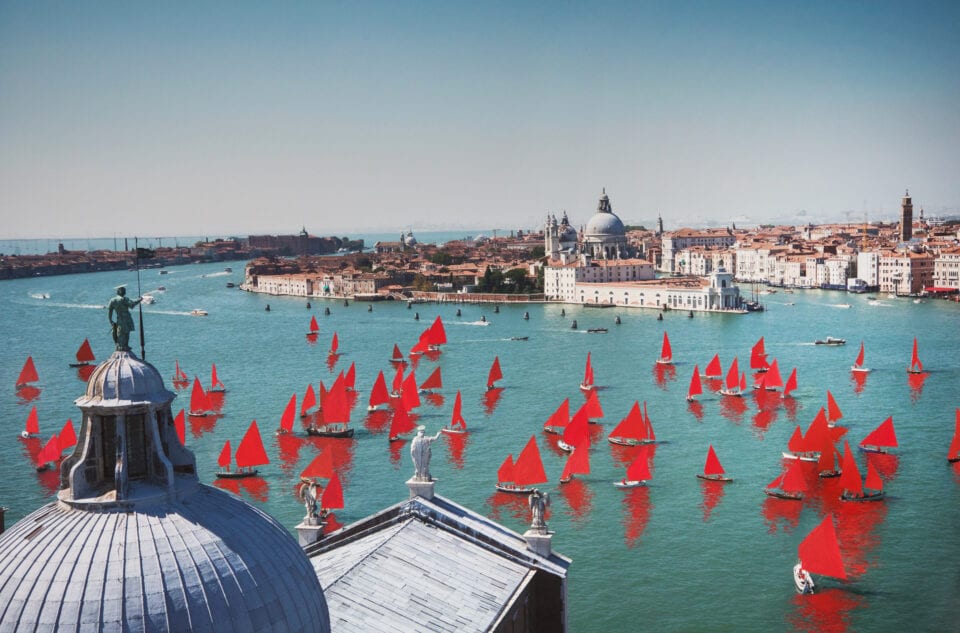 A: Venice is the subject of this exhibition. What is your relationship with the city?
MM: I have a long personal history with Venice and a deep relationship to the city, the lagoon and my Venetian friends. I arrived in Venice for the first time in 1991 on my own, a week after graduating from the Rhode Island School of Design. From the very first moment, I was completely carried away with this unique and extraordinary city and its relationship to water – with constant movement, endless reflections and a vibrant but fragile relationship between the ecosystem and the built environment. There is an omnipresent dialogue of call, response and interconnection.
As writer, scientist and ecologist Rachel Carson writes: "Each of us carries in our veins a salty stream in which elements sodium, potassium and calcium are combined in almost the same proportions as sea water. This is our inheritance from the day, untold millions of years ago, when a remote ancestor, having progressed from one-celled to the many-celled stage, first developed a circulatory system in which the fluid was merely the water of the sea …"
A: Let's talk about your 2019 performance Red Regatta, which filled waterways with hand-painted boats. What was the idea behind it, and how did it come to life?
MM: It was an independent public art project that activated Venice's lagoon and canals with four large-scale regattas of traditional vela al terzo sailboats hoisted with hand-painted sails. The project was a great collaboration with Associazione Vela al Terzo Venezia, curated by Chiara Spangaro, with project manager Marcella Ferrari, and co-organised by Magazzino Italian Art, with support from Mazzoleni. It brought together over 150 members of the Venetian community – ranging from local sailors to artisans to art students – to celebrate local maritime culture and history whilst raising awareness about the balance between the city of Venice and the sea. Venetians have been sailing the vela al terzo boats in the city's waterways and lagoon for over a thousand years. Designed with a flat bottom and removable mast to navigate Venice's terrain, vela al terzo boats traditionally hoist sails painted with identifying graphics in earthy colours, representing each sailor's family. In Red Regatta, each boat was rigged with sails hand-painted in distinct shades of red which I developed in my studio in Beacon, New York. As the boats glided though the lagoon in unison – set against the sky, sea and cityscape – the reds evoked forces of life and passion, alarm and urgency. They also referenced Venice itself – from its bricks and terracotta rooftops to its flag and history of trade in red pigment, to paintings by Titian, Tintoretto and other Venetian masters.
Red Regatta navigated the delicate and liminal relationship between Venice's built and natural environments, between land and sea, humanity and nature. The performative regattas involved 52 vela al terzo vessels, sailing in routes that I mapped out with Nicola Zennaro, sporting director of the Associazione Vela al Terzo Venezia, to be visible from vistas circling the city, each in a different location. We also presented programmes and workshops with Ocean Space and the Peggy Guggenheim Collection to bring the Venetian community together and spur conversations on the traditions that have shaped life in Venice for a millennium. It came together over 2 years and was a very intense and challenging process! The research and development was done between my studio in Beacon, New York, and Venice.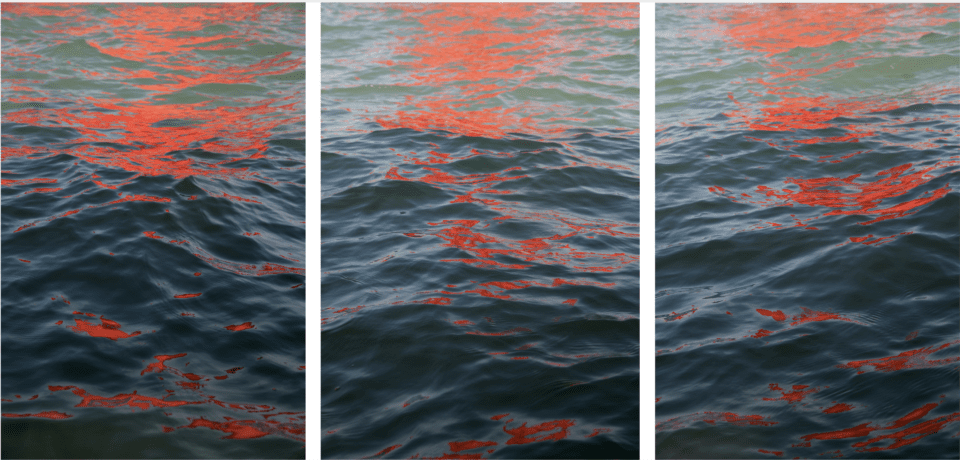 A: Can you outline some of the works showing at Mazzoleni? How do they connect to Red Regatta?
MM: The work presented in the exhibition, In Venice, was created during different phases of Red Regatta's timeline. It includes my large-scale hand-painted photographic renderings, anticipating the realisation of the future performances. Then there is a series of vibrant red colour studies on sailcloth and paper, made as I created the 52 shades for Red Regatta, as well as works produced during the sail painting workshop, where I hand-painted 104 red sails (2 for each boat) with art students and collaborating sailors in the historic maritime Arsenale in Venice. The third series, Riflessi, are photographs that I took during the actual Red Regatta performances in which the red sails were reflected in the Venetian lagoon waters. More recent work includes Acqua Alta, which reflects on the project from the perspective of the catastrophic flooding in Venice caused by rising sea levels.
There are some earlier works that preceded and led to the creation of Red Regatta. My previous projects in Venice, The Campi. —Campo Box (Santa Maria Nova) and Campo Box (San Polo), comprise black lacquered sculptural sound boxes that evoke the architectural footprints and aural experience of Venetian campi – irregularly shaped public squares that serve as the historic heart of every Venetian neighborhood. They are in danger of disappearing. By isolating the aural experience of place, the artwork captures the subtle nuances of daily Venetian life – snippets of conversation between neighbours, calls from passing working boats and gondoliers, children playing, footsteps in a city where sound is reflected on stone free from the din of traffic.
A: The relationship between humans and nature has never been more important. How significant is public art as a tool for raising awareness around the climate crisis?
MM: Public spaces are for the free exchange of ideas. I strongly believe in the power of public art for positive social change. I believe strongly in our ancestral connection and belonging to the land and sea, and how essential that is for us in our collective consciousness. Red Regatta invites local citizens and visitors alike to consider the impact of sea level rise and mass tourism in Venice, a city that lives and works by water yet is at great risk of being overtaken by it. This project is about uniting tradition, art, culture and environmental sustainability. It captures attention as a wake-up call about the state of the environment and our fragile ecosystems.
Through Red Regatta, a great community has been formed. We have over 300 local collaborators. One of the major issues Venice faces is a declining local population. It's been fundamental to have this great big team of collaborating sailors, crew members, art and architecture students, local and international institutions… all together for the lagoon! Red Regatta is the first artwork to be registered as a Clean Regatta, a programme developed by Sailors for the Sea/Oceana. It mobilises sailors to protect the ocean through education and activism. When I found out about this programme, we registered immediately, committing to a series of best practices for all our events. Local sustainability issues are directly connected to the same global issues.
A: What do you hope audiences take away from the show?
MM: I hope it will spark questions about our interconnectedness and raise awareness about the issues at the heart of the matter, both in Venice and way beyond.
A: What's next for you – any new projects on the horizon?
MM: I have a number of new projects in the works, both in my studio and in the public realm, all around the theme of water and waves. They are inspired by my reflections in this age of ecological crisis, but they hold hope for the future.
---
Melissa McGill: In Venice runs 23 June – 18 September at Mazzoleni London
---
All images © Melissa McGill
Courtesy Mazzoleni, London – Torino
1. Riflessi (Red Regatta – 1 September 2019) – 3, 2019
2. Red Regatta (Coppa del Presidente della Repubblica, Bacino San Marco), 2019
3. Riflessi (Red Regatta – 1 September 2019) – 3, 2019
4. Red Regatta (Coppa del Presidente della Repubblica, Bacino San Marco), 2019