"These boots are made for walkin'' are the famous words of Nancy Sinatra's 1966 hit song. They're also the name of American artist Polly Apfelbaum's (b. 1955) latest show, currently on view at London's Frith Gallery. And once you step in, you'll start to see why. First, visitors are required to don some slippers to walk on the rugs on display – a nice witty touch. Much like the song, Apfelbaum's show — which comprises four rugs and 13 colour-happy ceramics — works as a playful, mischievous prod to power.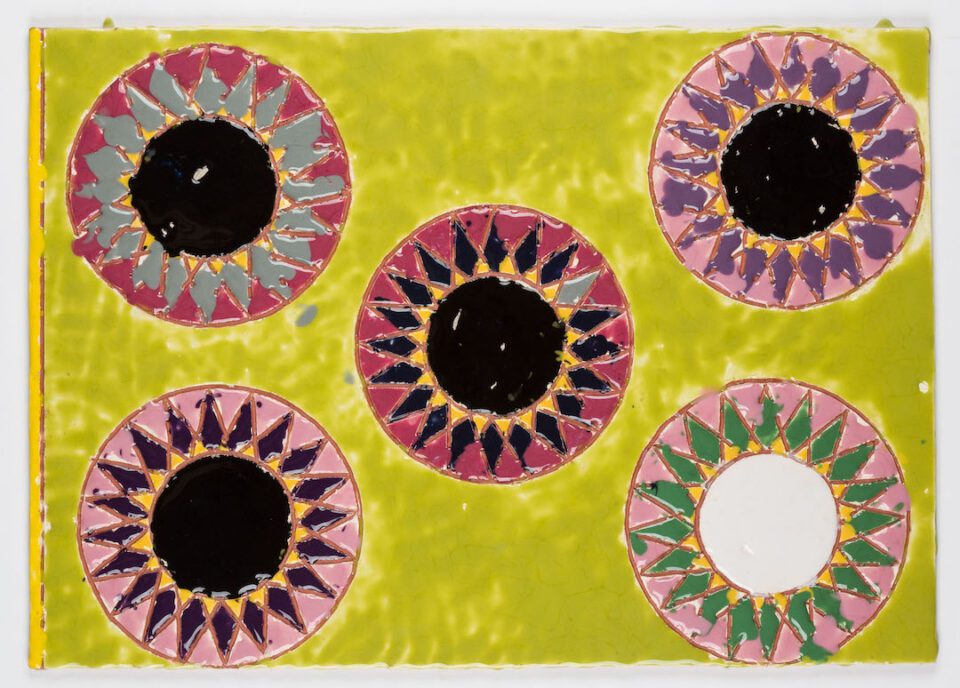 The joyful, kaleidoscopic wall-hung sculptures that wrap around the exhibition were borne out of Apfelbaum's experience returning her roots in Pennsylvania during the pandemic. During this period, the artist moved back into her childhood home, where she magpied a miscellaneous mix of influences. She was drawn to the repeated patterns and motifs of textiles and barn decorations. As a child, she was particularly taken by quilts, notably one adorned with sunflowers. Elsewhere, we see glimpses of dartboards and folk games, as well as the tradition of Pennsylvanian German terracotta. Then peppered are some kitschy pop culture titbits: a shouty Ringo Starr shirt, for example, manages to weasel in as a visual reference.
Her method of production is similarly intuitive, joyful and active. Glaze colourways congeal, bleed and bubble into each other. Uneven washes and gloopy, globular drips hang off the edges — all cut through with some sharp line work and pattern play. Apfelbaum says glaze washing is like "painting with mud", and it's effective here. The point Apfelbaum is trying to make is that her personal Pennsylvanian world is a political one. There's a distinct nudge to the hierarchy of the art world, which has historically excluded women from the canon. She is questioning – as she has throughout her career – how ceramics, quilts and rugs have typically been relegated to "craft", or "decorative arts"; items not worthy to be considered as "high" art. This comes through in how she hangs ceramics flat on a white wall, elevating them to "painting" status.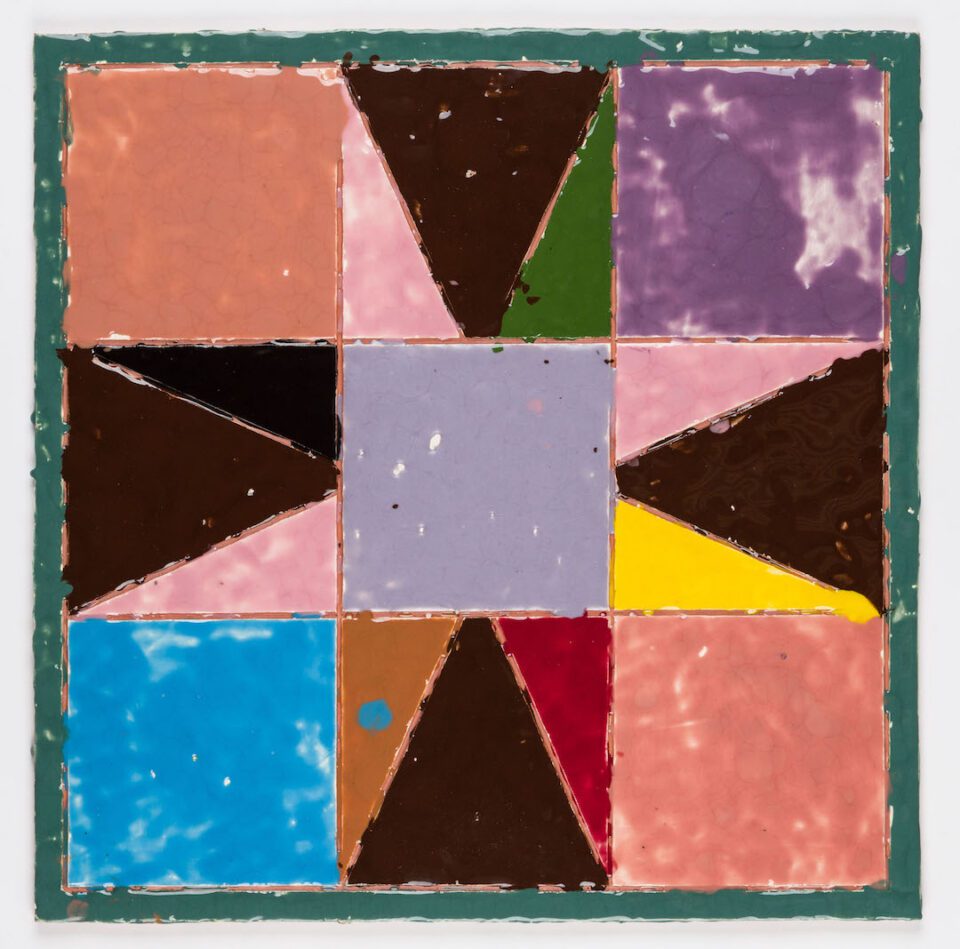 Moreover, Apfelbaum calls her rugs "fallen paintings", a definition which collapses hierarchies even further. Distinctions between mediums are blurred; PA Abstract Quilt of 100 Colours, for example, merges quilting, ceramics and painting all at once. Meanwhile, The Potential of Women (Grayscale) was made in Oaxaca by Zapotec artisans using regional weaving and dying techniques. Throughout the exhibition, it's clear that Apfelbaum is knotting herself with a long lineage of women – named and unnamed – who have been left out of the art historical narrative. These Boots are Made for Walkin' can, therefore, be seen as a wider retelling of how we value and share the stories of women in art and culture.
---
frithstreetgallery.com

Words: Charlotte Rickards
---
Image Credits:
1. Installation view, Polly Apfelbaum: These Boots Are Made For Walkin', Frith Street Gallery, Golden Square. Photo: Ben Westoby.
2. Polly Apfelbaum, PA Abstract Florets, 2021. Courtesy the artist and Frith Street Gallery, London.
3. Polly Apfelbaum, PA Abstract Square Patch, 2021. Courtesy the artist and Frith Street Gallery, London