The 59th Venice Biennale takes its title from Surrealist artist Leonora Carrington's fantastical book The Milk of Dreams, in which she describes "a magical world where life is constantly re-envisioned through the prism of the imagination…" In this year's central exhibition, 213 artists from 58 countries reflect on the unpredictability of the contemporary moment, exploring how the definition of humanity is constantly evolving. We select 10 must-see shows from the 2022 edition, including award-winning sculpture from America's national pavilion and large-scale video installation that draws connections between humans and nature.
Simone Leigh: Sovereignty | America Pavilion
Simone Leigh transforms America's neoclassical-style pavilion with thatch, wood and an array of powerful sculptures, expanding on her long-term exploration of self-determination. Abstract bodies crafted from bronze are found alongside meditative figures in ceramic, referencing artistic traditions associated with Africa and the African diaspora. Each piece is full of narrative, from autonomous figures absorbed in everyday activities to expressionless forms that stand strong and symbolise independence. This new work reflects the exhibition's title Sovereignty on every level, examining what it means to simultaneously celebrate personal histories and practice self-governance. The artist has been awarded this year's Golden Lion for the Best Participant in the International Exhibition.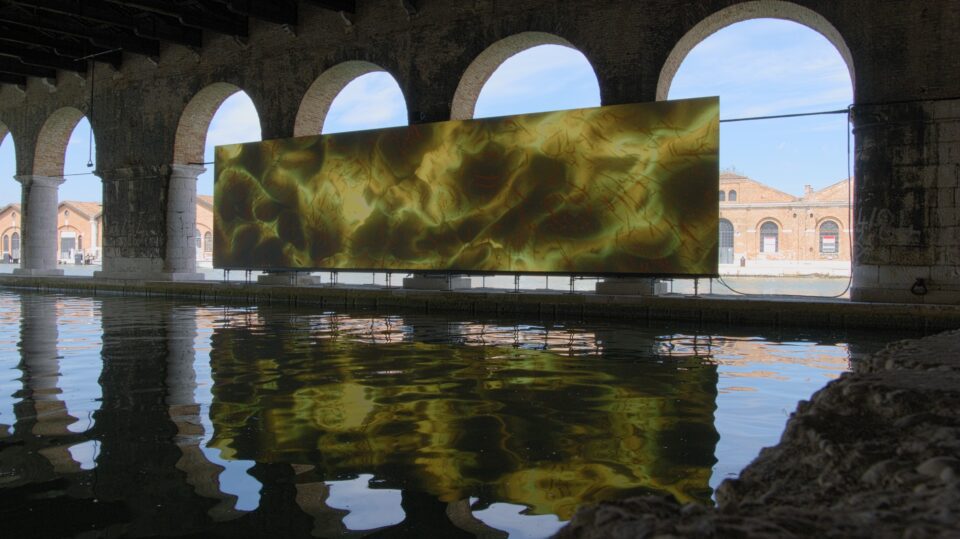 Of Whales, The Milk of Dreams | Wu Tsang & VIVE Arts
Video, sound and an expanse of water collide in filmmaker Wu Tsang's atmospheric installation, inspired by Herman Melville's 1851 novel Moby Dick. A real-time film depicts the world from a sperm whale's perspective, visually submerging viewers into a vast subterranean sea. Swirling currents of blue, green and yellow respond to the day-to-night cycle in the pavilion, offering an ever-changing experience. The practitioner's experimentation with Unity game engine technology and VR for the piece reflects the Biennale's forward-looking title, imagining a future beyond the Anthropocene.
2011 ≠ 1848, Stan Douglas | Canada Pavilion
Karl Marx stated that "all great world-historic facts and personages appear, so to speak, twice… the first time as tragedy, the second time as farce." Stan Douglas' commission for Canada's pavilion examines patterns of repetition through social and political history. Protests and riots in London, Vancouver, New York and Tunis become the subject of four large-scale photographs, offering a snapshot of 2011: a year of global unrest. Viewers are left questioning what is real and imagined as authentic aerial photography is presented alongside staged reenactments. The second half of the exhibition, showing off-site at Magazzini del Sale no.5, Dorsoduro, expands on the recurrence of events across locations and history. A two-channel video installation uncovers the rise of London's Grime scene and Egypt's Mahraganat genre in 2011, presenting music as a form of resistance.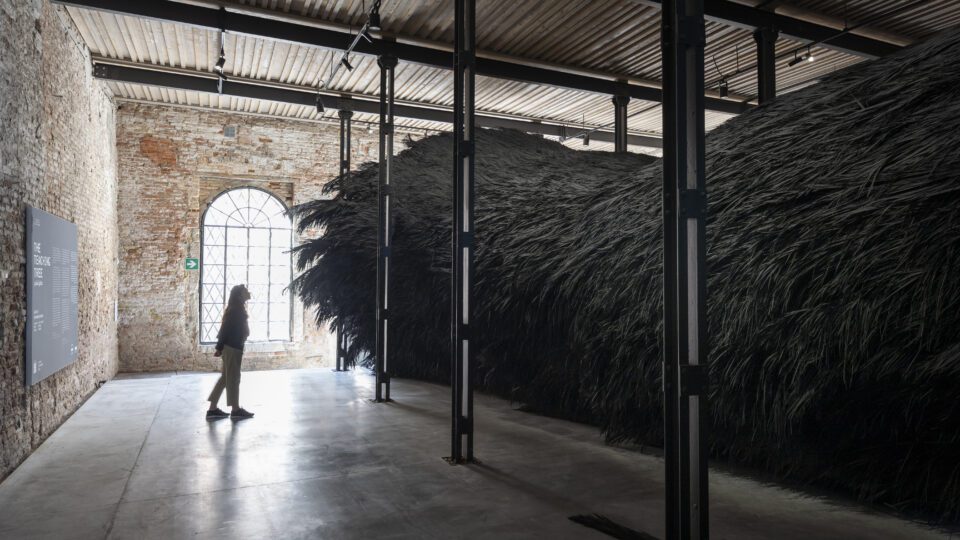 The Teaching Tree, Muhannad Shono | Saudi Arabia Pavilion
Human ingenuity is a continuous process of trial and error. As we move into the future, resilience, regeneration and reflection will all be key in shaping a better world. Muhannad Shono's 40-meter-long installation is a poignant symbol of this fact. The organic structure, formed from painted palm fronds, is a stark reminder of the role humanity plays in nurturing the environment's healing. Ebbing and flowing like a drawn black line through the architectural space, the looming sculptural piece points to the power of writing down new ideas and absorbing yourself in nature.
Feeling Her Way, Sonia Boyce | British Pavilion
Sonia Boyce's monumental exhibition, which has won this year's Golden Lion for Best National Participation, builds on her 20-year collection of ephemera which celebrates the crucial impact of Black women musicians. The latest iteration, made in collaboration with five contemporary singers, is a homage to creativity. Improvised acapella vocals from musicians Poppy Ajudha, Jacqui Dankworth MBE, Sofia Jernberg, Tanita Tikaram and composer Errollyn Wallen CBE merge and clash in the space, mirroring the surrounding sensory maze. Mirrored sculptures and geometric wallpaper repeat motifs and colours from videos of recording sessions, uniting the performers and amplifying silenced stories on every surface.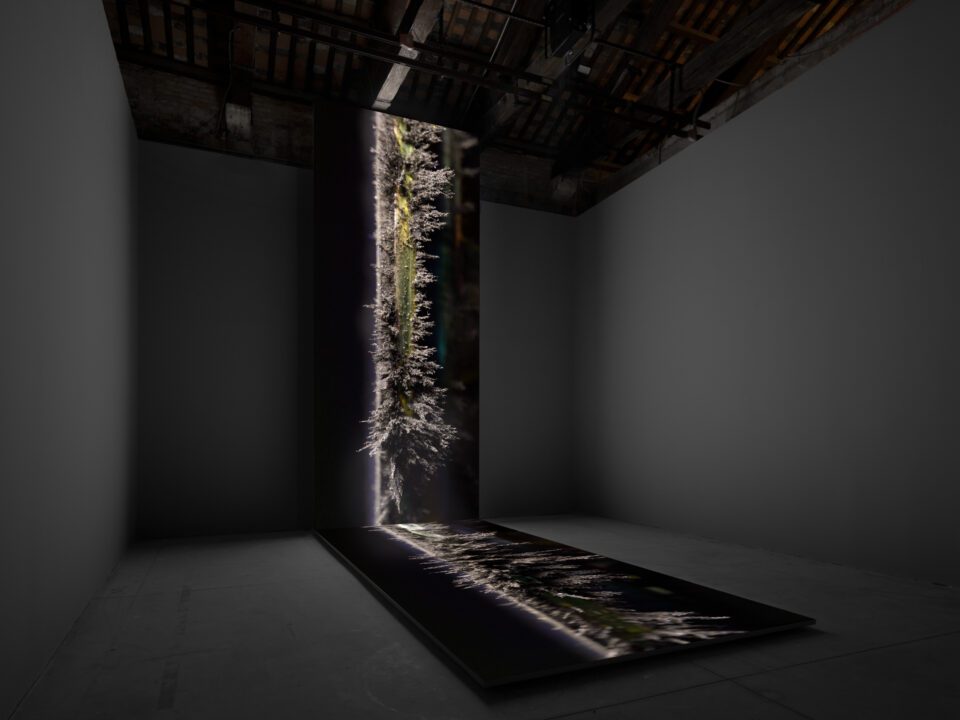 Perpetual Motion, Sigurður Guðjónsson | Icelandic Pavilion
Icelandic visual artist Sigurður Guðjónsson's multi-sensory sculpture goes beyond "the field of perception," combining moving image and meditative sound to depict hidden elements of industrial machinery. Abstract depictions of metal dust stretch across a six-meter-long split screen, colliding like new galaxies. The atmospheric piece expands on the parameters of photography as the artist experiments with different lenses, magnification, light, shadow and motion to elevate the overlooked grey particles. The installation is a playground for the imagination, placing the focus on the smallest elements which make up the world.
When the body says Yes, Melanie Bonajo | The Netherlands Pavilion
Artist, filmmaker and activist Melanie Bonajo explores the value of intimacy in the 21st century, reflecting on humanity's "disembodied zoom fatigue" post-pandemic. A central video follows a group of people as they reengage with touch through social experiments and storytelling. An array of soft pastel shapes in the pavilion encourage viewers to experience the textures of the physical world. At the heart of the piece of the importance of consent and boundaries, especially as society embraces new technologies and digital platforms.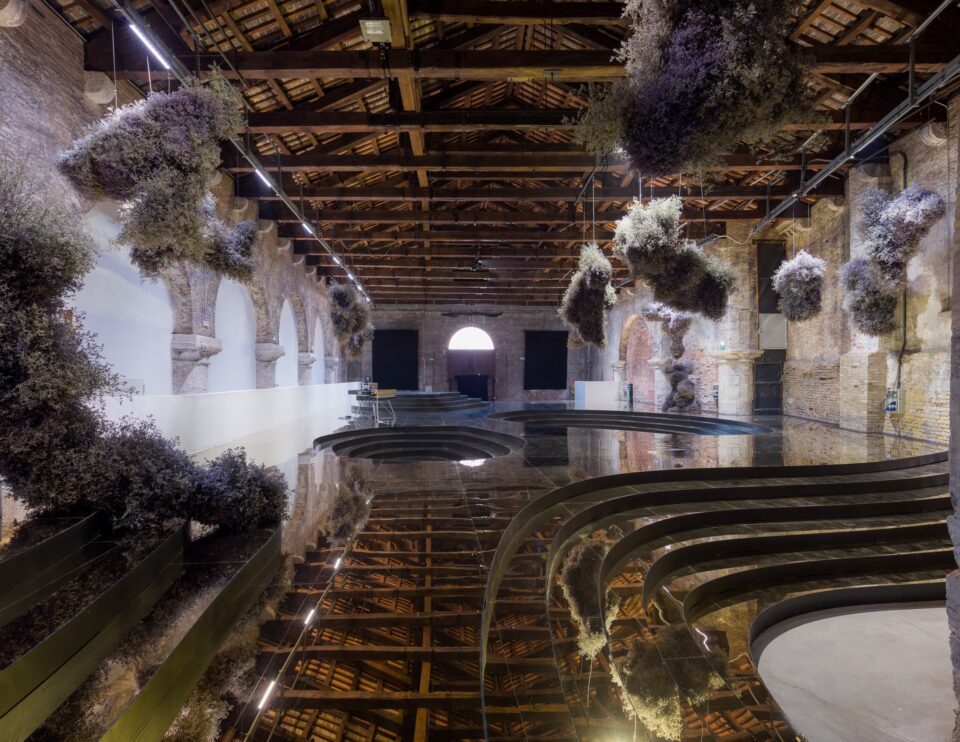 Dixit Algorizmi – The Garden of Knowledge, Space Caviar | Uzbekistan Pavilion
Where does knowledge come from? What is the root of contemporary technology? What is the best way to engage with information? These are some of the questions raised by Space Caviar's curation of Uzbekistan's inaugural pavilion – a space purposely left without any art. The environment echos the interior of the House of Wisdom, a library where 9th century polymath Muhammad ibn Musa al-Khwarizmi, an early pioneer of algebra, worked and exchanged ideas. Artists, academics, writers, performers and historians are invited into the space for a public programme of learning and discovery, running throughout the Biennale.
2022, Dumb Type | Japan Pavilion
We are living in a post-truth, digital age. Art collective Dumb Type investigates the psychological impact of social media and the internet, immersing viewers in an infinite realm of information. Terms from an 1850s geography textbook flash onto seemingly endless black walls, overlapping until the letters merge into a ghostly, code-like pattern. In the centre of the floor is a black void; a place of quiet and solitude. The empty expanse pulls viewers in like a black hole, examining whether the information age will force the future of humanity into oblivion or a period of rebirth.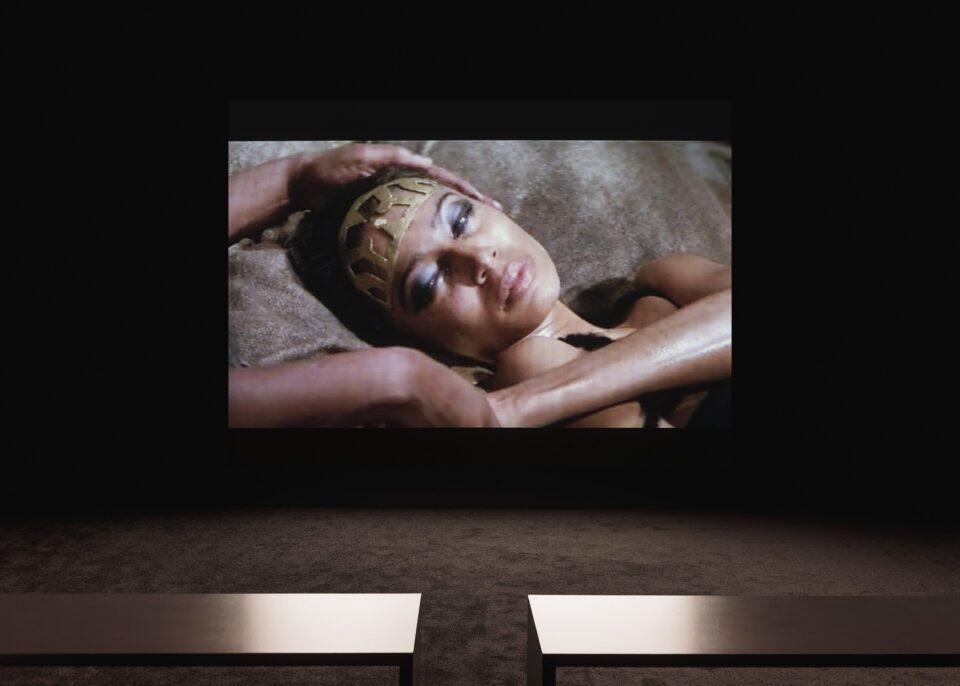 Sirens, The Milk of Dreams | Nan Goldin
American photographer Nan Goldin has been documenting the people closest to her since the early 1970s, grappling with themes including sexuality, identity, acceptance and community. Her latest film, Sirens, honors the first Black supermodel, Donyale Luna, who passed away from an overdose at the age of 33. The piece is exclusively made from found footage for the first time, marking a shift in Goldin's approach. Cuttings from 30 films, including Andy Warhol's "Screen Tests" of Luna and 1988 London rave footage, pulse over a score by the composer Mica Levi – replicating the perceived euphoria of a high before an ultimate loss of control.
---
The Milk of Dreams, Venice Biennale | Until 27 November
Words: Saffron Ward
---
Image Credits:
Lead image: DumbType_TraceReactⅡ_Photo_Kazuo Fukunaga.jpg Dumb Type,《TRACE/REACT II》,2020 Video installation, 10m × 10m × H6m, Installation view from the exhibition 'Dumb Type | Actions + Reflections' at Museum of Contemporary Art Tokyo, 2019-20 ©Dumb Type photo: Kazuo Fukunaga photo courtesy of the artist
1. Wu Tsang, Installation view, Of Whales, 2022, supported by VIVE Arts (1)
2. Muhannad Shono, The Teaching Tree, 2022. Sculptural installation, with palm fronds, pigment, pneumatics and metal structure, overall dimensions variable. Photograph Samuele Cherubini. Courtesy of The Artist and The Visual Arts Commission, Saudi Arabia.
3. Sigurður Guðjónsson, Installation view: Perpetual Motion, Icelandic Pavilion,59th International Art Exhibition –– La Biennale di Venezia, 2022, Courtesy of the artist and BERG Contemporary, Photos: Ugo Carmeni
4. Image courtesy: Uzbekistan National Pavilion @uzbekistan_national_pavilion. Photos by @gerda_studio.
5. Nan Goldin, Sirens, 2019 – 2021. Single-channel video; 16 min. 1 sec. Courtesy of the artist and Marian Goodman Gallery. Copyright: Nan Goldin. Photo credit: Alex Yudzon