You saw them here first. This summer, we survey the exciting new talent coming out of the UK's leading art schools. From Glasgow to Plymouth, these exhibitions are the place to discover the next big names in the creative industries – from traditional fine art to cutting-edge visualisation, simulation and games design.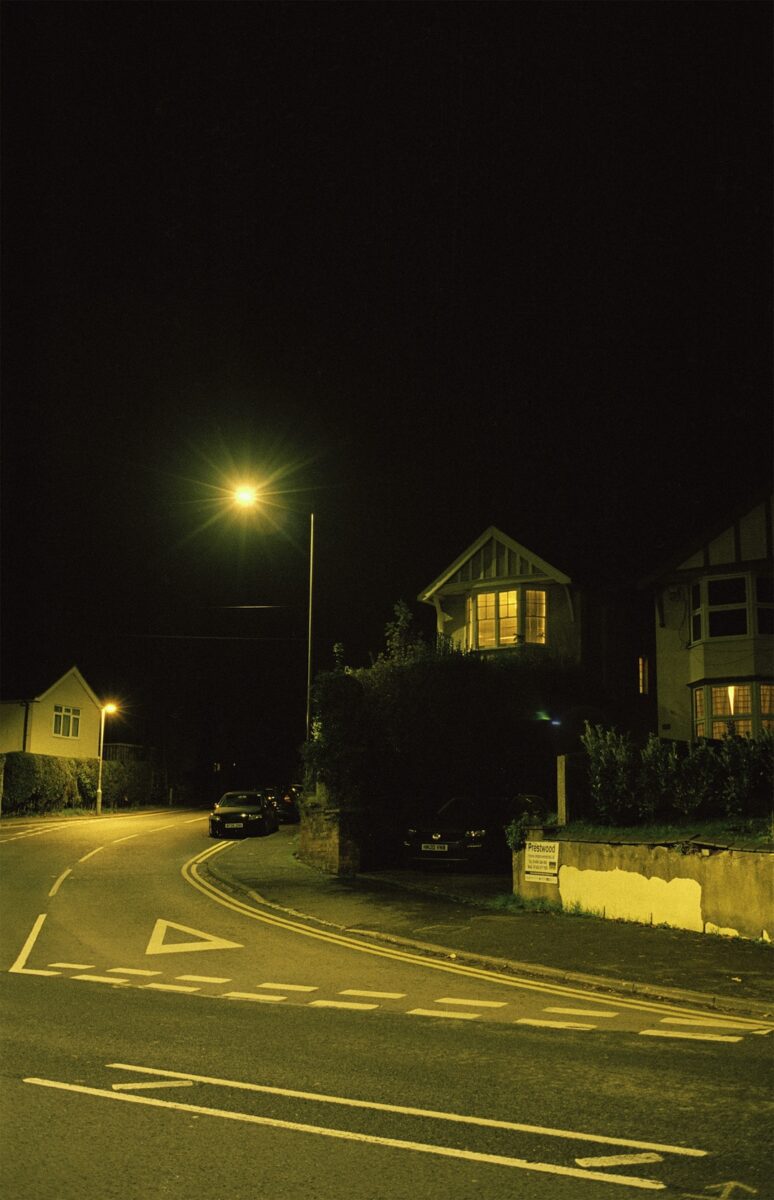 INTO FOCUS | Buckinghamshire New University, 16 – 21 June
Young people are instigators of change. This is apparent throughout INTO FOCUS, which sees students shine a light on social-ecological challenges including mental health and the climate crisis. How do we sustain fragile ecosystems? What can we do to boost wellbeing? How can art help in the community? Shown above (left) is work by Fernando Roman, whose atmospheric pictures explore homesickness. Roman's "visual journal" captures what it feels like to live abroad, drawing on the personal experiences of 18 individuals. The exhibition is described as "a testimony not just to creativity but also to resilience," with projects spanning Photography, Graphic Design, Creative Advertising and many more courses.
#BNUShow23 | bnu.ac.uk/bnushow23
---
GradFest23 | Norwich University of the Arts, 16 – 22 June
Creative Computing. Games Development. UX Design. These might not be the first fields that spring to mind when thinking about art, but they are just some of the innovative courses under Norwich's umbrella. This summer, the university launches its biggest exhibition of art, design, architecture, performance and media (above right). Visitors will explore work by the next generation of creatives, from graphic designers, animators of short film and playable video games, to fine artists and textile and fashion practitioners. There's also the chance to see emerging talent from brand-new courses in acting and fashion marketing. Audiences can experience the display online by visiting the digital Graduate Showcase, launching 11 July.
nua.ac.uk | nuagradshowcase.com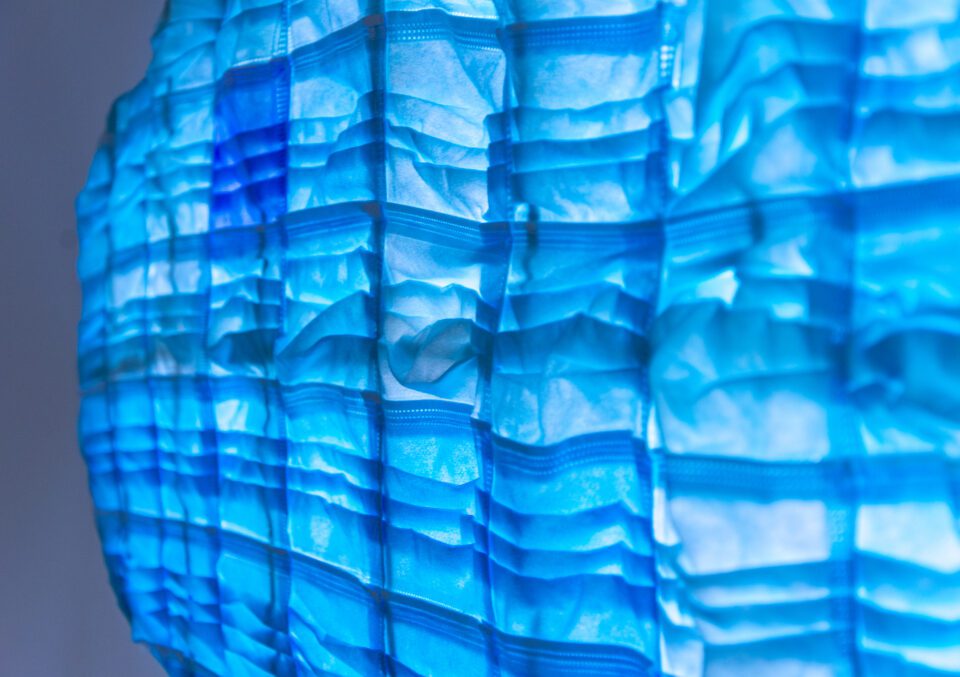 Degree Show 23 | University of Plymouth, 10 – 16 June
"Unexpected, provocative and transformative" are the three words University of Plymouth has chosen to describe its 2023 show, in which final year students – hailing from a wide array of disciplines spanning interior design to typography – hold up a surprising mirror to our world. Jack Tidy's bright blue installation, for example, creates a stained-glass effect as light passes through a tapestry of face masks: objects now synonymous with the pandemic. Elsewhere, in illustration, Annabel Hitchmough composes a charming landscape on a brown bear's back, drawing attention to habitat loss and the need to preserve wild places.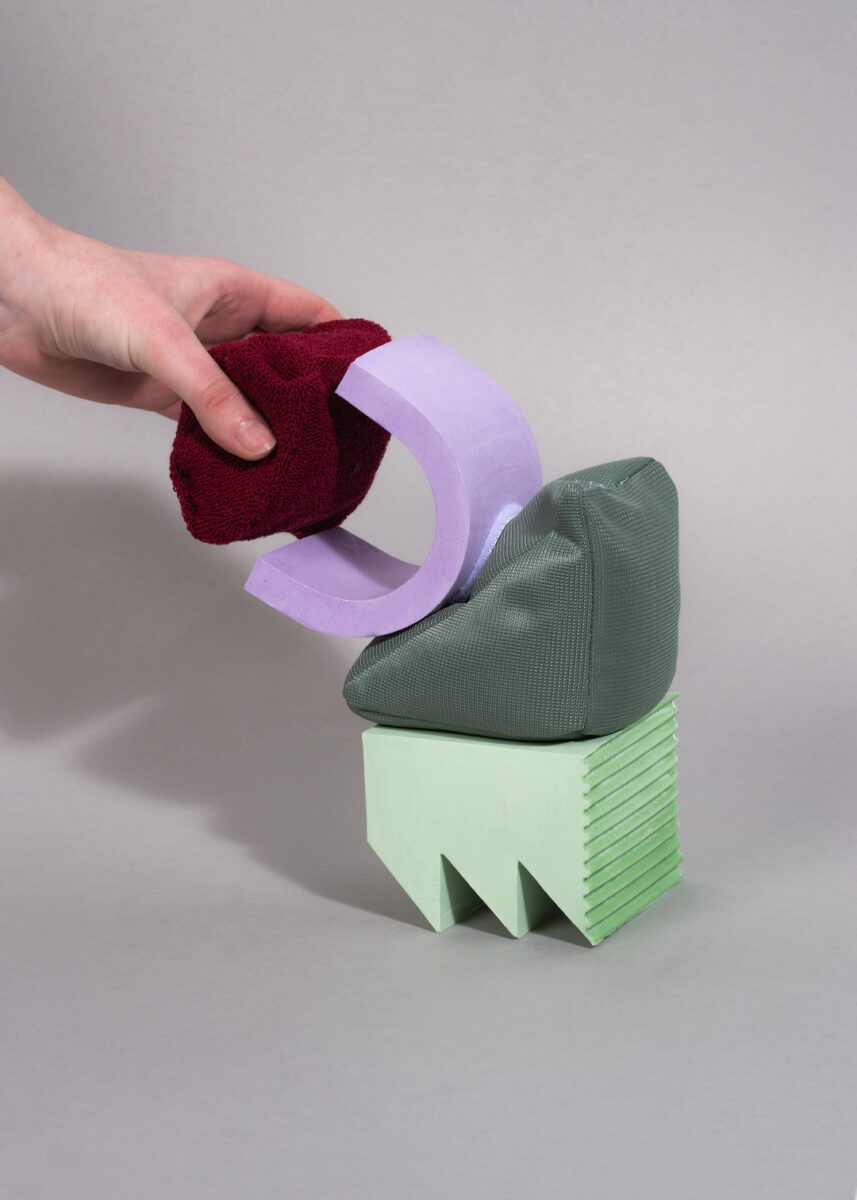 Arts University Plymouth Summer Show 2023 | 23-29 June

Creative innovation plays a vital role in today's globalised society. Everything is touched by design. Arts University Plymouth's Summer Show 2023 is dedicated to this ethos, exploring how developments in art and culture can influence society at large. From traditional making to digital media, it's a place to discover the real-world impact of creative practice. Pictured above (left) is Play by Tyrone Vera, a Crafts and Materials Practices graduate. The interactive project explores form, colour and sensory joy, comprising several building blocks of different shapes and textures. It treads the line between sculpture and textiles; Vera envisions Play being used "as a physical toolkit towards haptic educational tools."

#AUP23 | aup.ac.uk/class-of-2023
---
Next Gen | Leeds Arts University, 3-9 June (Further Education) & 19-24 June (Undergraduate)
Energy and excitement are the driving forces behind Next Gen, the 2023 show from Leeds Arts University. It is bursting with imagination, showing us what's possible across the worlds of contemporary art, animation, illustration, graphic design, film, fashion, textiles, creative advertising, music, photography and writing. As many as fifteen undergraduate courses are included. In photography, Becca Harris' portraits stand out for their curated styling choices and natural feel, captured with crispness and a delicate touch. In the image above (right), a spring of red berries pops into the frame, just stopping before it hits the model's bright blue eyeshadow. The shot is carefully composed, featuring a matching crocheted beret and vest.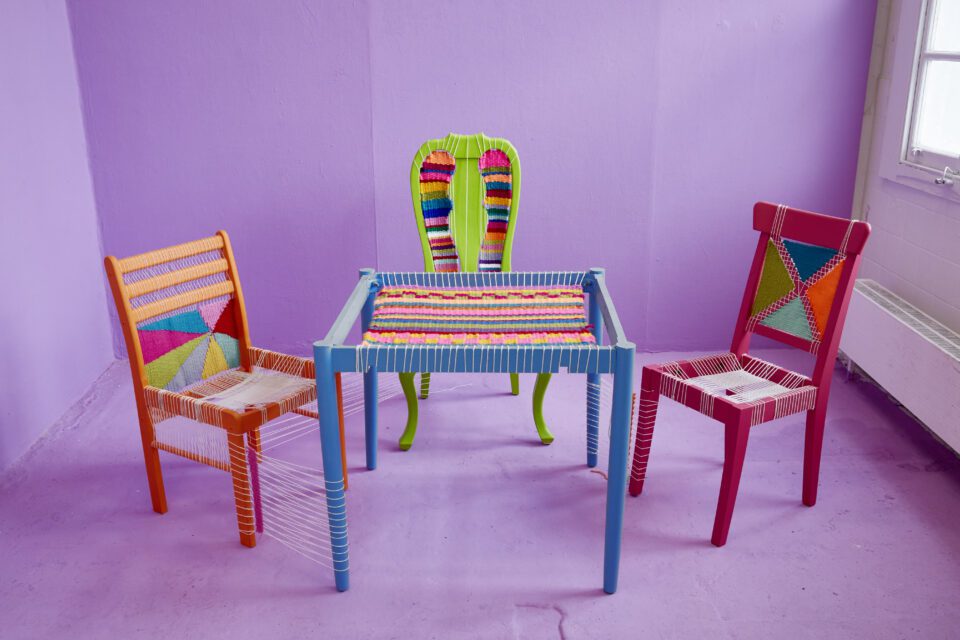 University of the Arts London (UAL) Graduate Shows
8-17 June (Camberwell & Chelsea) 10 – 17 June (Wimbledon)
UAL is home to three of the most prestigious art, design and performance colleges: Camberwell, Chelsea and Wimbledon. It has a worldwide reputation for producing some of the leading creative minds of today, with alumni including filmmaker Steve McQueen, painter Chris Ofili, sculptor Anish Kapoor, visual artist Phyllida Barlow and production designer Tom Pye. Featured above from Show 2022 is Tilda Scarlet, a fine art graduate of Chelsea College. Three chairs and a table are painted in bright colours and upholstered with luminous woven thread. Elsewhere, Wimbledon presents nine distinct performance pieces – featuring AI performers and dystopian futures – which can be experienced live at premieres taking place 14-15 June.
#UALShowcase  | arts.ac.uk/wimbledon-show | arts.ac.uk/chelsea-show | arts.ac.uk/camberwell-show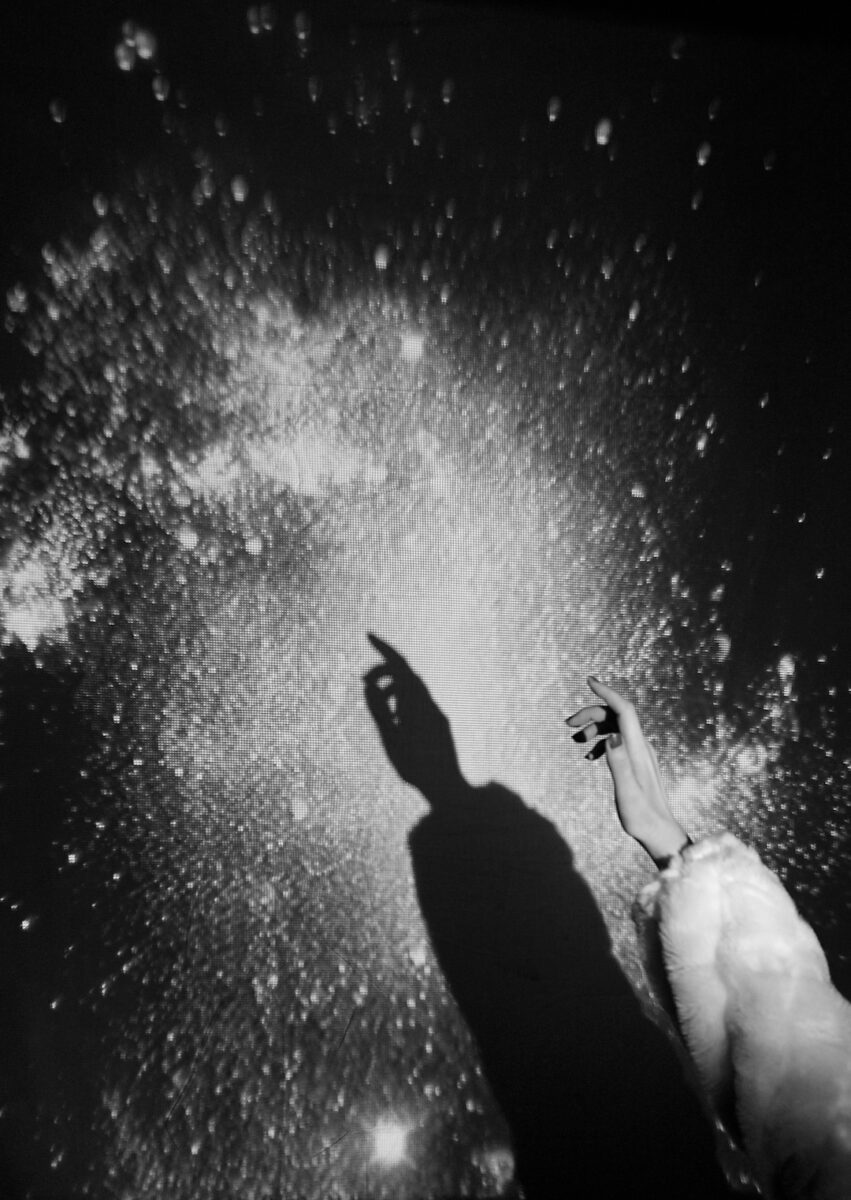 Showcase 2023 | UWE Bristol, 8-15 June
This year's UWE Bristol degree show takes over the city, unfolding across multiple locations including Bower Ashton, Arnolfini, Spike Island and Frenchay Campus, accompanied by an extensive digital Showcase. More than 1000 graduates from over 30 courses will exhibit from the College of Arts, Technology and Environment. One such new talent is MA Photography graduate Amy Koenig. The photographer cites cinema as a key influence, most notably horror films and their "in between" moments of suspense. Aphelion (above left) is an exploration of human experience in relation to our vast universe, asking: Why are we here? What comes after? It's just one example of the imaginative work on view.

#uwebristolshowcase | showcase.uwe.ac.uk
---
Glasgow School of Art 2023 Degree Show | From 2 June

Over 600 students under one roof. From 2 June, graduates from Glasgow School of Art's (GSA) five schools – Fine Art, Design, Innovation, Architecture, Simulation and Visualisation – present projects that engage with pressing contemporary themes, including gender identity and representation, climate emergency and the Anthropocene. Wearable items from Mia Xintong question the limits of the body, whilst Charlie Ashton holds up a mirror to monarchy, wealth and what it means to be famous. Elsewhere, multidisciplinary projects ask questions about community, and what it means to collaborate in a digital world. The result is an injection of new talent and energy into the creative economy. The physical show runs for nine days across GSA's Garnethill campus alongside an online showcase, set to go live on 1 June.
---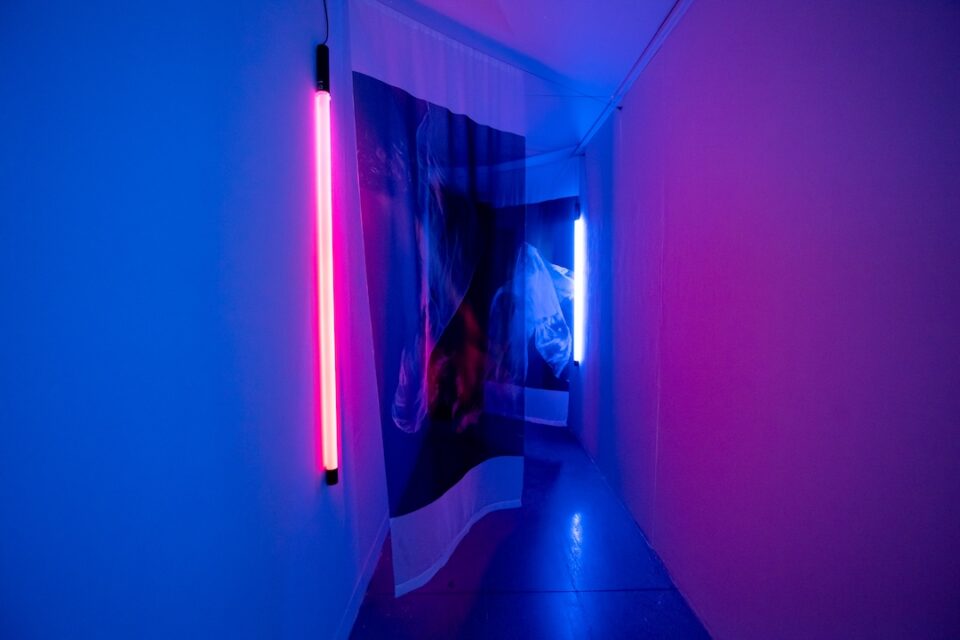 VAC & AVA 2023, University of East London (UEL) | Throughout June
UEL is celebrating huge milestone in 2023: its 125th anniversary. For over a century, it has been at the forefront of careers-led education. Today, its creative programmes pair traditional techniques, like casting, printing and painting, with state-of-the-art digital methods: scanning, robotics and laser cutting. The works on view at its two 2023 showcases – VAC & AVA – are equally multifarious, combining analogue image-making with virtual tools. Clay meets scanning, welding meets lasers. Visitors will discover the work of architecture, design, illustration, photography and fine art students pushing the boundaries of materials. This show is a testament to experimentation, DIY attitudes and trying something new. One example is BA (hons) Photography student Eliza Maria Modzelewska (above), who combines images, light and textiles.
---
Image Credits:
1. Becca Harris, BA Fashion Photography.
2. Fernando Roman.
3. Credit Ruby Williams, BA Photography and Rosie Parnham, BA Fashion Communication and Promotion (Creative Direction and Styling).
4. Jack Tidy.
5. Tyrone Vera, BA (Hons) Crafts and Material Practices, Arts University Plymouth.
6. Becca Harris, BA Fashion Photography.
7. Tilda Scarlet, BA Fine Art, Chelsea College of Arts, UAL Kristy Noble 2022.
8. Amy Koenig MA Photography, Aphelion.
9. Mia Xintong, Beegnal.
10. Eliza Maria Modzelewska, Let's Meet In Between, Photographic digital prints on Chiffon fabric and Giclée print. 2023