Neon was discovered in 1898. A colourless noble gas, it emits a distinctive flame-coloured hue when placed in an electrical field. When we think of neon, flashing luminous signage is what springs to mind, like that of advertisements in Times Square. On Earth, neon is rare, but across the universe, it is one of the most widely-found cosmic elements; Times Square's hot pink or bright turquoise tubes are in fact made using other gases. Neon feels at once nostalgic and futuristic: Americana meets Blade Runner-esque dystopia.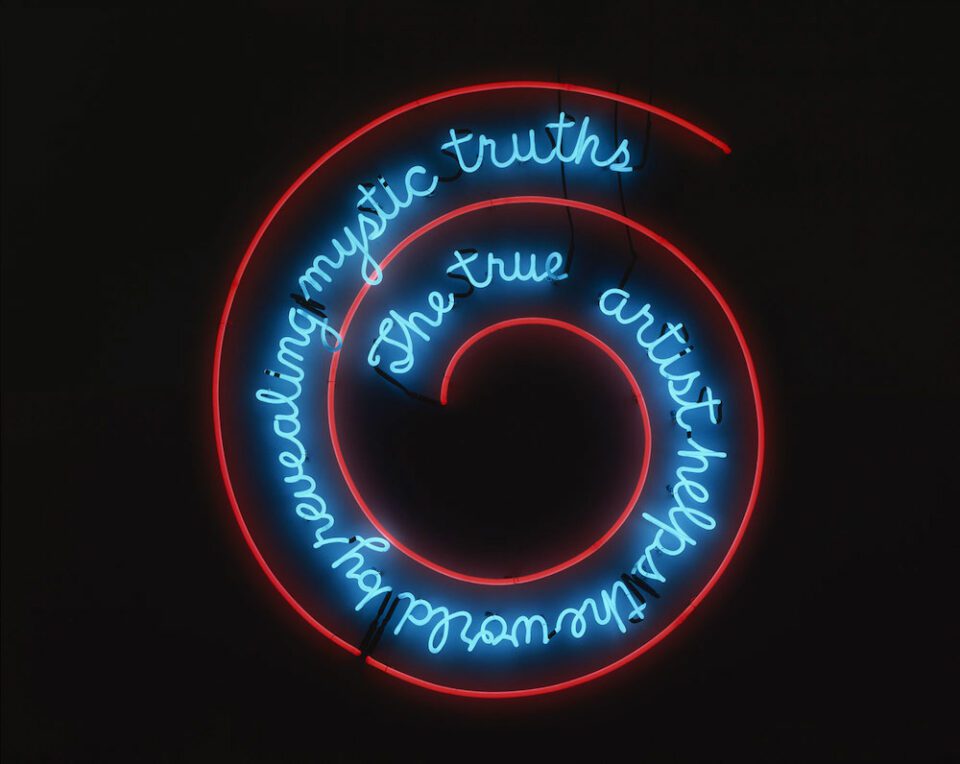 New Mexico-based artist Bruce Nauman (b. 1941) uses neon to consider human experience in the modern age. Nauman began creating installations in the form of corridors in the late 1960s: constructed confined spaces where light was used to manipulate the atmosphere. Now, visitors to Pirelli HangarBiocca, Milan, can encounter Nauman's very first work of this kind, Performance Corridor (1969), which was inspired by classical sculpture. This new show brings together an array of spatial installations, neon works and videos from the past five decades. Presented with Tate Modern and Stedelijk Museum, the exhibition builds on recent retrospectives in London and Amsterdam – occupying a vast 5,000 square-metre space.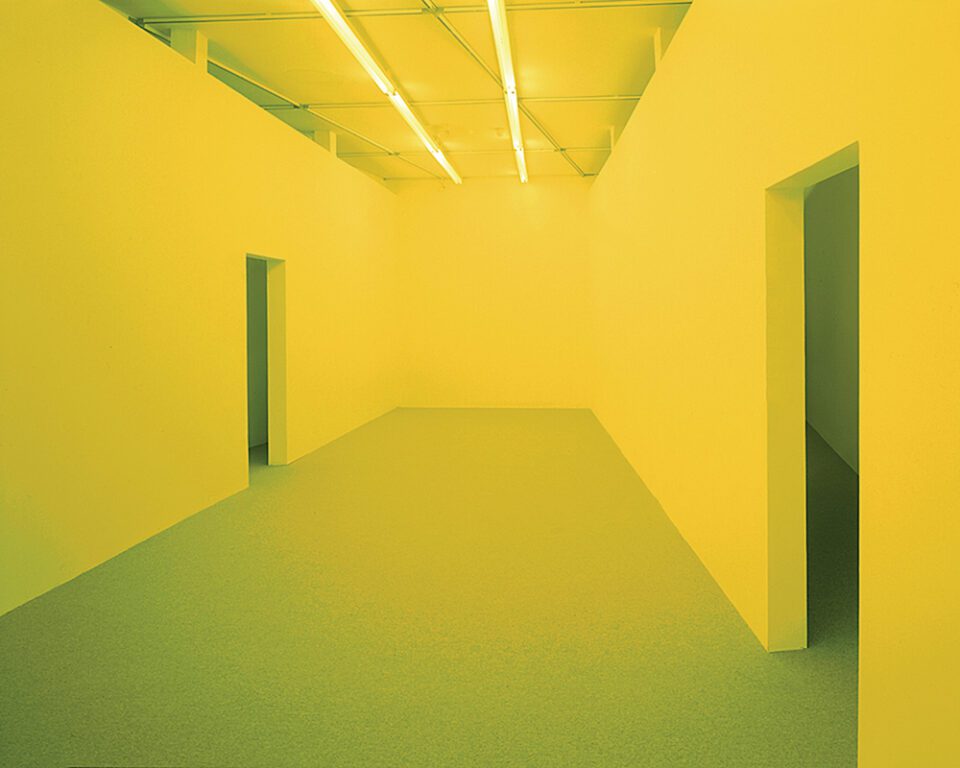 The show invites audiences on a journey through Nauman's artistic development. Later corridors draw in further elements such as green fluorescent lights, mirrors and CCTV– creating a claustrophobic feeling. Audio takes on greater prominence in more recent works, such as Raw Materials (2004), a soundscape that was specially commissioned for the Tate Modern show. Elsewhere, Naumam experiments with word play – drawing attention to how we try, and frequently fail, to communicate with one another.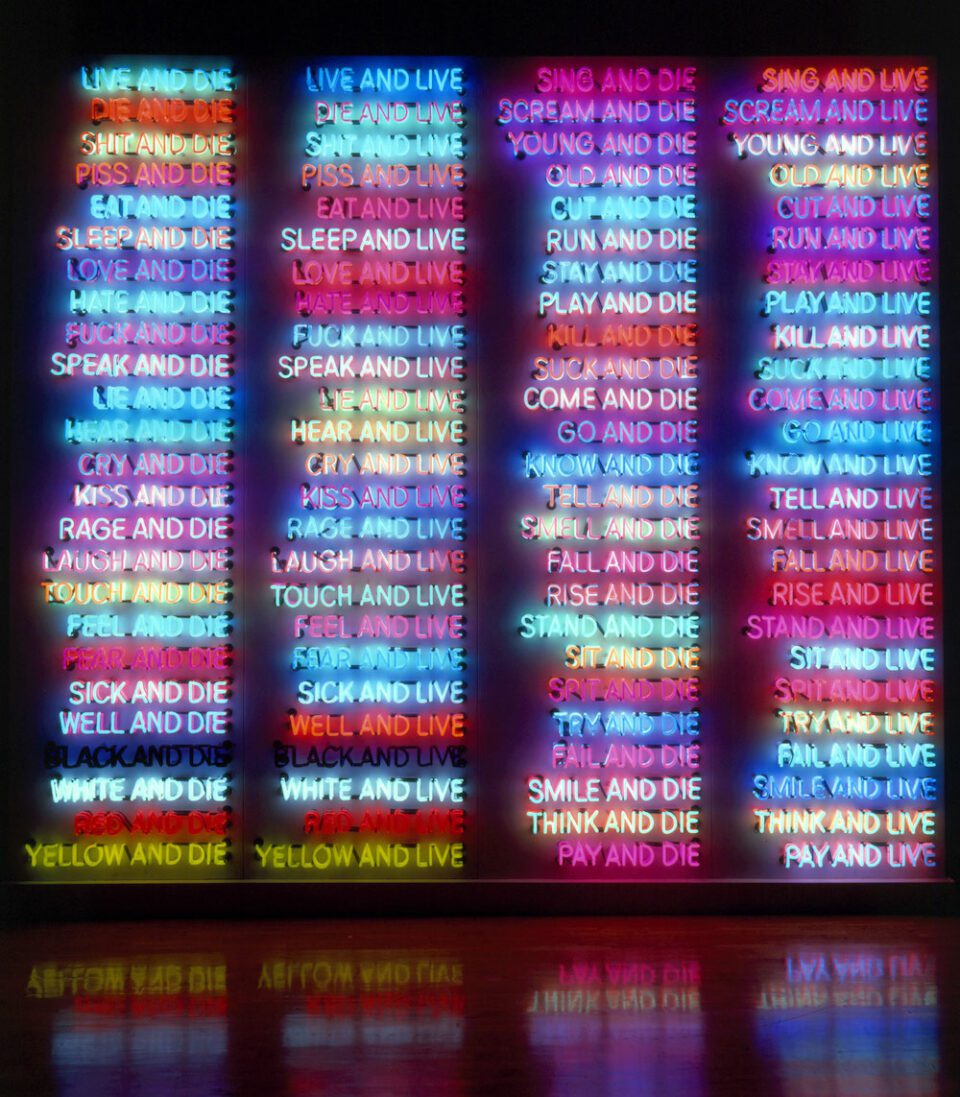 In One Hundred Live and Die (1984), short sentences are emblazoned across a wall in neon, repeating phrases such as "sleep and die" or "love and live" – but with alternating last words. These contradictions are prevalent in Nauman's work, highlighting how life and death are opposite and yet entwined, both utterly commonplace and extraordinary. This, whatever our differences, is the human condition we share.
---
pirellihangarbicocca.org | Until 26 February 2023
Words: Rachel Segal Hamilton
---
Image Credits:
1. Bruce Nauman Black Marble Under Yellow Light, 1981/1988 "la Caixa" Foundation Contemporary Art Collection, Barcelona © 2022 Bruce Nauman / SIAE Courtesy Sperone Westwater, New York
2. Bruce Nauman The True Artist Helps the World by Revealing Mystic Truths (Window or Wall Sign), 1967 Kunstmuseum Basel © 2022 Bruce Nauman / SIAE Courtesy Sperone Westwater, New York
3. Bruce Nauman Black Marble Under Yellow Light, 1981/1988 "la Caixa" Foundation Contemporary Art Collection, Barcelona © 2022 Bruce Nauman / SIAE Courtesy Sperone Westwater, New York
4. Bruce Nauman One Hundred Live and Die, 1984 Collection Benesse Holdings, Inc/ Benesse House Museum, Naoshima © 2022 Bruce Nauman / SIAE Courtesy Sperone Westwater, New York