NGV Triennial
The themes for 2020 include reflection, conservation, speculation and illumination. Isolation also surfaces as a concept across commissioned work.
The National Gallery of Victoria's Triennial is a huge undertaking, including 100 artists working across sculpture, painting, photography, fashion and design. These include established names such as pop-sculptor Jeff Koons (b.1955), Magnum photographer Bruce Gilden (b. 1946) and light artist Cerith Wyn Evans (b. 1958), as well as emerging practitioners. Diamond Stingily (b. 1990), for example, is an American artist and poet addressing the materiality and mythologies of identity and social class. A room filled with 700 trophies questions humanity's current fascination with com- petition. Tabor Robak (b. 1986) uses computer-generation to consider the God-like presence of Artificial Intelligence.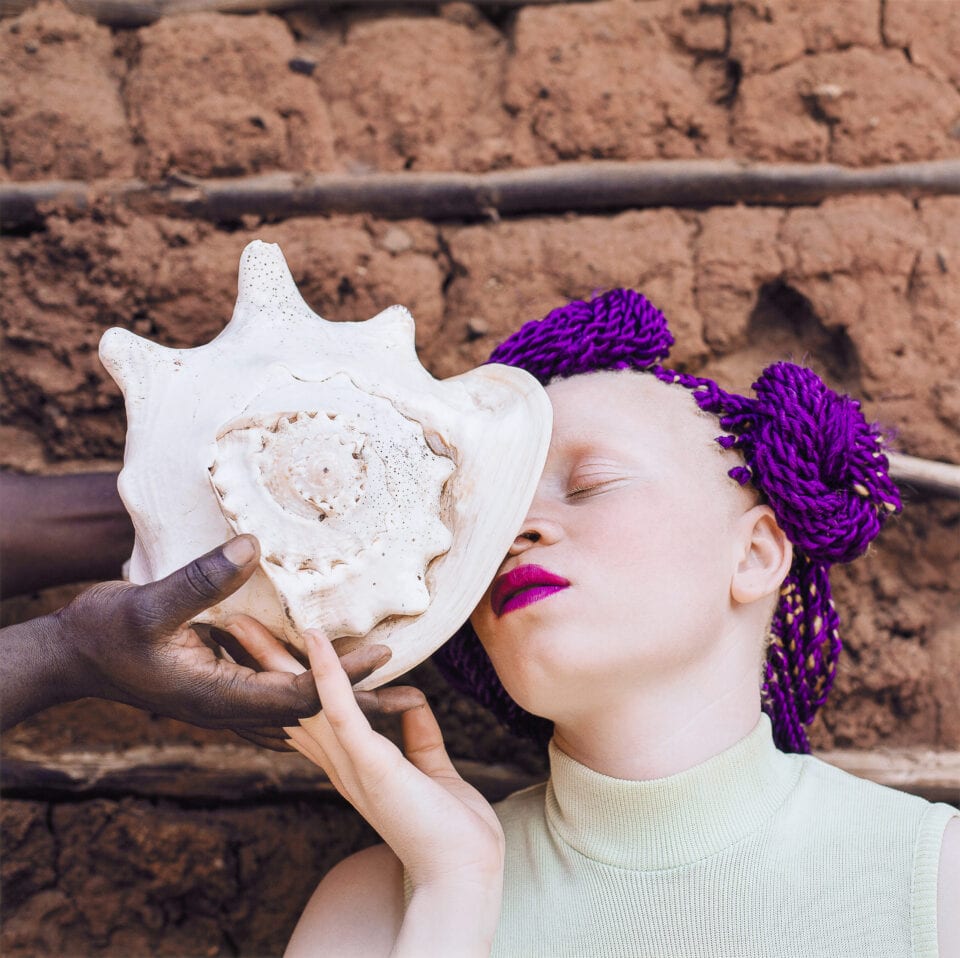 Curator Susan van Wyk suggests that there is also another possible thread – isolation – an aspect of contemporary life only exacerbated by this year's social distancing. She picks out works by Véronique Ellena (b. 1966) and Yanni Florence (b. 1965) by way of example: the former with Les Invisibles (2011), which depicts homeless people shrouded in blankets on the streets of affluent cities; the latter with Tram Windows (2019), which shows solitary passengers lost in introspection on their commute, photographed through scratched windows.
A selection of new commissions have much in common, which is encouraging especially in light of fractured global politics. Evidently, there is something universal about the human experience, which is confirmed through the broad spread of artists and their cultural and geographical reach.
The Triennial features creatives from 33 countries, including artists from Aboriginal communities such as the Yirrkala: a small community in East Arnhem Region, Northern Territory of Australia, 11 miles south-east from the large mining town of Nhulunbuy. This multicultural approach is in-keeping with NGV's existing ethos and collections, which include Australia's oldest Asian art collection and the biggest collection of Indigenous Australian art in the world. The gallery also just closed its summer exhibition, Marking Time, which explored the continued presence of painted images or text on a range of surfaces in Indigenous Australia.
1992), and a text-based installation, Unprecedented 2020, by Qunadamooka contemporary artist, Megan Cope, (b. 1982). The work queries just how "unprecedented" the pandemic really is, when Aboriginal populations (like the Qunadamooka people) were decimated by small-pox in the 19th century.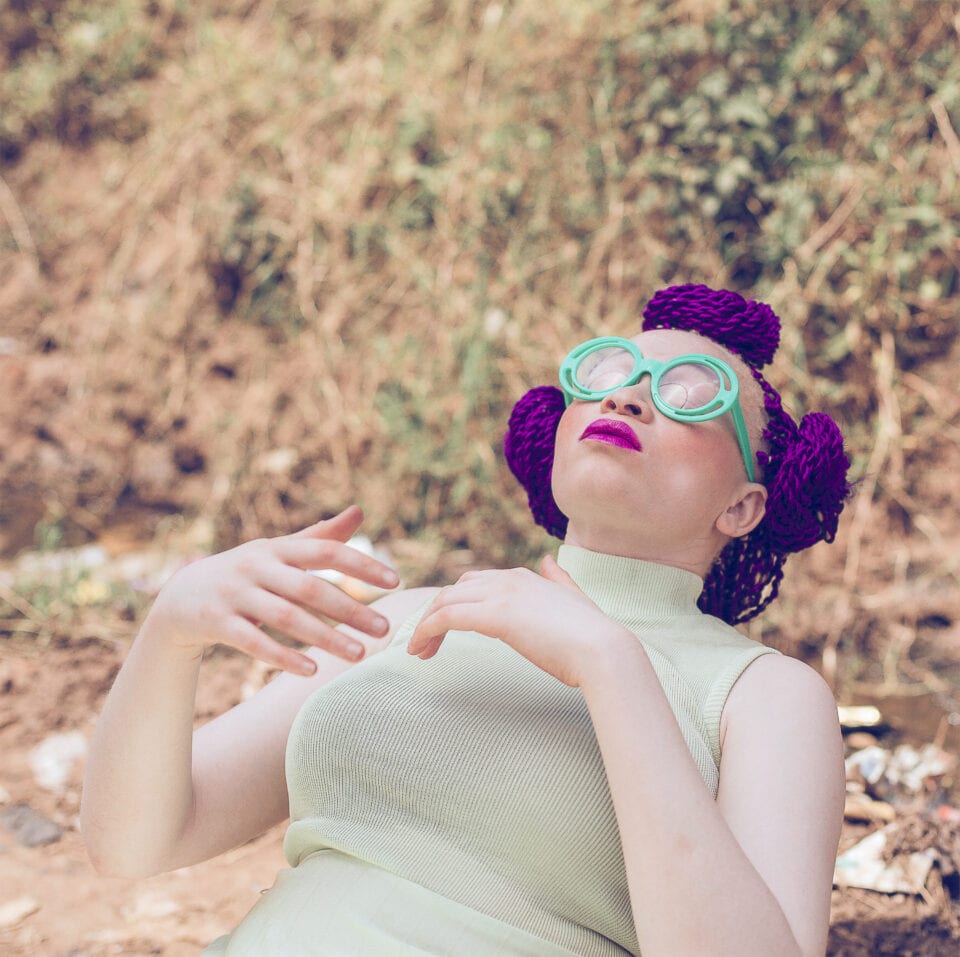 The Triennial is pitched as "a microcosm of the world today" and the curators point to four key concepts running though it: Reflection, Conservation, Speculation and Illumination.
NGV has been collecting African photography since 2013, and many groundbreaking practitioners have been selected for the Triennial, such as Ethiopian artists Aïda Muluneh (b.1974) and Girma Berta (b. 1991), South African Phumzile Khanyile (b. 1991), Nigerian Lakin Ogunbanwo (b. 1987) and Ugandan Sarah Waiswa (b. 1980). It also features work by image-makers from the African diaspora, such as Atong Atem (b. 1994), who was born in Addis Ababa, Ethiopia, and moved to Australia as a child. As van Wyk says, these works pick up on identity, gender, history and racism. Ogunbanwo questions patriarchal attitudes in Nigeria via elegant, subtly erotic portraits, for example, and Khanyile exploring female sexuality in the 2016 series Plastic Crowns, which uses evocative portraits to look beyond conservative conventions of behaviour. "I explore beyond the boundaries of what my grandmother would consider a 'good woman,' probing stereotypical ideas of gender, sexual preference and related stigmas in contemporary society," says Khanyile. "I am interested in how having multiple partners can be an expression of choice as opposed to indicating low morality."
Waiswa and Atem predominantly focus on portraiture: of individuals, communities and society more broadly. Waiswa's Stranger in a familiar land (2016), for example, shows an albino woman, Florence Kisombe, in Kibera, a Nairobi neighbourhood which is also the largest shanty town in Africa. People with albinism are sometimes subjected to ridicule and persecution in sub-Saharan Africa, Waiswa explains, and in Tanzania are even hunted for body parts. In 2009, the International Federation of the Red Cross reported that a senior police officer in Dar es Salaam, Tanzania, stated the body of a person with albinism could fetch up to $75,000.
Waiswa doesn't shy away from the difficulties of this situation, including images of a jeering crowd which gathered around the shoot, but her series is also a celebration of Kisombe's sheer panache. "Of course, it was in some way stylised, but I wanted people to feel how I felt when I met her – to see how empowering she was," says Waiswa. "The first time I met her she was so secure in herself."
Conversations between artist and sitter are key, and that sense of collaboration also underpins Atem's Studio Series (2015), which shows young people with African heritage amongst colourful fabrics, flowers and umbrellas. "I sent a group chat to about 50 friends saying: 'I'm ordering some KFC come to the studio!' I asked them to bring costumes and fabrics, and there was a huge element of play and performance to whole thing. It's almost like the images are evidence of what we did in the space – we spoke a lot about what we would do, and that is just as much the artwork to me. A lot of culture is in there – by way of oral tradition and storytelling – but I wanted to be true to the people I photographed. I was thinking about ethnography and ethics of practice: what happens when a person becomes symbol of black culture. I wanted to allow people to truly be individuals."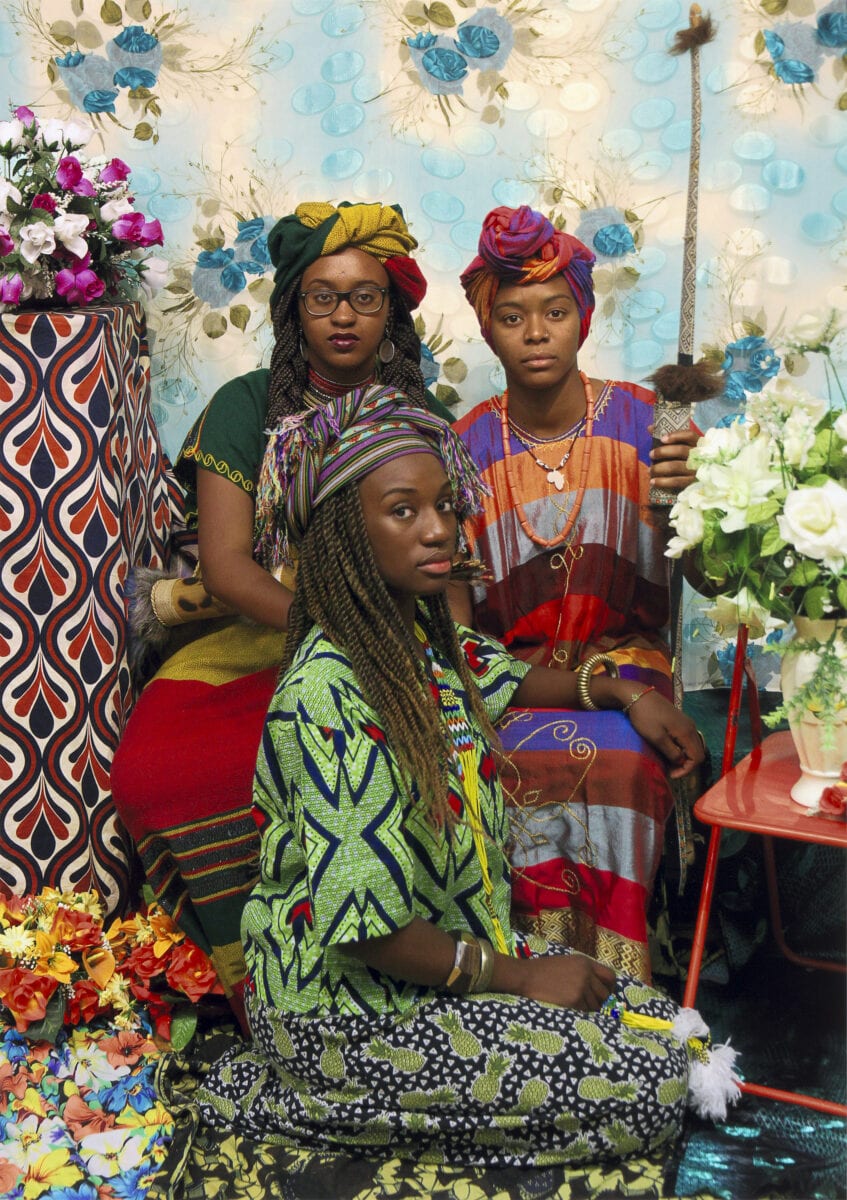 Atem's work draws on the celebrated studio photographers Malick Sidibé and Seydou Keïta, who were active in Mali in the 1960s and whose work has been interpreted in terms of carving out new identities after the country won independence from France on 20 June 1960. She says discovering their work through her art history course was an "aha moment" – studies which had been a depressing eye- opener into how African people were, and still are, objectified.
"My limited introduction to photography was via ethnographic depictions of black people," she explains, referencing the way photography was used, in particular by colonial powers, to depict certain people and cultures. "It was surprising to see that the way black people had been depicted wasn't just cruel, it was actively dehumanising. But with Seydou, I could see black people taking the tools that had been used against them. That discovery was very powerful to me. I realised that black or non-western art is storied – it's diverse, not something that can be defined in one paragraph, a single chapter or a whole year [of study], so I wanted to make work that meant something to me."
Indeed, Atem's family had its own set of studio portraits at home – as had many of her sitters – so the featured series tapped into early memories. "When I showed the work to my family, a lot of them didn't think it was anything special, it was so everyday and normal," she laughs. "It's interesting to see how non-black audiences perceive them more as art."
Atem adds that fashion photography was also an influence, and Waiswa echoes this sentiment – making for interesting connections within the Triennial, which includes creations by designers such as Richard Quinn (b. 1990), who riffs on British working class tradition with couture craftsmanship, and Tomo Koizumi (b. 1988) with his exuberant rainbow ruffles.
Like Atem, Waiswa states that studying in the USA – becoming a minority in a country driven by racial tension – made her question her identity in a way she had never done before. Waiswa says she still feels the pressure of the western gaze and its impact, pointing out that when she's commissioned to shoot in Africa, the projects come from western publications and brands, meaning she ultimately has to consider "how to tell the story in a way that satisfies that western gaze but at the same time challenges it. The readers are going to see the images in a way that's different from the way we see our- selves, so it's a question of finding a balance."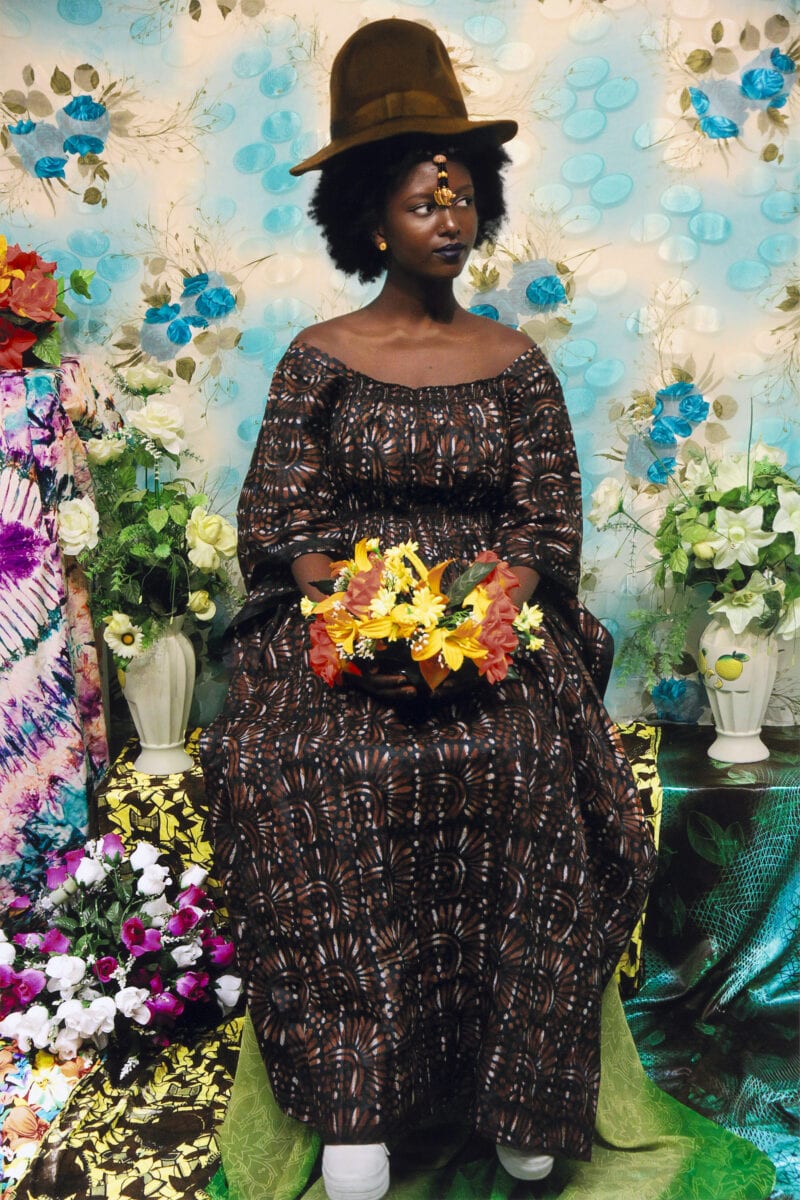 However, Waiswa is hopeful for the future, referencing the growing influence of social and political movements such as BLM, which was founded in the USA in 2013 by Alicia Garza, Patrisse Cullors and Opal Tometi. This increased awareness and pressure has meant that brands and institutions are finally opening up to a more diverse cohort of image-makers. Nigerian-born photographer Misan Harriman (b. 1966) became the first black man to shoot the cover of British Vogue in 2020, for example, and Tyler Mitchell (b. 1995) was the first African American to shoot the cover of American Vogue in 2018. The big solo shows in London this year, meanwhile, have included Zanele Muholi at Tate Modern and French–Moroccan artist Leila Alaoui at Somerset House.
Waiswa believes the internet has also made a huge difference, removing some of the gatekeepers to allow photographers from various backgrounds to showcase their work on their own platform – as she does through her own account @lafrohemien, through the @everydayafrica feed to which she contributes, and via the @africanwomenphotograph account she curates. Waiswa's @lafrohemien account has some 46k followers, for example; everydayafrica 420k.
Waiswa and Atem both sit under the theme of Reflection in the Triennial, a concept which van Wyk says "offers multiple perspectives on the human condition today. They allow us to consider identity, celebrating the dynamism and beauty of life, whilst also questioning what it means to live in rapidly changing times, where preconceived ideas of race, gender, representation and power are increasingly challenged."
Dynamics of race, gender, history and culture affect all of us differently; even still, this Triennial implies, we can find ways to communicate with and relate to each other, and this is crucial as we move into 2021 and beyond.
---
Words
Diane Smyth
NGV Triennial, Melbourne 19 December -18 April
Lead Image: Sarah Waiswa, detail of Seeing but not seen (2016) from the Stranger in a familiar land series (2016). Inkjet print, 80.0 x 80.0 cm (image). National Gallery of Victoria, Melbourne. Purchased NGV Foundation, 2017 © Sarah Waiswa.
1: Sarah Waiswa, detail of Seeking to belong (2016) from the Stranger in a familiar land series (2016). Inkjet print, 80.0 x 80.0 cm (image). National Gallery of Victoria, Melbourne. Purchased NGV Foundation, 2017. © Sarah Waiswa.
2: Sarah Waiswa, detail of Nemesis (2016) from the Stranger in a familiar land series (2016). Inkjet print, 80.0 x 80.0 cm (image). National Gallery of Victoria, Melbourne. Purchased NGV Foundation, 2017. © Sarah Waiswa.
3: Atong Atem, Paanda (2015). Printed 2019, from the Studio series (2015). Digital type C print, ed. 5/10, 84.1 x 59.4 cm (image) 92.8 x 63.2 cm (sheet). National Gallery of Victoria, Melbourne. Purchased, Victorian Foundation for Living Australian Artists, 2019 © Atong Atem.
4: Atong Atem, Morayo (2015). Printed 2019, from the Studio series (2015). Digital type C print, ed. 6/10 84.1 x 56.1 cm (image) 104.1 x 65.4 cm irreg. (sheet). National Gallery of Victoria, Melbourne. Purchased, Victorian Foundation for Living Australian Artists, 2019 © Atong Atem.