"Architecture has to be attentive to its inhabitants and to its place" British architect Sir David Adjaye (b. 1966) told Forbes in 2018. "It's very important for me that we work in all social strata, from the very least to the very most." Architizer's A+Awards was founded on this same premise: the importance of democratising the built landscape. Each year, it invites enthusiasts from across the world to vote for their favourite structures. Across 119 categories, the awards offer a snapshot of the world's most innovative places: from houses to museums, shopping centres to arenas. Recent winning projects look to the future whilst addressing contemporary issues, including the climate emergency, Covid-19 pandemic and economic inequity. We take a closer look at finalists from the 10th edition, exploring how firms are pushing the boundaries of aesthetics, material and function to place society at the centre of design.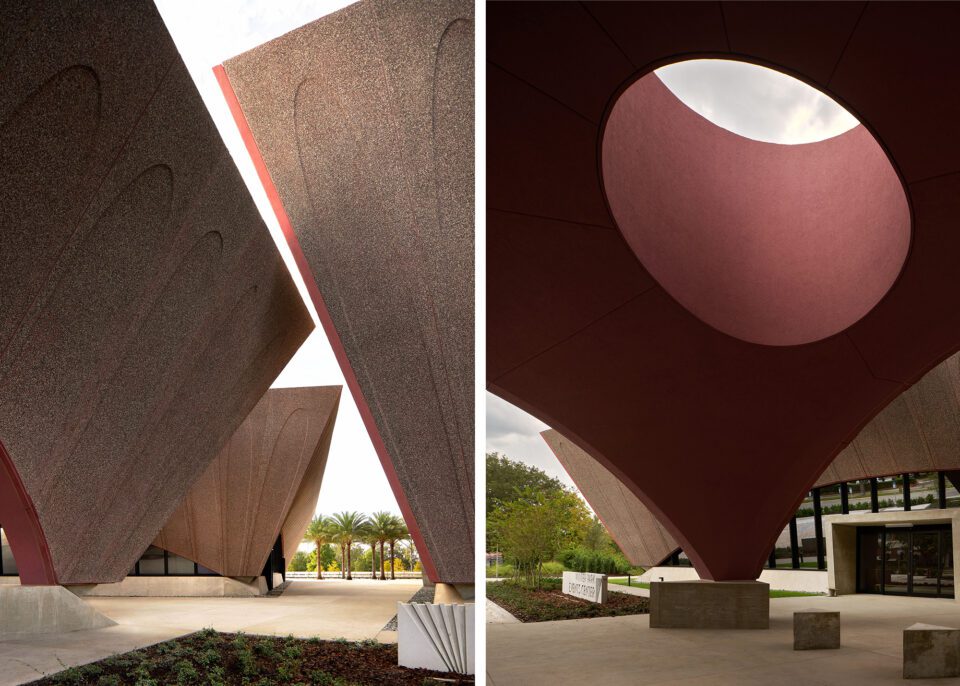 Adjaye Associates | Libraries
Adjaye has become synonymous with designing public buildings that represent powerful periods of social history. He is responsible for the Noble Peace Center in Oslo; National Museum of African American History and Culture in Washington DC; and the Stephen Lawrence Centre in London. Now, Adjaye Associates' jury-winning Winter Park Library and Events Center, sited on the corner of Martin Luther King, Jr. Park, embodies the values of the park's namesake. Three pavilions form a kind of micro-village in the newly revitalised landscape. Rose walls and arches reference the local wildlife, connecting visitors to the immediate environment. Elsewhere, flexible floor plates offer accessibility to all.
Zaha Hadid Architects | Best Large Architecture Firm
Zaha Hadid Architects (ZHA) have long been associated with innovation. Now, it has been awarded the accolade of Best Large Architecture Firm 2022.  ZHA is known for forming spaces that excite and inspire, drawing on 40 years of research and award-winning projects. Infinitus Plaza, China – which received a special mention in Architizer's Commercial Mid Rise group – negotiates the impact of the pandemic on attitudes towards working environments. The infinity sign-shaped headquarters combines connectivity, creativity and entrepreneurship in collaborative, adaptive offices. Beyond this, the structure incorporates more than 25,000 tonnes of recycled wood, metal and glass, responding to the immediate climate through integrated smart management, limiting its environmental impact.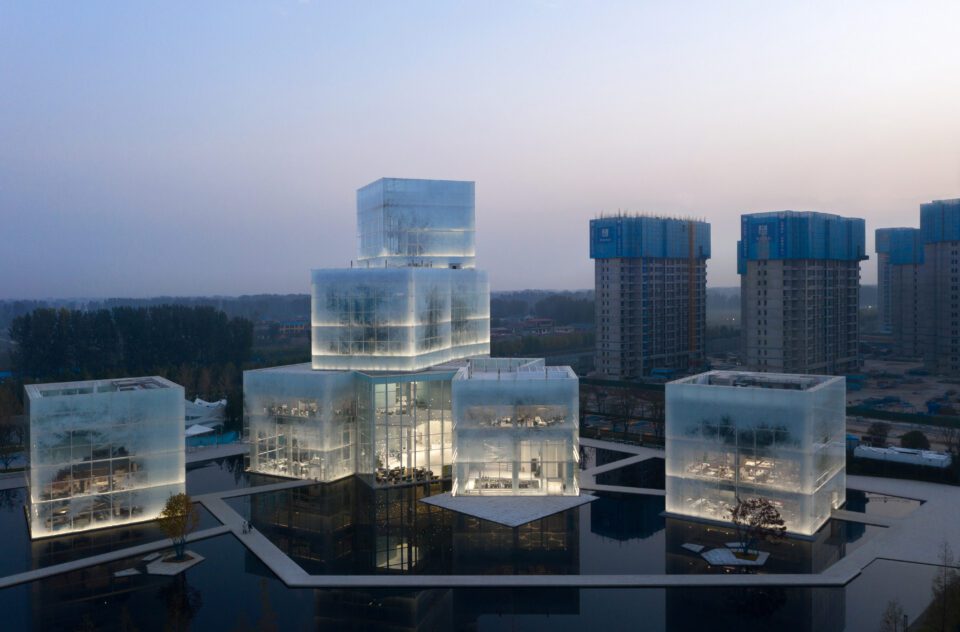 Zone of Utopia + Mathieu Forest Architecte | Cultural & Expo Centers
Zone of Utopia + Mathieu Forest Architecte's Ice Cubes provides a monumental meeting point for the new winter sports tourism district in Xinxiang, China. Nine sculptural blocks are stacked and offset over a vast lake. The exterior appears to capture and emit light throughout the day, constantly responding to time, weather and seasons. Printed glass and steel imitates the appearance of frost as the façades appear to freeze, thaw and melt. The landmark also transforms into an all-encompassing lighthouse at night. Illuminating the area with a warm glow, the segmented structure appears to rise above the surrounding urban environment – drawing visitors in like a beacon in the dark. 
Studio Toggle | Best Young Firm
Logical design and problem solving techniques are at the heart of this emerging studio. Based between Kuwait City and Porto, architects Hend Almatrouk and Gijo Paul George believe in "the balance between opposites, that form follows function, that simplicity is complex, and that even chaos can be organised." Khut, shown at the top of the page, brings minimalism to AlUla's landscape. A symmetrical white plinth acts as an extruding line in the sand, creating connections between the past and the present. This project, created in collaboration with artist Aseel AlYaqoub, responds to the surrounding archaeological site of Al-Hijr (Madain Salih) – the first UNESCO World heritage property to be located in Saudi Arabia.
---
Discover the full 10th Annual A+Awards winners list. The 11th edition launches in October 2022.
---
Credits
Lead Image: Khat by Studio Toggle, Awarded Best Architecture Firm in Africa and the Middle East (Jury Winner), and Best Young Architecture Firm (Popular Choice Winner). Photo provided by Studio Toggle.
1. Winter Park Library & Events Center, Winter Park, Florida, U.S., by Adjaye Associates, A+Awards Jury Winner in the Libraries category. Photo by Dror Baldinger, FAIA
2. Ice cubes by Zone of Utopia + Mathieu Forest Architecte, Xinxiang, China, A+Awards Jury and Popular Choice Winner in the Architecture + Glass category, Popular Choice Winner in Cultural & Expo Centers category. Photo by ArchExist.