Popping up between trees and amongst buildings, Nathaniel Rackowe's (b. 1975) geometric sculptures are characterised by dramatic shafts of light. The London-based artist – who cites modernism, films and video games amongst his influences – works with mass manufactured materials to craft large-scale three dimensional works. Glass, corrugated plastics, concrete, scaffolding, breeze blocks and strip lights come together in glowing structures, revealing the hidden beauty of commonplace objects.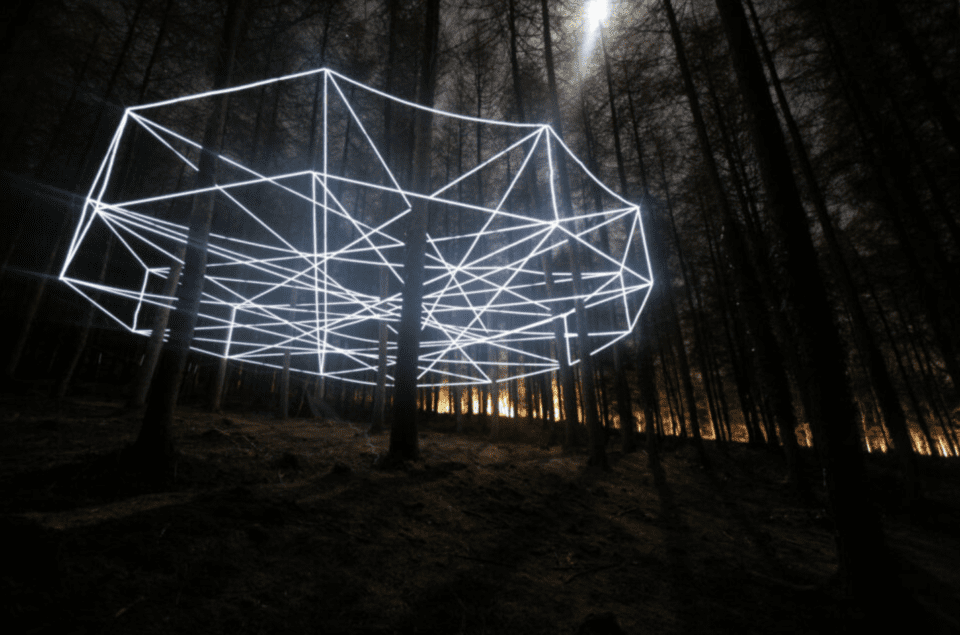 In 2020, over half of the world's population were living in urban spaces. These installations are designed, the artist says, "to recreate the experience of navigating the city around us – emulating the way light delineates buildings, city blocks and streets." Each illuminated structure evokes the skeletal outline of a building, church tower, scaffold or crane. In this way, Rackowe combines ethereal beauty with the stark realities of industrialisation. As his monumental forms sit amongst woodlands or wrap around trees, it's hard not to contemplate our fraught relationship with nature.
---
Whilst Rackowe's structures remain deeply rooted in contemporary life, they could be seen as otherworldly. To some, it might appear as if they have descended from space. Black Shed Expanded, shown below, opens up to reveal a mysterious yellow and green glow. It asks the question: what lies within? Other structures hover above the earth, their presence unexplained. Rackowe's luminous cubes and brightly lit webs are visually enticing, inviting viewers to come closer. We are transfixed by their radiance, waiting in anticipation for what happens next.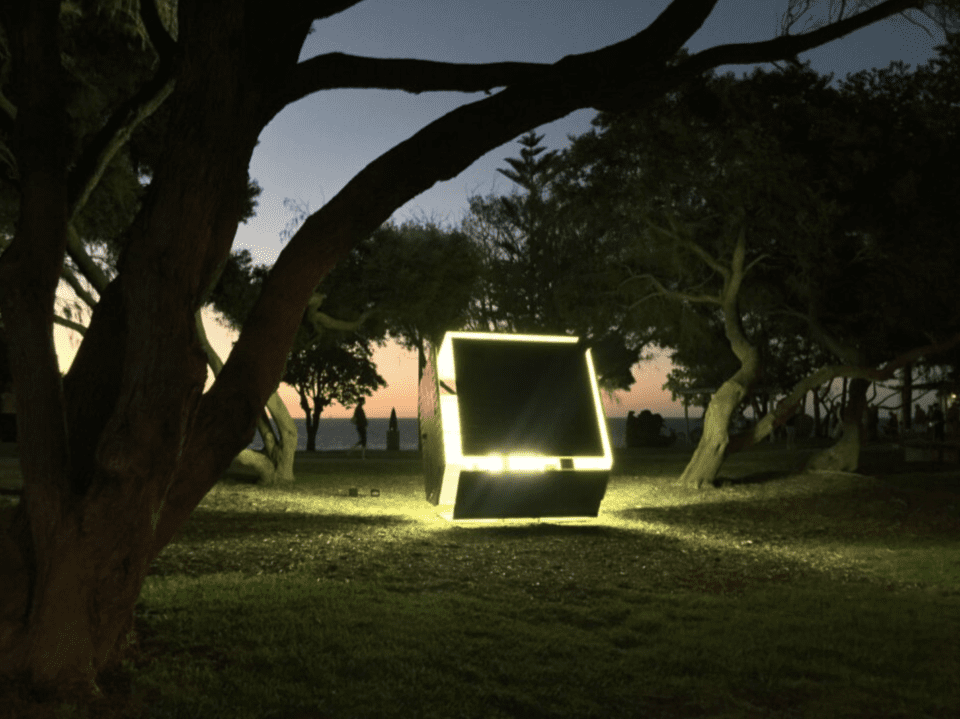 The artist has exhibited internationally, with work in notable public collections including Jumex Collection, Mexico; LVMH Collection, Paris; UK Government Art Collection, London; and Hauser & Wirth Collection, Zurich. Recent projects include an ambitious light installation encompassing an oak tree as part of EVI Lichtungen, a light festival in Hildesheim, Germany, as well as public sculptures in Aarhus, Denmark and Alserkal Avenue, Dubai. Rackowe has illuminated the UK capital on on multiple occasions, as part of prestigious art events such as Lumiere London and Sculpture in the City.
---
---
All images courtesy Nathaniel Rackowe
1. Spin, 2006
2. Spin, 2006
3. Platonic Cube, 2016
4. Square Prism, 2020
5. Black Shed Expanded