Houda Bakkali is a multidisciplinary artist based in Spain. Her colourful, vibrant compositions are created using a variety of new digital illustration and graphic design techniques, and reflect the optimism of their creator. Bakkali's work has been exhibited at numerous art fairs and exhibitions around the world.
A: In Issue 85 of Aesthetica we featured Transgression from the Beautiful African Woman series. How does it reflect your background and your family?
HB: Transgression is a very personal and very important work for me as it reflects the legacy left to me by my mother, an Arab and Muslim woman who throughout her life defended the equality of women through normalisation and dialogue.
She didn't leave big headlines, just an example of a life full of happiness around her, of an open mind to the world and of an inner strength capable of achieving everything she wanted. Her values ​​reflected the fight for freedom, emancipation and equality of women without the fear that can stop us from achieving our goals. Those values ​​have marked my personal and professional life. And, without a doubt, they have been one of the cornerstones of my artistic work.
In 2018 I had the honour of sharing Transgression in Aesthetica magazine; it is my most-awarded artwork and the most significant of my career. Without a doubt, it is the most representative of the message I want to project with the series Beautiful African Woman.
---
A: How have your experiences in Madrid and Barcelona helped to shape the work?
HB: I am fortunate to live between Madrid and Barcelona. Madrid is one of the capitals of the world, with energy and life. Every corner is full of tradition, art and modernity; it is an incredible and inspiring fusion. Barcelona is a city that is also full of energy and life. It is one of the capitals of the art world. Its climate, fun atmosphere and the Mediterranean sea make it a perfect place to create. In addition, it's a very cosmopolitan city, which is an inspiring and motivating element for any artist. It's a luxury to always be able to create and learn from so many cultures and in an environment marked by the legacy of Dalí and Gaudí, amongst other geniuses of art.
A: How has the work evolved since then – both the piece and the series itself?
HB: The series and the piece have evolved towards an animated version and augmented reality. That's the magic of digital art – a wonderful quality that allows works to grow, evolve, change and regenerate into other works and tell other stories. I've been working on digital art for 20 years; my first published work was in 2008. The advances and status that digital art is achieving today is fabulous.
---
A: What was the catalyst behind your recent exploration of motion graphics and augmented reality?
HB: Precisely the need to tell stories through captivating and surprising environments, in which the viewer can immerse themselves, as is the case with augmented reality. It's a way to experience a variety of sensations and emotions with the artwork. It also allows me to expand the story and give it life or several lives – as many as I want. In addition, it's a way to create more fun and unique environments.
A: Do you see a connection between the strong women depicted in your work and the artist who is embracing new, technically-challenging ways of working?
HB: Strong people like strong challenges. I think we have to grow and have a long-term vision. We have to experiment and discover new ways to connect with audiences and with ourselves. I think we always have to look for ways to move forward.
A: Some say that new technology and techniques are about looking forward – why did you revisit some of your existing and older works?
HB: Essentially, what I've done is bring static works to life. Many of my older artworks tell stories that needed more space to be expressed fully to the viewer and to convey not only the essence, but also the environment of each piece. Digital technology has allowed me to make these works evolve and allow them to express all of their nuances. It also allows me a way of connecting with the works for a longer time – sometimes it's difficult for me to abandon my works, so in this way they always remain with me.
A: What is the creative process behind, for example, the Life is Beautiful series? How does the process differ from Sensuality?
HB: Life is Beautiful is a series that breaks with everything I have done previously. Not only in the use of augmented reality, but also in the choice of colours: they are acidic and vibrant. A baroque combination of the artwork and the intensity of the protagonist, Life is Beautiful was born during a Covid-19 confinement and is inspired by the colours of Monaco and its dolce vita.
Sensuality is based upon clear, sharp, simple lines. They are very different concepts, created at different times, although they share a common soul: a love of art and a respect for the viewer, which for me is an essential part of the work and the artist.
---
A: Thinking about looking forward, you are very interested in NFTs – how have you been embracing NFTs in your art practice?
HB: I am interested in learning more about NFTs and being part of their evolution. I believe that it's a reality that has come to stay, and that it will define its space and its rules well. Artists, both digital and non-digital, have our own spaces within this ecosystem, regardless of our style or our creative process.
The NFT cosmos seems exciting to me – a complete revolution, since digital art has not always had its place in the world of "traditional" art. NFTs represent a very important advance in that sense: by authenticating the work and revaluing it, we are introducing a closer vision of art and bringing the artist closer to the public. NFTs democratise art and that is a necessary universal value for societies. It's important that artists observe, analyse and participate in this revolution. From the inside, it's the best way to build the future of art.
I believe that artists should not remain oblivious to reality or to the paradigm shifts that are happening in our society. It's an exciting revolution and we have the opportunity to actively be a part of it.
A: Do you think your background in digital illustration has helped you navigate the world of NFTs?
HB: I would say that it was the opposite: NFTs have revalued my illustrations. NFTs are an option with interesting possibilities for artists in general and for digital artists in particular. I think it's interesting to know this ecosystem, understand its philosophy and be part of its evolution. It's important not only for digital artists and not only for facts as important as authenticating the work of art, but also because it gives it a monetary value.
A: Tell me about your involvement with TIMEPieces, the NFT community and initiative launched by TIME magazine?
HB: It's an honour for me that a magazine as prestigious as TIME, with almost 100 years of history, invited me to participate in the first global NFT community and initiative. The experience is very productive: I am continuously learning about the NFT ecosystem and Web3.
The theme of the project is Building a Better Future. Artists from all over the world participated, each with a different vision and totally different artworks, which is a milestone in the history of contemporary art. A collaborative work, it's designed to lay the foundations of a true art revolution. A new society, a new look, a new way of understanding art that is more human, closer to the public, more dynamic and more heterogeneous.
The TIMEPieces project is full of artistic, aesthetic and conceptual richness. In addition, the art revolution centred on the NFT ecosystem, the metaverse and Web3 are all symbols of art. TIMEPieces is an iconic project that was exhibited at Dreamverse, the world's first NFT art and music festival, held in New York on 4 November.
I'm so pleased that the artworks will be displayed in a new hardcover book; it's a symbol of a better future, without a doubt, not only for art, but for society in general. It's much more than an honour and a privilege to have been part of the project. I feel very fortunate and eternally grateful to TIME magazine for contacting me.
---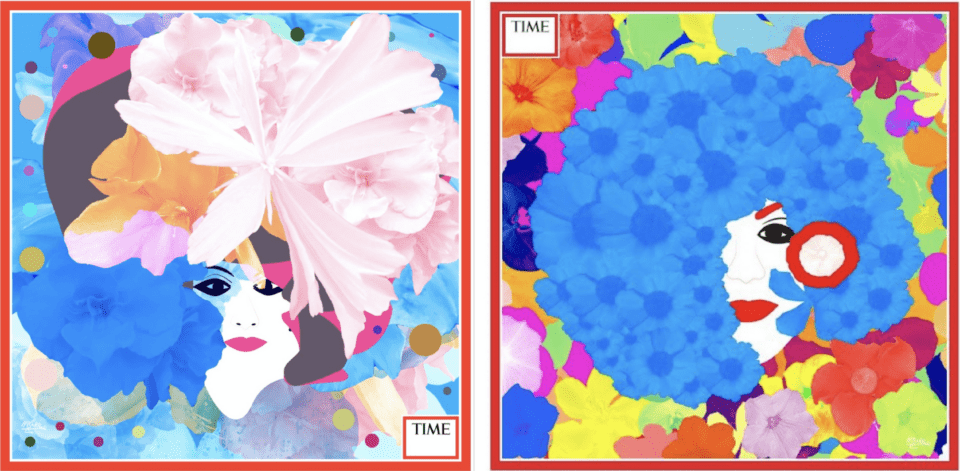 A: The project features works by more than 40 artists. Tell me about the work you've displayed.
HB: I have participated with two pieces: Passionately and Life is Beautiful. Both are inspired by Monaco and the Mediterranean style. Both bring a colourful, optimistic vision and the desire for a hopeful future. Both have a woman as the protagonist, and the flowers stand out as a tribute to nature.
A: TIMEPieces notes their goal of fostering community, loyalty and rewards – what are your experiences of community in the world of NFT?
HB: My experience in the TIMEPieces community is fun and fruitful. It's an active and highly-participatory space that looks to the future and opens up new opportunities for artists, both digital natives and those who are not. It's a fantastic opportunity to observe, listen, make self-criticism, learn to work as a team, put self-centredness aside and collaborate in a global project. The great added value of growing a project that belongs to everyone is that it's universal and open to the world. That's a wonderful challenge and doing it with a magazine as legendary as TIME, being part of the TIMEPieces community, is a true luxury.
A: Adam Greenfield of The Guardian recently noted: "The furious churn of all the processors involved in validating proof-of-work globally burns vertiginous amounts of electricity, at significant environmental cost. The New York Times recently quoted a French artist taken aback to learn that their 'release of six crypto-artworks consumed in 10 seconds more electricity than [their] entire studio over the past two years.'" What do you think about this?
HB: Digital art has many challenges ahead – one of them is the one that you've mentioned. It's a challenge not only for digital art, but it also affects the global society in which we live and towards which we evolve.
A: Tell me about working on your Creativity Against Covid-19 series as part of the United Nations Global Call Out to Creatives.
HB: When the UN launched the campaign, I thought it was a great idea and that I should participate. It was during the Covid-19 lockdown in Spain, in which art was basically a window to look out of. This is how my works arose, as a "time out". I had to have patience, a positive attitude and creativity in the face of this unusual and sad situation that we were living in. It's a series that I have a lot of affection for; in fact one of the pieces has been awarded in New York, at the International Motion Art Awards 9.
---
A: From a graphic design perspective, how did you approach a project designed to inform the public, versus the works you create in your personal art practice?
HB: In my usual practice, I work a lot on visual communication. I work with informative and descriptive projects which include infographics, graphics, etc. The creative process is different. Each assignment is an exciting challenge in which I must study the project in detail to be able to convey the message correctly, with enough impact and clarity to achieve the set goal. When it comes to my personal artistic work, inspiration can come at any time. The emotional part is the boss.
---

A: In March 2020 United Nations Secretary-General António Guterres noted: "We are in an unprecedented situation and the normal rules no longer apply. We cannot resort to the usual tools in such unusual times. The creativity of the response must match the unique nature of the crisis – and the magnitude of the response must match its scale." Do you think that artists have a responsibility to participate in global and community initiatives? Or should it be an artist's choice regarding how (and if) they participate in wider socio-political issues?
HB: I believe in the individual freedom of people. Each person should do what really makes them happy and with which they feel honestly satisfied. On the other hand, I believe that artists, like any social agent that has the power to reach the public, must contribute, add, help, participate and collaborate on the improvement of our environment and our societies. But always as a personal choice.
A: You recently exhibited the Crazy Heart series at Art Shopping Paris, 18-20 June. As many people walk through the Carrousel de Louvre, was the choice of Crazy Heart a reflection of how the series appears within the space?
HB: I spontaneously created this series one night when I couldn't sleep. I was thinking of how the madness of the heart was able to trap the mind. When the possibility of exhibiting in Paris arose, I thought it was the best moment, due to the pandemic and the strange and complex situation we were experiencing. The series brings joy and fun. In Paris, I had the opportunity to exhibit the three-mixed media pieces and to present their versions in augmented reality. It was very exciting, since that exhibition was cancelled twice due to Covid-19 and it was almost a miracle to be able to see my work exhibited in the Carrousel de Louvre. I feel very lucky.
---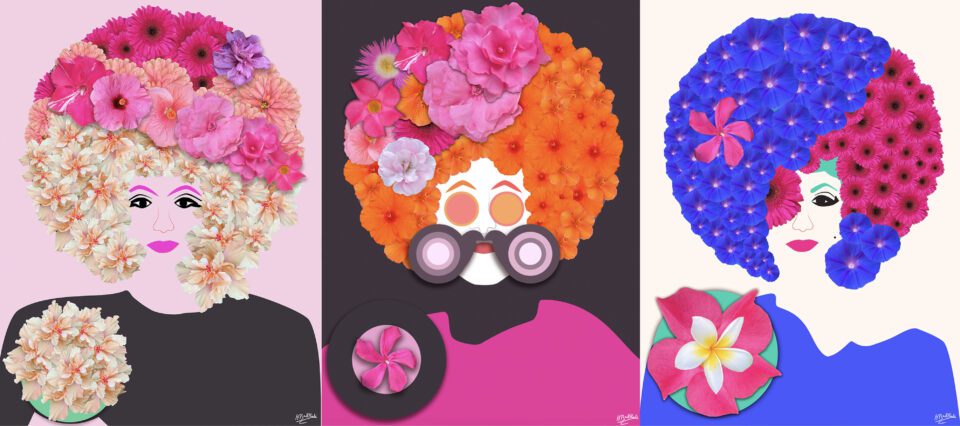 A: What was it like to prepare for the show, versus preparations in previous years?
HB: Chaotic. Practically until the day of the exhibition, both in Paris and in Monaco, we didn't know if we could exhibit and under what conditions. It's been very difficult for the artists, with cancellations, changes of dates and very few clients. But suddenly…the sun comes out. I hope that everything will soon be normal, and step by step, we return to exhibitions and events without restrictions.
A: Your most recent exhibitions been taken place in Monaco and Sanremo. How have these exhibitions helped to further your dedication to digital art?
HB: Both exhibitions have been very important because of what Monaco and Sanremo symbolise and because in both places talking and exhibiting digital art means normalising it amongst a knowledgeable and demanding audience. It has been a fantastic experience, with a very good welcome and with very good prospects for the future. A great motivation, without a doubt.
---
A: Your work has at its heart, an optimistic quality. Do you feel optimistic about the future?
HB: Yes, why not? Problems come. If they can be solved, that's fabulous, but if not, we can always move on to something else. I don't see optimism as an idyllic and perfect world, because it's not. Life is full of injustice and inequality. But in the midst of that, we can also try to live and see the glass half full: to strive to be happy and make others happy. It's more difficult to look for problems than look for solutions. In the end, life is a question of attitude.
For some time now, I have the impression that we are stagnant in destructive protest, in a climate of chaos and uncertainty that has now become even worse. My idea of ​​the world is not to look the other way…far from it. But I do believe that art should serve to alleviate pain and to make things a little more pleasant and bearable. There is no use adding more tragedy to tragedy or darkening a world in which we must also leave room for hope.
Art is a means of protest. A very powerful means of vindication capable of breaking into our lives and making our brain react. Art is a tool for change. Those of us who have the privilege of reaching the public must also think about how to improve their lives and how to give them a dose of happiness, even if it is momentary.
For this reason, my works are designed not only to talk about my stories and obsessions, but I also try to create works that speak to others of pleasant and palatable worlds. I always think of the public, since my work is conceived for the world to see. I like to create simple things that are understood and, above all, create art to make others happy.
---
A: Do you think about the future of your art practice in concrete terms, or do you think that perhaps in five years there will be technology and techniques that you'll use, that haven't been invented yet?
HB: I am convinced that in a short time we will be talking about new technologies. The advance is unstoppable, fast, exciting and addictive. Art has never had limits, but today it's fewer than ever. We are in the middle of a revolution. And all changes are complex, because everything takes time to stabilise.
I believe that we must be willing to learn, to investigate, to not to be afraid of failure and, above all, to enjoy the moment and the opportunities that art is experiencing today. It's important to be active and not miss opportunities. It's just as important as being a good observer and learn from successes and mistakes.
A: And what's next on the horizon?
HB: On 30 November I'll be hosting a masterclass on digital art at Tomelloso in Castilla-La Mancha, Spain. Also, my new series Divina and By Night will be exhibited in Swaziland, Paris, Monaco and Spain in 2023.
---