"If 2020 has taught us anything, it is that creativity provides joy, solace and fun in an increasingly fraught world," says Jo Baring, Director of the Ingram Collection. She is also a selector for the ING Discerning Eye exhibition – an annual show dedicated to championing emerging artists. Baring is keen to emphasise the importance of imagination right now. "The splashes of bright rainbows which are still in windows around the country – some chalked upon pavements and walls – are testament to how much we need art to express ourselves, to signify meaning and to provide hope."
---
This message is at the heart of the 2020 ING Discerning Eye exhibition, which launches as museums and galleries close their doors once again. Crucially, the show is accessible from home – coming to our screens via a new virtual format. In an unprecedented year, the ING Discerning Eye exhibition offers a presentation like never before. Moving online means room for more artworks – culminating in an unmatched platform showcasing over 1,000 pieces by 600 creatives from all disciplines: photography, sculpture, drawing, painting, print and more. It will be live for six weeks; audiences can log on and be inspired by a wealth of talent right through until the New Year.
The ING Discerning Eye exhibition is supporting artists at this challenging moment through a number of awards. 2020's winning practitioners were announced on 19 November. Among them is Judith Jones, whose photograph is featured at the top of the page. Come Into The Night Garden took away the South West Prize – one of several prestigious accolades. The nocturnal image is full of mystery, capturing a greenhouse at twilight. An orange glow radiates from the glass structure, illuminating green plants within. Visitors to the digital ING Discerning Eye exhibition can expect a wealth of photographic talent, with images from Gillian Hyland and Güler Ates amongst the selection.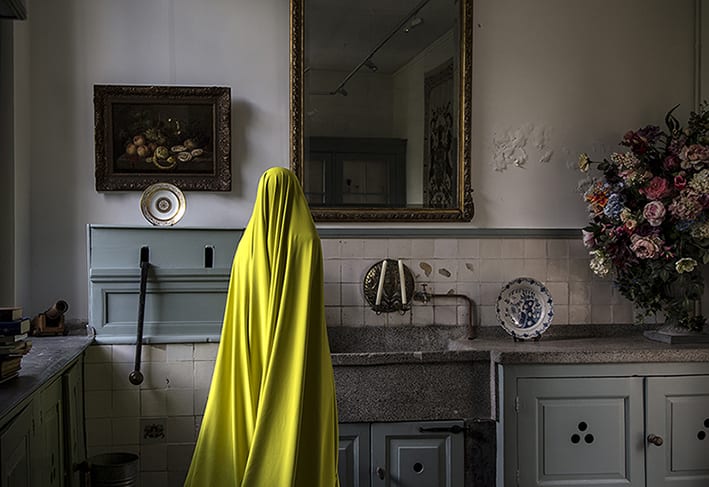 All of the featured works – which are available for sale – have been chosen by a panel of six prominent figures from the art world, each of whom curates their own smaller show within the whole. This year, the selectors are artists Dale Lewis and David Remfry RA; collectors Beverley Knight MBE and Mervyn Metcalf; as well as critics Jo Baring and Tabish Khan. Audiences can expect to be delighted, surprised and challenged by what they have uncovered.
---
The ING Discerning Eye exhibition runs until 31 December. To browse pieces by established names, discover the next generation of UK-based artists and buy artworks, click here.
---
Lead image: Judith Jones, Come Into The Night Garden
1.Gillian Hyland, Blue Haze
2. The Skinny Type, Narcissus Dreams with Kyle
3. Güler Ates, The Shoreless Flower IV