"The pandemic has taught us what the real value of art is, especially with regard to our mental health," says Adelaide Damoah, artist and academician of the Royal West of England Academy. "We need it to sustain and connect us. We have all missed being able to physically be with great art and each other to discuss it and absorb its magic." Damoah is speaking within the context of The ING Discerning Eye Exhibition 2021, for which she is a selector.
The prize has established itself as an annual destination for visual culture, giving viewers a sense of where contemporary British art is heading. This year, over 500 artworks will be accessible through a new hybrid format, both at the Mall Galleries, London, and online. The show is renowned for its unique selection process, which combines an open call with a lineup of invited artists. The 2021 selectors – Russell Tovey, Adelaide Damoah, Anna Brady, Peter Brown NEAC, Roland Cowan and Tony Humphrey – have each handpicked a shortlist from the call for entries. In addition, they have chosen emerging and established artists they admire to showcase their work.
---
Shown at the top of the page is a striking portrait by Àsìkò, a visual artist whose work straddles the line between fantasy and reality. Created as a response to his own experiences of identity, culture and heritage, the image – titled Constellations of Beauty – explores "the limits of femininity and masculinity, spirituality and beauty." Another selected photographer is Rebecca Fontaine-Wolf, who explores the "conflicted nature of our societal attitudes towards female sexuality." Folds of Desire depicts fragmented figures holding broken mirrors up to the camera. As white fabric cascades across the frame, viewers might be reminded of classical painting, or, equally, work by Francesca Woodman, Dora Maar and Ana Mendieta.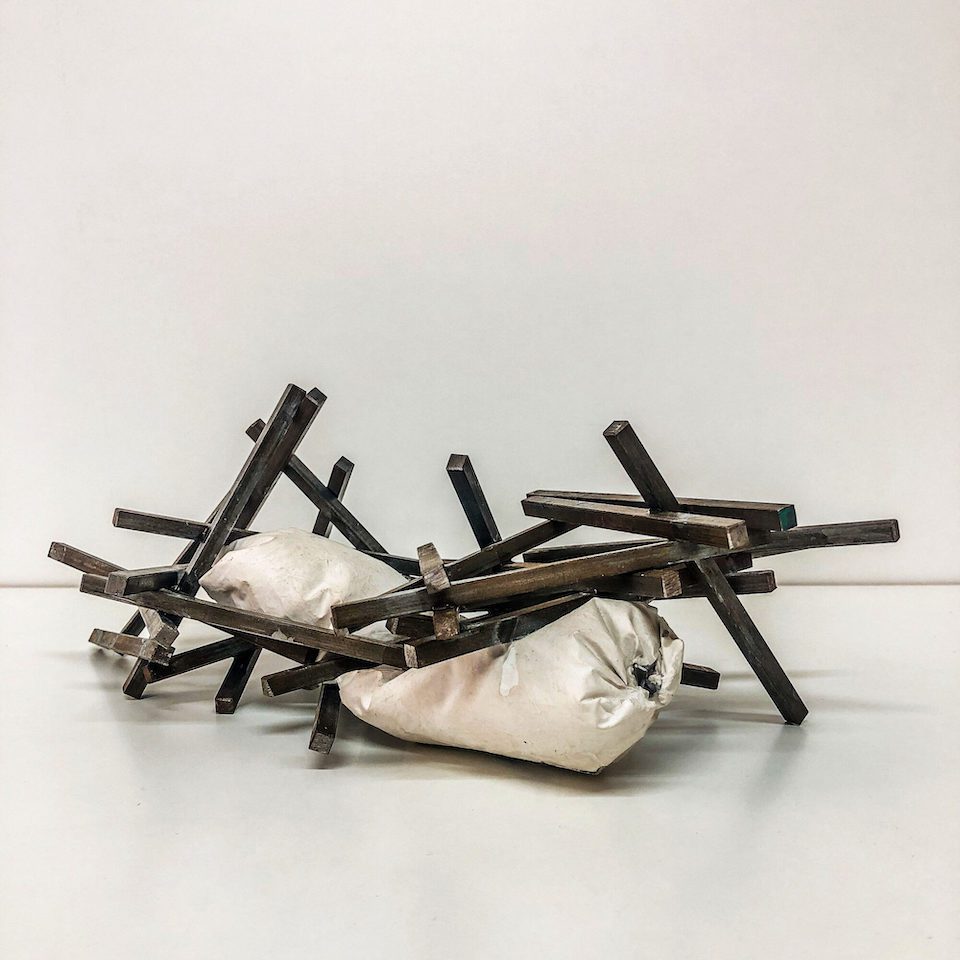 This year's show celebrates innovation across a range of media, including drawing and painting. Pictured below, Jemma Appleby's minimal charcoal compositions capture architectural structures – punctuated by tree trunks and geometric shafts of light. In sculpture, viewers can discover the work of Paul Bonomini: a British sculptor who casts, forges and constructs pieces in a range of materials, including bronze, iron, concrete, glass, steel and, more recently, 3D printed plastics. Both Fontaine-Wolf and Bonomini have been previously longlisted for the Aesthetica Art Prize.
---
All the works are for sale online, with options for a range of buyers – from those just starting out to established collectors. Anna Brady, Art Market Editor at Art Newspaper and 2021 selector, offers top tips: "First, I was amazed by how incredibly affordable many of the works entered are—many just a few hundred pounds—so don't be intimidated. Second, absolutely go with your gut and worry not about what others will think of your selection, nor follow trends. Buying art for others is always a bad idea and these works will soon irritate you. Third, the old classic—if you keep thinking about something, that's probably a sign. And finally—learn something about the artist too, I find a work of art means so much more if you like and/or are intrigued by them as a person. You're not just buying a bit of paint on canvas, you're investing in them and watching an artist's career progress is such a joy."
---
The ING Discerning Eye Exhibition runs at Mall Galleries, London, until 21 November. Online until 31 December. Find out more here.
---
Image Credits:
1. Asiko, Constellations of Beauty
2. Jemma Appleby, #1150918
3. Jemma Appleby, #3150918
4. Paul Bonomini, Ristretto
5. Rebecca Fontaine Wolf, Folds of Desire 1
6.Rebecca Fontaine Wolf, Folds of Desire 2