The Globalisation and World Cities Research Network (GaWC) established by the Geography Department at the University of Loughborough in 1998 ranks cities according "global interconnectedness." The term, according to the Rochester Institute of Technology refers to the ability to "function in an increasingly multicultural, international, yet interconnected environment." In the GaWC's 2022 survey, New York and London were found to hold the "Alpha+" rating, followed by Beijing, Dubai, Hong Kong, Paris, Tokyo, Shanghai and Singapore.
Russian-born, American artist Anastasia Samoylova (b. 1984) is interested in rhythms of metropolises. In her latest monograph, Image Cities, published by Hatje Cantz, 17 cities are photographed from a "critical and aesthetic" perspective, in particular focusing on the proliferation of images in urban areas. This level of consumerism dictates much of modern life – in 2022, Forbes reported that on average, people are exposed to between 6,000 and 10,000 advertisements a day. Samoylova captures the constant barrage of content – creating photographs that depict lifestyle, real estate and fashion campaigns on a monumental scale. In the artist's work, global brands overtake historic sites – gleaming posters of smartphones wrap Parisian opera houses whilst glossy jewellery shop windows reflect towering Soho apartment blocks.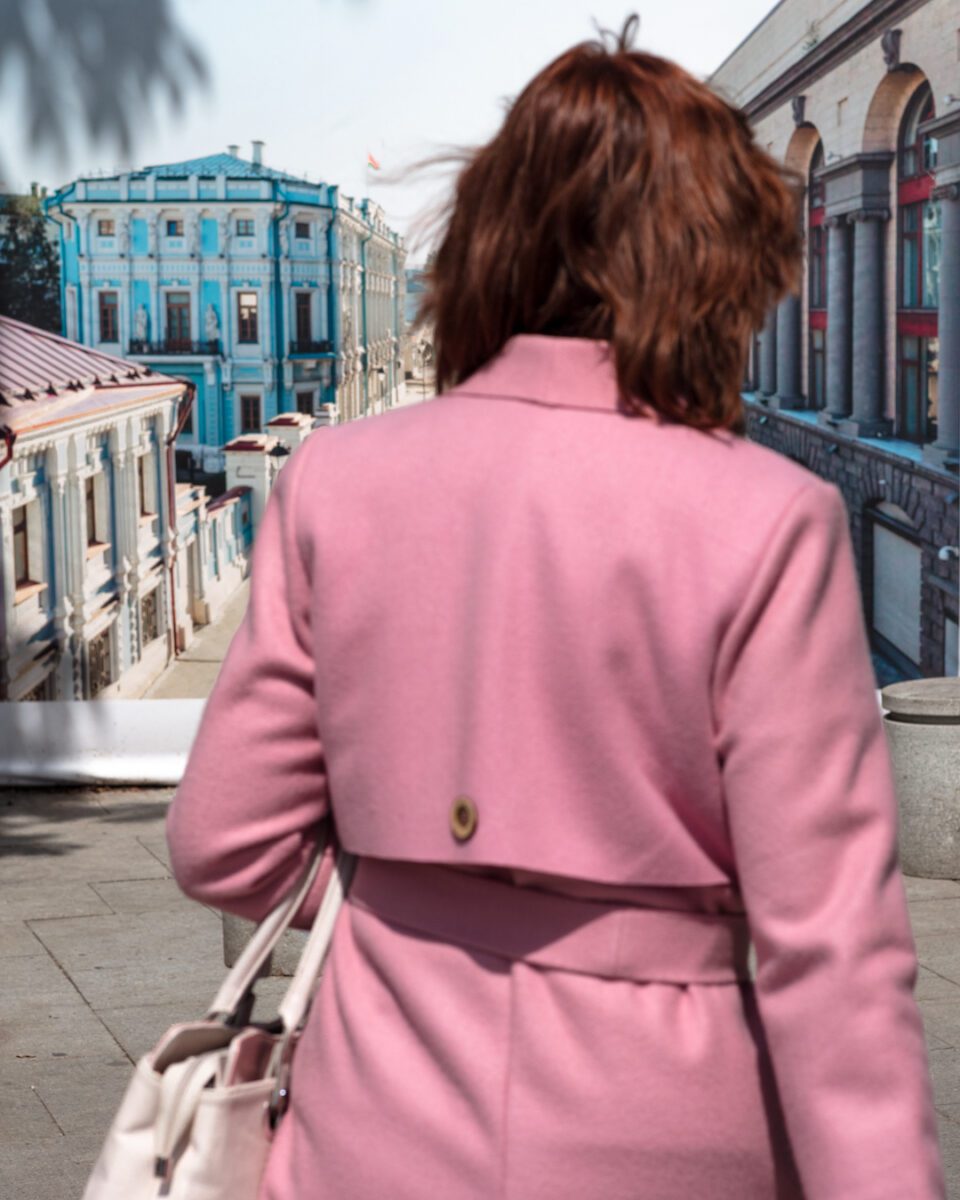 Samoylova, born in the USSR and raised in Moscow is influenced by geometric patterns and linearity. In earlier works such as Crashing Waves (2014) there is a sense of liveliness and commotion. Printed out shapes collate to form a pastiche of inwardly pointing triangles and razor-sharp squares. This sense of assemblage continues in later works such as Breakfasts (2017) in which meals collage with iconic photographs and in Floridas (2022), an exhibition and publication by Steidl (2022) chartering the evolution of the sunshine state from the 1930s to the present-day. The work is in conversation with road trips of Berenice Abbott (1898-1991), Walker Evans (1903-1975) as well as the New Colour Photography of artists such as Stephen Shore (b. 1947) and William Eggleston (b. 1939). Moments of reality and fantasy combine in scenes that enact a kind of distancing: lilac pools reflect flamingos whilst mirrors refract beams of light in the shape of Greek statues, motioning to a world that is in constant interpretation.
Constructed and superimposed compositions continue in Samoylova's latest book. A different kind of flooding is reckoned, as the saturation of images is exposed. Capital cities are rendered monolithic, unified by their reliance on adverts and new-build skyscrapers. "Cranes, scaffolding and dummies accumulate … as the human figure emerges as an endangered species that has succumbed to consumerism," explains Victoria del Val, curator of the exhibition at Barcelona's KBr Photo Award. Men and women amble indifferently in front of canvases – in Businessmen in Blue Suit, New York, 2022, an office worker strolls across an assembly wall. Behind him is a depiction of what the complex will look like post-construction – digitally rendered residents crowd around café tables and flower boxes, sipping coffee and flicking through magazines in a scene is akin to Spain's City of Arts and Sciences in Valencia. The artist conveys a distinct sense of uncertainty, where it is not immediate which surface is more real.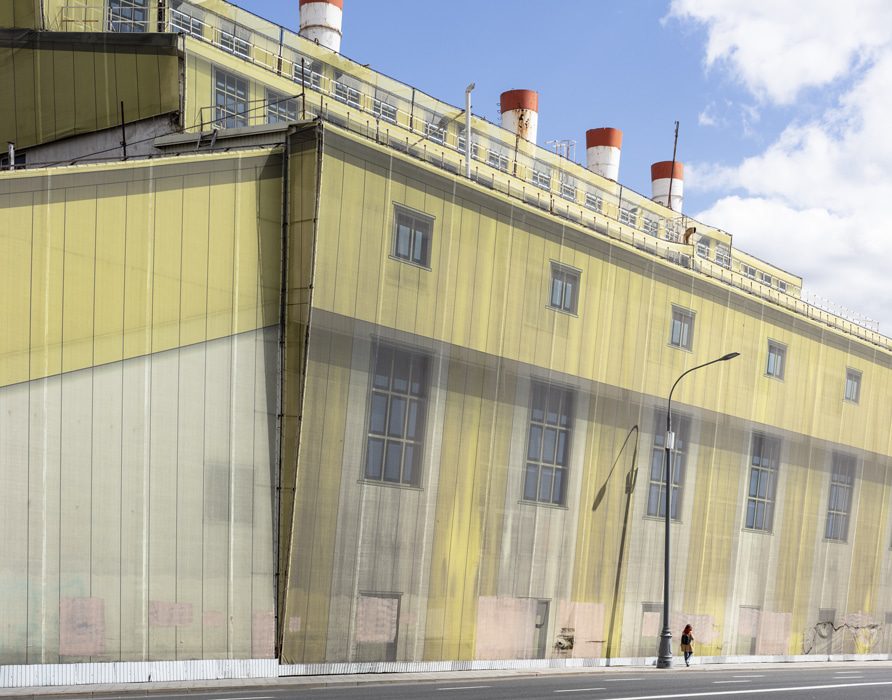 Images are set within each other; in Art Poster (Warhol), Los Angeles, (2022) a banner of the artist appears next to red and blue boxes of Heinz ketchup and Kellogg's cereal. Branded identities and recognisable portraits fuse together in an interplay of commercialism and consumption. This doubling is sustained for the rest of the book, where appearances are not what they seem, but instead a façade for a hidden, undiscerned thing. On a red brick wall in Toronto, the word "IMPERIAL" is painted in bright white serif font, whilst in a photograph of Brussels, "shame" is graffitied underneath a stone statue of a naval officer. Readers are reminded of the processes of occupation and colonisation, the means of triangular trade and slavery by which affluent cities were built and continue to profit from today.
In The Fiery Pool, an essay by David Campany that sits at the heart of the monograph, fading imperial powers "mobilize [their] heritage as if it were a contemporary cultural asset." This is demonstrated in Fighter Planes Reflection, London (2022) in which vintage aircraft cover the neoclassical front of a stone building. The photo gestures to the Royal Air Force's success in the Battle of Britain, but even this is tinged with an awkward sense of nostalgia. Fiery jets appear out of place, fulfilling an "idealized history full of pageant", as they intersect shadows of city-dwellers.
Samoylova's final section examines the role of women in cities. The artist expands upon Leslie Kern's Feminist City (2020), recognising how metropolises are not designed for women. Issues of harassment, access to transport, toilet and sanitation facilities are reflected in "urban enviornments [that] compound gender inequalities" (Dezeen, Sara Candiracci, March 2023). This idea is extended by Bloomberg CityLab (2021)who report in Frankfurt that narrow crossings disadvantage pedestrians with strollers, whilst in Oslo, docking stations for bikes were initially only placed in areas with male-dominated offices. Kern explains, "there is a predominantly male perspective on how the city works or should work, and a bias toward seeing men's needs, routines, bodies and experiences as the standard or universal norm." As a result, "women's lives and experiences have been an afterthought at best." Yet cities provide the greatest opportunity for non-traditional gender specific roles – where it is estimated by the World Economic Forum that seven out of every 10 people will live in urban environments by 2050.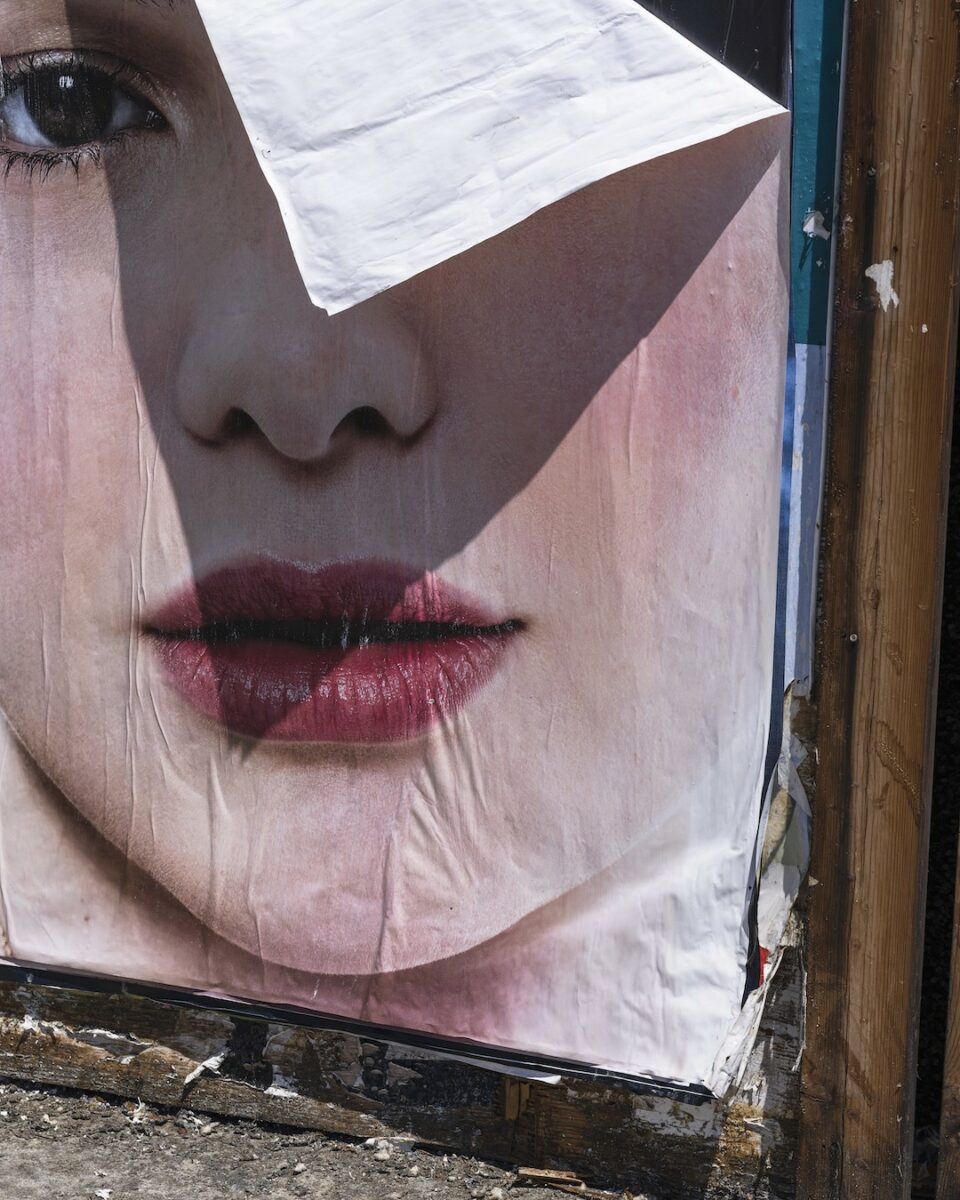 In Samoylova's photographs, the female figure is made the centre of consumerism. In Eye on Digital Screen, New York (2021), a side-angle shot of a building mid-construction zooms in on a woman's face. Eyeshadow pigment is cast alongside the black tint of her eyelashes, imbuing the scene with a pink hue. A warm glow resonates over the scene, creating a palette that moves between decadence and apocalypse. In Peeling Poster, Los Angeles (2022), the tip of a wrinkled banner peels forward, obscuring half of the model's rouged face. Large-scale photographs surpass architecture, as pictures of luxury and desire accumulate. The sense is not of total unity, but of fragments, as body parts are magnified and broken up. In these images, Siegfraud Kracauer's essay Photography (1927) is conjured, where "each [individual] has a story yet the story is not given."
In an interview with Aesthetica in 2022, Samoylova explains, "I'm interested in the psychological effects of living everyday life knowing that these profound changes are coming. So rather than the usual images of disaster or catastrophe, I am using my camera to pay attention to everyday signs and symbols of larger changes." Image Cities responds to the waves of increased consumerism and gentrification across capitals. In the book and accompanying exhibition at KBr Fundación MAPFRE, Barcelona, Samoylova constructs a dynamic and moving kaleidoscope of sights. Adverts and commercials mingle and overlap as they reach the point of rupture and disorientation. In these worlds thick with signs and symbols, the artist prompts viewers to venture into the urban world, to look more closely at their layered surroundings.
---
Image Cities
Centro de Fotografía KBr – Fundación MAPFRE, Barcelona | Until 14 May
Sala Recoletos – Fundación MAPFRE, Madrid | 1 June – 27 August
Book published by Hatje Cantz
Words: Chloe Elliott
---
Credits:
1. Anastasia Samoylova, Arbat Street, Moscow, 2021. Courtesy of the artist. © Anastasia Samoylova
2. Anastasia Samoylova, Pink Coat, Moscow, 2021. Courtesy of the artist. © Anastasia Samoylova
3. Anastasia Samoylova, Industrial Building under Printed Cover, Moscow, 2021. Courtesy of the artist. © Anastasia Samoylova
4.Anastasia Samoylova, Peeling Poster, Los Angeles, 2022. Courtesy of the artist. © Anastasia Samoylova