Housing estates, by definition, are residences built together as a single development. Often called housing complexes, communities or subdivisions, these sites can consist of apartments; detached and semi-detached houses; flats and tower blocks. Following WWII, many countries faced a need for a large number of affordable homes. This demand inspired architects to develop new ideas and practical solutions, and resulted in a growing number of residential areas in the second half of the 20th century. Some of these buildings have since become iconic: Moshe Safdie's Habitat 67 (1967) in Montreal; Ivor Smith and Jack Lynn's Park Hill Flats in Sheffield (1961); Neave Brown's Alexandra Road Estate (1961) and Kate Macintosh's Dawson's Heights (1972) in London are prime examples. Here, we list five more sites to know.
Weissenhof Estate, Stuttgart Germany | Deutscher Werkbund, 1927 
The Deutscher Werkbund, which means "German Association of Craftsmen", was a collective of architects, designers and industrialists established in 1907 to drive partnerships between product manufacturers and creative professionals. Besides influencing modernist architecture and industrial design, its members later formed the Bauhaus school. In 1927, the Weissenhof Estate was built for an exhibition of the Deutscher Werkbund to exemplify affordable and good-quality housing methods – the main ambition of modernism. Ludwig Mies van der Rohe (1886-1969) oversaw the participating 17 architects, including Bruno Taut, Hans Poelzig, Peter Behrens and Walter Gropius. Originally, the scheme comprised 30 buildings, out of which only 10 survived WWII and the post-war period. The completed apartments and houses all display a uniform architectural language: flat roofs, open plan interiors, simple façades and window bands. Though modernist architecture is often described as monochrome, only a few of these homes were entirely white in colour. Others were finished in blue, green, light pink and orange.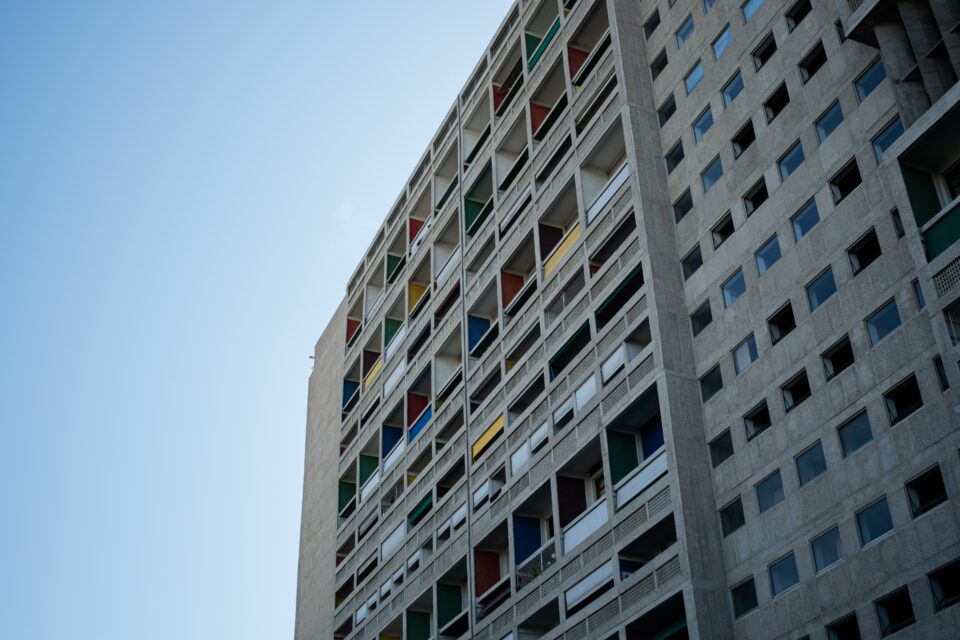 Unité d'Habitation, Marseille, France | Le Corbusier, 1952
Unité d'Habitation is a modernist residential block designed by Le Corbusier (1887-1965) in collaboration with painter-architect Nadir Alfonso (1920-2013). It was created to offer residences to people in Marseille who had lost their homes during the war, whilst offering a blueprint for affordable modernist social housing. Unité d'Habitation, meaning "housing unit" in French, was Le Corbusier's first large-scale proposal, providing homes for approximately 1,600 people and consisting of 337 flats spread across 12 storeys. For maximum comfort, Le Corbusier implemented a hotel, restaurant, rooftop gallery, several shops and a school in the complex. The building was constructed from cast concrete and is considered an icon of Brutalist architectural style and philosophy. The block incorporates long glass-panelled corridors which are often addressed as "streets of the sky." In 2016, Unité d'Habitation was placed on the UNESCO World Heritage List due to its important place in the history of modernist architecture.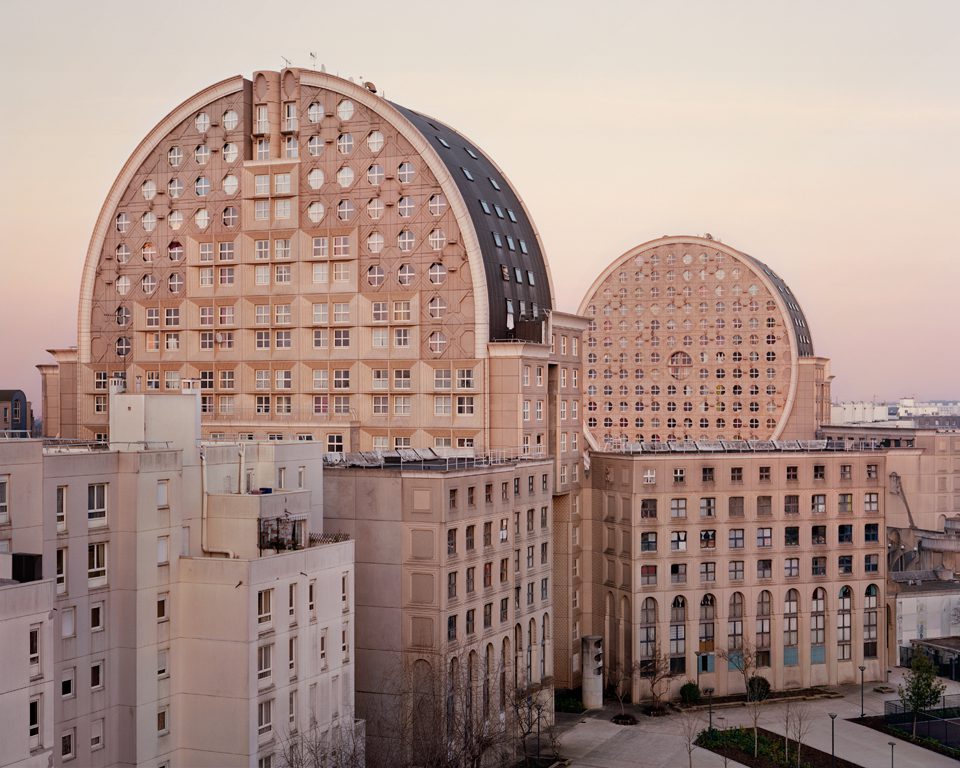 Grand Ensembles, Paris, France | 1960s-1980s 
The Grand Ensembles were built between 1960 and 1980 in the Paris suburbs. The series of developments – which spans all corners of the city – consists of Pierre Jouve's Vision 80 (1973); Emile Aillaud's Tours Aillaud (1976); Les Damiers (1976) by architects Jacques Binoux Michel Folliasson, Abro and Henri Kandjia; and Ricardo Bofill's Les Arcades du Lac (1981). In Eastern Paris, we find Martin Van Trek's Orgues de Flandre (1980); Jean Renaudie and Renée Gailhoustet's Cité du Parc + Site Maurice Thorez (1975); and Bofill's Espaces D'Abraxas (1983). These impressive modern and postmodern sites were part of an experimental urbanisation scheme to provide viable living conditions to inhabitants amidst post-war housing crises. Made mostly of cast concrete, bricks and prefabricated materials, the buildings have a futuristic, utopian – even dystopian – look. The sites have since appeared in films such as Terry Gilliam's Brazil (1985) and Francis Lawrence's The Hunger Games: Mockingjay Part 2 (2015), as well as Laurent Kronental's (b. 1987) photography series Souvenir d'un Futur (2014).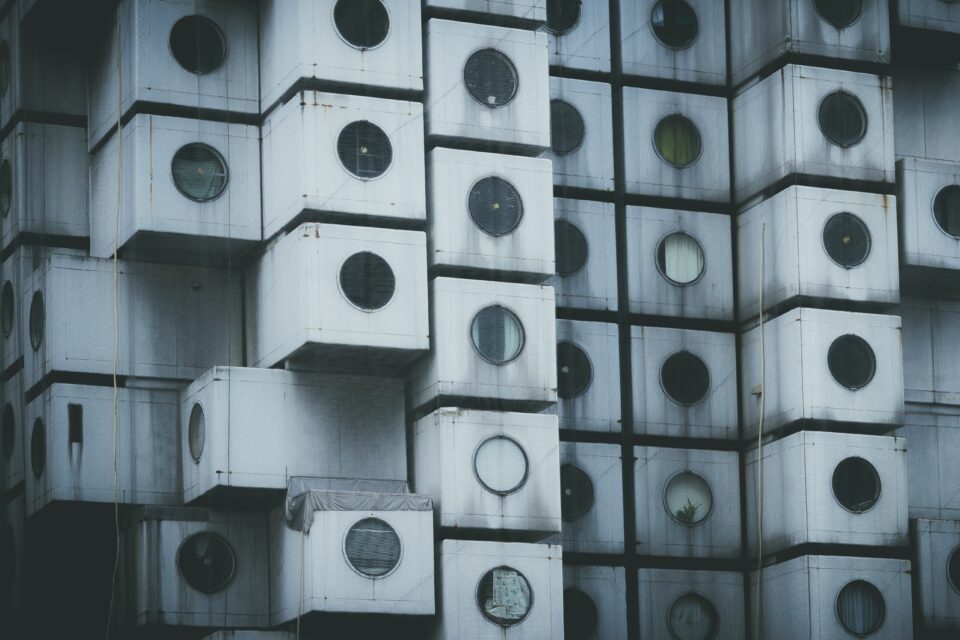 Nakagin Capsule Tower, Tokyo Japan | 1972, Kisho Kurokawa
Kisho Kurokawa's (1937-2007) Nakagin Capsule Tower was completed in 1976 as prime example of the Japanese architectural movement Metabolism – a post-war style of modular "biometric megastructures" that could be renewed over time. The building was constructed with the belief that its capsules would be replaced after a few years of use, keeping the structure in good condition. For several decades, however, none of the cubicles were replaced. The site fell into disrepair and was eventually disassembled in 2022.  At its peak, it comprised 140 container-like apartment blocks, each bolted to a multi-storey concrete block and identified by the iconic circular windows placed over each bed. Inside, utilities such as bathroom units, cabinets, a refrigerator,  kitchen stove and television were fitted. Due to its significance, the building was virtually archived with 3D laser scanning. Several capsules have now been given to museums.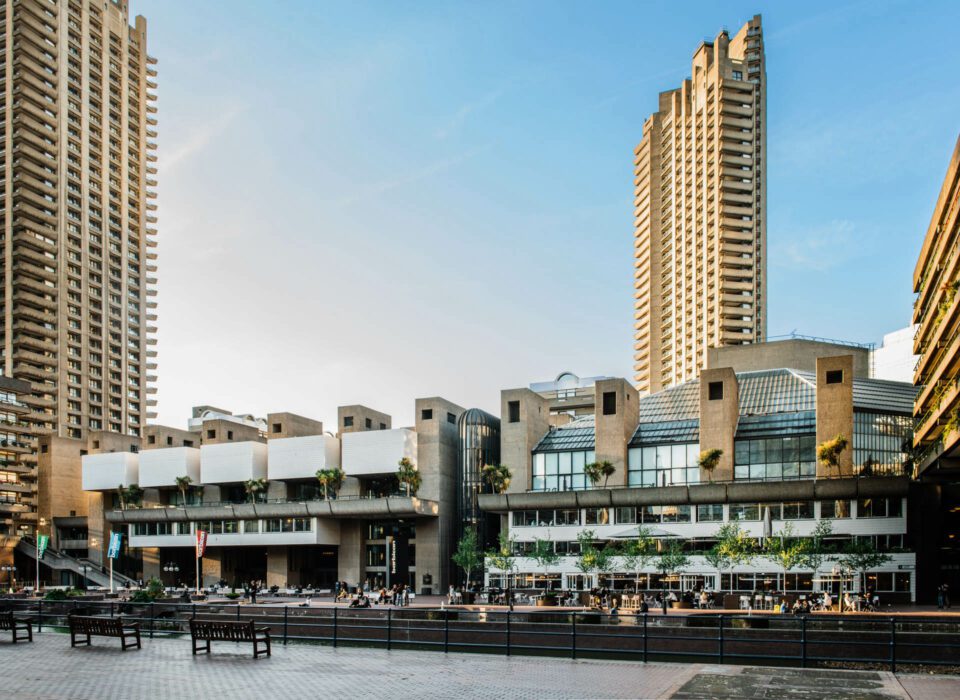 Barbican Estate, London, UK | Chamberlin, Powell and Bon, 1976
The Barbican Estate is one of London's most iconic buildings, consisting of flats, maisonettes and houses built on a bomb-damaged area affected by the Blitz. At the time of completion it was Europe's largest reconstruction development, exemplifying how quickly the city could recover from the devastation of WWII. Today, the site is well-known for its divisive Brutalist architectural style; most of its components are made of monochrome brick and cast concrete. In 2014, it topped The Telegraph's list of London's "ugliest buildings." Yet the estate says its design "draws on a rich palette of references, from ancient Roman fortresses and French Modernism to Mediterranean holidays and Scandinavian design." The site uses the concept of "streets of the sky" – a planning solution devised by architects Alison and Peter Smithson – which features walkways located three stories above ground. It is home to 4,000 residents who can access nearby facilities such as an artificial lake, the Barbican Arts Centre, the Museum of London, a church, two schools and a library. In 2001, it received Grade II Listed status.
---
Words: Fruzsina Vida
---
Image credits:
1. Photo: Courtesy of Ricardo Bofill Taller de Arquitectura, Ricardo Bofill, Gestalten, 2019
2. Houses designed by Peter Behrens and Mart Stam © Weissenhofmuseum_Brigida Gonzáles
3. Le Corbusier, Unité d'Habitation, 1952 © Grischa
4. Le Pavé Neuf, Noisy-le-Grand, 2015 Architect – Manuel Núñez Yanowsky © Laurent Kronental
5. Nakagin Capsule Tower, Tokyo Japan © Raphael Koh
6. Restaurants on Laeside Terrace, Barbican Centre © Max Colson