Frieze London returns for its 20th anniversary edition with three concurrent fairs: Frieze London, Frieze Masters and Frieze Sculpture. The fair runs 11-15 October in The Regent's Park, and unites leading galleries from 46 countries. Here, Aesthetica selects ten exhibitions to see. These works span performance, film and public art, offering new perspectives on myriad topics from desire and fantasy to postcolonial narratives and how to reshape the canon. They engage with today's most pressing topics.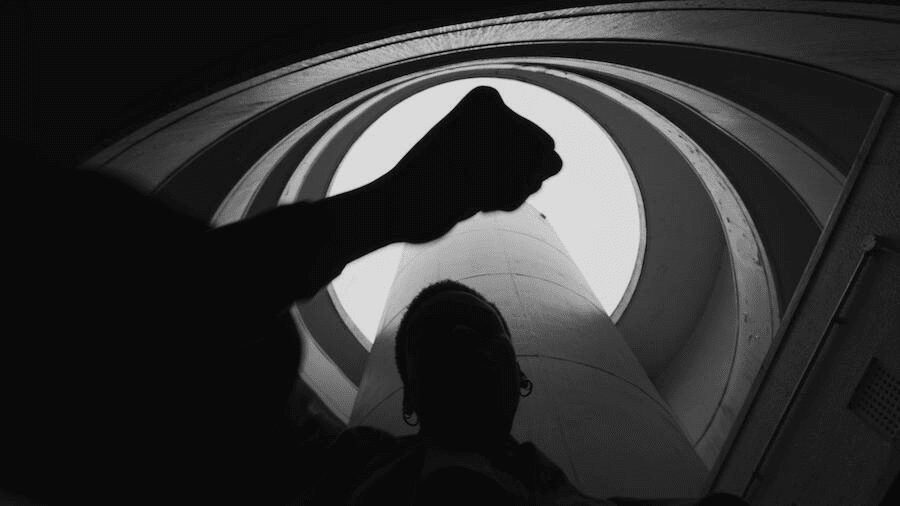 Sierra Leone-born, London-based Julianknxx currently has work on view at Barbican's The Curve. The exhibition Chorus in Rememory of Flight documents his travels to port cities, comprising films that reflect on choral song as a means of resistance. Edel Assanti introduces the artist to Frieze London for the first time with a video presentation that draws on West African oral traditions. It challenges fixed ideas of identity, culture and memory, whilst unravelling linear Western historical and socio-political narratives.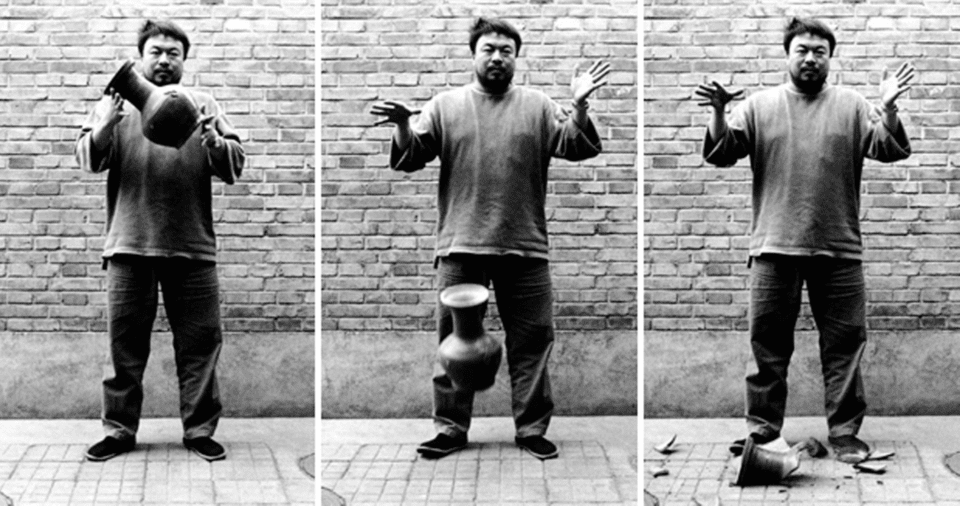 Galleria Continua's presentation of Ai Weiwei's works focuses on the years 1983 to 1999, including the famous Dropping a Han Dynasty Urn (1995). The piece incorporates what Ai calls a "cultural readymade," a 2,000-year-old ceremonial urn that smashes to the floor at the artist's feet. The Han dynasty (206 BCE–220 CE) is considered a defining period in the history of Chinese civilisation – where to deliberately break an historic sculpture "is equivalent to tossing away an entire inheritance of cultural meaning about China." Ai's disposal of this antique object shows his dedication to questioning narratives and value systems.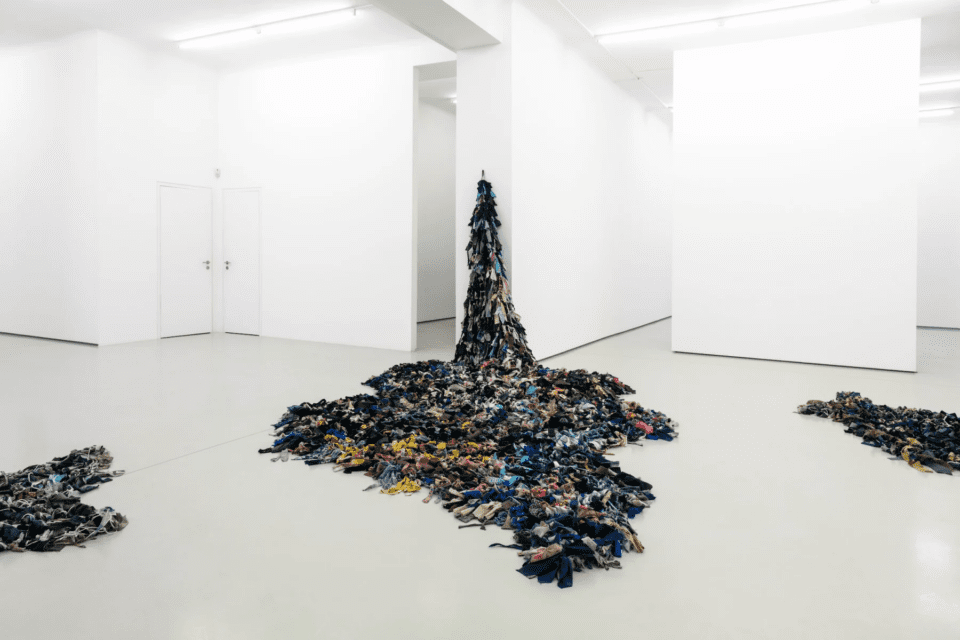 Fabian Knecht | alexander levy
An integral part of Frieze London's 20th anniversary celebrations is a programme known as Artist-to-Artist. Eight acclaimed creatives propose a solo exhibition of work by an emerging name. Icelandic Danish sculpture and installation artist Olafur Eliasson proposes German artist Fabian Knecht. On show is Laughing is Suspicious, a poignant installation that consists of clothing fragments originally used as camouflage to protect Russian targets in Ukraine. The piece embodies the exchange between Knecht and his collaborators, members of the Ukrainian resistance. Eliasson says, "Fabian's works are executed with a conceptual clarity that simultaneously has the poetic weight of a feather and is as heavy as the earth."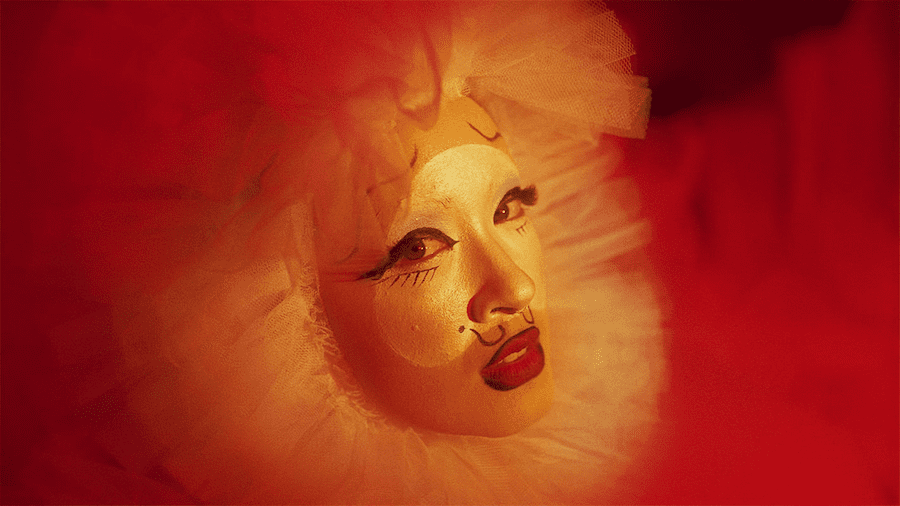 Sin Wai Kin | Blindspot Gallery
In 2022, Sin Wai Kin was shortlisted for the Turner Prize. The artist uses speculative fiction within performance, moving image, writing and print to interrupt normative processes of desire, identification and objectification. Wai Kin, represented by Blindspot, uses drag as a practice of "purposeful embodiment" to question idealistic imagery across gender, race and iconography. They draw from close personal encounters of looking and wanting, presenting heavily constructed – and often unsettling – fantasies.
The ICA Artist's Film Programme debuts this year, focusing on new voices. The featured films were selected from an open call to all participating galleries in Frieze London and will be shown at the ICA throughout Frieze Week. The programme will display artists such as Sarah Meyohas, previously featured in Aesthetica here. Light bounces between infinite tunnels and mirrors, engaging in never-ending images that reflect the automated systems that run the world. Meyohas joins other artists such as Elisa Giardina Papa, Noemie Goudal, Kiluanji Kia Henda, donna Kukama, Hannah Quinlan & Rosie Hastings, Sin Wai Kin, Jordan Strafer and Alberta Whittle, juried by leading curators who specialise in the moving image field.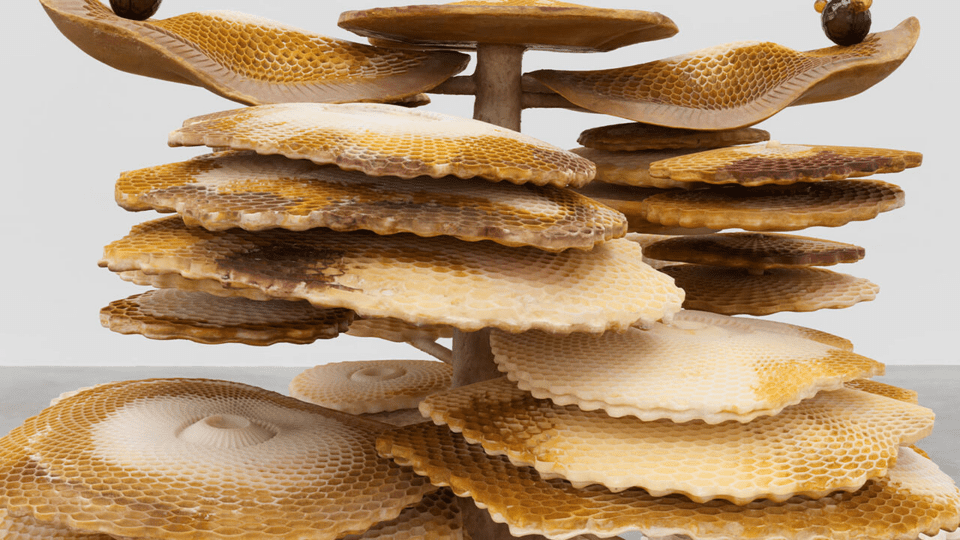 This solo installation by French, London-based artist Marguerite Humeau runs alongside her ambitious land art project, Orisons (2023). The 160-acre earthwork, produced by Black Cube Nomadic Art Museum, pays homage to Colorado's San Luis Valley, the world's largest alpine valley. Through kinetic and interactive sculptures reminiscent of Nancy Holt, Humeau sensitively incorporates elements of natural environments into her work. The artist borrows shapes from animal, insect, fungi and plant forms; the resulting pieces appear on the brink of moving, melting or changing states altogether. Recently, the artist exhibited another series of supernatural, biomorphic sculptures at the 2022 Venice Biennale.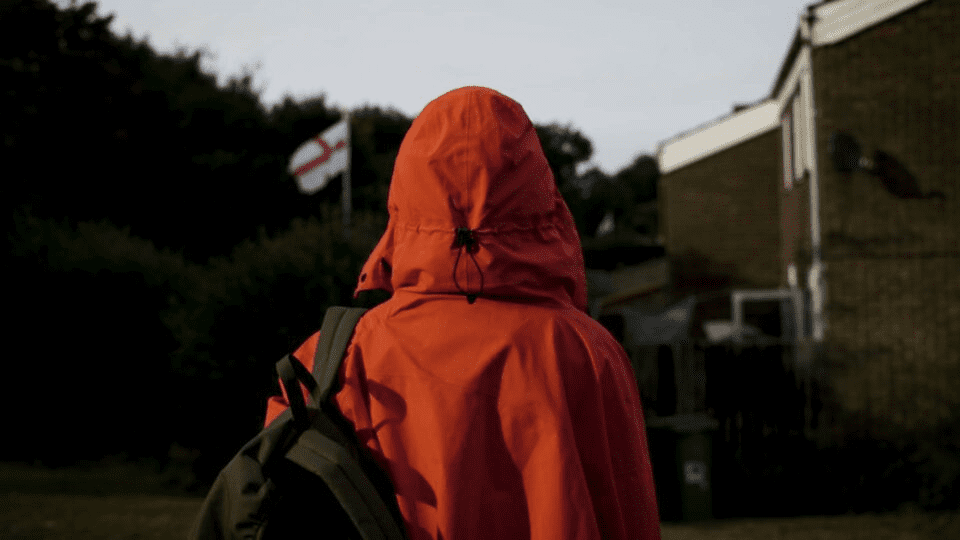 Larry Achiampong | Copperfield
Larry Achiampong works with aural and visual archives, live performance and sound to explore ideas surrounding class, cross-cultural and post-digital identity. In 2023 he won the Aesthetica Art Prize with the film Wayfinder, following a young Black woman on an intrepid journey across England. Copperfield presents a booth of paintings by Achiampong that interrogates whitewashing and racial bias in the computer game programming industry. It follows on from the artist's piece Relic Traveller, now on display at Baltic Centre, Gateshead. The multidisciplinary work centres around a fictional pan-African alliance of travellers, focusing on agency in a post-apocalyptic terrain wreaked by capitalism and colonialism.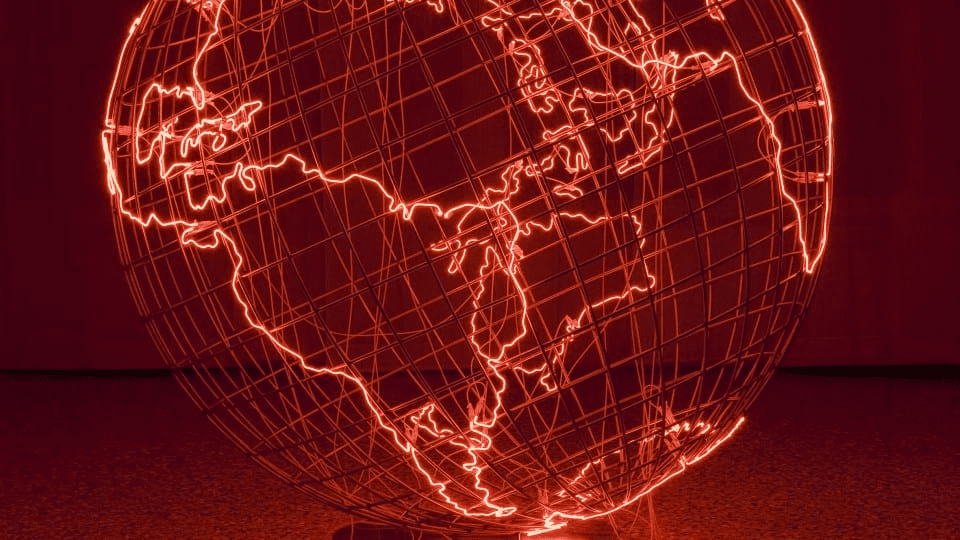 White Cube unites several decades of work by Mona Hatoum, ranging from rarely exhibited reference material to sculptures that manifest elements including the web and the body. The works in this presentation include iconic sculptures such as the spidery bed frame in Webbed (2002) and the coiled digestive system of Inside Out (2016). Hatoum uses contrasting materials such as glass, hair, steel and bronze, resulting in pieces that are at once both seductive and threatening. They address themes of containment and displacement, challenging and disturbing our assumptions about the world around us.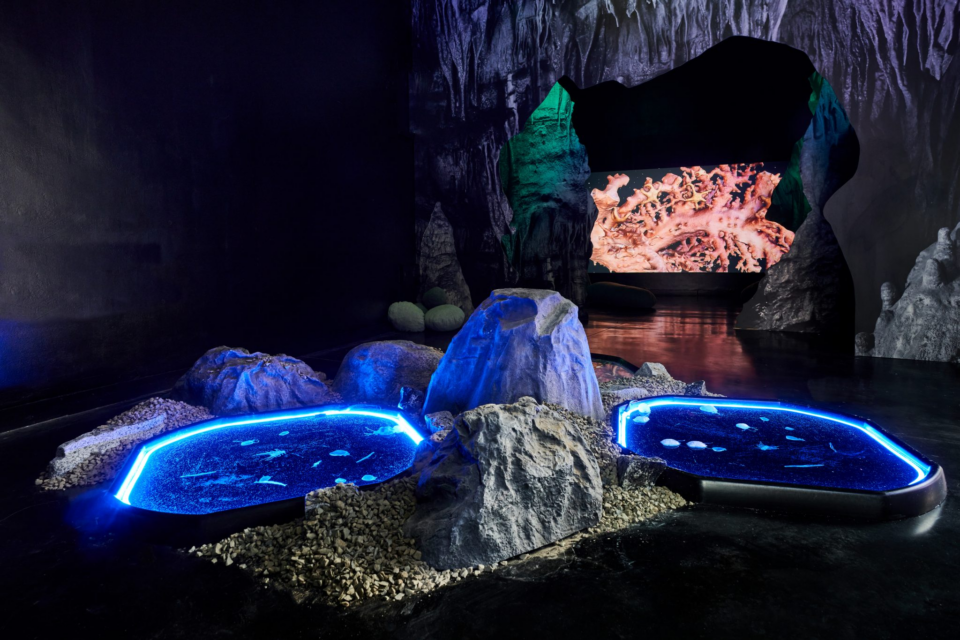 Nicoletti exhibits new works by Josèfa Ntjam, an artist, performer and writer whose practice combines sculpture, photography, film and sound. Their work includes photomontages that conflate factual and fictional narratives of the Middle Passage – the forced voyage across the Atlantic Ocean that transported enslaved people from West Africa to the West Indies. It resulted in over two million African deaths. Deep Sea Teller features five photomontages that conflate factual and fictional narratives of the trip. African deities, portraits of political dissidents and microscopic details of aquatic plants collide and bleed together. It will be supplemented by a live performance by the artist at Forma Arts Media during Frieze.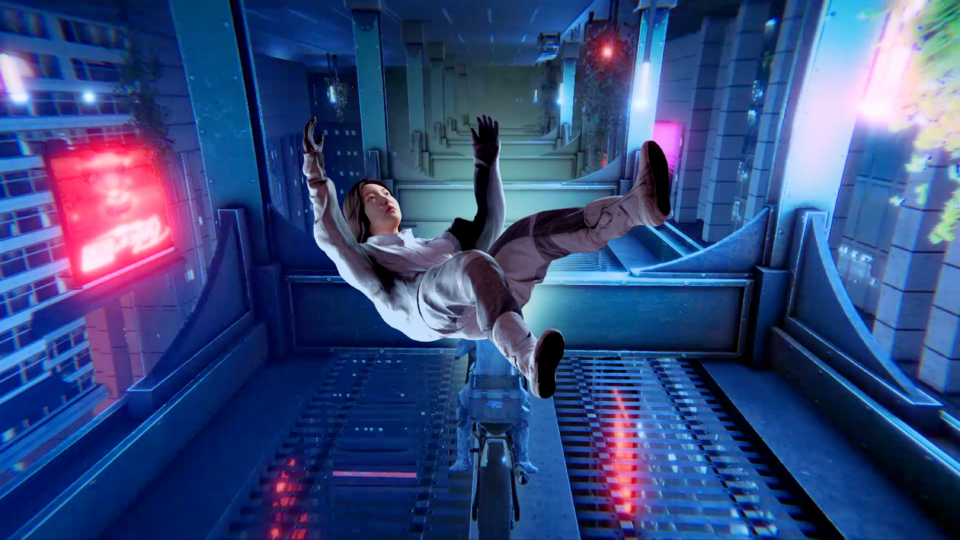 Ayoung Kim's video work holds up a mirror to the gig economy and explores the potential of virtual memory and reality. Kim has been nominated by celebrated Korean artist Haegue Yang for her art that spans video, sound, performance, fiction and text. She reconstructs complex narratives grounded in research on history and contemporary issues. In particular, the artist focuses on Korea's contemporary history and geopolitics. She creates multidimensional, fluid narratives through speculative storytelling, world-building and myth-making. At Frieze, her major video work Delivery Dancer's Sphere is a "pandemic fiction" rooted in personal experience whilst living in South Korea over the past few years.
---
Frieze London | frieze.com
11-15 October
---
Image Credits:

Elisa Giardina Papa, 'U Scantu': A Disorderly Tale, 2022, 12 min. 12 sec. Image: Courtesy the artist and Galerie Tanja Wagner, Berlin
Sin Wai Kin, The Story Cycle, (film still), 2022, Single-channel video, 17'07". Commissioned by Somerset House, supported by the DCMS and Arts Council through the Culture Recovery Fund. Image courtesy of artist and Blindspot Gallery.
Julianknxx, Black Room, 2023, single channel video, 8 mins 39 secs, edition of 5 plus 5 artist's proofs. Copyright the artist. Courtesy Edel Assanti
Ai Weiwei, Dropping a Han Dynasty Urn, 1995. Three gelatin silver prints, 148 x 121 cm each. Courtesy Ai Weiwei Studio © Ai Weiwei
Fabian Knecht, Lachen ist verdächtig (Laughing is suspicious), 2022, courtesy of alexander levy
Sarah Meyohas, Sun Speculation (2015). Courtesy of the artist and Marianne Boesky Gallery, New York and Aspen.
Marguerite Humeau, The Holder of Wasp Venom (detail), 2023, natural beeswax, micro-crystalline wax, pigments, 150-year-old walnut (cause of death: unknown), handblown glass and wasp venom 1.9 x 3.2 x 2.9 m. Courtesy: © the artist and White Cube; photograph: Ollie Hammick / White Cube.
Larry Achiampong, Still from Wayfinder, (2022). Single-channel 4K colour film with stereo sound. 83 min. Commissioned by Turner Contemporary with MK Gallery and Baltic Centre for Contemporary Art. © Larry Achiampong. All rights reserved, DACS/Artimage 2022. Courtesy the artist and Copperfield, London
Mona Hatoum, Hot Spot III (2009). Photo: Agostino Osio, Courtesy Fondazione Querini Stampalia, Venice.
Josèfa Ntjam, Solo Presentation at Fact, Liverpool (2022).
Ayoung Kim, Delivery Dancer's Sphere, 2022, Single channel video. Courtesy of Haegue Yang.
---