"As a woman with Pakistani origins, I feel that there are so many things that shape our lives as women, there are so many different influences. Photography really helps me to discover and understand these complexities and also move forward." Maryam Wahid (b. 1995) examines topics of memory, displacement and belonging, drawing attention to overlooked narratives and experiences in Britain through an exploration of her own heritage. In 2021, she won British Journal of Photography's Portrait of Britain with Halima Jabeen in her front garden, Ashton-under-Lyne, Greater Manchester. The image is taken from The Tape Letters, a project capturing the stories of people who used cassettes to send messages to their loved ones in Pakistan in the late 1970s and 1980s. Now, the artist brings her latest series, Zaibunnisa, to Impressions Gallery, Bradford.
The exhibition, curated by Raquel Villar-Pérez, records the photographer's first trip to Lahore in 2019. This journey was shared with her mother, who left her childhood home in 1982, moving to Britain for an arranged marriage. Portraits from the trip present a tapestry of interwoven stories that span generations, countries and memories. A sense of tenderness and longing emerges as living rooms, courtyards and motorcycle rides provide a backdrop for Wahid's reimagining of a parallel life lived in Lahore. Amongst the framed photographs in the show, colourful flower garlands hang from the ceiling, a site-specific feature that references the jasmine worn by the artist's grandmother. Here, Wahid speaks to Aesthetica about the importance of womanhood, home and stories in her deeply personal collection.
A: Your identity as a British Pakistani Muslim woman is key to your artistic practice, with many works rooted in the experiences of South Asian migrants living in the UK. What makes photography such an effective medium for communicating these stories? Why is it important to bring these conversations to the fore right now?
MW: Although I was born and raised in England to parents who migrated from Pakistan, I visited my motherland for the first time in 2019 when I was 24 years old. Before then, the only things that had connected me to my Pakistani heritage were stories, memories and family photographs passed down through the generations. It was beyond special to discover these pictures and to experience the power of holding a portrait of my grandmother, whom I never met. I felt like I belonged somewhere. I could resonate with her face; it was captured before I was even born, but somehow it told my about myself. That feeling is so empowering and has given me confidence and hope in life. I feel photography has the power to do this for individuals – and communities – who might feel the same way.
A: Photo albums and family history are extremely important in your work. Archives Locating Home (2018), for example, layers family snaps against patterned wallpaper, at times with eyes blocked out. Why did you choose to edit and re-publish the images in this way? What is it about archival pictures that continues to inspire?
MW: I believe that photography is illuminating. It is expressive and can reflect many complex stories and feelings. When I start a project, I often use archive imagery to understand the story that I'm about to tell. If I feel that I need to obscure some parts of the narrative to create ambiguity, I will do so through signs, symbols or manipulation – like the covered eyes, for example. In Archives Locating Home, I used images taken from a family album to deconstruct my own British and Pakistani heritage. By adding ephemera such as the wallpaper layered behind these photographs, I'm embedding my mother's history – of pre- and post- migration to Britain – into the work. These include details from her marriage, children and lifestyle. I use textures and objects – such as frames and mirrors – to evoke feelings of nostalgia, and to foster greater understanding of the history of South Asians in Britain.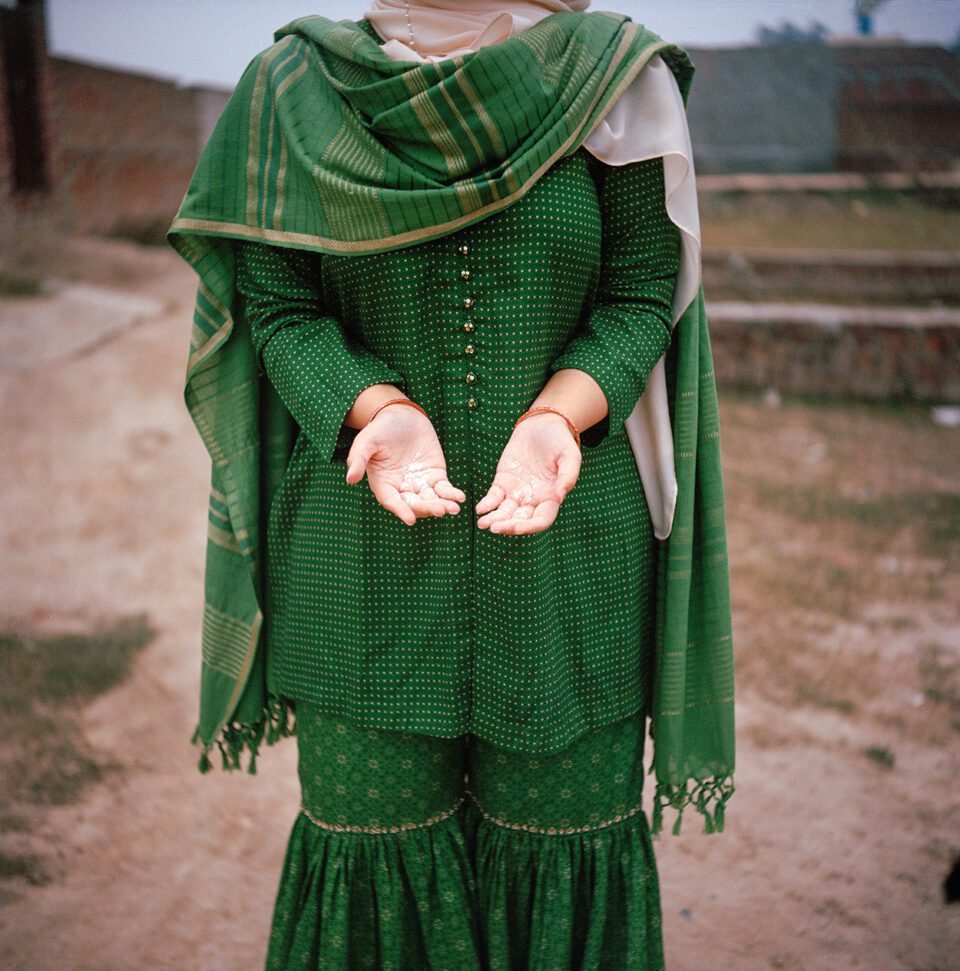 A: In 2019, you travelled to Lahore with your mother, who emigrated from Pakistan to the UK in 1982 for an arranged marriage. It was your first time in the city, and her first visit in nearly 20 years. The series Zaibunnisa documents this shared experience; it will be showing at Format Festival and Impressions Gallery. Can you tell us about this trip, and the images made whilst there?
MW: It all started with my family album. I would spend time pondering on photographs of my grandparents who lived and died in Pakistan. My mum grew up there and moved to Birmingham at the age of 18 in 1982 to marry my father, who had migrated to the UK when he was six years old. I was born over a decade later, in 1995, and grew up in Birmingham. I always felt like it was my home, but a part of me also felt home was where my ancestors were. There was so much depth to my history to be uncovered: who I am and where my family had come from. With that feeling in my heart, I embarked on a journey in 2019 to visit Lahore, my motherland, for the very first time. Accompanying me was my mother, whose family and friends live in Pakistan and who, I believe, are my direct connection to the country. In Zaibunnisa, I explore notions of home and belonging through my family photo album and the pictures I took on my trip. This body of work is multi-layered, drawing on the conversations I had with my family and friends in Pakistan; the effects of having grandparents living in another country; and imagining what my alternate life could have looked like if my family didn't move to England. Not only did this experience create Zaibunnisa, but it has played a pivotal part in my life story.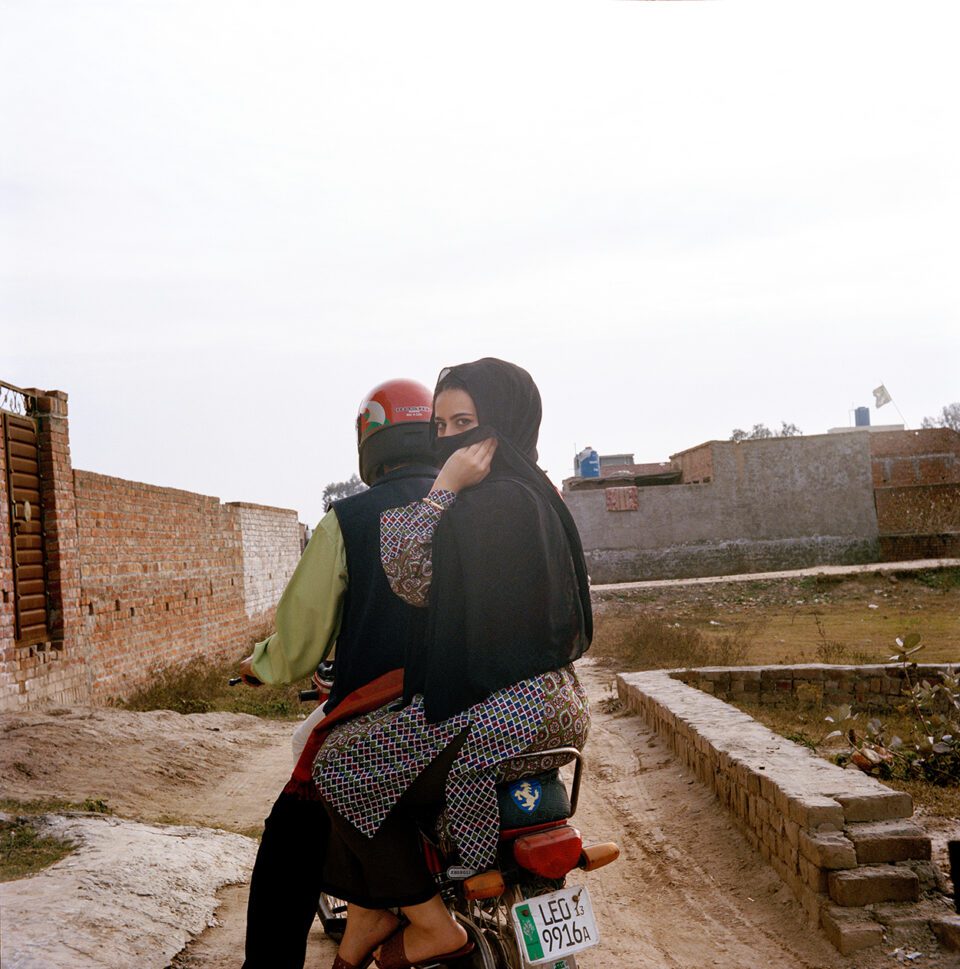 A: Zaibunnisa – "the beauty of women" – refers to your mother's birth name. Womanhood is a recurring theme in your projects. Was there a specific moment when you decided to study women's experiences through the lens?
MW: As a woman, I think there are many moments when one feels the need to reclaim their own identity. I grew up around inspiring female role models but felt that the mass media didn't empower women – particularly not those from the South Asian diaspora. That's why I needed to start my explorations of womanhood with the woman that shaped me: my mother. My self-portrait collection Women from the Pakistani Diaspora is one such example. It explores my mother's identity as an 18-year-old, showcasing outfits she wore over 35 years ago. To make this body of work, I visited places around Birmingham that were significant to her life as a young migrant woman in Britain. Women from the Pakistani diaspora who relocated to the UK were very often the hardworking wives, daughters, mothers and grandmothers of individuals who had migrated from cities, towns and small villages in Pakistan. These individuals came to the UK to work in key industrial sectors and set up businesses that contributed towards the healthy economy of their new-found nation. My series seeks to recognise the existence and achievements of these people, and their role as the backbone of a community that transformed inner-city Britain. Additionally, in 2019, I was selected to carry out research and development for Transforming Narratives: a project which aimed to establish Birmingham as a global centre for contemporary arts from Pakistan and Bangladesh. The resulting series Ek Aurat Ka Safar – meaning A Woman's Journey in Urdu – was also inspired by my upbringing. I interviewed women of all ages, ethnic backgrounds, religions and social classes in Pakistan to collect an accurate representation of life there today.
A: Are there any photographers who you are feeling particularly inspired by right now, or who have been particularly influential over the years? And what do you hope your viewers take away from your artwork?
MW: Inspiration for me can come from many places – from conversations, films, creative direction, painting, reading books. To name some of the photographers I hugely admire and respect: Shirin Neshat, Shadi Ghadirian, Amak Mahmoodian and Hassan Hajjaj. Through my work, I want viewers to contemplate on the importance of everyday things, and the meaning of those who shape our lives and existence. This includes the families that we are born into, the loved ones we lose along the way, and the stories that are left untold.
---
Maryam Wahid: Zaibunnisa
Impressions Gallery | Until 1 July
Words: Chloe Elliott
Interviewer: Eleanor Sutherland
---
Image Credits:
Maryam Wahid, Zaibunnisa, A Midlands Arts Centre Touring Exhibition. Courtesy the artist and Midlands Arts Centre © Maryam Wahid.