Throughout the pandemic, Cornelia Parker (b. 1956) has been working on a new body of work. Titled called Through a Glass Darkly, it draws on early photographic techniques – resulting in ghostly, abstracted compositions. The artist transforms domestic objects, dead flowers and glassware into shadows. We spoke to Alan Cristea, Director of Cristea Roberts Gallery, about the ethereal series.
A: Parker uses the Photogravure process, in particular. Can you expand on how this particular kind of photo-mechanical printing works, and why the artist has chosen this approach?
AC: When Parker began focusing on glass objects in her work, she thought about William Fox Talbot, the 19th century photography pioneer who made some of the world's first photographic images. Inspired by his photograms, Parker uses the photogravure process. She places ordinary objects and flowers directly onto a chemically coated plate, exposing them to ultra-violet light, so that they act as a photographic positive. Parker is interested in the physicality of the actual plate itself. In her new body of work the ultraviolet light is cast, for varying lengths of time, at oblique angles over and through the objects. The objects blot out or refract light, so that each object becomes a literal shadow of its former self.
A: How does the artist use this form to create something much more elusive and ephemeral?
AC: Parker is interested in recording something durational, compressing time. The objects she depicts in Through A Glass Darkly are transformed from one state to another through the process of printmaking. This process allows her to chronicle a moment in transition where the prints become a physical trace. Through these actions, she both physically alters the object and becomes an active participant in the development of its story.
A: The images include small domestic objects, such as salt cellars, sugar bowls and medicine bottles. Why did Parker choose these kinds of objects? Is it linked to maintaining productivity during lockdown, or a different approach entirely?
AC: Parker has always used found objects in her work, taking the recognisable, very familiar everyday object and pushing it to a point of abstraction. The found object was the starting point for the printing process. This includes objects that have been lying around her studio. The glassware includes salt cellars, sugar bowls, medicine bottles, carafes and wine glasses. These objects have come from antique markets such as those on Brick Lane or Columbia Road in London. The flowers, which include thistles, gerbera and forget-me-nots, were taken from her garden or hedgerows on the roadside. Parker is interested in how the printing process removes the colour from the flowers turning them black. For these works she was also thinking about still life painters such as Morandi or the flowers in Dutch 17th century still lifes.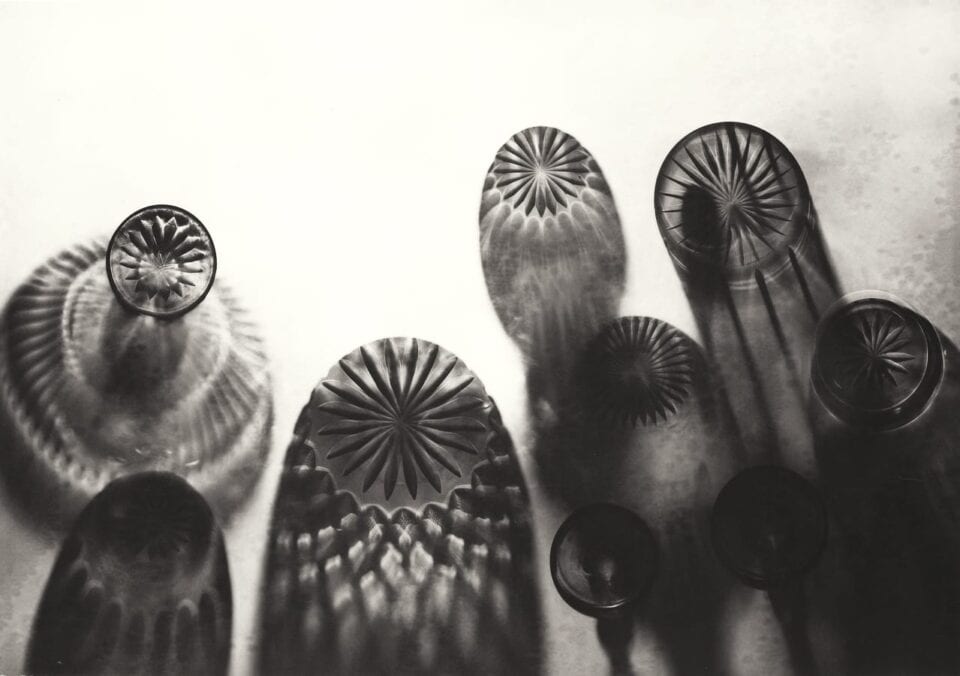 A: The images use glass objects to cast shadows and create oblique angles across the composition. How do you feel these works carry through with Parker's wider enquiry into the fragility of objects, pushing the familiar into abstraction, and playing with ephemerality?
AC: The way the image is captured on the plate produces a reflection in focus at the point of contact. This slow, contemplative method of printing creates an effect on some of the monochrome prints that is almost painterly, as items blur in and out of focus. The objects struggle to shed their shadows; she presents us with a world of domestic objects and flora in the first stages of emergence from a ghostly past.
A: What do these images achieve that installations can't?
AC: Parker's prints should be seen, very much, in relation to her previous work. The themes she explores in Through a Glass Darkly are a nod to previous works such as Cold Dark Matter: An Exploded View, 1991, which consists of the restored contents of a garden shed exploded by the British Army at Parker's request. The surviving pieces of the shed were suspended from a gallery ceiling as if held mid-explosion. Parker lit the piece with a single lightbulb at the centre of work, so that the fragments cast dramatic shadows on the gallery's walls. Ideas such as positive versus negative, and the compression of three-dimensional objects are explored in both her installations and her printmaking. Her art – be it sculpture, installations, film or printmaking – is about destruction, resurrection and reconfiguration.
---
Watch a video interview and exhibition tour here.
---
Images:
1. Light from the North, 2020
2. Nightfall, 2020
3. Looking Glass, 2020