Earlier this month a story hit the headlines that seemed too remarkable to be true. A diver off the coast of Provincetown, Massachusetts, was swallowed whole by a humpback whale, making it as far as the whale's mouth, where he remained in darkness for a terrifying 30 seconds before the creature spat him out – alive. The twisting, intestine-like yellow and orange forms of SunForceOceanLife, a suspended walkway by Brazilian installation artist Ernesto Neto (b.1964) at the Museum of Fine Arts, Houston, Museum, brings this modern day Jonah to mind. 
---
Visitors to the museum are invited to step inside the biomorphic artwork, fashioned out of plastic balls and crocheted textiles, activating it with their presence. As they teeter through its spiralling paths, clutching the sides of the netting, they look like insects on some gigantic plant. It's a strange and humbling experience, and one that Neto has invoked in various ways since the 1990s. Taking inspiration from organic matter and Biblical references, works such as Léviathan Thot (2006), The Edge of the World (2010) or Children of the Earth (2019) create a shared social space using soft and supple materials such as lycra that recall organic structures and bodily matter, sometimes accompanied by fragrances or music to elicit a multi-sensory experience.
Neto's work dissolves the boundary between art and audience and also points to a wider ecological philosophy which sees the entanglement of our fate with that of other living creatures. Faced with the unforgiving rays of the sun, we must find a gentler way of living which recognises that humans are not, as we have arrogantly supposed, separate from the natural world, from each other. After years of seeing the earth as a resource to plunder, we're slowly waking up to the knowledge that we will only survive and thrive through our continuity with other living things. "SunForceOceanLife is about fire, the vital energy that enables life on this planet," said the artist. "Every time we complete one crocheted spiral with the polymer string used in this work, we burn both ends with fire in a gesture that evokes meditation, prayer, and other sacred rituals."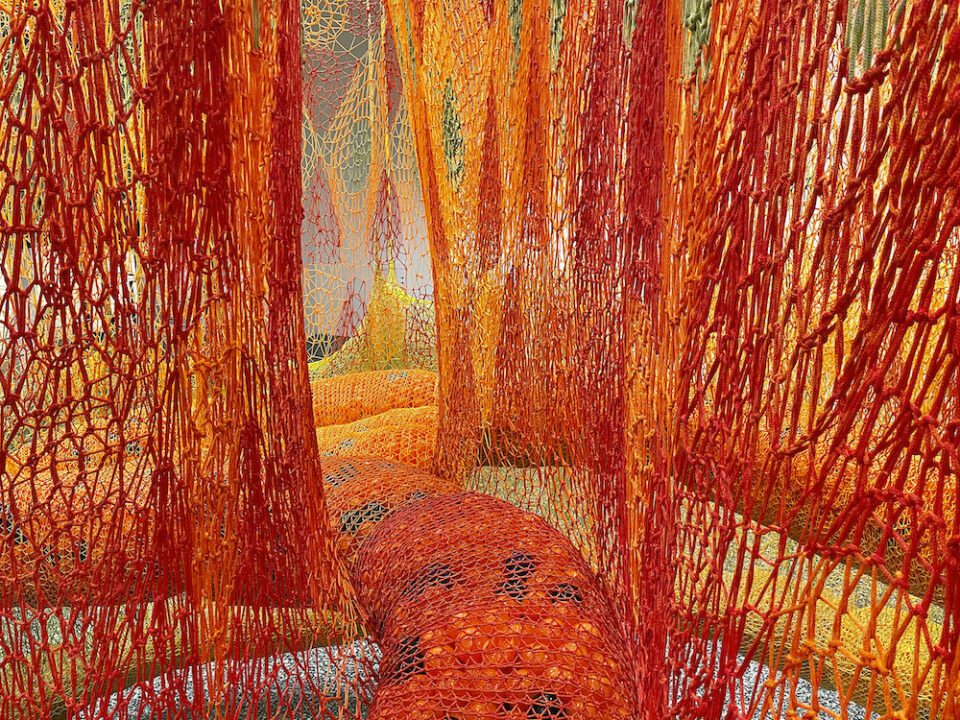 "I hope that the experience of this work will feel like a chant made in gratitude to the gigantic ball of fire we call the sun, a gesture of thanks for the energy, truth, and power that it shares with us as it touches our land, our oceans, and our life," he continues. "SunForceOceanLife also unites the disciplines of art and culture with biology and cosmology; it directly engages the body as does a joyful dance or meditation, inviting us to relax, breathe, and uncouple our body from our conscious mind. The sensation of floating, the body cradled by the crocheted fruits of our labor, brings to mind a hammock: the quintessential indigenous invention that uplifts us and connects us to the wisdom and traditions of our ancestors."
In the Old Testament, Jonah is a reluctant prophet who refuses to do God's bidding in telling the sinful residents of the city of Nineveh to repent because he doesn't believe they deserve to be saved. His enforced 'time out' in the whale's belly makes him think again. As we stare down the barrel of self-made climate chaos, the embodied, euphoric experience of clambering around inside Neto's immersive work might make visitors reconsider their relationship with nature, how that impacts their fellow humans around the world and how, collectively, we can be redeemed.
---
SunForceOceanLife is at  Museum of Fine Arts, Houston, Museum until 26 September. Find out more here.
Words: Rachel Segal Hamilton
---
Ernesto Neto, SunForceOceanLife (installation view), 2020, crocheted textile and plastic balls, the Museum of Fine Arts, Houston, Museum purchase funded by the Caroline Wiess Law Accessions Endowment Fund. © 2020 Ernesto Neto / photograph by Albert Sanchez 
Ernesto Neto, SunForceOceanLife (installation view), 2020, crocheted textile and plastic balls, the Museum of Fine Arts, Houston, Museum purchase funded by the Caroline Wiess Law Accessions Endowment Fund. © 2020 Ernesto Neto / photograph by Will Michels 
Ernesto Neto, SunForceOceanLife (installation view), 2020, crocheted textile and plastic balls, the Museum of Fine Arts, Houston, Museum purchase funded by the Caroline Wiess Law Accessions Endowment Fund. © 2020 Ernesto Neto / photograph by Will Michels 
Ernesto Neto, SunForceOceanLife (installation view), 2020, crocheted textile and plastic balls, the Museum of Fine Arts, Houston, Museum purchase funded by the Caroline Wiess Law Accessions Endowment Fund. © 2020 Ernesto Neto / photograph by Albert Sanchez