A new retrospective of British-Nigerian artist Yinka Shonibare (b. 1962) at Museum der Moderne in Salzburg showcases the artist's longstanding engagement with colonial brutality and post-colonial identity, through parodic and polemical works of sculpture, painting, photography and film.
A defining motif of Shonibare's work since the 1990s has been the use of wax-print fabrics. Associated in the UK with West-African heritage, these materials were originally created in the Netherlands during the 19th century for sale in its colonial territories in Indonesia. The fabrics, whose industrially produced take on Indonesian style failed to attract buyers, were subsequently copied by English producers and marketed in Britain's West-African territories. Since the migration of citizens from countries such as Nigeria to the UK, the cloth has been associated with authentic regional origins but actually has what Shonibare called, in a 2004 interview, a "crossbred cultural background."
Shonibare trained as a painter and was originally engaged by the Abstract Expressionist tradition. However, as a disabled artist of African descent – he has been a wheelchair user since his youth due to transverse myelitis –  he saw the incorporation of "African" print as a way of challenging the white male mythology of the New York School and similar movements. "What I was trying to do….because I have a physical disability and I am of Nigerian origin," he noted in his 2004 interview, "was to interrupt that space and the perception of the 'heroic' by producing fragmented versions of Abstract Expressionist paintings."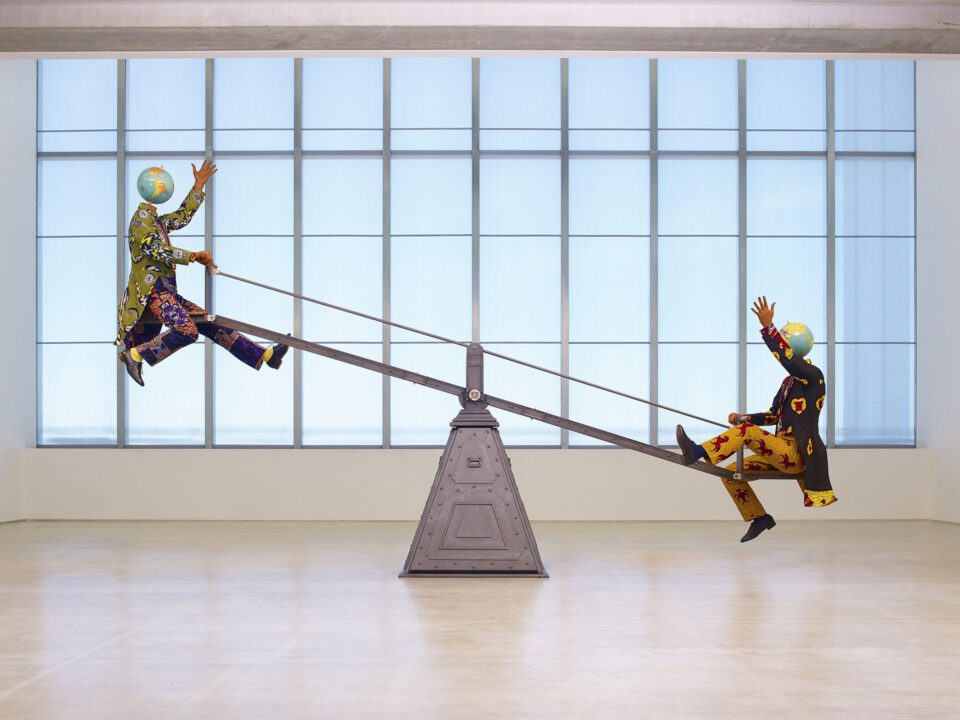 With his 2002 piece Gallantry and Criminal Conversation, a three-dimensional tableau incorporating a grand horse-drawn carriage suspended in the air, surrounded by chests draped in his signature fabric, Shonibare moved decisively into the realm of mixed-media installation. Since then, he has produced famous works such as Nelson's Ship in a Bottle (2010) for the Trafalgar Square Fourth Plinth series, continuing to engage with themes of colonial plunder and conquest. A particularly powerful feature of the artist's work during this period is his use of life-size, headless models. Amongst the most powerful iterations of this idea was Shonibare's 2003 work The Scramble for Africa, a reconstruction of the Berlin Conference of 1884-85 – when European imperial forces divided up vast swathes of the African continent – using headless dummies arranged around a table.
Shonibare's new show, End of Empire, traverses 30 years of creativity spanning installation, sculpture, photography, graphic art and film, including the pithily comic photo-series Diary of a Victorian Dandy (1998), in which the artist casts himself in the titular role, a Black dandy surrounded by 19th-century aristocrats. Themes of leisure, frivolity, self-invention and social mobility are played out. The show's title work, from 2016, is a film featuring two figures facing each across the length of a seesaw, their heads replaced by globes. End of Empire alludes to rival colonial interests during WWI whilst also offering a witty update on the artist's headless model motif. Themes of cartography, travel, education and liberatory struggle recur throughout this exhibition, which offers audiences a first comprehensive encounter with a highly significant oeuvre of contemporary British and international art.
---
Until 3 October. Find out more here.
Words: Greg Thomas
---
Image Credits:
1. The African Library, 2018, private collection, © Yinka Shonibare CBE, courtesy of the artist and Goodman Gallery, Johannesburg, Cape Town, South Africa, photo: Anthea Pokroy Photography
2. End of Empire, 2016, Bristol Museums, Galleries & Archives and Wolverhampton Art Gallery, © Yinka Shonibare CBE, courtesy of the artist and Wolverhampton Art Gallery and Bristol Museums & Art Gallery, photo: Stephen White & Co.