Dina Furrer is a Dutch photographer and visual artist based in Tilburg. Her varied portfolio largely comprises still lifes and landscapes; richly detailed works show bold experimentation with colour. Inspiration comes from within the artist herself as well as nature and everyday life. She recently participated in the exhibition H2O / Water at Galerie TON, Rucphen; past fairs include Art Eindhoven and EuropArtFair.
Furrer's work Le Bouquet is currently on display as part of Liquid Arsenal 2022. Until 3 June at M.A.D.S. Art Gallery, Milan.
A: In Issue 105 of Aesthetica, we feature Blue Bird. What is the inspiration behind this piece?
DF: The idea came out of the blue. While creating this work I was inspired by an interesting combination of exotic from a documentary I watched plus blue light I'd seen somewhere that day. Also, I was in a peaceful mood and I think you can feel it when looking at the artwork.
A: What was the process behind the creation of Blue Bird and how did it differ from works such as Snowstorm and Gold Explosion?
DF: It was indeed very different. I was in a different point of my life with new interests. You can see it not only in the change of colours, but also the whole way of imagining the composition was something completely different.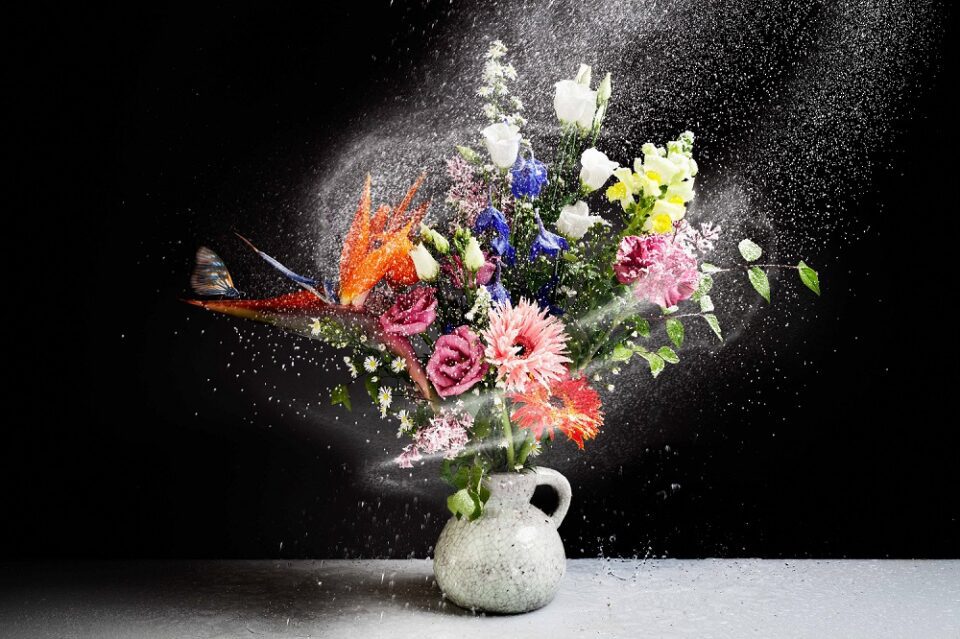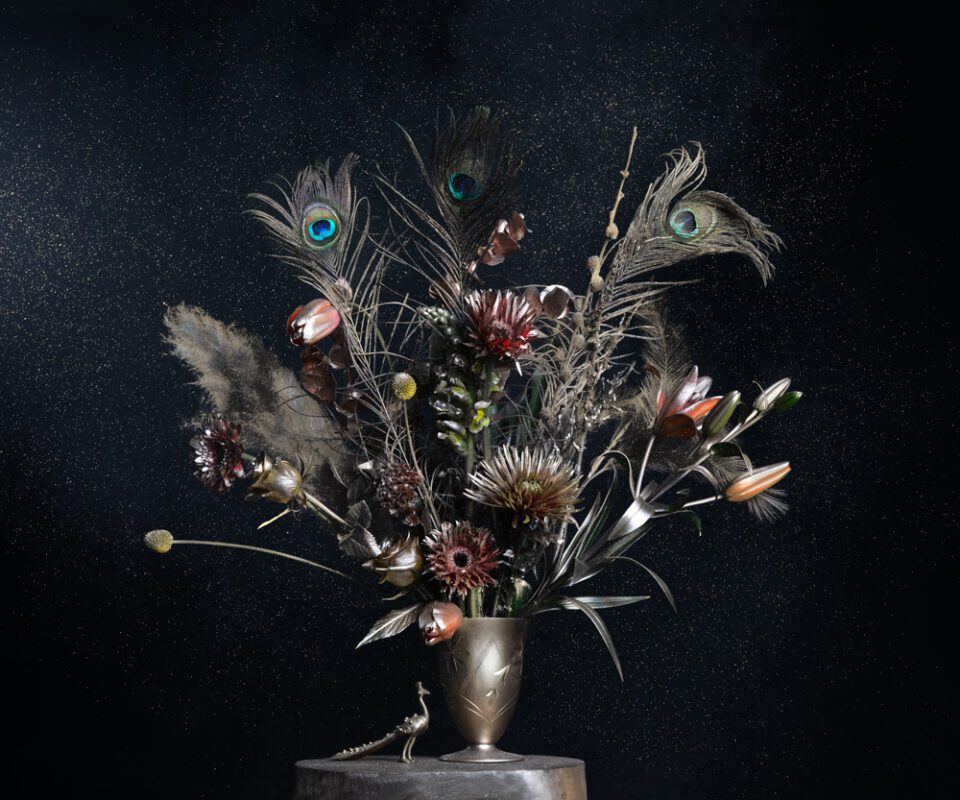 A: Tell me about the magical elements in these works, and their importance in what you are trying to express.
DF: I am of course trying to express myself, but the idea of these artworks is that what you see can be different from what I see. This is what I like the most about my art: it makes you wonder. Each magical element sends a certain message to the viewer, but at the same time it's unique and personal – each admirer has a different experience looking at a picture.
A: Peonies is part of a new collection; how have you approached the challenge of portraying water in the context of you flower works?
DF: It rains a lot in the Netherlands and I was soaking wet that day after a long walk. I came home and thought it would be a good idea to bring this "wet" idea into one of my artworks.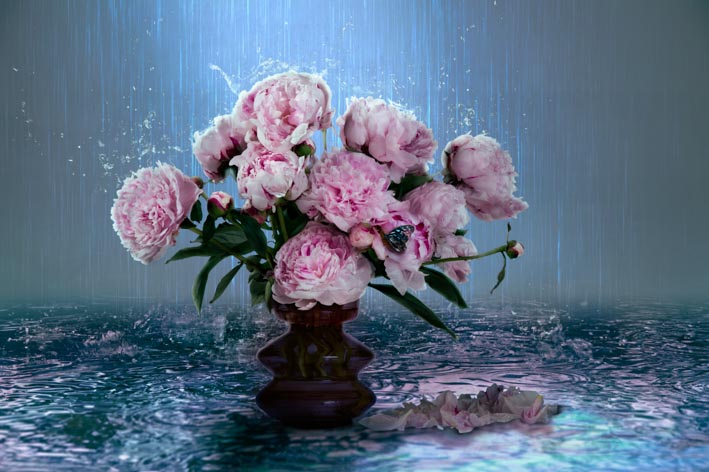 A: What makes you decide to introduce additional, highly specific animals into works such as Le Bouquet?
DF: First of all, I find exotic animals fascinating and I like the idea of collecting animals that don't live together in the wild and put them all together at the same picture, as if they belong to the same place.
A: Tell me about the importance of colour and lighting in Le Bouquet.
DF: It is important, because it gives you this atmosphere of a rainy day in the tropical forest.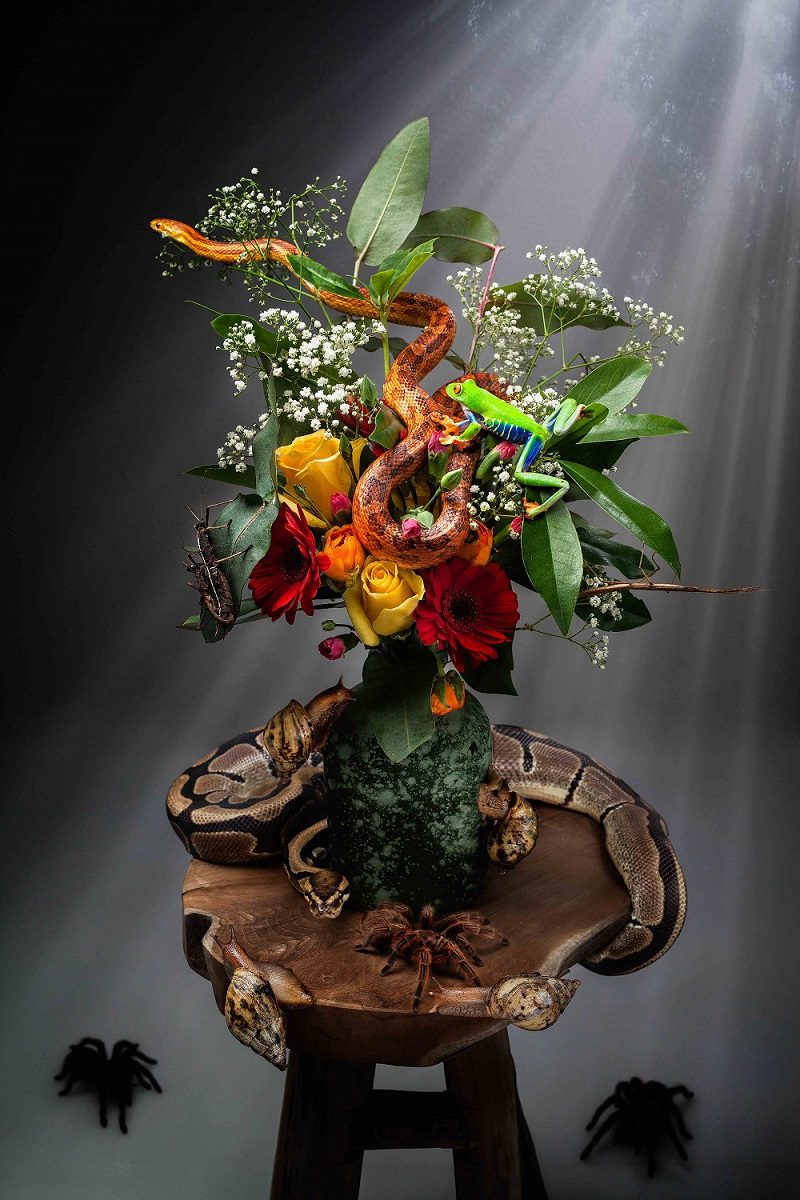 A: Do you see High Tea Party as an extension of the flower series?
DF: No, it's not, but in principle it could be.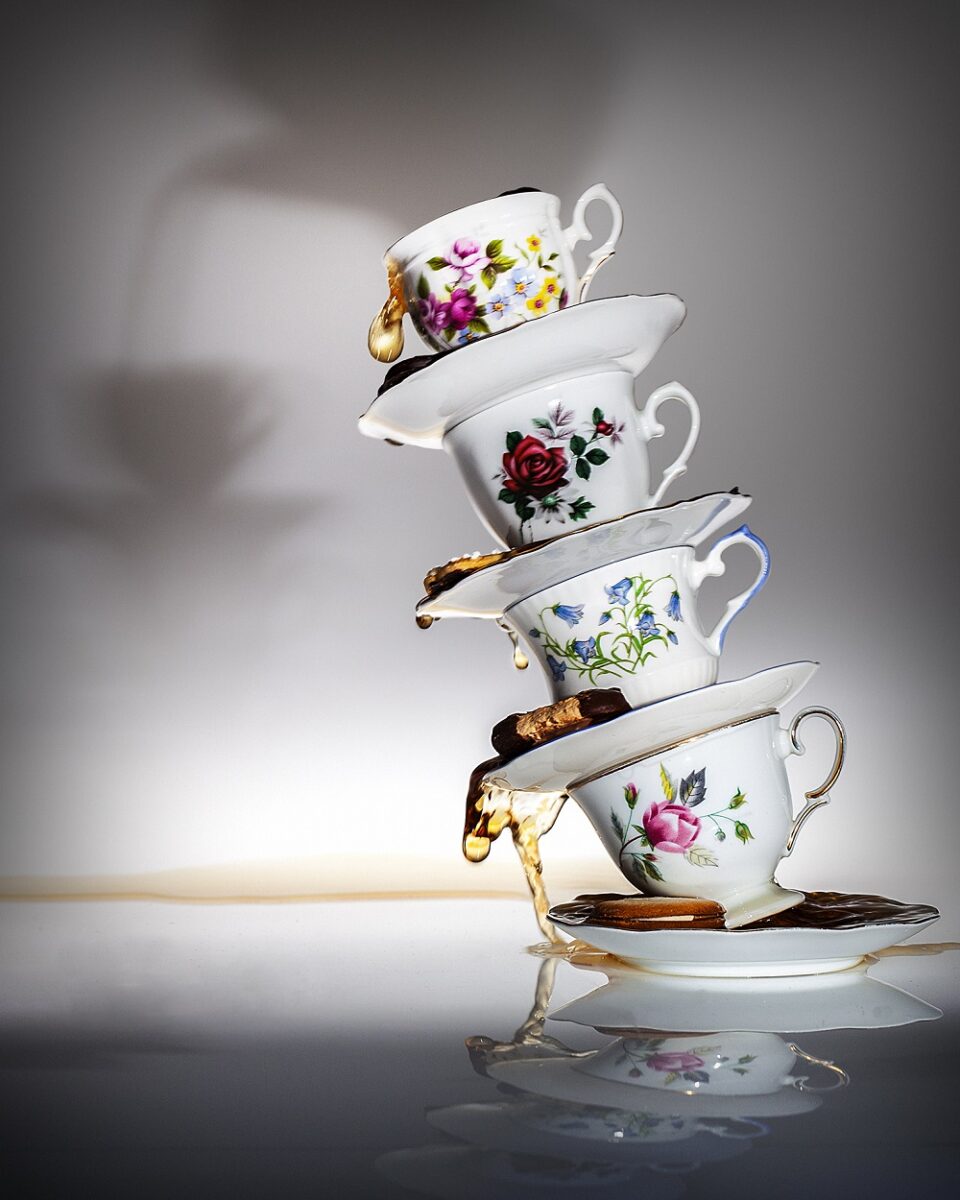 A: Magic Tablecloth is a nod to traditional still lifes. How does this work differ from Pea Soup and The Salad, and what is the thinking behind these works?
DF: It's difficult to explain. The ideas just come to my head and at a certain moment I see one or another image. They are all a bit different from each other, but also different from the rest of my collection.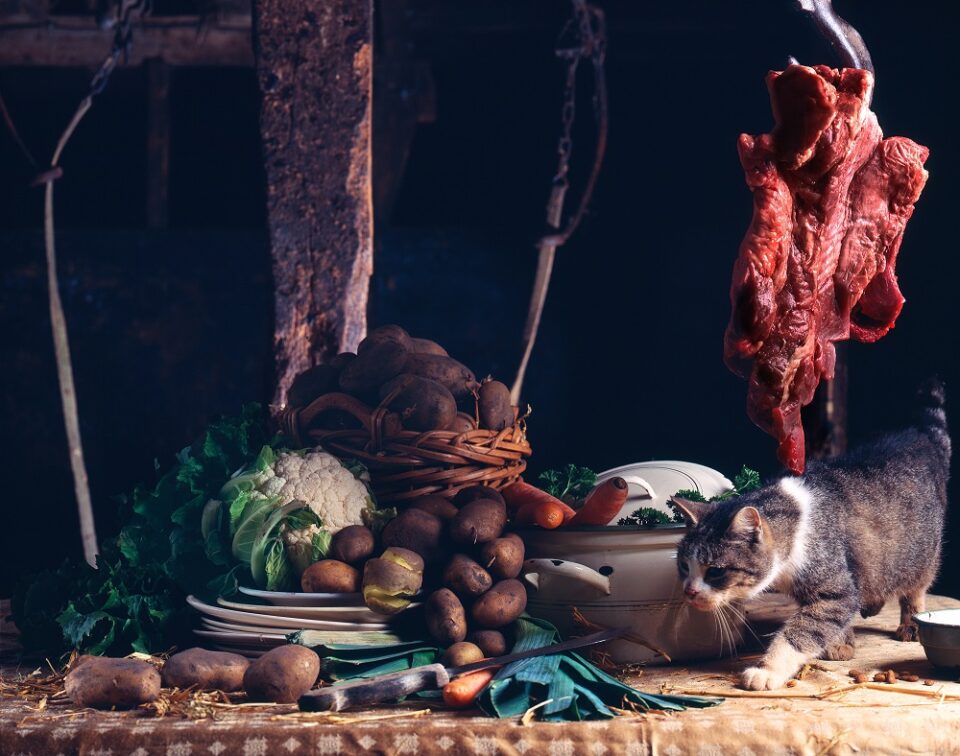 A: You participated in Art Eindhoven earlier this month – how did it go? How have your experiences in art fairs and exhibitions changed over the past two years?
DF: I haven't been to many art fairs, but I really enjoyed the one in Eindhoven. The varied selection of works was very good and a lot of interesting artists presented their creations. And of course talking to art lovers and showing my artworks is great experience.
A: Your nature photograph Olive Sunset has been selected to complete in the World Photographic Cup 2022. How important is your landscape photography – to your art practice and to you personally?
DF: Landscape photography is secondary in my art thus I don't really focus on it, but I travel a lot and see many beautiful places, so as a photographer of course I want to capture them from time to time.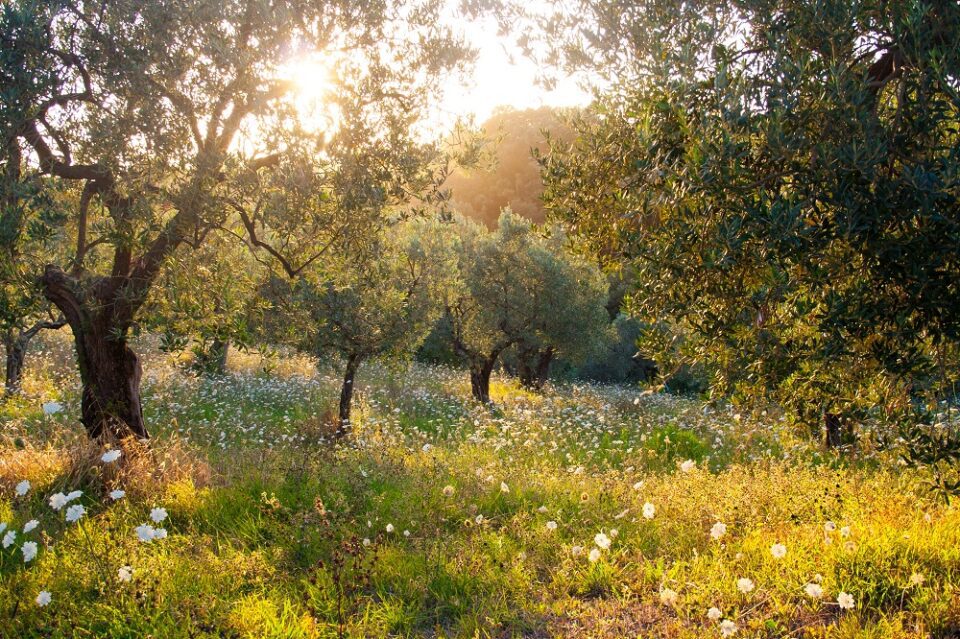 A: Where do you take your landscape photographs? Do you focus exclusively on the task at hand, or do you also find inspiration for your studio-based works?
DF: I love nature, If I see something special I capture it. However, I don't go out looking for specific landscapes.
A: How do you think your practice will evolve over the next five years?
DF: I hope to grow professionally and I hope that the new collection I've been working on will be very special and it will have a "wow" effect.
---
dinafurrer.nl I Instagram:@artphoto_dina
---
All images courtesy of Dina Furrer.

The work of Dina Furrer appears in the Artists' Directory in Issue 105 of Aesthetica. Click here to visit our online shop.