The London Design Biennale 2021 shows us what world-leading designers and artists are doing to highlight and combat the biggest challenges facing human society. This year's edition includes work from across six continents, and addresses issues from climate change and plastic waste to postcolonialism. We explore five must-see pavilions.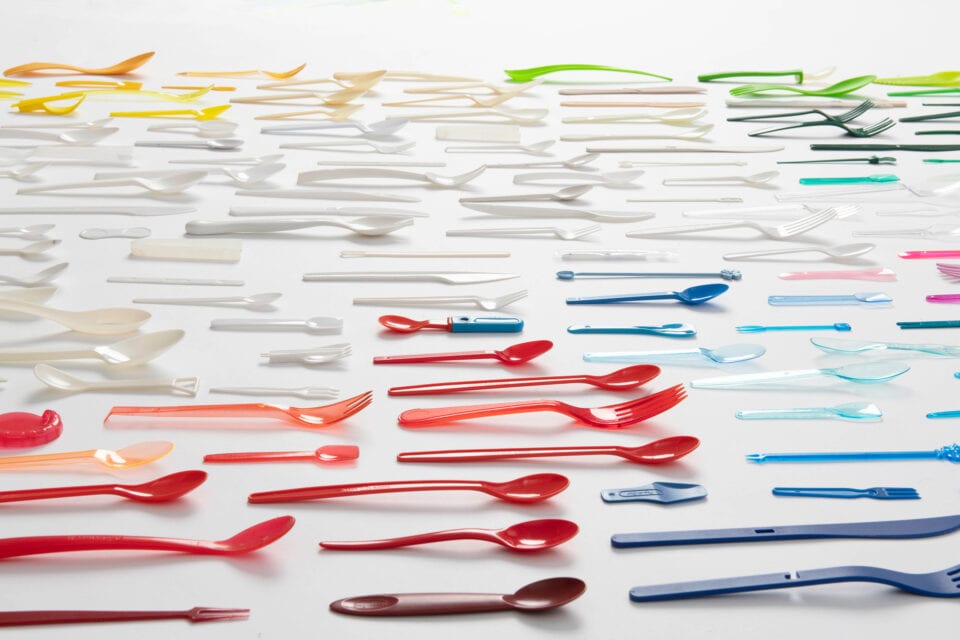 Peter Eckart and Kai Linke, Spoon Archaeology (Germany)
In January 2021, plastic cutlery was banned across the EU. Addressing this seemingly mundane – but historically significant – ruling, Peter Eckart and Kai Linke's German pavilion offers a display of plastic spoons as archaeological artefacts. It prompts us to consider their role in shaping human evolution and reflects on the technological, financial and social development of societies. At the same time, videos show alternative eating practices across the globe, including the use of hands as spoons, whilst an interactive website offers information on the ecological impact of disposable cutlery as well as its cultural associations. This witty and thought-provoking selection of materials explores centuries of heritage as well as indicting contemporary throwaway society, inviting us to imagine a future in which our age of waste is the subject of archaeological scrutiny.
Ben Cullen Williams, Cold Flux (Antarctica)
Ben Cullen Williams' Antarctica Pavilion consists of a three-channel, AI-generated video installation made from footage the artist captured of the Larsen-B Ice Shelf during a trip to Antarctica with polar explorer Robert Swan. The Larsen-B shelf detached from the peninsula in 2002 and has been disintegrating ever since. Using moving images of melting and dissolving blocks of ice, Cullen Williams trained machine-learning algorithms to create a video landscape in which ice caps perpetually melt and reform. Spliced into this sequence is further AI-generated footage, simulating the visual appearance of the surface of the sun, whist a soundtrack is provided by musician Gaika. This work places the visitor in an uncanny, reverie-like state; audiences inhabit a space outside reality, yet are confronted with a stark visual symbol for the most urgent problem of our times.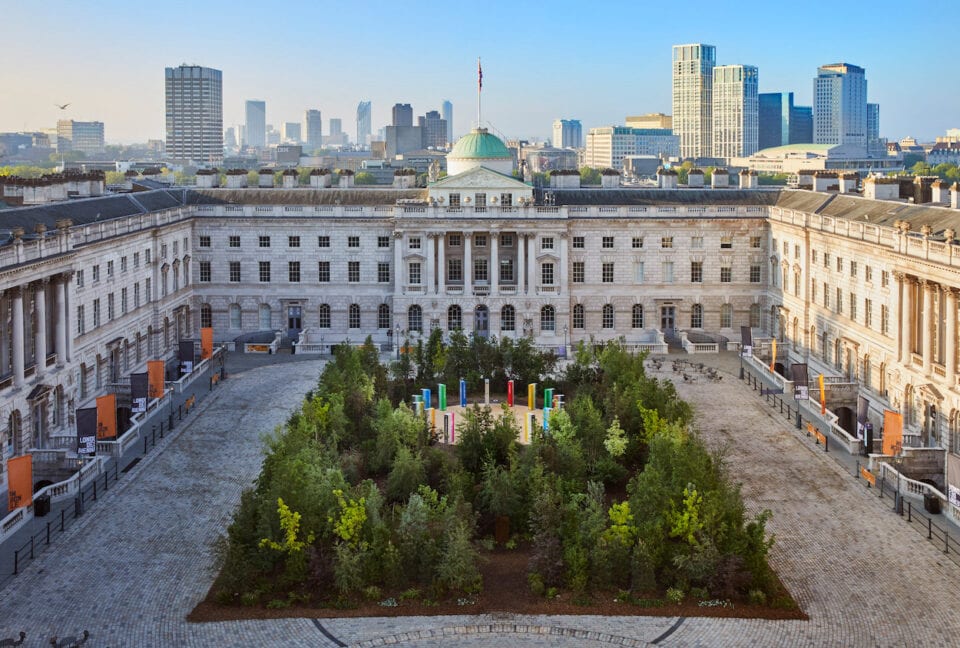 Es Devlin, Forest for Change (Global Goals Pavilion)
The most stunning of the Biennale's outdoor pavilions is Forest for Change, Es Devlin's creation for the Global Goals Pavilion. The work consists of a forest of 400 trees installed in Somerset House's neoclassical courtyard, populated with installation works to raise awareness of the United Nations' Global Goals for Sustainable Development. Devlin, who is also the Biennale's Director, was inspired to create an installation that would counteract the surrounding architecture, which has come to stand for human dominion over nature. Bringing a peaceful army of vegetation into a space associated with art and learning – Somerset House has hosted the Royal Academy, Royal Society and Society of Antiquaries at different times, amongst many venerable institutions – draws our attention to non-human life as a vital partner in the fight against climate change and species loss.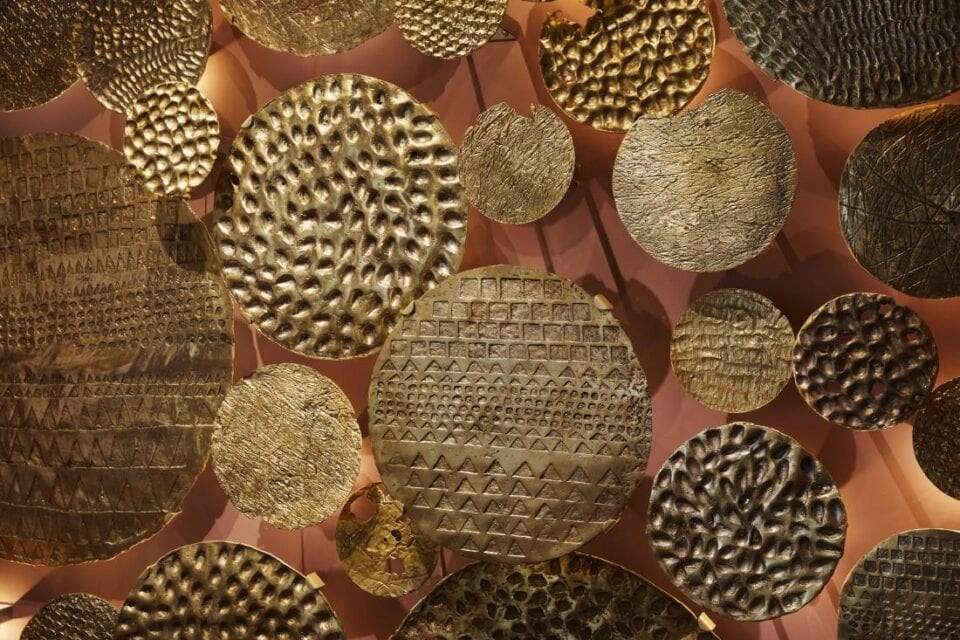 Chrissa Amuah and Alice Asafu-Adjaye, Amplify (Ghana)
Ghana's pavilion is the work of a textile designer (Amuah) and architect (Asafu-Adjaye) who have collaborated on a multimedia installation exploring the relationship between Ghana and two of its former colonists, Britain and Denmark, over four centuries. The artists were inspired by Somerset House's history, including the renaming of the site in 1603 in honour of Anne of Denmark, wife of James I, after she took up residence there. It was Anne who developed Somerset House as a cultural salon and creative hub for a burgeoning European civilisation, but ultimately at the expense of a growing network of colonies. The Amplify pavilion reflects on this and other aspects of local and global heritage, offering what is described as a "site-specific" intervention, "exploring and manipulating materials, space, light and textures." Of particular significance is a sculptural element consisting of an array of gold-coloured discs, influenced by the craftmanship of the Ghanaian Asante people.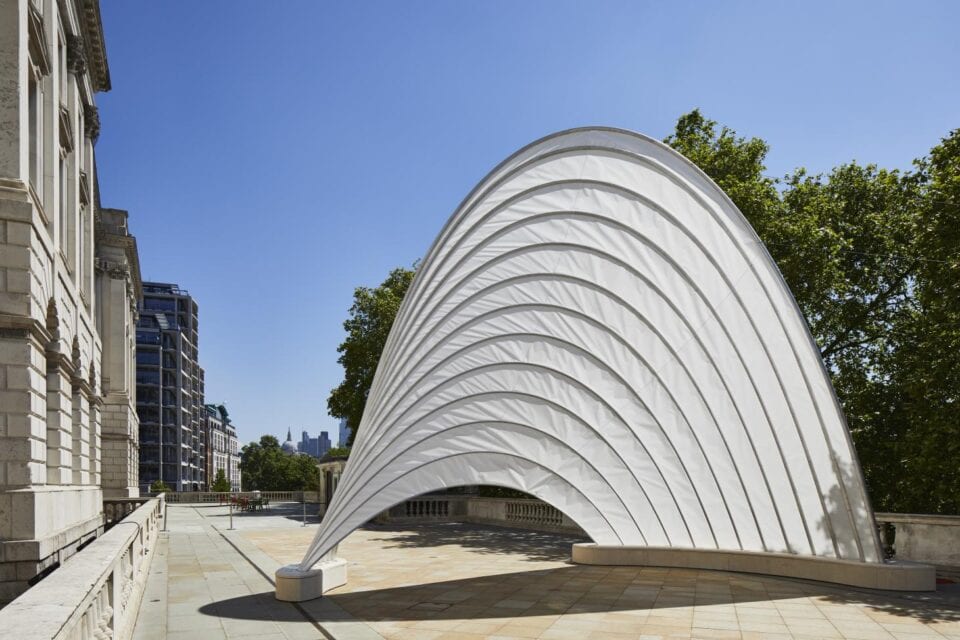 Ini Archibong, PoAD (African Diaspora Pavilion)
The African Diaspora pavilion consists of a large, curvaceous archway placed on an ornately pillared walkway outside Somerset House. It is inspired by the motif of the conch, traditionally a talisman for human gatherings and parley, as well as the mythology around cowrie shells emerging from the sand. PoAD is the creation of product designer Ini Archibong, and is envisaged as a space where people will gather to share stories, creating "a reality where voices are recognised and respected for the diversity of their timbre." The archway is described as a "folly," with no set functional purpose, but also as a gateway into past, present and future, a site for imagination and learning designed to host educational events.
---
London Design Biennale runs at Somerset House, London until 27 June. Find out more here
Words: Greg Thomas
---
Image Credits:
1,4,5,6. Photography: Ed Reeve
2. Photo by Helena Reinsch
3. Image courtesy Ben Cullen Williams