"Experiential Art" is increasingly appearing in public spaces. From architectural-scale interventions to dynamic installations, these artworks offer new modes of storytelling across wide-ranging settings such as hotels, universities, hospitals, parks and museums. Audiences are, more frequently, being encouraged to activate, be part of spaces and become involved in participatory exhibitions or events, reflecting on increased modes of interactivity within the digital age. Jason Bruges Studio constructs time-based pieces and luminous environments that alter our perception of contemporary landscapes, sitting between art, architecture and technology. His artworks have been installed at the Olympics, Tate Modern, the V&A, as well as the Museum of the Future, Dubai.
A: What inspired your involvement in the design world?
JB: I grew up surrounded by art and technology at home. My mother trained as an artist and my father worked as a software engineer. Design was most accessible at school, and I remember immersing myself in workshops, utilising wood, metal, plastics and starting to apply electronics learnt in physics classes to my early design experiments. I enjoyed building interventions to monitor my room, and I would routinely be building complex and layered worlds made of Lego.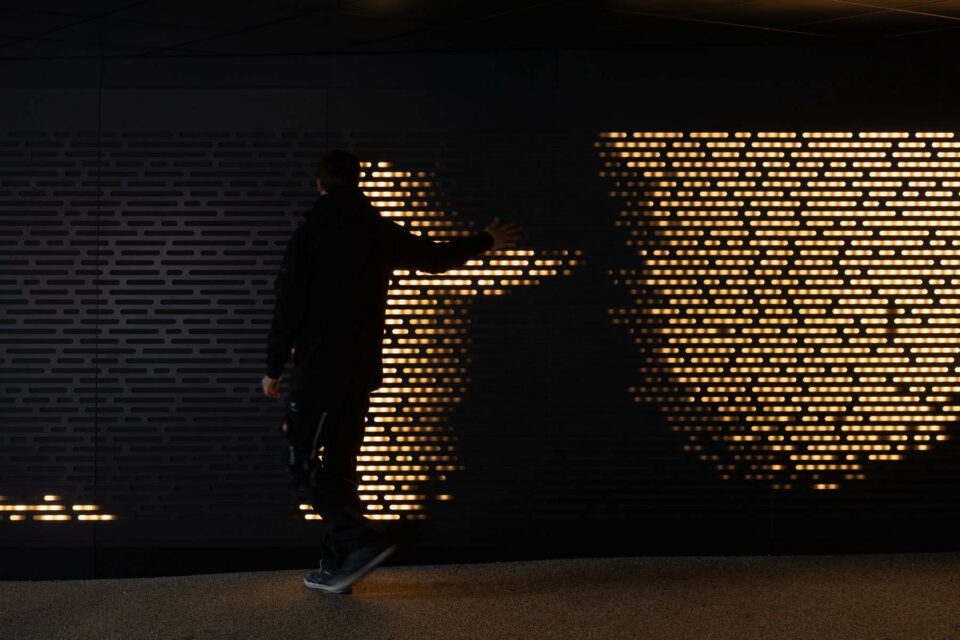 A: How do you define the interdisciplinarity of your work?
JB: As a studio, we intervene in the urban environment, blending architecture with interaction design, using a high- tech, mixed-media palette to weave a sense of magic into the fabric of the city. The Studio needs a broad range of creative skills to realise these interventions, to innovate and invent amongst so many factors. As such, we exist as a dynamic and agile multidisciplinary team consisting of architects, engineers, software programmers, creative technologists, visualisers, product designers and artists, amongst others. We often draw upon lost history and ritual to reimagine and reconnect sites to a wider sense of place. Our work also asks questions around the continuity of urban settings and inhabitant engagement in developing spaces. For example, exploring the differences between types of city dweller, fleeting tourists, passers-by, neighbours, commuters and lingering onlookers.
A: You've noted that your works act as "sculptural barometers" – tapping into the emotional tapestry of a community or place. In what ways, however, do your works take the temperature in a much wider sense: speaking to the age in which we live, and the increasing expectations to blur the lines between the organic and digital, and for the individual to be placed centre stage in environments? JB: I have always created work that blends both physical and digital realms. When I started out, this was relatively new. Artists working with technology were on the fringes and considered quite niche. This practice is still incredibly specialist, but it is arguably becoming more mainstream. Of course, as technology becomes omnipresent, this isn't at all surprising. In this sense, the artwork is a barometer of the times, but I am not necessarily interested in reflecting the status quo. I want to create work that interjects – that demands something of the audience and poses questions about the future. It's fascinating that you talk about the individual being centre stage. For me, I've always used technology to connect people – it's much more about facilitating a collective experience and bringing people together in new and visceral ways.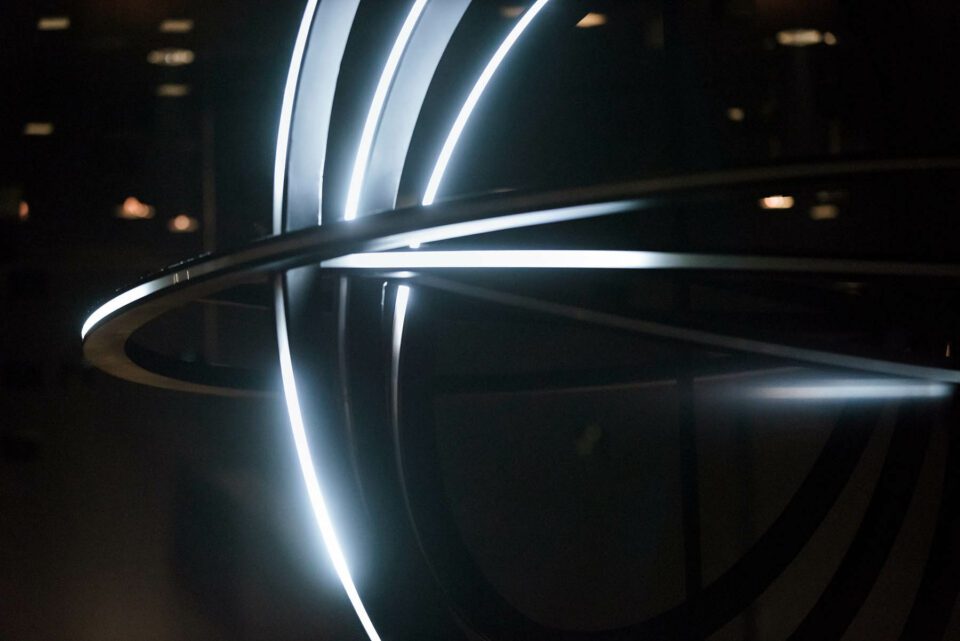 A: What is it about viewer participation that inspires you?
JB: I am particularly interested in the plethora of emotions an interactive piece can evoke, and simultaneously how the presence of a crowd can affect the work. Using movement to trigger different patterns and behaviours adds an element of unpredictability. The artwork isn't complete once it is designed and installed. It keeps evolving and takes on a life of its own. For example, Life Cycles – four installations that mimic natural elemental changes from sunrise to nightfall – explores these interrelationships using sculptural artworks to emulate experiencing different times of day. The colours, light nodes and bespoke mirrored reflectors create contrasting sensations as visitors are guided from morning dew and thawing ice towards evening moonlight.
A: Why is this type of experiential artwork gaining popularity – how does this tap into our evolving curiosity and the hyper-interactive nature of the digital age?
JB: It's interesting that this explosion in popularity is happening post-Covid. I think it was coming anyway, but per- haps the pandemic accelerated our need for escapism and opportunities to share experiences. I also think the inter- activity breaks down the formality many audiences expect in gallery spaces where traditionally there is a boundary between object and spectator. The work is fun – more accessible – and therefore has a wider reach. I also believe it has a lot to do with the different opportunities new technologies provide and our inner curiosity to learn more about the possibilities of the digital world. Generations brought up with social media frequently use technology as a tool for interaction, but they don't necessarily want this to be limited to online spaces. Experiential art is demonstrating how this interactivity can blend into our physical reality.
A: Many of your works utilise technology to expand, or augment, our experience with the natural world. Digital Ornithology, for example, charts the migratory patterns of 12 million birds, bringing together 562 liquid crystal display screens, projection mapping live footage. The experience allows the viewers to ascend into an ephemeral experience with the birds. What did you hope audiences might take away from this piece?
JB: This work started as a conversation with the exhibition designer, JAC studios, into how best to describe the wonderful ecosystem of the Wadden Sea National Park, a world UNESCO Heritage site in Denmark. I was immediately fascinated by the thousands of migratory sea birds that visit the site each year. The murmurations of these birds is so famous locally, it is known in Danish as "sort sol" ("black sun") – describing how, due to the sheer volume of birds, they seem to physically block out the light. To represent this, we had the idea of using liquid crystal shutters that change opacity. These are arranged in a voxel sculpture and are programmed to imitate the flocking of the birds within the ecosystem of the Wadden Sea. It was important to give visitors the feeling of being up close, being amongst the birds – a proximity they can't experience in real life.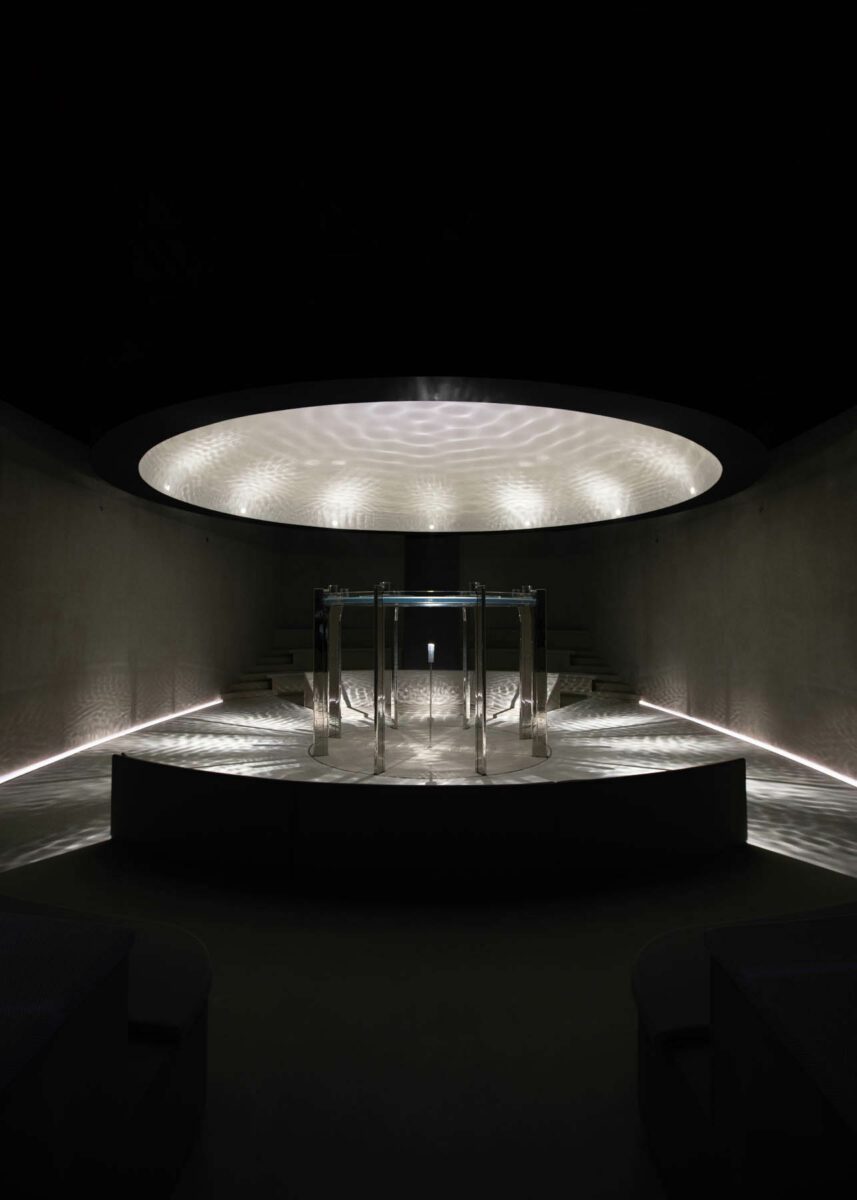 A: Perlin Canopy, comprising 80 individual LED rings, creates a kind of awning, which taps into humanity's fascination with "Komorebi" – the Japanese term for light filtering through trees. What value is there in bio- mimicry? What are we attempting to replicate, and why?
JB: It's well-known that the spaces we occupy impact how we feel, and many health benefits have been attributed to spending time in nature. In urban environments, where it isn't always possible to introduce green space, technology can provide an alternative means of escapism. In the city, people are often going about their days at such speed that they fail to pay attention to what's around them. I like to think our artworks wake people up, invite them to breathe in their environment and commune with their senses. I'm also using biomimicry to transport people somewhere un- expected. Through technology, we can take people to the edge of the ocean or the foot of a waterfall. We can bring them an experience that might otherwise be out of reach.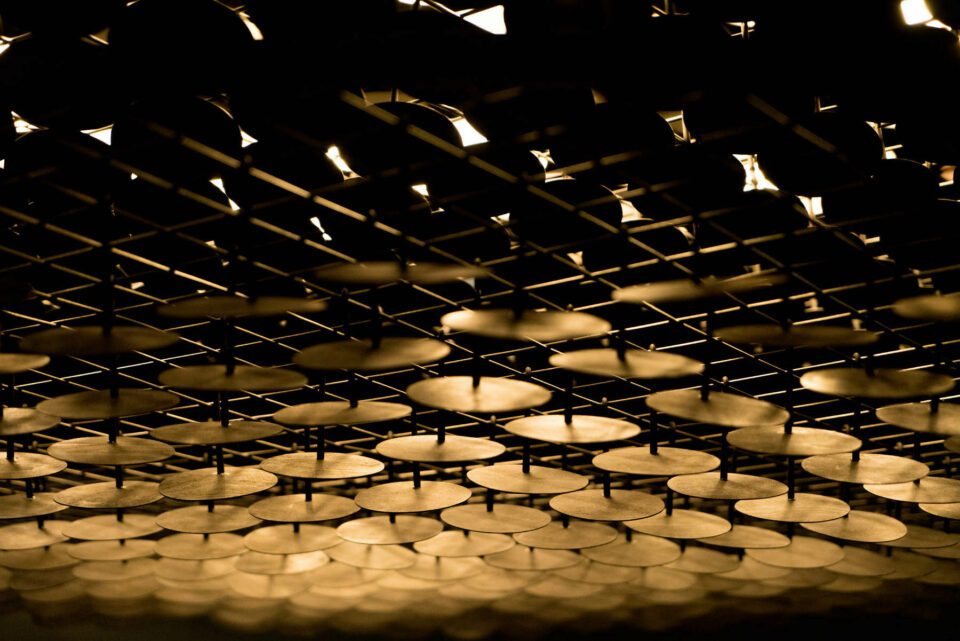 A: Technology, however, does have a huge carbon footprint, especially with large-scale installations that require masses of data processing capacity and a consistent power source. How do you account for this?
JB: I feel a great sense of responsibility. The most important thing for me is creating artworks that are built to last. There's a huge appetite for temporary, pop-up installations at the moment, which breeds throwaway culture. I'm most interested in producing permanent, site-specific pieces
that are relevant for the spaces in which they are situated, whether it be bringing light to a dark, anti-social underpass or a beacon that acts as a wayfinder. Although we're working with technology, we design pieces that feel timeless and are robust enough to exist within the public realm for at least 20 years. We do occasionally produce temporary works, but when we do, we always make a point of using hired equipment or elements that can be reused to avoid waste. The robots for The Constant Gardeners, for example, were refurbished – originally having been used in a BMW factory. When the project was completed, they went back to industrial work through a remanufacturing programme. Luckily, there's a vast market for second-hand robots as people are finding creative uses for them. Of course, we're constantly reviewing our processes to identify areas for improvement. We're currently looking at how to replace the use of finite materials and create projects where mate- rial usage is more circular. Many existing projects actually use very little power. Digital Fountain uses only 60 watts (similar to the amount of energy used to power a laptop).
A: Looking to the future, what new technologies, mate- rials or processes are you excited to work with?
JB: Bringing living elements into our material palette. Variegation Index (shortlisted for the Aesthetica Art Prize 2022), was our first real adventure into this territory, where we're using custom cameras to measure and relay real-time photosynthesis data. Our next iteration is for the SPUR campus at Colorado State University. This piece will create a connection with growth chambers, greenhouses and green roofs. Recently, we launched The Centre for the Museum of the Future in Dubai, an inhabitable media artwork that uses water, light, vibration and sound to reawaken the senses.
---
Words: Kate Simpson
---
Image Credits:
1. Pixel Constellation (2016). Photo: Michal Sulima courtesy of Jason Bruges Studio.
2. Shadow Wall (2019). Photo: James Medcraft courtesy of Jason Bruges Studio.
3. Pixel Constellation (2016). Photo: Michal Sulima courtesy of Jason Bruges Studio.
4. The Centre (2022). Photo: Sandra Ciampone courtesy of Jason Bruges Studio.
5. Life Cycles (2016). Photo: James Fox courtesy of Jason Bruges Studio.