"Where do 'I' finish and where does the 'outside world' start?" It's a question that will likely resonate with many in 2021, after months of isolation and self reflection. The idea was also of interest to modernists and mosaicists Valery Lamakh and Fripulia, whose 20th century writings delved into a range of philosophical topics. Today, their creative output is in danger of being destroyed. Graphic designer Yuliya Pylypko has crafted a publication aimed at involving a young Ukrainian audience in the artists' work – asking them to help preserve artistic heritage. Pylypko speaks to Aesthetica about the project, which is featured in University of Westminster's Degree Show 2021.
A: What is your name, course and Degree Show project?
YP: My name is Yuliya, I am a recent graduate of Graphic Communication Design BA (Hons) at University of Westminster. During this past year, I have been working on youareme • boundless.
A: What types of media do you work with? Why are you drawn to this particular approach?
YP: I don't like to limit myself to a particular media. I prefer to adapt my approach to suit the aims, context or target audience of a given project. The idea at the heart of this piece is a "boundless publication". Using print over digital allows me to break away from AI algorithms and virtual information bubbles. I aim to reduce the use of technology where possible and pay more attention to the process of real-life "doing". Maybe, in a post-Covid context, physical media will be reappraised after a period of 24/7 screen use.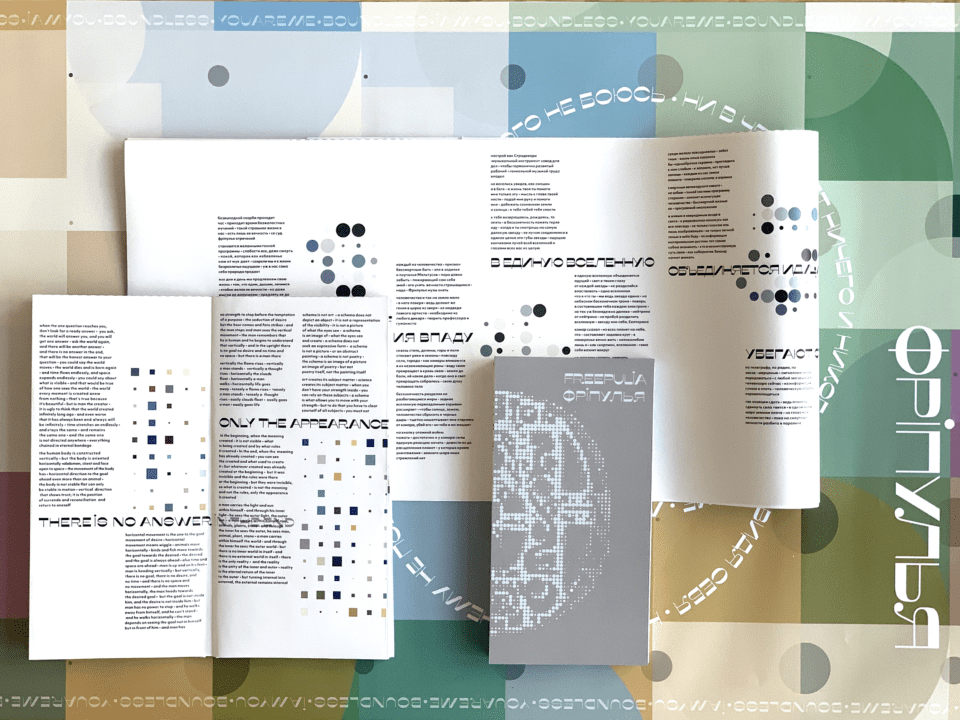 A: What are the main themes explored in your work?
YP: My project is multifaceted. The main topic is the limitation of the individual. Where do "I" end and the "outside world" begin? Are we able to change the structure of society by rethinking our relationship to the world? Present day digital technologies, with their homogenised interfaces and methods, can bring uniformity and threaten to eliminate a plurality of cultural codes that structure languages and worldviews. This project draws on the Ukrainian ontological programme – "You are me, we are boundless" –  which manifests in writing by Valery Lamakh and Fripulia. These artists believed in the presence of a powerful force inside the individual. In unchaining this force, they saw the potential for collective change. They are mainly known for monumental mosaics; this publication aims to popularise their wider oeuvres.
A further aim of the project is to popularise Ukrainian modernist art heritage and preserve social realist mosaics. They are under the threat of being destroyed. Modernist architectural masterpieces are to be "renovated" – covered with steel and glass. I hope that after reading beautiful poems by Lamakh and Freepulia, the Ukrainian public will change their opinion on social realist art. It's a creative practice which goes beyond political agendas – searching for the philosophy of life. It is important to preserve such masterpieces. If we do not, Ukrainian artists may be left without a cultural reference. In this way, the project also engages with decolonisation discourses in art and design.
---
A: Where do you find inspiration? What drives you to create?
YP: My inspiration comes from people. Not solely from shapes, colours or themes inherent in visual design, but from individual stories and the ability to stand for something one believes in. I believe that everyone's story is worth retelling. We can all learn something from one another.
Designers are lucky to retain a playful approach: trying, doing and discovering. Through creating, I learn about the world and myself. Modern society is driven by efficiency, but I want to celebrate and encourage spontaneity in the creative process. It could be writing, singing, designing or painting. We are often so focused on the results that we forget why we started doing something in the first place. 
A: What do you hope audiences take away from your piece?
YP: I hope that my work can trigger a process of thinking, self-discovery and self-reflection. I hope that this non-conformist, spiritual and visual research can engender risk-taking and creative exploration. If you have enough motivation to open your heart to the world, everything is possible. The human mind has no limits.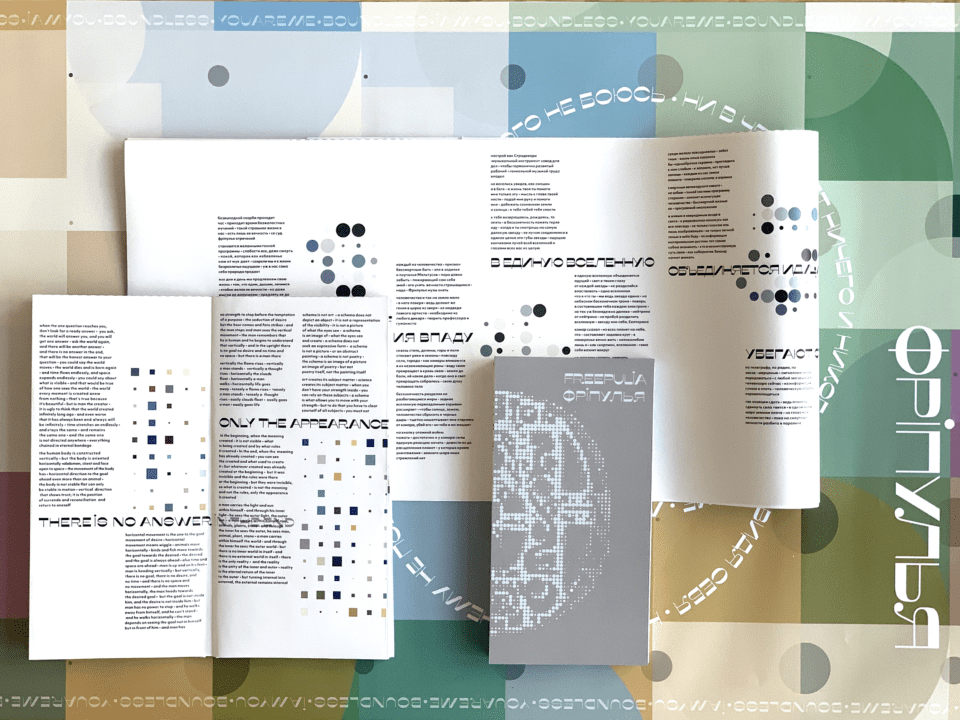 A: What are your future plans? Do you have any projects / ideas lined up?
YP: I intend to pursue a postgraduate degree at TU Delft entitled Design for Interaction. I am interested in continuing research in the area of "design for design" and working further on developing design tools for communities. A long-term project is research into the hidden knowledge of the old Slavic alphabet and vortex geometry. This was also a part of Lamakh's exploration; he was analysing the rules by which geometric shapes are transformed. I wish to inspire Ukrainians to return to their past and investigate the codes and keys hidden in their culture.
A: What can viewers expect from University of Westminster's 2021 Degree Show?
YP: The students of the University of Westminster are very honest in their aspirations and are expressing diverse perspectives on the topics with which they engage. There are many gems within the Degree Show. As a cohort, we are not afraid to explore paths that can grow into something bigger.
---
Visit Westminster's Degree Show 2021 here.
---
All images courtesy Yuliya Pylypko and Westminster University.